MORE FROM THIS COLLECTION

DHL's ocean freight update points to volatile Q4
The fourth quarter of 2019 will be as tumultuous a time for container shipping as any in recent memory.
The fourth quarter of 2019 will be as tumultuous a time for container shipping as any in recent memory.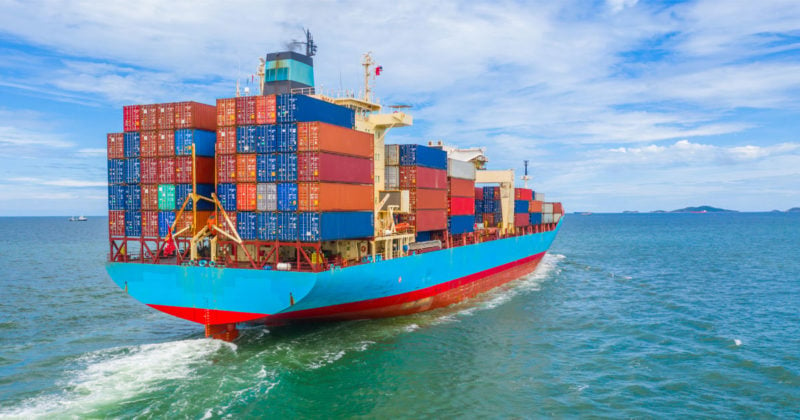 With trade tensions on the rise, the United Kingdom set to exit the European Union on October 31, and economic headwinds casting long shadows over demand, excess vessel supply is putting downward pressure on spot freight rates at the onset of the traditional slack season.
And all this after a weak summer peak season for container lines.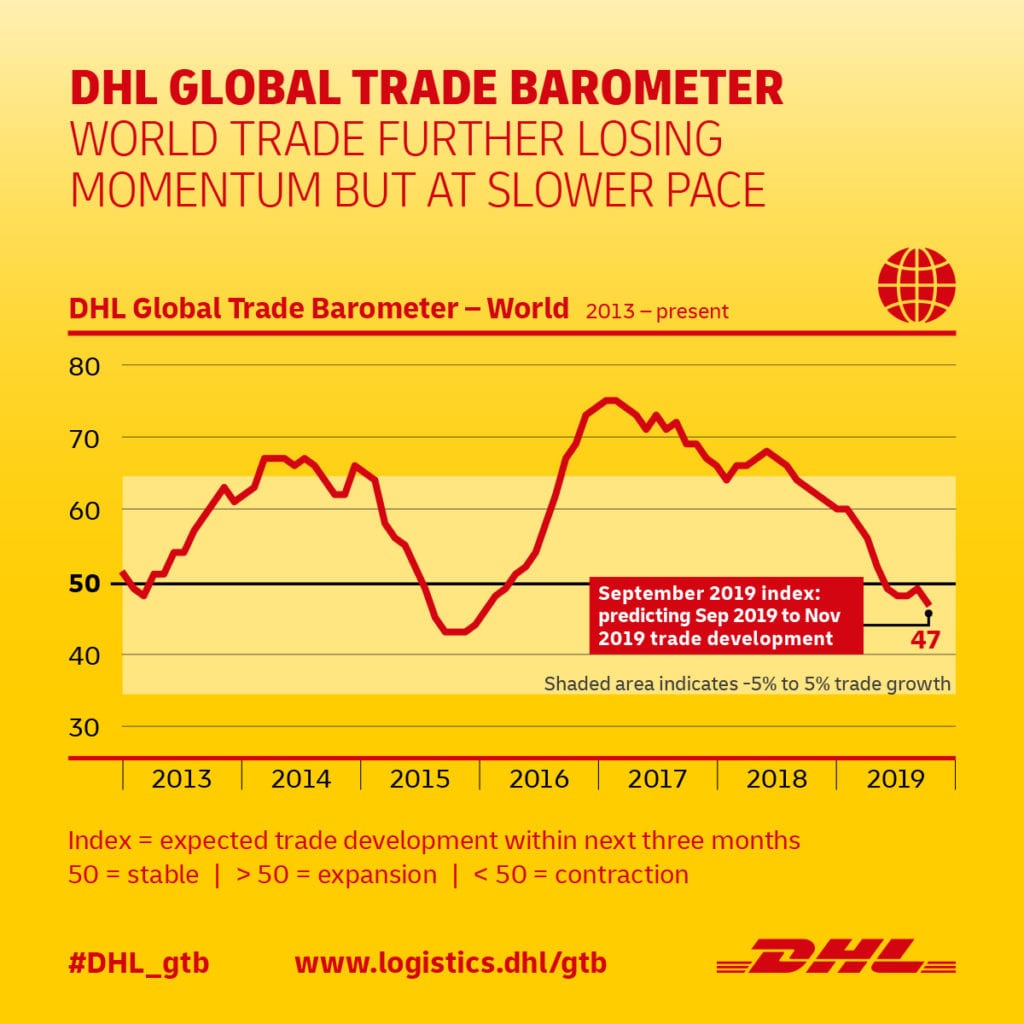 The latest DHL Global Trade Barometer (GTB) illustrates the tepid nature of demand for container shipping stakeholders heading into the low season.
The global index fell by a single point to 47, indicating that global trade will further lose momentum over the next three months. Deceleration is spreading across nearly all GTB countries with five out of seven leading economies in negative growth territory.
"China-U.S. trade tensions have ratcheted up to higher levels and are already affecting global supply chains as businesses adjust to the new reality that both sides are digging in for a long trade war," said Eswar S. Prasad, Professor of Trade Policy and Economics at Cornell University.
"Rising trade tensions in other parts of the world, including between Japan and South Korea, and the looming prospect of a messy 'Brexit' are likely to have an increasingly disruptive effect on world trade volumes."
Year-end slowdown
The supply side of the box shipping equation is unlikely to buoy spot freight rates.
Total capacity of the world's cellular containership fleet passed 23 million twenty-foot equivalent units (TEU) in mid-September, following the delivery of two more 'Pegasus' class (23,000 TEU+ megamax ships) vessels to MSC, according to DHL's latest Ocean Freight Market Update by Dominique von Orelli, Global Head of Ocean Freight at DHL Global Forwarding, Freight.
According to the report, growth of the cellular fleet has remained steady at around 4 percent since May, with deliveries of new containerships adding 826,000 TEU to the overall fleet so far this year. In contrast, scrapping has remained low with only 165,000 TEU removed from the fleet since January.
This demand-supply imbalance has pushed key fronthaul and backhaul spot shipping rates significantly lower than a year earlier on major East-West trades.
Shanghai-Rotterdam rates are 19 percent lower year-on-year, based on shipping consultancy Drewry's assessment of the World Container Index on September 26, while Shanghai-Los Angeles and Rotterdam-Shanghai rates were down 41 percent and 42 percent respectively.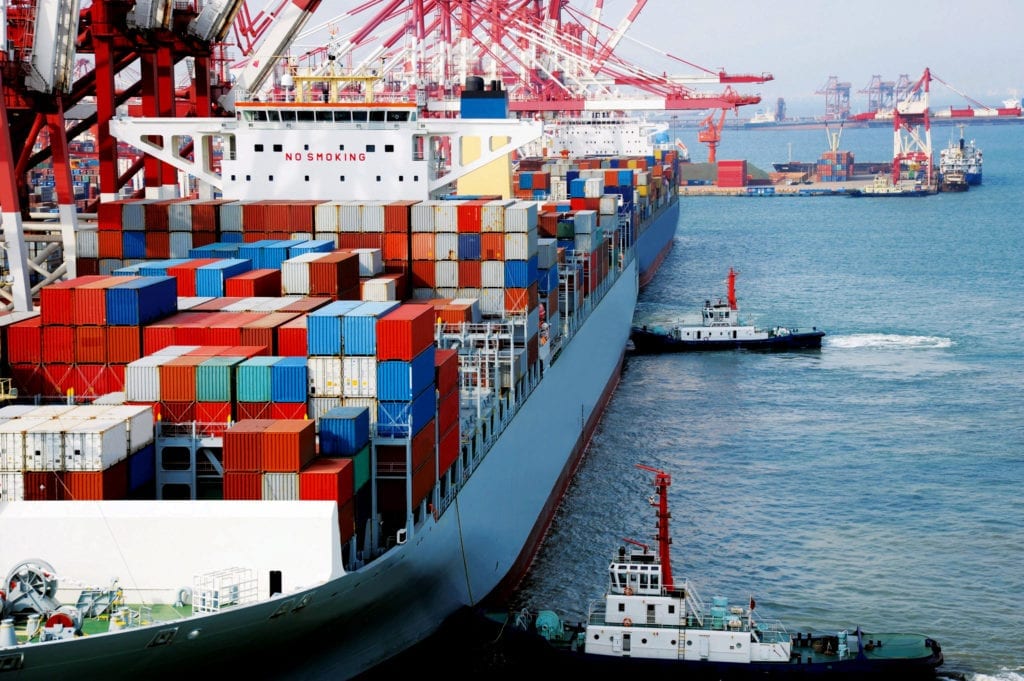 "With Chinese factories due to close for the October 1 Golden Week holidays, marking the traditional start of the container shipping slack season, carriers have slashed rates ahead of the holidays to build their cargo booking pipeline," said the latest weekly report from shipping analyst Alphaliner. "Further rate weakness is expected for the rest of the year, with carriers' capacity management efforts ineffective so far in stemming the rate decline."
DHL's latest Ocean Freight Market Update details the extent to which lines are aggressively withdrawing capacity in the early part of Q4, especially around the Golden Week holidays which see China's factories shutting down in the first two weeks of October.
More cuts are expected later in the quarter, some of them linked to the introduction of new low-sulfur fuels.
IMO 2020
Scheduled to enter into force January 1, 2020, the new International Maritime Organization (IMO) regulations will be a massive step in the right direction in terms of the environmental performance of ocean freight.
They state that unless some form of emission abatement technology such as scrubbers has been installed on vessels, the sulfur content of fuel oil burned by ships operating outside designated emission control areas must not exceed 0.5 percent, compared to 3.5 percent now.
However, the premium prices of low-sulfur fuels are expected to drive up global supply chain costs, especially as shipping organizations are already warning that supply of the new bunker options might not be adequate.
Taking advantage of the slack season, container lines are rushing to fit scrubbers on more vessels to avoid paying premiums for low-sulfur fuels, although at this late stage no more than 7 percent of the fleet is likely to be scrubber-ready. The need to switch fuels and clean tanks will also take some container ships out of circulation in the coming months.
Wiggle room on implementation of the regulations is limited with the IMO having warned that compliance will be strictly monitored "on and after January 1, 2020." As a result, Drewry predicted earlier this year that the Bunker Adjustment Factor (BAF), which shippers will face from container lines, "will soar between 4Q19 and 1Q20 first and will be highly volatile in the first half of 2020."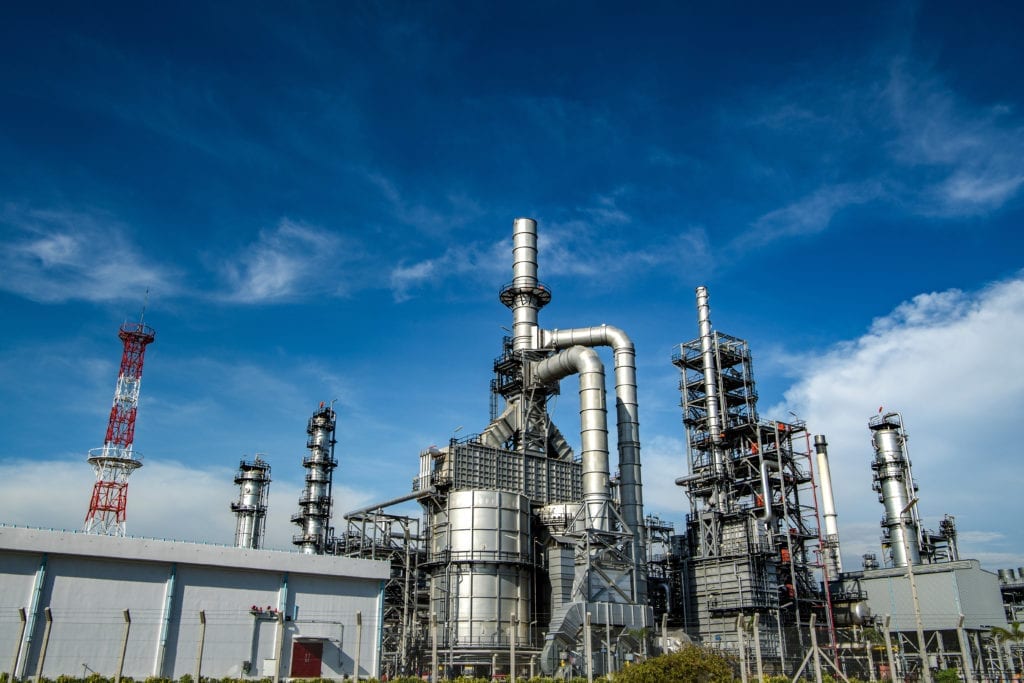 However, that forecast came before the drone attacks on the Saudi Arabian oil industry last month which saw Brent crude oil prices surge 20 percent. Although they subsequently subsided, the higher cost of both intermediate bunker fuel and low-sulfur alternatives are expected to be passed down the container shipping supply chain.
Even before the attacks on Saudi oil fields drove up fuel prices, analysts estimated that the annual fuel bill for container shipping would rise by approximately US$10 billion (€9.2 billion) to US$15 billion.
Given that the container shipping industry registered a total profit of circa US$1.5 billion last year, lines are understandably eager to pass on the full costs of the hikes to customers.
How and when they do so is proving controversial, with shipper bodies increasingly outspoken about the lack of transparency in the formulas and mechanism container lines are using to pass on low-sulfur costs to customers — all of which will make for a highly volatile fourth quarter for ocean freight.