MORE FROM THIS COLLECTION

Scheduling difficulties abound for ocean freight
Ongoing port congestions and an evolving situation in Ukraine are contributing to further uncertainties.
Ongoing port congestions and an evolving situation in Ukraine are contributing to further uncertainties.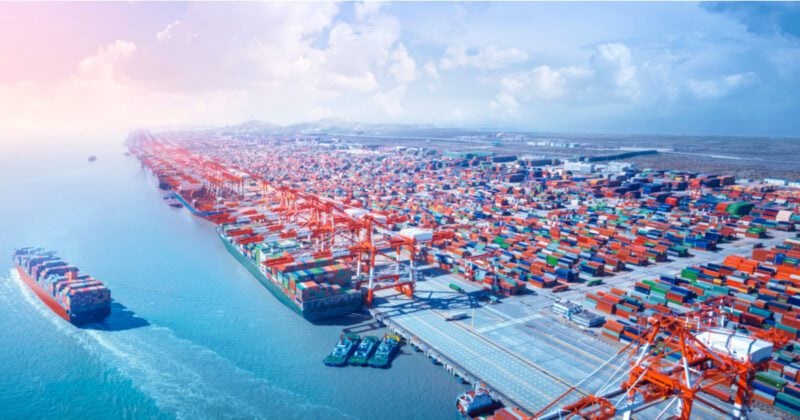 There is little sign that global port congestion is easing in the early months of 2022, with build-ups of empty containers and the deployment of smaller vessels making it difficult for ports and carriers to clear backlogs.
"Disruption in the supply chain is likely to persist through this year, particularly for air freight and sea freight, be it uplift capacity, availability of equipment or reliability of sailing schedules," said Kelvin Leung, CEO, DHL Global Forwarding Asia Pacific.
Freight rates are also not likely to return to pre-pandemic times immediately when the market eventually normalizes. "We must adapt to the new normal and be hopeful that Covid-19 disruptions will see some improvements in the second half of the year," added Leung.
Increased transit times
Vessel delays remain a significant problem on both the Asia–North Europe and Asia–US trades. Neither saw any improvement in port congestion between November and February, according to the latest research from Alphaliner, as detailed in DHL's March Ocean Freight Market Update.
The Los Angeles/Long Beach infrastructure continues to be heavily congested and is struggling to clear cargo backlogs, notes the Update. This is despite an overall decline in the number of ships waiting for a berth, dropping from a peak of 109 ships on 9 January to 76 ships on 14 February.
Labor shortages due to Covid-19 reasons have increased in the last months and are impacting terminal operations. Deliveries are still heavily delayed because of a persisting lack of rail cars, a shortage of truckers and a chassis deficit.
Another reason for congestion at U.S. west coast ports is the increased front-haul transit time for ships sailing from the Far East. Transit times to the ports of Los Angeles and Long Beach from Asia rose to an average of 38 days in February, up from 28 days in mid-November.
Vessel delays for ships on a full Far East–North Europe round voyage were unchanged from November, with the 14,000 – 24,000 TEU ships deployed on services still requiring an average of 17 days more than their pro forma schedules to reach Central China for their next westbound trip. "Skipping port calls still appears to be the only way to avoid or limit lengthy delays," notes the Update. "We expect the situation to persist through 1H 2022 with a possible improvement in 2H 2022."
Scheduling difficulties due to stormy weather in February have added to port congestion in Europe. The situation in Ukraine is also set to impact productivity in many northern European ports, with Russia-bound cargo suspended until further notice.
More vessels expected to load ports
Another contributing factor to global port congestion is the deployment of more vessels on key routes, according to analyst firm Sea-Intelligence. During the early pandemic period, there was an unusually large decline in the number of deployed vessels as blank sailings rose rapidly.
But after this early phase, the number of deployed vessels first returned to normal levels, and then reached a high point towards the end of peak season 2021. Sea-Intelligence notes that there was a temporary drop for Chinese New Year 2022, followed by a very sharp upwards correction as we get into the current outlook for March/April 2022.
The forecast increase in March/April 2022 could be a key factor in port congestion in the months ahead. The number of vessels scheduled to depart Asia – and subsequently arrive on the North American West Coast – will increase sharply and surpass a 40 percent growth on the pre-pandemic normality. This in itself will add further pressure on port infrastructure.
What is more alarming is that there will be a 60 percent increase in the number of vessels on the Asia-North America East Coast trade lane in the coming months, as carriers try to circumnavigate port congestion on the West Coast. This will severely increase pressure on the port infrastructure on the East Coast.
Ongoing modal shift
The evolving situation in Ukraine is also increasing pressure on freight services and rates between Asia and Europe. Operators are suspending Russia-bound services, causing shippers to be wary about sending shipments between Asia and Europe via both the sea and rail network.
An early March 'Global Container Shipping' report by HSBC noted that some of these cargoes could switch from rail to ocean shipping, despite longer transit times. "A 50 percent diversion of rail cargoes would equate to 3.2 percent of the weekly nominal ocean capacity on the Asia-Europe trade route," said Parash Jain, Head of Shipping & Ports at HSBC.
In Asia, China's strict Covid-19 policies are also adding to port disruption. "Congestion picked up in the Pearl River Delta, likely due to the Covid-19 related dynamic lockdown in Shenzhen. We expect China's strict Covid-19 policy might continue to disrupt the fragile supply chains," noted Jain.
Continued tightness in the supply-demand balance could potentially lift spot freight rates further -- not just on Asia-Europe but globally.
Dominique von Orelli, Global Head, Ocean Freight, DHL Global Forwarding, said: "DHL is closely monitoring the impact of any potential modal shift to ocean on European services. We will continue to ensure customers have adequate capacity available but urge them to book early."