MORE FROM THIS COLLECTION

Carriers sailing through Chinese New Year amid container shortage crisis
Global ocean supply chains are at full stretch ahead of the Chinese New Year (CNY) holidays, which officially start on February 12.
Global ocean supply chains are at full stretch ahead of the Chinese New Year (CNY) holidays, which officially start on February 12.
Factory closures for the holidays typically prompt blank sailings from container lines trying to manage the lull in demand following the spike before Chinese New Year.
However, canceled sailings this year are most likely to result from delayed ships, rather than carrier capacity management. Also, carriers are desperately trying to get their vessel rotations back in order which will trigger further schedule adjustments.
"Chinese New Year on February 12 will be very different to other years as carriers are not implementing their usual blank sailings programs in the weeks following Chinese New Year," said Dominique von Orelli, Global Head, Ocean Freight, DHL Global Forwarding, in DHL's February Ocean Freight Market Update.
"They will need to keep their vessels moving, especially to the U.S. and Europe, where empty 40ft containers are piling up. In comparison, Asia is grappling with a shortage," he added.
Ocean contract and spot rates on most trades were at record or near-record levels at the start of February. They have been spurred on by heavy demand, port congestion, trucking shortages, and acute equipment imbalances.
According to the World Container Index assessed by shipping consultancy Drewry, spot freight rates were significantly higher on the Shanghai-Rotterdam, Shanghai-Genoa and Shanghai-Los Angeles trades compared to a year earlier.
Regulators on high alert
The unexpected surge in demand from the second quarter of 2020, due to the dramatic rise in e-commerce sales, and restocking in Europe and the U.S., caught carriers and stakeholders off guard. This has led to further supply chain stresses in early 2021.
Moreover, pandemic working restrictions on port, trucking and warehousing personnel constrained their ability to respond effectively, which slowed turnaround times for vessels and equipment.
Following previous warnings about the unhealthy nature of the trans-Pacific trade last year, China's Transport Ministry said in January that it would investigate whether carriers had been performing rate reporting duties correctly. The ministry has urged them to stabilize freight rates and address container and capacity shortages.
Meanwhile, the European forwarders association CLECAT and the European Shippers' Council called for action from the European Commission to address "outrageous price hikes", "frequent rollovers" and "late delivery" by carriers.
Supply chain safety and reliability at risk
In the first few weeks of 2021, there were signs that the tightness of global ocean supply chains might be impacting safety. A slew of containers lost at sea incidents, including the loss of 750 boxes from the Maersk Essen on January 29, prompted question marks about overloading and loading procedures, given the current pressure on port calls.
Liner service delivery standards are also in decline, as logistics bottlenecks continue to disrupt schedules. Shipping analyst firm Sea-Intelligence's latest Global Liner Performance report noted that carrier schedule reliability dropped to a record low of 44.6 percent in December, 31.7 percent lower than a year earlier.
According to the report, a similar trend is observed with the average delay for late vessel arrivals, which has recorded consecutive month-on-month increases for the past four months, reaching 5.74 days in December.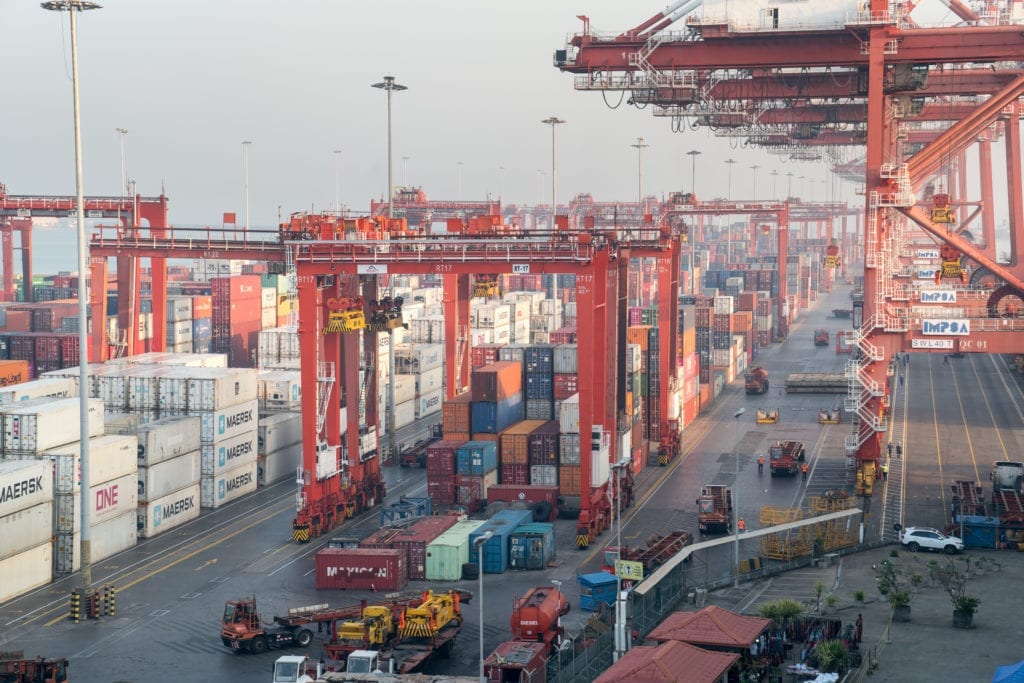 "The combination of high demand and Covid-19 mitigation measures have impacted and slowed down port operations at key gateways," said Kelvin Leung, CEO, DHL Global Forwarding Asia Pacific.
"The container congestion in China could build up and move inland as truck drivers are leaving for their Chinese New Year break, despite the government urging citizens to refrain from travel. Since some local authorities have implemented quarantine measures for people returning from other provinces, truck drivers are forced to leave earlier to return home," Leung explained.
Logjams to last until Q2 2021
With East-West spot freight rates rising a further 23 percent in the first three weeks of 2021, Drewry sees little sign that the "box logjam" will ease immediately after CNY.
Due to little visibility of the current market or the near-term outlook, few carriers and forwarders have been willing to predict when the current crisis might end, but the consensus points to months rather than weeks.
Even as carriers help mitigate this supply chain crisis, the highly elevated freight rates are expected to last until at least the second quarter of the year.