MORE FROM THIS COLLECTION

Container shipping sees an 'unusual' fourth quarter because of Covid-19
Ocean freight demand and rates remain high in Q4 2020 as countries enter different phases of the pandemic.
Ocean freight demand and rates remain high in Q4 2020 as countries enter different phases of the pandemic.
The fourth quarter is box shipping's traditional lull season as the summer peak loses momentum and the final holiday shipments from Asia to Europe and North America are loaded.
Slow steaming and void sailing strategies are often deployed by container lines to help prop up spot rates as demand softens — an approach that also assists carriers during the Asia-Europe annual contract negotiations with shippers.
In 2020, however, this traditional trade flow has been replaced by something entirely new. Ships loading in Asia are full and overbooked, equipment shortages are critical and there is almost no inactive container vessel capacity available for charter.
Near-record rates cause problems
Spot freight rates on the three key headhaul trades were bullish throughout October and remain far higher than a year earlier.
Freight rates maintained their buoyancy despite carriers falling over each other in a rush to add capacity. Indeed, the fourth-quarter capacity injection on the trans-Pacific trade by carriers was unprecedented.
According to shipping analyst firm Sea-Intelligence, capacity has grown more than 20 percent year-on-year, which significantly exceeds what was seen in the past.
The inactive fleet fell to just 107 ships — 378,802 twenty-foot equivalent units (TEU) or 1.6 percent of the world fleet — on October 26, according to data from container shipping analyst firm Alphaliner. This was 59,608 TEU lower than two weeks earlier and down from a peak at 2.70 million TEU in late May.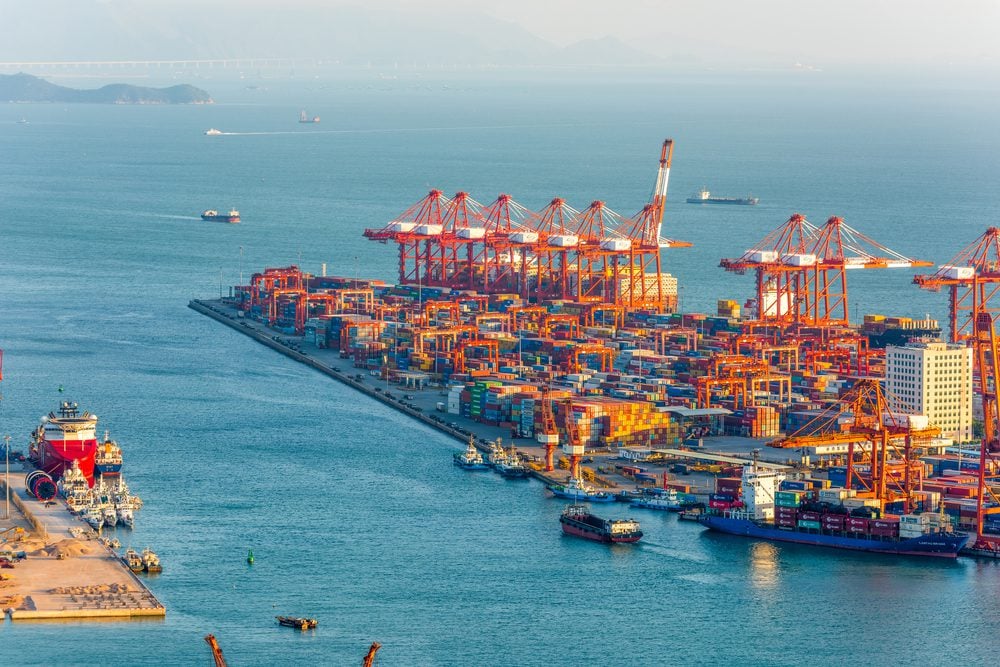 Despite lines selling out and struggling to cope operationally, carriers have not significantly sped up ships to increase global capacity, which might threaten softer freight rates and carrier profits.
Container shortages at Asian ports are so severe that some vessels are sailing with empty slots simply because carriers cannot source enough empty boxes. Cargo rollovers at transhipment ports are also widespread.
Data from market intelligence platform Ocean Insights indicates that around a fifth to a third of all cargo handled at leading transhipment hubs in Asia and the Middle East is currently being rolled over.
Predictably, schedule reliability has taken a turn for the worse as the cargo pipeline overwhelms capacity. Global schedule reliability plummeted in Q3 2020 to 65 percent, the lowest level ever recorded by Sea‑Intelligence and down ‑14.6 percent year-on-year.
Covid-19 reshapes demand
The unusual nature of ocean shipping's fourth quarter is, of course, explained by how Covid-19 lockdowns have impacted demand in 2020.
Lower consumption earlier this year prompted a "catch-up effect", while lockdowns saw a switch in consumer spending to products, shared Dominique von Orelli, Global Head of Ocean Freight at DHL Global Forwarding.
According to the DHL's November Ocean Freight Market Update, after steep declines in spring, many indicators of world trade rose by record amounts during summer.
Kelvin Leung, CEO, DHL Global Forwarding Asia Pacific, noted that China's early and strong economic rebound has boosted both its imports and exports, helping overall world trade.
Research firm IHS Markit makes another important point about the nature of the current global downturn. It forecasts that the 4.5 percent drop in real GDP during the current crisis will be nearly three times as large as during the 2008-09 global financial crisis.
However, the impact of this contraction is uneven. IHS Markit expects the decline in the exports of 'goods & services' (10.5 percent) to be almost the same as during the global financial crisis (9.6 percent). In short, non-trade services have been far more severely impacted by the pandemic than by manufacturing.
The forward outlook
So far at least, there are few signs that shipping markets are slowing down, even as coronavirus lockdowns become more stringent in many parts of the world.
"The move in consumption toward products and away from experiences, the higher air freight rates, and the urgent restocking by retailers in critical markets, are continuing to stoke demand for the container shipping sector," added Leung.
China's official manufacturing Purchasing Manager's Index (PMI), which measures China's manufacturing sector's performance, moderated only slightly to 51.4 in October from 51.5 in September, while the new export orders sub-index continued to rise in October, up to 51.0 from 50.8 in September.
The International Monetary Fund (IMF) has also lifted its global GDP forecast for 2020 from a decline of 5.2 percent to a smaller contraction of 4.4 percent. Meanwhile, world output is forecast to expand by 5.2 percent in 2021.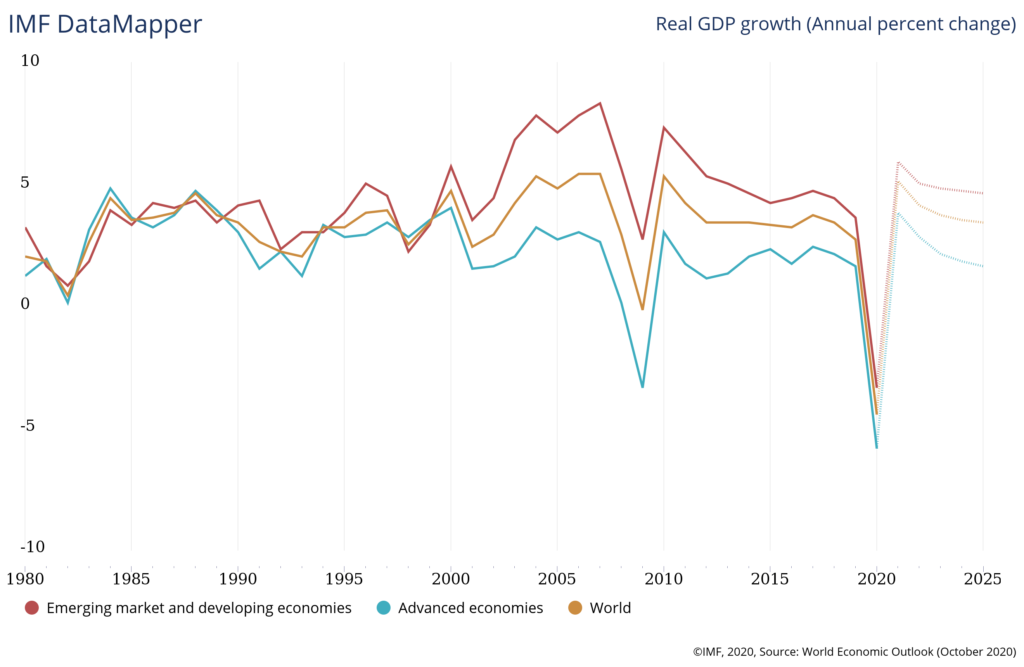 In the U.S., growth next year is projected at 3.1 percent after a 4.3 percent decline this year, while the eurozone will expand 5.2 percent in 2021 after shrinking 8.3 percent this year, according to IMF.
World trade volumes are also forecast to rise by 8.3 percent in 2021 after falling 10.4 percent this year.
A note of caution
However, given that the pandemic is not over, there are still ample reasons for caution where container shipping markets are concerned.
Data from Alphaliner in early November indicated that cargo transportation demand remained unusually strong for the time of the year, with the low season failing to materialize and volumes boosted by e-commerce demand, in the U.S. in particular.
However, a spike of Covid-19 infections in the U.S. and another round of lockdowns in several countries in Europe could impact demand in the coming weeks.
Looking forward, IHS Markit believes the rally in trade could be part of a broader "bounce and fade" global recovery pattern, adding that the surge in China's imports and exports could be temporary.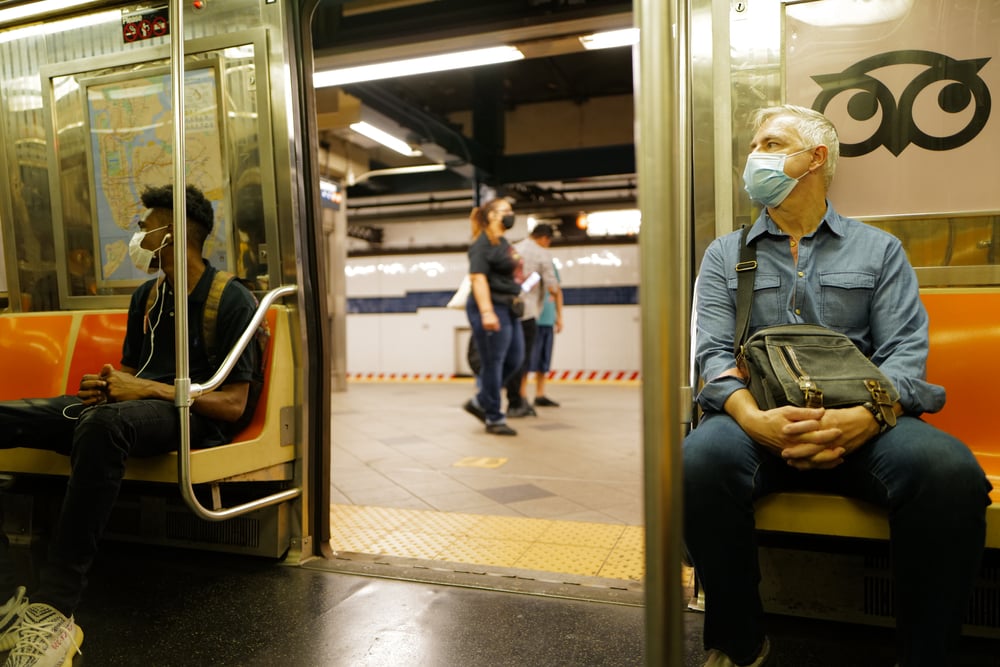 According to Japanese bank Nomura, while the second wave of Covid-19 outside China could bolster China's exports, an extended pandemic may eventually dampen demand for China's exports if the purchasing power in overseas economies diminishes and they adjust their manufacturing to the new normal.
Aside from the macroeconomic and supply-demand fundamentals that usually determine container shipping markets, 2020 has also seen the emergence of another factor that will weigh heavily on freight rates in the months ahead — the newly realized capacity control that lines have demonstrated this year.
The use of void sailings and the refusal to engage in a rates war has enabled carriers to prosper during a global downturn.
If this continues, cargo owners should start planning for an upwards correction in long-term ocean freight contract prices on most routes next year, even if the demand outlook softens.