MORE FROM THIS COLLECTION

Intra-Asian lanes affected by ongoing capacity shift from Asia to U.S.
Ongoing container fleet growth is slow and will require more time to balance out capacity versus demand.
Ongoing container fleet growth is slow and will require more time to balance out capacity versus demand.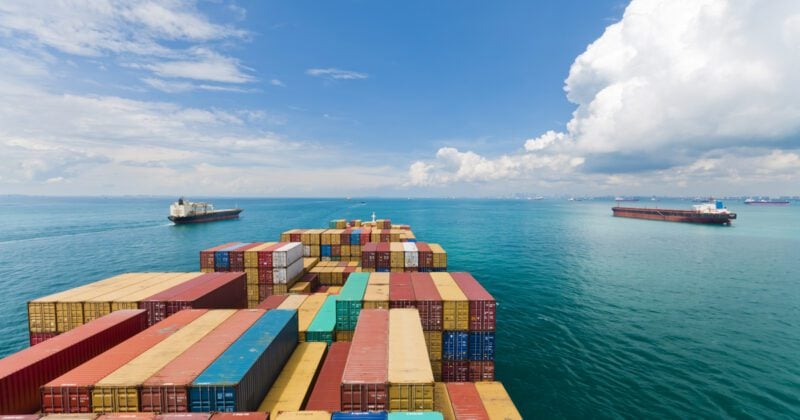 The pandemic-driven shift of U.S. consumption from services to products, and the resulting surges in trans-Pacific ocean container demand and freight rates, are sucking ships out of Asia and driving up the region's manufacturing and supply chain costs, according to DHL's February Ocean Freight Market Update and the latest insight from leading analysts.
This increase in capacity has left holes both outside and within the region. At the start of 2022, 43.7 percent of the global fleet was operating on the Asia-Europe and trans-Pacific lanes, up from 38.1 percent a year earlier.
But the hardest hit has been trade within Asia itself. Some 331,200 Twenty-foot Equivalent Unit (TEU) slots have been removed from intra-Asian services last year, representing a capacity reduction of 10.8 percent, according to online shipping database Alphaliner. That has caused spot rates in some parts of Asia to more than double year-on-year, with no sign of them abating.
Kelvin Leung, CEO, DHL Global Forwarding Asia Pacific, said: "After two years of logistics shocks, these increases in intra-Asia rates are not the biggest hurdle supply chain managers have had to cope with. But they are adding to overall supply chain and production costs. We are hoping for some easing of the situation in the second half of this year."
The shift in capacity to trans-Pacific routes was evident early in the pandemic. As U.S. consumers splurged on lifestyle products during Covid-19 lockdowns, freight rates on the trans-Pacific rose sharply from Q2 2020. Drawn by the demand and profits to be made, carriers began to divert large numbers of ships to the region.
This has left some regions severely short as most additional capacity was sucked into East-West shipping lanes at the expense of regional and Africa trades.
What does this mean for Asia?
The effect of intra-Asia capacity withdrawals has been an increase in freight rates and manufacturing costs in Asia. According to ocean and air freight rate benchmarking platform Xeneta, spot rates from the main Chinese ports to the main Japanese and South Korean ports in 2021 averaged USD 1,400 (€1,222) per Forty Equipment Unit (FEU), up from USD 640 (€560) in 2020. In the first half of January they rose above USD 1,800 (€1,571) per FEU.
"Though the increases are smaller than on some other major head haul trades, the higher spot prices can still have a considerable impact," said Peter Sand, Chief Analyst , Xeneta. "Considering that many of the goods on these intra-Asian trades are intermediate goods moving between factories in the region, doubling spot freight rates can often add considerable costs to the manufacturing process, forcing manufacturers to reconsider their manufacturing and supply chains across the region."
Leung said that while the company was hoping for some easing of the situation in the second half of this year, "DHL continues to secure capacity in sufficient scale to meet customer needs on all trades but booking early is paramount."
Capacity gains and losses
The East-West capacity upgrades also came at the expense of liner offerings to and from Africa, where the combined capacity of ships trading between Asia, Europe, America and Africa fell by 6.4 percent to 1.68m TEU at the start of 2022.
Capacity deployed on the trans-Atlantic, and to and from the Middle East/Indian subcontinent, was relatively stable over the period while Latin America-related services saw an increase in capacity.
However, the intra-European trade proved to be another victim of the capacity shifts. "Some 48,200 TEU slots disappeared from intra-European services (- 4.5 percent)," noted Alphaliner. That capacity appeared to be heading to the Pacific.
"The ongoing capacity reduction was illustrated last month as the 974 TEU SPICA J left Europe for China. The SPICA J previously operated for many years as a typical feeder vessel in North Europe but left Rotterdam without any cargo mid-December for a voyage to Asia. The ship is currently loading Chinese export cargo in Taicang."
Ongoing shifts from East to West
Although Asia-Europe trade saw a capacity increase of 10.2 percent last year, this was largely due to the delivery of 16,000-24,000 TEU, which replaced the smaller 13,000 TEU units, according to Alphaliner.
The loss of capacity on regional trades such as intra-Asia was primarily a result of vessels being transferred to the trans-Pacific lane, which remains the most profitable for carriers even though port congestion on both sides of the Pacific is at record highs.
Alphaliner estimates that January spot freight rates including premiums on the Shanghai-California lane corresponded to revenue for vessel operators of  USD 1.29 (€1.13) per nautical mile. On Asia-Europe trade, the figure was just USD 0.73 (€0.64) , up from USD 0.42 (€0.37) at the start of 2021.
"At the start of this year, 22 percent of the total container fleet was deployed between Asia and North America, up from 17.5 percent on 1 January 2021," notes the Update. "Carriers added 1.30m TEU of capacity to this major East-West route over the course of last year."
Congestion black hole
Unlike in 2020, extra tonnage in 2021 was drawn into the trans-Pacific. The capacity increase, however, was needed to compensate for the huge efficiency loss as many ships faced long waiting times at anchorages, rather than to cope with a corresponding surge in cargo demand.
Dominique von Orelli, Global Head, Ocean Freight, DHL Global Forwarding, said: "Carriers are making logical decisions based on the charter costs they must pay, and the likely returns they can make when deploying those vessels. That equation points to the highly lucrative trans-Pacific trade, despite the port congestion many encounter there."
This is highlighted by the container traffic situation at Los Angeles (10.70m TEU) and Long Beach (9.38m TEU), which increased by a more modest 13 percent and 15.7 percent, respectively, last year.
"It is important to note that this is not just about big container lines moving capacity, this is also much smaller operators and feeder companies that are re-diverting ships, and also big shippers which have been chartering their own vessels," added von Orelli.
While port congestions will continue well into 2022, container production is on track to overtake demand growth. Equipment availability, however, will only see more apparent improvements from 2023.