MORE FROM THIS COLLECTION

Japan-South Korea trade row triggers rethink of supply chains
Asia's other trade war could curtail the supply of important chemicals, thereby disrupting the global electronics industry.
Asia's other trade war could curtail the supply of important chemicals, thereby disrupting the global electronics industry.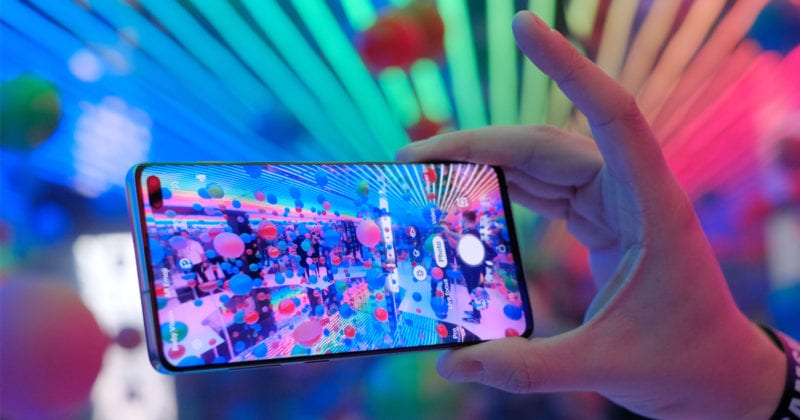 Historical disputes and political standoffs between Japan and South Korea have put further strain on the neighbors' icy relations, but the latest saga is proving to be more severe than usual with significant repercussions for the electronics industry.
The most recent flashpoint came when a South Korean court ordered Japan's Mitsubishi Heavy Industries and Nippon Steel Corporation to compensate victims of forced labor during World War II.
In response, Japan tightened its rules in July this year for the export of three chemicals — fluorinated polyamides, photoresists, and hydrogen fluoride — to South Korea that are crucial to making electronic devices.
Now, with uncertainty surrounding the supply of the materials, South Korean electronics companies could face imminent disruptions to their operations.
A perilous situation
The trade spat has put South Korea in a perilous situation because of its heavy reliance on Japan for the chemicals used to make semiconductors and device displays.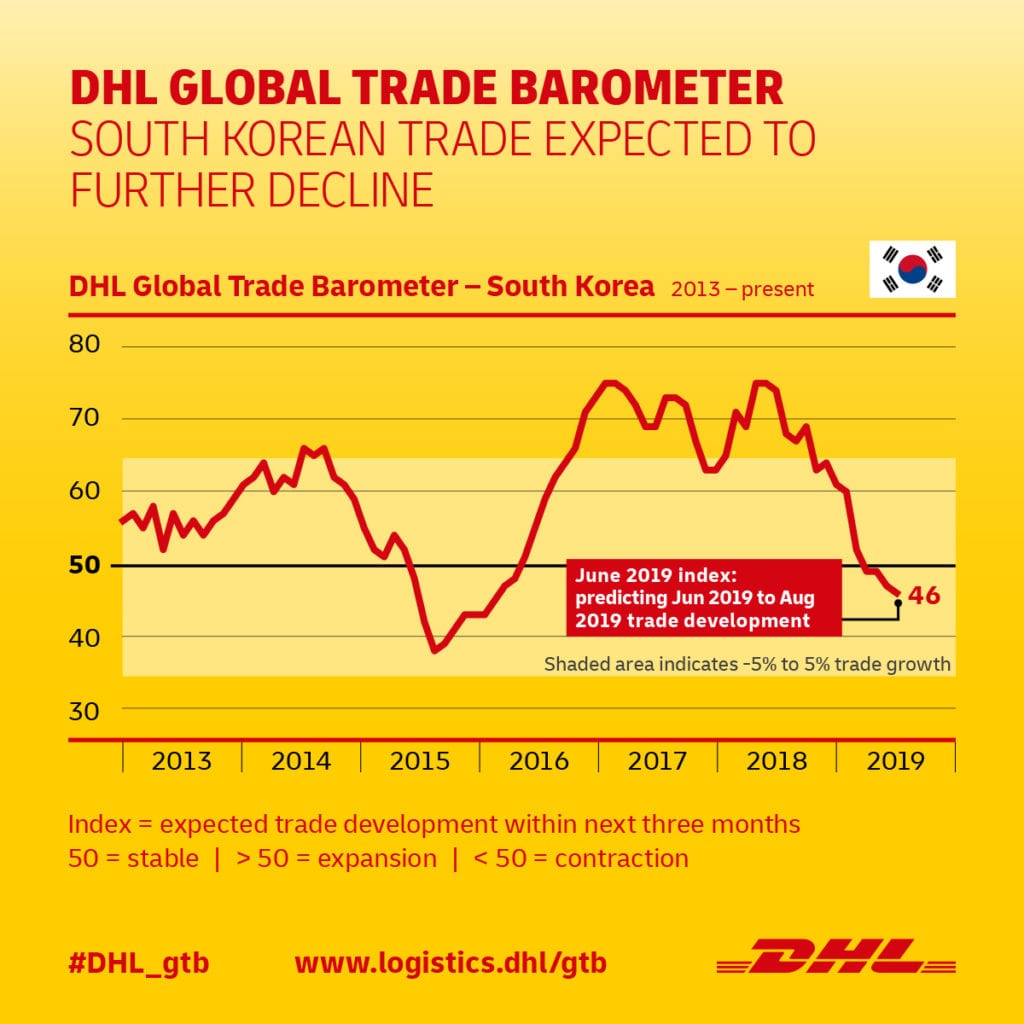 In the first five months of 2019, South Korea imported 94 percent of its fluorinated polyimide, 92 percent of its photoresist, and 44 percent of its etching gas (hydrogen fluoride) from Japan.
The export curbs could slow this flow. And any choke point in the supply of photoresist and hydrogen fluoride etching gas can impede the production of chips, according to research firm IHS Markit.
"Japan is the world leader in the manufacturing of resist polymers and any constraints to the material supply chain will have significant negative consequences, not only to semiconductor manufacturers but to the chemical companies producing the resist polymers," said Len Jelinek, IHS Markit's Executive Director of semiconductor research.
Under Japan's new rules, suppliers need to lodge individual applications when exporting the three chemicals to South Korea. They previously had three-year permits, which removed any need for approval by batch.
The screening process per application can take as long as 90 days, raising concern among South Korean electronics companies like Samsung.
"Even though the recent measures by the Japanese government do not ban export of materials, we are facing difficulties due to the burden of this new export approval process and uncertainties this process will bring, so the visibility is low," said Robert Yi, head of Samsung's investor relations.
Though Japan approved in August the first export of one of the chemicals (photoresist) since it imposed restrictions in July, the move has done little to quell growing doubts over supply.
Will it hurt global electronics trade?
The effect on display production will be minimal, according to IHS Markit. But the news is worse for the semiconductor industry, which accounts for about a quarter of South Korean exports.
The country plays a crucial role in the global electronics supply chain, with two of its major companies — Samsung Electronics and SK Hynix — among the world's largest suppliers of chips. Any disruption in their production would inevitably hurt not just the country's exports, but also the global electronics trade.
"The restrictions pose a risk not only to Korean firms and the country's export-led growth, but also the global tech sector, particularly consumer electronics," said Rory Green, an economist at research firm TS Lombard.
Even without its trade spat with Japan, South Korea's semiconductor industry was already facing challenges.
Global demand for chips has slowed and prices continue to fall. In July, South Korea's chip exports plunged 28 percent on the year to US$7.5 billion (€6.7 billion), dragging total exports down for an eighth straight month.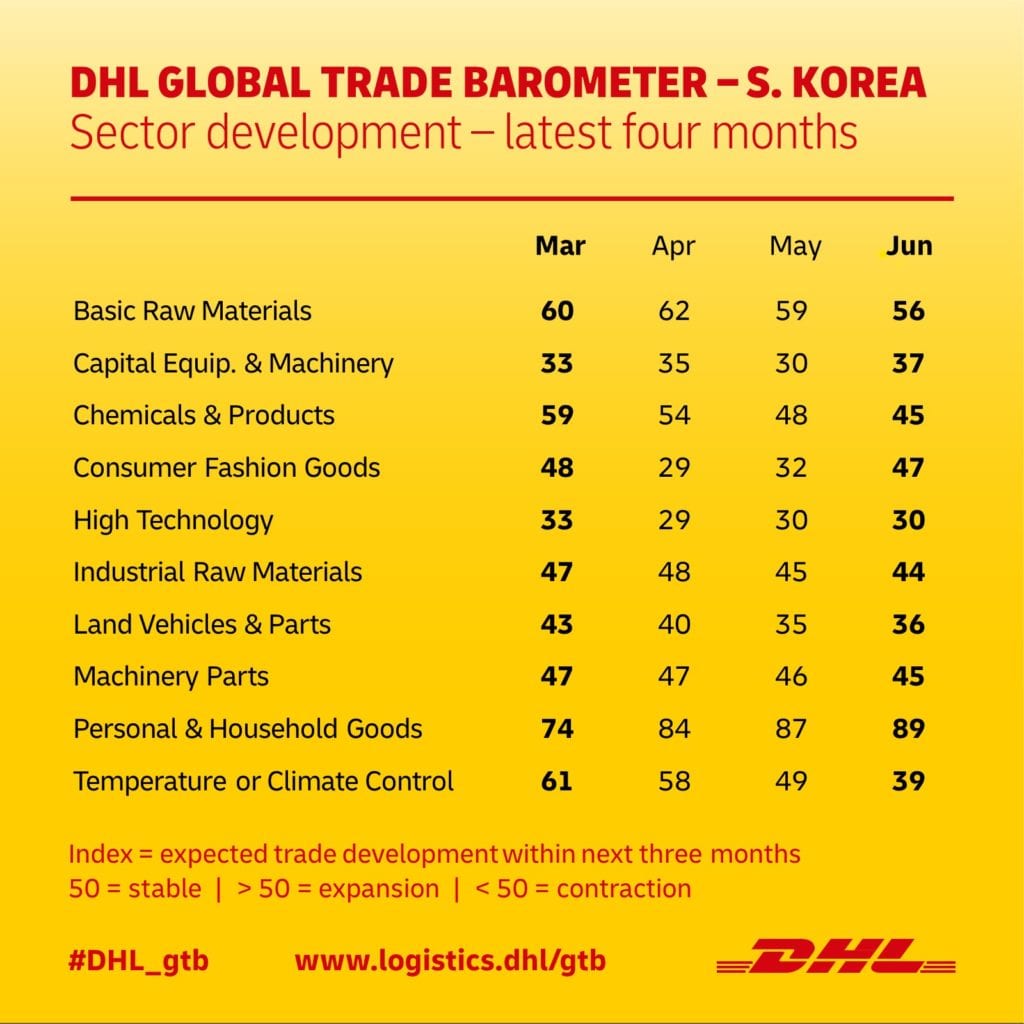 DHL's Global Trade Barometer also shows the country's high-technology sector has dropped to just 30 points, indicating a declining growth outlook.
Finding alternatives
Caught off guard by the export curbs, South Korean chipmakers rushed to find other sources of photoresist and hydrogen fluoride in July. However, Japan's near-monopoly in producing the chemicals has turned sourcing into an uphill battle.
"It is not easy for the chipmakers to find alternative supply sources because the current supply chain between the Japanese firms and the Korean chipmakers has been built after a long period of cooperation," said Lee Jong-hwan, a semiconductor engineering professor at South Korea's Sangmyung University.
South Korean chipmakers also favor Japanese materials for their high quality. They can, for example, import hydrogen fluoride from China and Russia but prefer Japan's etching gas for its ability to help produce more chips.
To safeguard themselves against the uncertainty caused by Japan's restrictions, major companies have been seeking options elsewhere to prepare for all possible contingencies.
For instance, Samsung has reportedly procured up to 10 months' worth of a type of photoresist from a Belgium-based company. Meanwhile, a Chinese semiconductor chemicals maker was said to have secured deals to supply a hydrogen fluoride solution to South Korean chipmakers.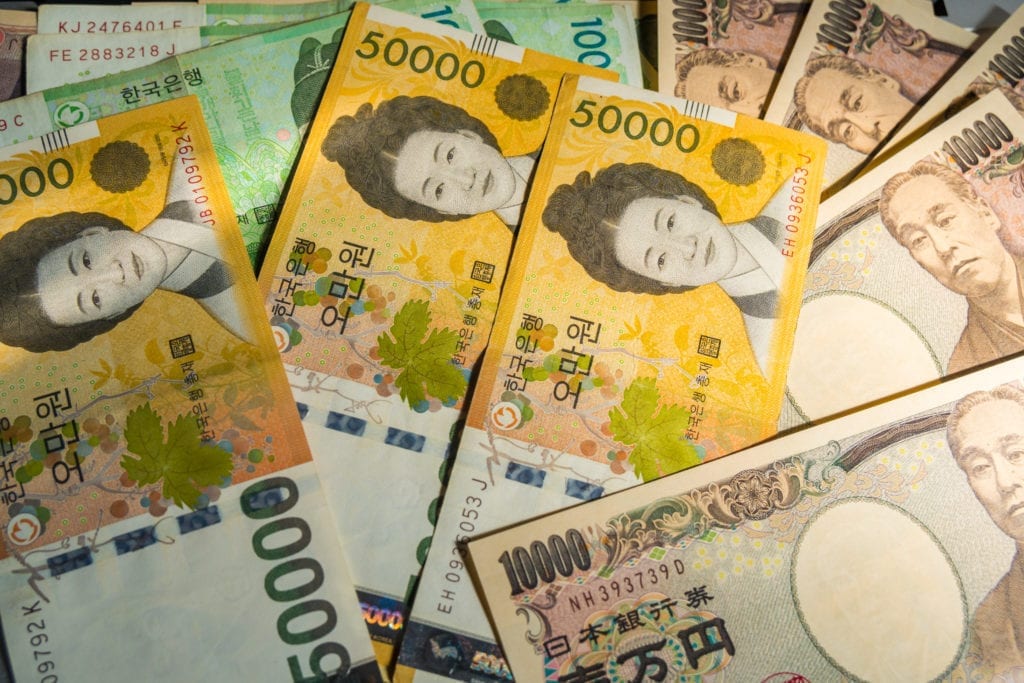 South Korea itself produces etching gas, and the government is encouraging local suppliers to make more of it and other high-tech chemicals. It even pledged to invest KRW7.8 trillion (€5.7 billion) to support the local production of key manufacturing materials.
Still, local suppliers cannot replace all three Japanese chemicals without outside help. "It will take a long time to get there and we need to cooperate with Japan," said one executive at a local supplier.
What will be the broader trade impact?
Aside from the export curbs, Japan also dropped South Korea from its preferential list of trade partners in August, ending the accelerated exports of restricted products and technologies from Japan to South Korea.
Suppliers exporting to South Korea now need to get permission for each contract and deal with a longer screening process.
Despite the broad range of products covered under the move, observers have downplayed its potential impact on South Korean trade with the belief that companies are capable of dealing with shipment delays from Japan.
"Companies can eventually adjust. But it's going to take a little bit of paperwork and time," said Sanjeev Rana, a technology analyst at investment broker CLSA.
In the long run, however, any export limits from Japan are bound to affect South Korean manufacturing, and eventually its economy, because of its dependence on Japanese raw materials.
"If export restrictions are realized and expanded, we cannot say that their impact on exports and the economy is small," said Lee Ju-yeol, Governor of the Bank of Korea Governor. "It is not desirable that they expand and worsen. They need to be resolved."