MORE FROM THIS COLLECTION

Navigating the new global fashion supply chain
How is the fashion supply chain affected by global trade tensions, and how should companies react?
How is the fashion supply chain affected by global trade tensions, and how should companies react?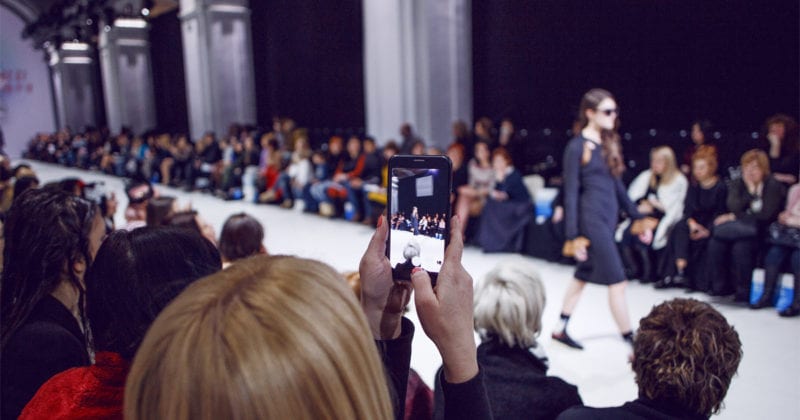 As one of the more cost-sensitive sectors, the fashion industry is generally quick to respond to shifts in global markets and trading conditions.
The sector's supply chains, for example, have undergone shifts even before the U.S.–China trade tensions. With production costs increasing in China, textile and garment makers were already relocating manufacturing operations to other lower-cost Asian countries.
The U.S.–China tariff war is now accelerating this trend, while Britain's impending exit from the European Union (EU) is keeping global industry players on their toes.
These uncertainties have taken a toll on the trade growth outlook for the consumer fashion goods sector, which deteriorated significantly across key markets over the past quarter, according to the September 2019 results from the DHL Global Trade Barometer (GTB).
To maintain competitiveness, it is crucial for industry players to understand and adapt to the dynamic global fashion supply chain.
Changing Asian supply chains
For years, global fashion retailers have been making plans to shift their production out of China.
At the same time, clothing exports from Bangladesh, Vietnam, and Cambodia have been on the rise. The value of these countries' exports jumped by 11 percent, 13 percent, and 14 percent respectively during 2018, based on World Trade Organization (WTO) figures.
In Bangladesh, the world's third-largest clothing exporter ahead of Vietnam, the fashion sector now dominates outbound trade from the South Asian country.
A similar trend is observed for DHL Global Forwarding Bangladesh where apparels accounted for 90 percent of the company's total exports last year, shared Fabian Rybka, Cluster Head, DHL Global Forwarding Bangladesh and Sri Lanka.
Despite the emergence of new manufacturing hubs and the stagnation of China's growth in 2018, China remains the biggest clothing exporter by a large margin. Faced with increasingly unfavorable conditions, brands may still struggle to shift production out of China because of the country's deep-rooted expertise in manufacturing higher-value fashion goods.
"U.S. retailers may quickly move sourcing orders from China to other suppliers for basic fashion items, such as tops, bottoms, and underwear. However, there seems to be much fewer alternative sourcing destinations for more sophisticated product categories, such as accessories and outerwear," said Sheng Lu, an associate professor of fashion and apparel studies at the University of Delaware.
Textiles may be a different story if higher U.S. tariffs start to bite. But in 2018 at least, China still enjoyed a 7.9 percent increase in textile exports, thus well and truly maintaining its global market leadership.
Challenging global trends
Europe is another beneficiary of the fashion industry's changing supply chain.
Already the second-largest exporter of both clothing and textiles, the EU saw increases of 11 percent and 7 percent respectively during 2018, the WTO revealed.
In EU's diverse market, cheaper clothing products are typically manufactured in countries with lower production costs, such as Poland, Hungary, and Romania, while higher-end products are generally made in developed countries, including Italy, UK, France, and Germany.
Globally, in 2018, the sector experienced a strong year for trade. The total value of textiles and apparel exports increased by 6.4 percent and 11.1 percent respectively over the year —the fastest growth since 2012, shared Lu.
However, the trade growth outlook for the consumer fashion goods sector has slumped during the first half of 2019, according to the GTB.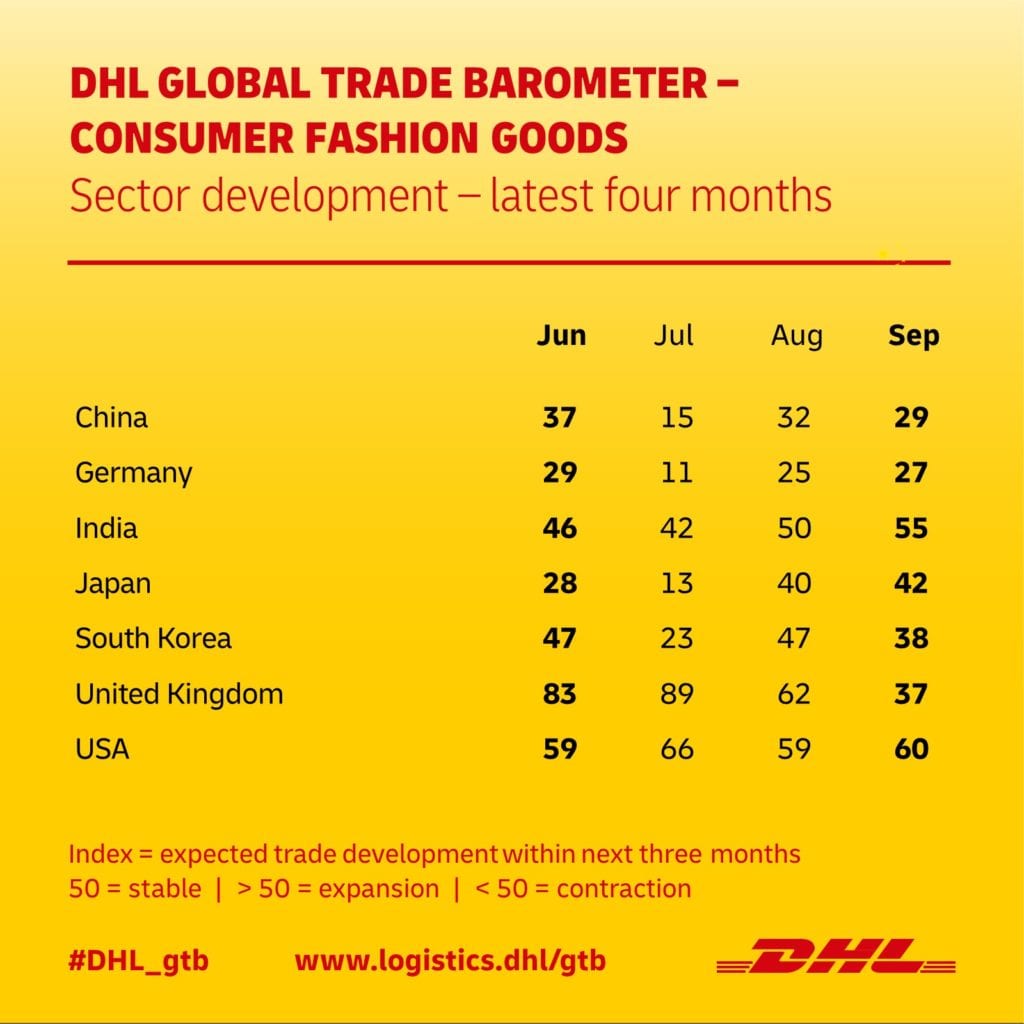 A growth index put together based on key import and export data, the GTB provides an early indicator of the trade outlook — and the latest results reveal sharp slowdowns in China, South Korea, and the UK.
The U.S. and India were the only bright spots in the September GTB. The U.S. result may have been helped by stronger than expected consumer spending in clothing and other retail goods, while India's positive growth could be largely due to trade diversion as a result of the trade war between the U.S. and China.
Smart strategies for new supply chains
One thing is for certain: the global fashion industry will remain in a state of flux.
Brexit and the U.S.–China tariff war highlight the volatile nature of today's global trade politics. Looking ahead, the effects of this political maneuvering, as well as ongoing economic and market changes, will be just as unpredictable.
So, what can companies in the fashion industry do to combat this volatility?
An increasingly popular strategy is to diversify supply chains to mitigate the risks associated with change.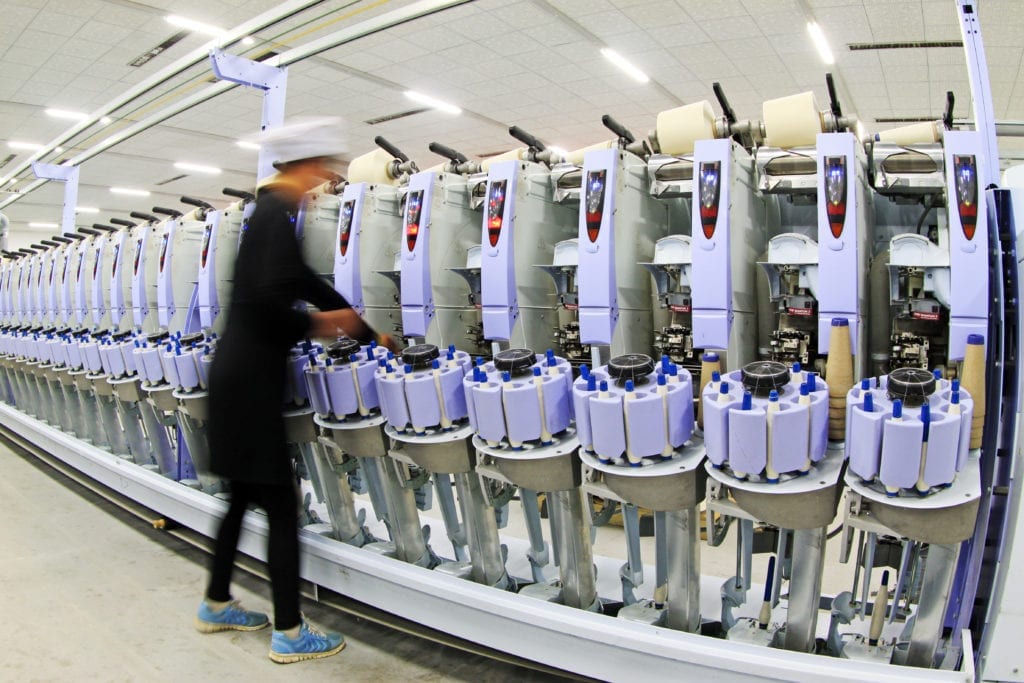 "No single country has emerged to become the 'next China.' Instead, China's lost market shares in apparel exports were fulfilled by a group of countries, a phenomenon which can be linked with fashion brands and retailers' sourcing diversification strategy," Lu commented.
Agility is also vital to rapidly adapt to changes, as McKinsey's The State of Fashion 2019 report predicts "continued investment in speed" throughout the industry.
This will include adopting technologies such as analytics, automation, micro-factories for rapid prototyping, and more onshoring and "nearshoring" — sourcing goods from nearby countries.
Together, these initiatives will enable companies to "respond quickly to source and develop products, squeeze production timelines, and streamline distribution."
New technologies are also changing cost structures. For example, labor's contribution to total production costs in western EU countries has dropped from 30 percent in 2006 to 21 percent in 2016.
With more elements of automation progressively introduced into supply chains, labor productivity will improve while labor costs can be further reduced. The quicker fashion companies adapt, the quicker they can transform their supply chain efficiency into a competitive advantage.