MORE FROM THIS COLLECTION

Asia's mega trade deal moves on without India
India's exit makes the pact smaller but clears the path to implementation.
India's exit makes the pact smaller but clears the path to implementation.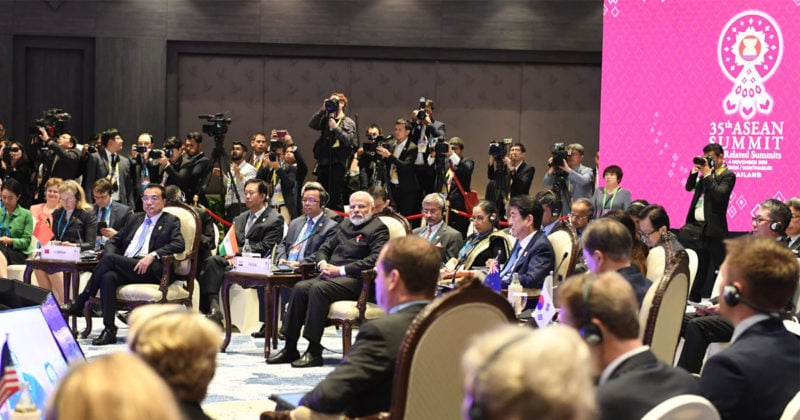 After seven years of talks, hopes were high that Asia's largest proposed free trade deal would finally be ratified by the end of 2019. Then India announced it was quitting.
The 10 Association of Southeast Asian Nations (ASEAN) countries and their six trading partners — Australia, China, India, Japan, New Zealand, and South Korea — met in November 2019 to conclude negotiations for the Regional Comprehensive Economic Partnership (RCEP). But domestic opposition and concerns over the potential impact on local producers led India to pull out.
"When I measure the RCEP agreement with respect to the interests of all Indians, I do not get a positive answer," Indian Prime Minister Narendra Modi told other RCEP leaders at the 35th ASEAN Summit in Bangkok, Thailand. "Therefore, neither the talisman of Gandhi nor my own conscience permits me to join RCEP."
India's withdrawal deals a blow to RCEP but does not necessarily spell disaster for the bloc. If some observers are right, it might even speed up the signing of the pact by removing the deadlock in negotiations between India and China.
Unaddressed concerns
RCEP would improve market access for products, services, and capital within Asia Pacific and become a major force in global trade. With India, it would have accounted for more than 28 percent of global trade.
But India was long convinced the terms of the pact would disadvantage the country more than it would benefit it.

India runs trade deficits with most of the 15 RCEP members. But it was particularly wary of China, which accounts for a massive 60 percent — or about US$57 billion (€51.8 billion) — of India's total trade deficit in 2018. It was afraid that joining RCEP would create a de facto trade pact with China and flood its market with cheap Chinese goods, worsening India's deficit and disadvantaging its manufacturing industry.
To make up for the costs of opening its market, India sought concessions on services — notably the free movement of its millions of professionals in other RCEP countries. It also demanded better terms for reducing tariffs.
Specifically, it rejected the proposal to cut tariffs on 92 percent of goods from RCEP countries, instead offering to trim tariffs on 74 percent of goods from China, Australia, and New Zealand, and on up to 85 percent of merchandise from other members. But India faced stiff opposition, particularly from China, causing negotiations to stall.
"India's negotiating position has emerged as a challenge, particularly due to its stance that it has witnessed limited benefits from prior trade agreements," said Radhika Rao, an economist at DBS Bank.
An 'essential' decision           
For many observers in India, it made sense to quit RCEP.
"It is essential to shut the door on RCEP and other free trade agreements until we get our act together at home by creating an economy that is competitive in the world market," said Deepak Nayyar, an economics professor at Jawaharlal Nehru University. "Economic openness is necessary but not sufficient."
And with India's unmet demands for safeguards, it was unclear whether RCEP's benefits would compensate for its costs, according to Harsh V. Pant and Nandini Sarma of the New Delhi–based Observer Research Foundation. "As a country with one of the highest average tariff rates on all imports among RCEP members, India would be among those making the largest cuts to get tariffs to zero."
But others believe backing out of RCEP will be a missed opportunity for India.
"Access to this [RCEP] market on a 'frictionless', duty-free basis would have provided tremendous advantages to India's exports," said Pravin Krishna and Arvind Panagariya, economics professors at Johns Hopkins University and Columbia University respectively. "India would have been more easily able to attract foreign direct investment and to also take over production in sectors that China is now vacating."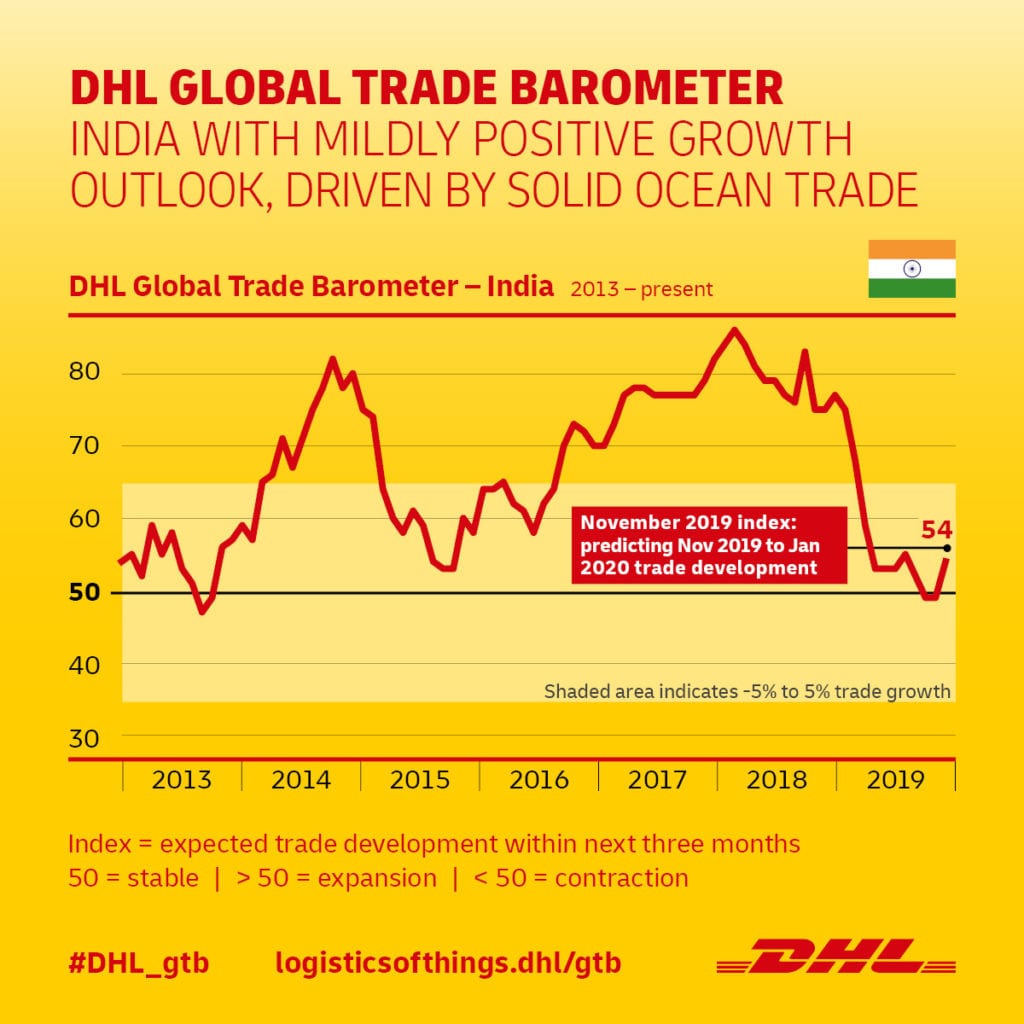 The withdrawal comes at a time when India's trade growth outlook is slowing, as observed in DHL's Global Trade Barometer (GTB), a growth index based on key import and export data. The country's GTB index slumped to 54 in November 2019, down from 75 a year ago.
Still, DHL expects this to be temporary. "Despite the short-term weaker outlook, we are confident that India will recover pretty soon and we will see stronger growth later in the second half of 2020," said Deutsche Post DHL Group CEO Frank Appel in a recent CNBC interview.
Moving forward
India's pullout reduces the potential size of RCEP. After all, India is a significant market, accounting for almost 8 percent of global GDP by purchasing power parity. Without India, the bloc would account for about 31 percent of the world's GDP instead of nearly 39 percent.
Although India's exit from RCEP is a setback, it clears the way for negotiations, said Jeffrey Wilson, Research Director at the Perth USAsia Centre, a think tank based in Australia.
"With China–India negotiations at a deadlock, there was no feasible landing point that would produce a robust RCEP agreement. For the first time in RCEP's history, the finish line is now in sight," added Wilson.
To take effect, the agreement only requires at least six ASEAN countries and four other members to ratify it. The process toward RCEP ratification also continues. The 15 member countries have concluded negotiations on all 20 chapters of the deal and now aim to sign the agreement in 2020. If all goes well, RCEP will likely make its debut in 2021.
But is there a chance India will later join the pact?
"Statements by Commerce Minister Piyush Goyal that he now proposes to turn west to the U.S. and the European Union may be read to imply that he plans to abandon RCEP permanently," said Krishna and Panagariya. "As eternal optimists, we don't believe this interpretation and view India's current decision as a bargaining tactic aimed at extracting further concessions from other RCEP members and cutting a more favorable deal for India."
Regardless of India's participation, RCEP's progress is good news.
According to a report by the Economist Intelligence Unit, the agreement of RCEP's text by a diverse group of countries is an encouraging sign for the world economy at a time when opposition to globalization is running high.