MORE FROM THIS COLLECTION

5 signs the trade war may be hurting the U.S. economy
After more than a year of punitive tariffs, what are the effects of the trade war on the U.S. economy?
After more than a year of punitive tariffs, what are the effects of the trade war on the U.S. economy?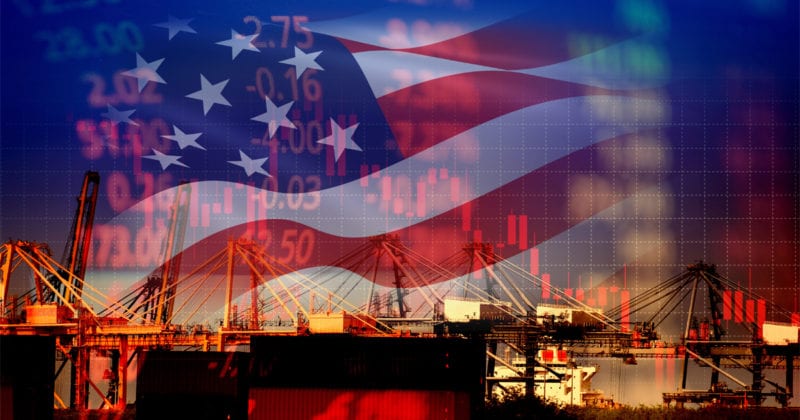 As the U.S. and China continue to clash over tariffs, economists are warning of the negative impact on global growth.
Citing the trade war among other factors, the International Monetary Fund recently said it expected global growth to be 0.1 percentage points lower in both 2019 and 2020 than it envisaged in April, at 3.2 percent and 3.5 percent respectively.
That outlook is echoed in the DHL Global Trade Barometer (GTB), which in September forecast a contraction in world trade going forward with an overall index of 47 points (three points below the threshold for growth).
The GTB's country-by-country breakdown also reveals that U.S. trade volumes are expected to drop over the next three months — the index has fallen 10 points to 45 since March, with the decline linked to increasing intensity in the U.S.–China trade dispute.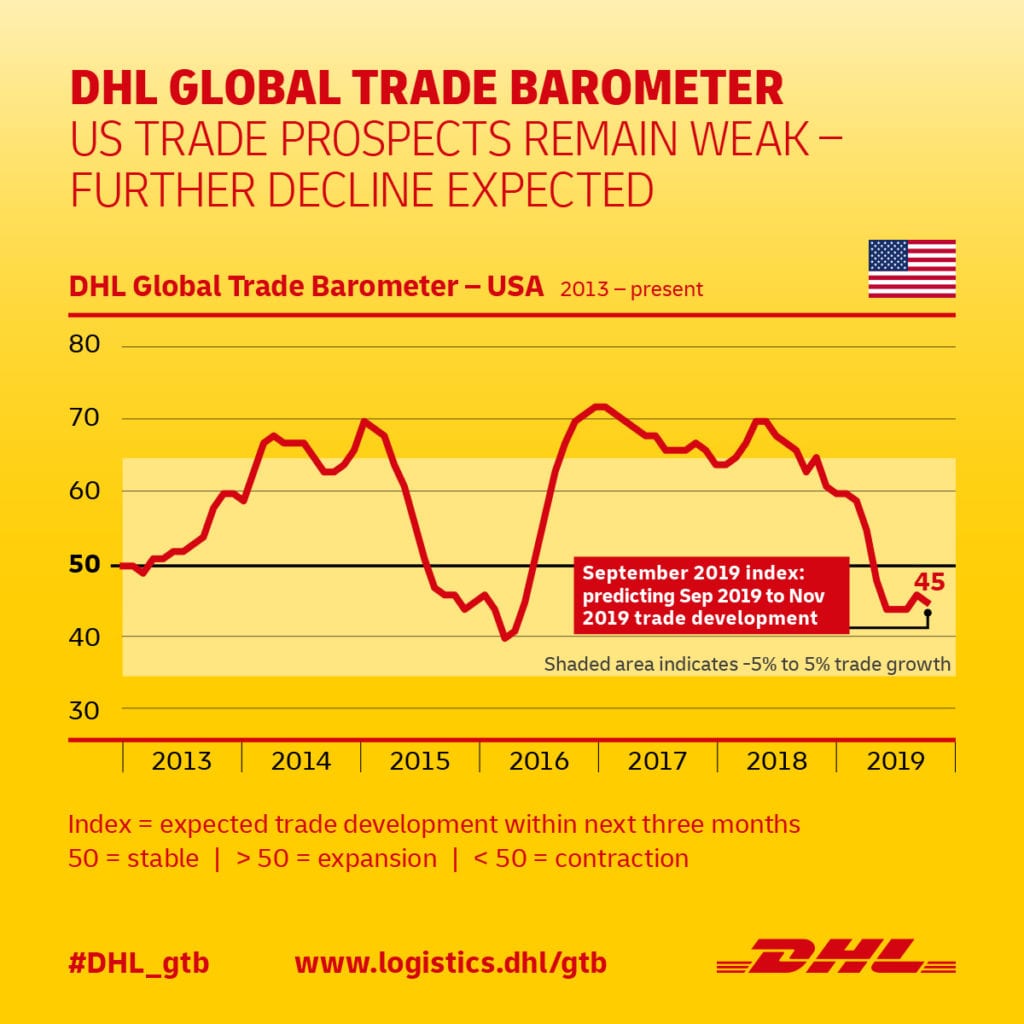 Such a forecast suggests that so far, the U.S. has fallen short of its goal to strengthen its export sector with harsher trade measures against China. Instead, its economy, while still in fundamentally good shape, could be showing signs of strain from the trade war. These five economic indicators show that this is the case.
1. Overall growth is slowing
Economic growth in the U.S. slowed in the second quarter of 2019 as the tariff disputes with China took their toll and businesses cut back on investments.
Revised U.S. Commerce Department figures from previous quarters also showed that the U.S. missed President Donald Trump's pledge to grow the economy by more than 3 percent in 2018. The department put growth at 2.9 percent.
At the same time, it said that U.S. gross domestic product (GDP) — a broad gauge of an economy's health — grew at an annual rate of 2.1 percent in the second quarter of 2019. While solid, this was well below the 3.1 percent GDP growth the U.S. achieved in the first three months of the year.
2. Manufacturing has dipped
The U.S. manufacturing sector contracted slightly in August, according to a report from the Institute for Supply Management (ISM). The institute's manufacturing index for that month stands at 49.1, down from 51.2 in July and its lowest level since January 2016.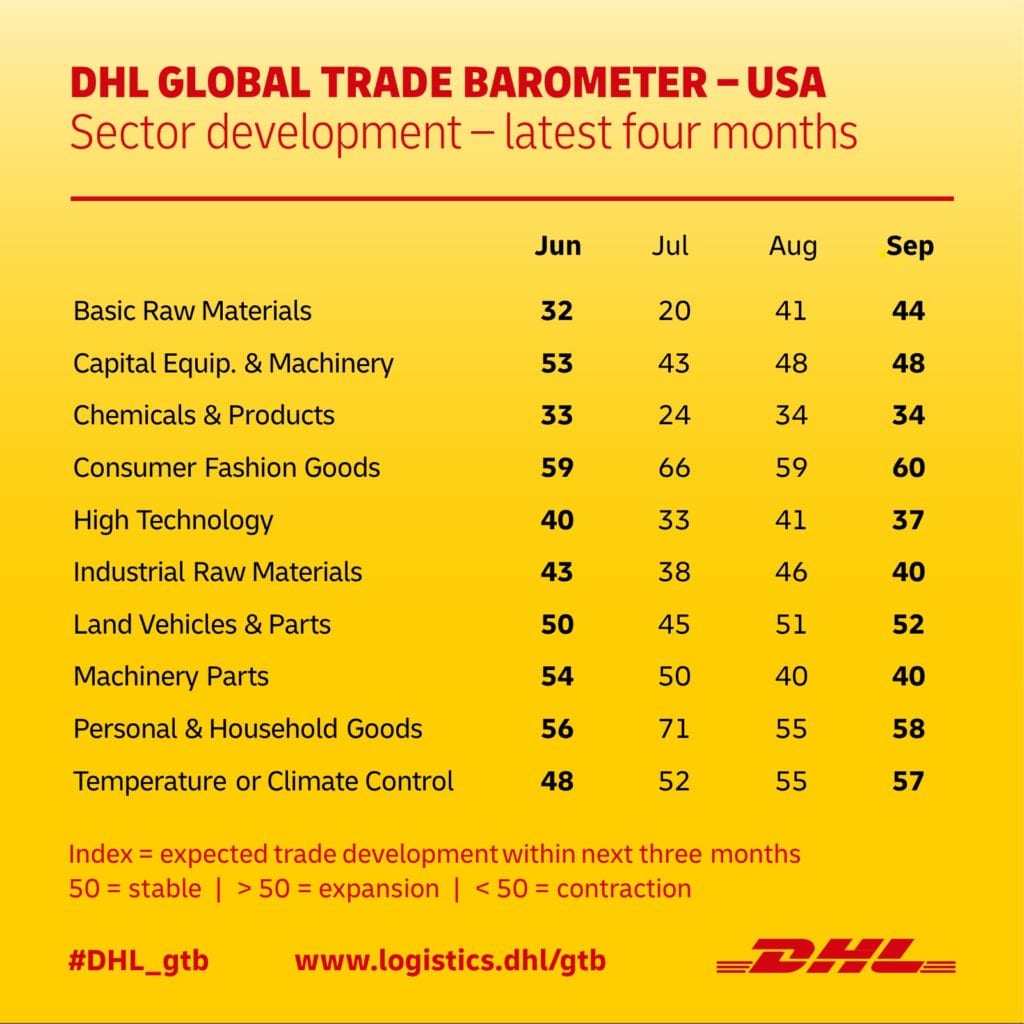 Based on surveys of purchasing and supply managers, economists generally see such indexes as a measure of business confidence. The ISM's survey quotes several executives who attribute their anxieties to U.S. tariffs on Chinese imports.
An electronics product manager told the institute the "tariffs continue to be a strain on the supply chain and the economy overall."
3. Business capital spending is lower
With uncertainties looming because of the trade war, businesses are typically more cautious about their capital spending.
Investment among U.S. businesses declined in the second quarter of 2019 for the first time since early 2016, dropping to 0.6 percent from 4.4 percent in the first quarter.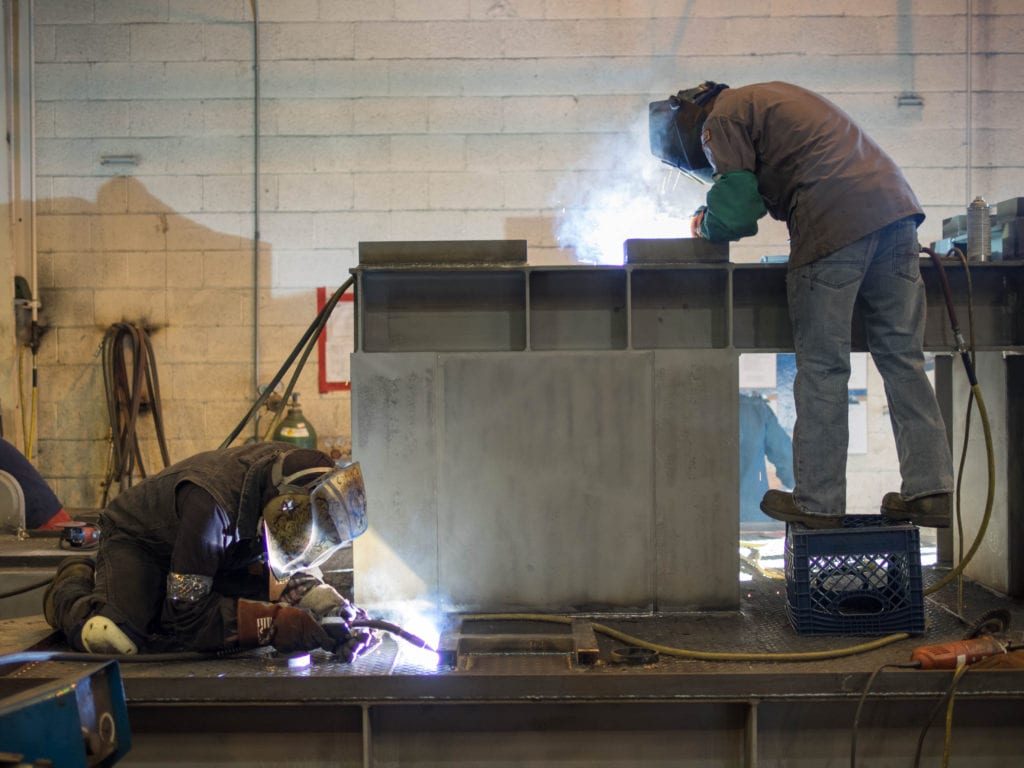 A recent survey from the American Chamber of Commerce in China found evidence of increased corporate anxiety about the trade war, with China-based U.S. companies postponing investment decisions and considering rerouting production to mitigate exposure to its effects.
4. Bond markets are jittery
Buying up parcels of U.S. government debt in the form of Treasury bonds is often considered a 'safe haven' investment because such bonds are backed by the government, meaning that the risk of default is almost zero.
Typically, the yields on long-term Treasury bonds are higher than short-term ones, because investors require more return in exchange for tying up their money for a longer time.
In August this year, however, long-term government debt yields dropped dramatically, with yields on 10-year Treasury bonds falling below that of two-year bonds — a phenomenon known as yield curve inversion.
For economists, an inverted yield curve is an indication that investors perceive the near-term economy to be risky, and their emergence is often seen as a harbinger of recession. In this case, however, analysts blamed investors' fears of a trade-related slowdown for the market's volatility.
5. The Federal Reserve cut interest rates
The U.S.' central bank, the Federal Reserve, has expressed concerns about the negative impact of rising trade tensions and the global slowdown on the U.S. economy.
Speaking at a Chicago monetary policy conference in June, Chair Jerome Powell pledged to take 'appropriate measures' to protect the economy from any such impact.
In July, the Fed acted, cutting interest rates by 0.25 percent — its first reduction in borrowing costs since responding to the financial crisis a decade ago. Citing the disruptive effects of trade policy uncertainty and weak global growth, Powell said, "We see those as threats to what is clearly a favorable outlook. And we see this action as designed to support [U.S. growth] and keep that outlook favorable."