MORE FROM THIS COLLECTION

Behind the U.S.' trade dispute with another Asian giant
After China, the United States has doubled down on a trade war with another of its top trading partners: India.
After China, the United States has doubled down on a trade war with another of its top trading partners: India.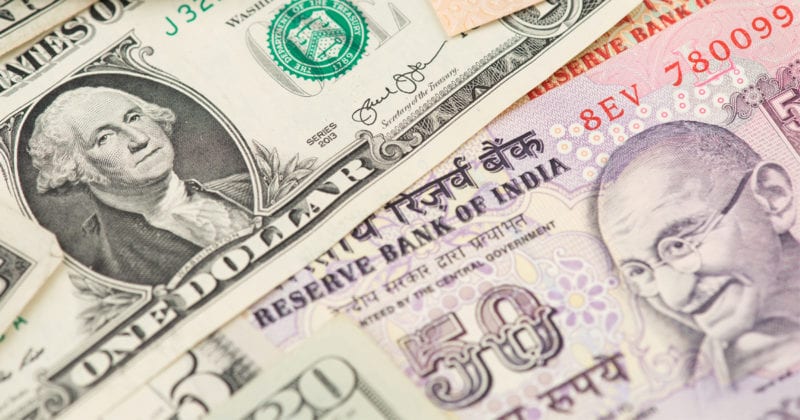 On the sidelines of the tit-for-tat trade war between the two global superpowers, another battle has been quietly brewing between the United States and the next biggest Asian giant: India.
The country recently increased tariffs on 28 American products after the U.S. ended trade concessions granted to India under the Generalized System of Preferences (GSP) program for developing nations.
India has long had a field day putting Tariffs on American products. No longer acceptable!

— Donald J. Trump (@realDonaldTrump) July 9, 2019
Those changes are already starting to bite some Indian businesses, such as Alpine Apparels, which exports half of its luxury leather products to the U.S.
"The withdrawal of the GSP makes the cost of our product higher than it previously was," said Alpine Managing Director Sanjay Leekha, who is concerned about losing customers and having to scale back production.
"We are already feeling the pressure from various customers who want us to absorb the difference, and unfortunately the margins have never been there to be able to handle the additional duties, which range anywhere from 4 percent to 10 percent," he added.
High stakes
Trade tensions between India and the U.S. have been growing since the latter increased tariffs on steel and aluminum imports from India in 2018.
The Indian government, which had held off on retaliating, finally acted when the U.S. removed India from the GSP. India increased tariffs on U.S. goods, ranging from agricultural to chemical products, to as high as 120 percent, saying the move was in the "public interest."
At this stage, the scale of the dispute still pales in comparison with the U.S.–China trade war, which has resulted in increased tariffs on around US$250 billion (€223 billion) worth of Chinese goods and US$110 billion of US goods.
By contrast, India has only raised tariffs on around US$1.3 billion worth of U.S. goods, while higher tariffs from the U.S. hit approximately US$7 billion worth of Indian exports.
The sectors most affected by the dispute are fruits and nuts in the U.S., and appliances, mechanical and electrical machinery, chemicals, steel, and auto parts in India.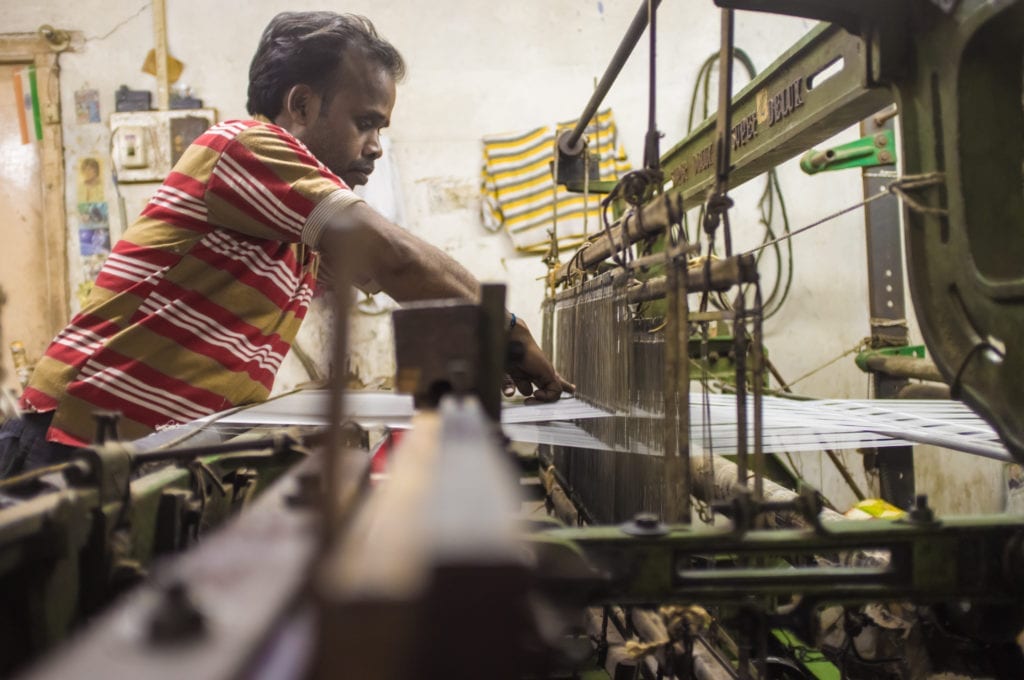 The stakes for both countries are high. India exported US$83 billion worth of goods and services to the U.S. in 2018, while trade with India was worth US$59 billion to the U.S. However, India may have more to lose if the dispute with its largest trading partner escalates.
"India's decision to retaliate with higher tariffs ... is a strategic miscalculation," said Priyanka Kishore, India head at Oxford Economics. "Such a hardline stance in India's trade negotiations with the U.S. may do more harm than good.
"If the U.S. chose to respond with retaliatory tariffs on labor-intensive exports such as gems, jewelry, and textiles, [or] more pushback on IT services, it would cause far more damage to [India's] economic outlook."
The Indian government is naturally more positive. "India will try to build up export competitiveness in its own right without depending on the GSP scheme provided by the U.S.," said Piyush Goyal, India's Minister for Commerce and Industry.
India's trade opportunities
The dispute comes at a time when India's economic and trade growth has been showing signs of slowing. India's annual gross domestic product (GDP) growth rate dropped to 5.8 percent in the March 2019 quarter — the country's lowest since 2014.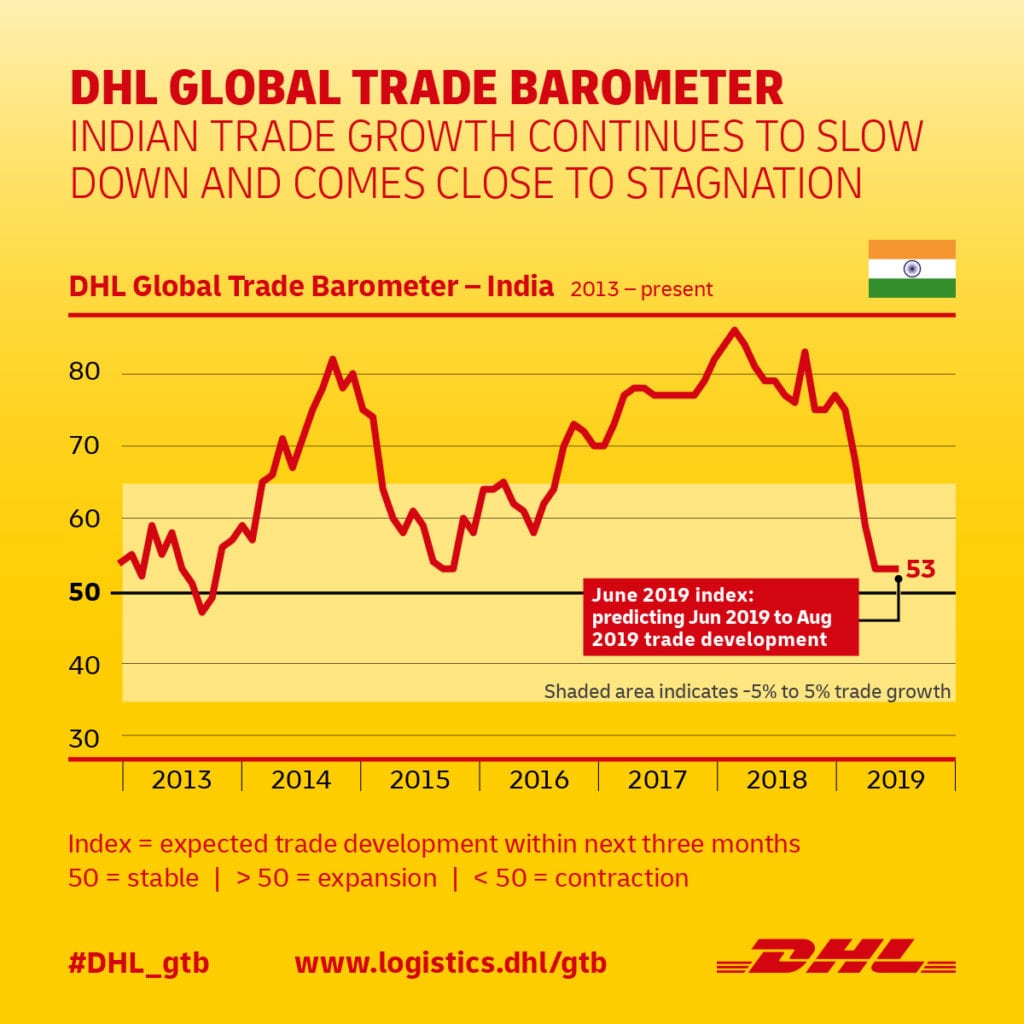 India's trade outlook has also weakened, according to the DHL Global Trade Barometer (GTB), a growth index that provides an early indicator of the trade outlook based on key import and export data.
With a June 2019 GTB index of 53 points, India's trade growth outlook is still positive despite a 30 percent drop since December 2018, when India led other nations measured in the GTB by a large margin.
India's imports and exports are both expected to lose momentum in the current quarter, according to the barometer. The hardest-hit sectors include high technology (down by 45 percent from the previous quarter) as well as chemicals and chemical products (down by 23 percent). Consumer fashion also experienced a minor slowdown in growth.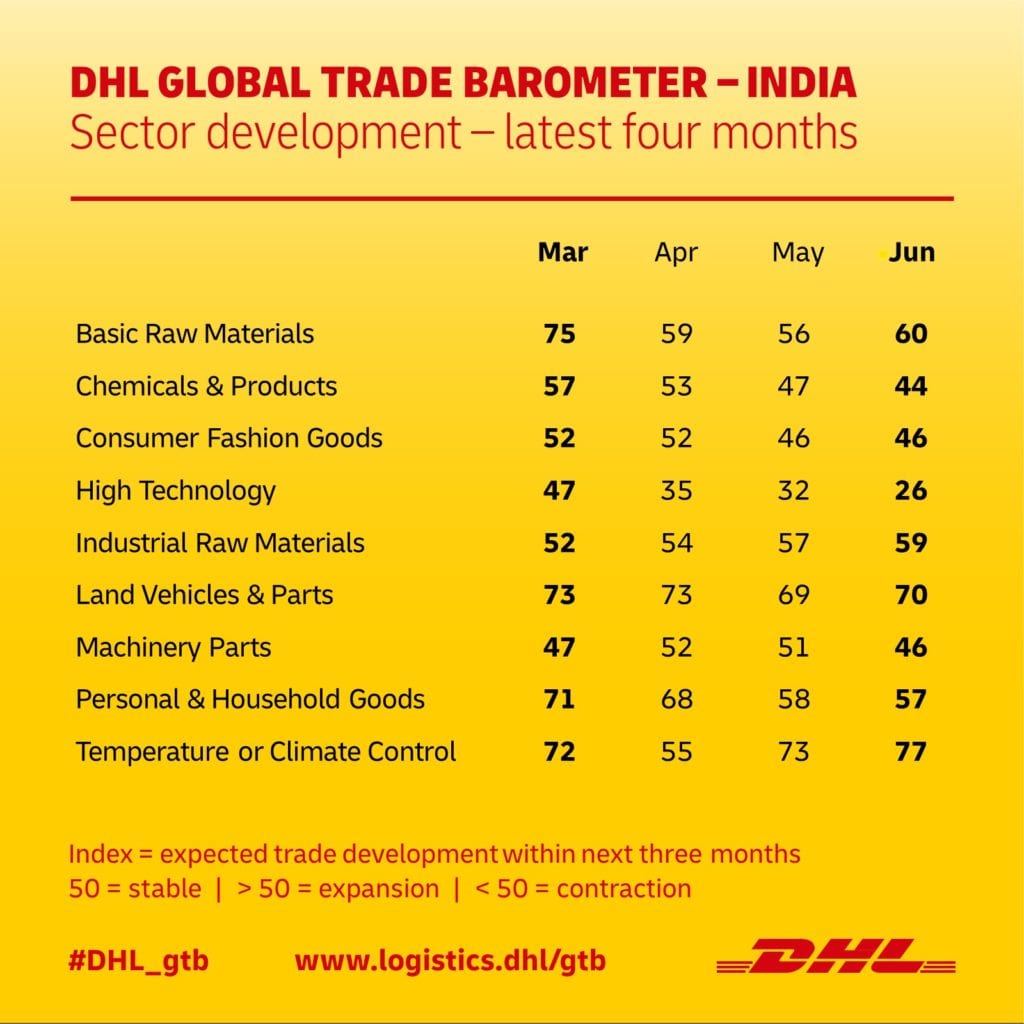 However, the GTB indicates several bright spots for India. The trade growth outlook for temperature and climate control products, industrial raw materials, and land vehicles and parts appears strong.
Also, the U.S.–China trade war offers opportunities for Indian exporters to increase their trade with both of those countries. Potential beneficiaries include Indian carpet makers, tire manufacturers, pharmaceutical companies, and agricultural producers.
And India's economy appears to be rebounding. The government has forecast GDP growth will increase from 6.8 percent last financial year to 7 percent in 2019–20.
And despite recently downgrading its forecast, the Asia Development Bank predicts India's GDP growth will rise to 7.2 percent in the 2021 financial year.
"India will remain one of the fastest-growing major economies in the world this year, given strong household spending and corporate fundamentals," according to Yasuyuki Sawada, Chief Economist at the Asia Development Bank.
Sawada added that with the support of its "young workforce, an improving business climate, and a renewed focus on export expansion", India is well placed to strengthen recent economic gains by becoming more integrated in global value chains.