MORE FROM THIS COLLECTION

5 things the current semiconductor slowdown tells us about the global economy
A downturn in the semiconductor industry is never a good sign.
A downturn in the semiconductor industry is never a good sign.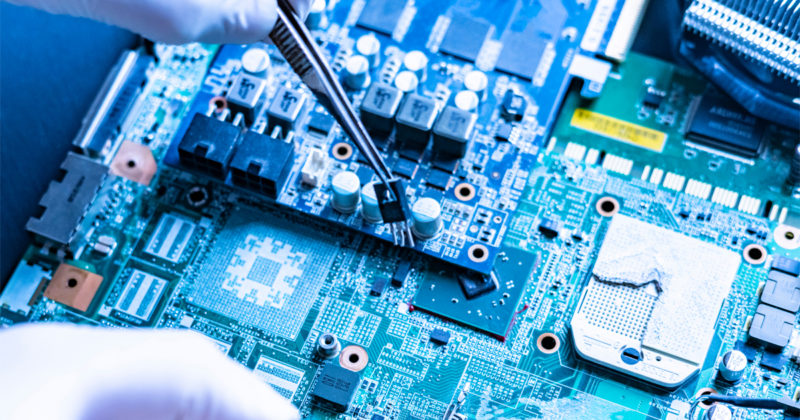 The world runs on semiconductors. No longer confined to PCs and laptops, the chips built from semiconductor materials are now used everywhere.
From smart TVs and cars to farming and industrial equipment, our demand for more intelligent devices in our homes and workplaces has made semiconductors crucial across the global economy.
Our thirst for smarter, always-available applications is driving artificial intelligence, cloud, and other new technologies. And that, in turn, requires more powerful and plentiful chips.
When the semiconductor sector experiences a downturn, it is not a trend that businesses in other sectors can take lightly.
Recent industry figures paint a bleak picture for the sector. Global semiconductor revenue in the six months to June 2019 plummeted 14.5 percent in a year, according to the World Semiconductor Trade Statistics. That trend looks set to continue, with research firm Gartner forecasting a 9.6 percent drop in 2019 and data firm IHS Markit predicting the industry's worst result in a decade.
So, what does the semiconductor downturn tell us about the rest of the global economy?
1. The high-tech sector is struggling for growth
Demand for the business and consumer devices that contain semiconductors is falling. Gartner predicts spending on data center systems will drop by 3.5 percent in 2019 — a big fall from the 15.7 percent expenditure growth last year, driven by the trend of enterprises shifting application software to the cloud.
In fact, much of the technology industry appears to be struggling to find growth. Total global IT spending is forecasted to remain flat in 2019 — at just 0.6 percent growth — after two relatively strong years: 5.1 percent growth in 2018 and 3.8 percent in 2017.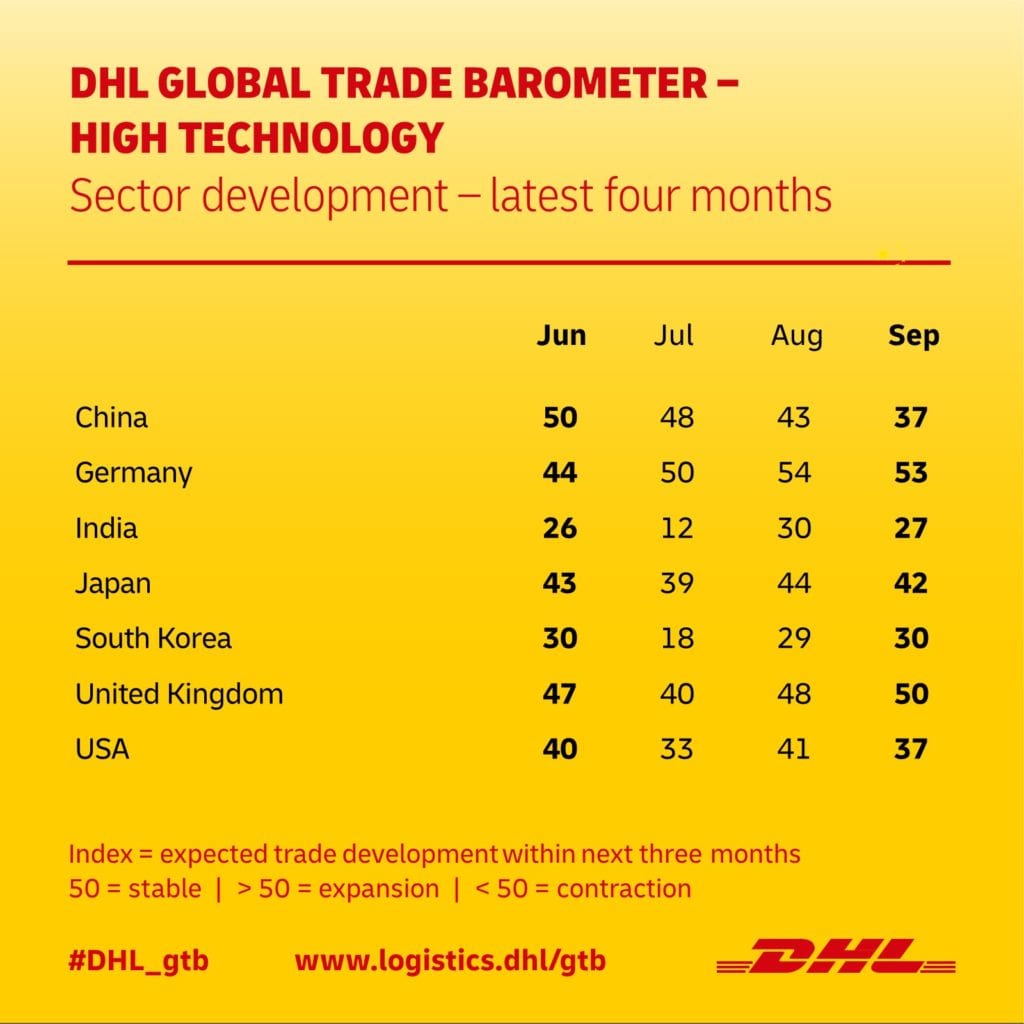 The high technology sector's trade growth outlook has also deteriorated sharply over the past year, according to the DHL Global Trade Barometer (GTB), a growth index that provides an early indicator of the trade outlook based on key import and export data.
The September 2019 results show that the industry is down in five of the seven key markets measured, with the exception of Germany and the UK. The most significant falls recorded over the past year were of the sector's former high flyers, India and South Korea — their indices dropped to just 27 and 30 points respectively, indicating a slowing trade outlook.
2. Smartphone sales are down
Global market intelligence firm International Data Corporation (IDC) predicts shipments of PCs, laptops, and tablet devices will drop by 3 percent in 2019.
The long-term decline of the personal computing market is down to a range of factors, including many consumers' preference for smartphones.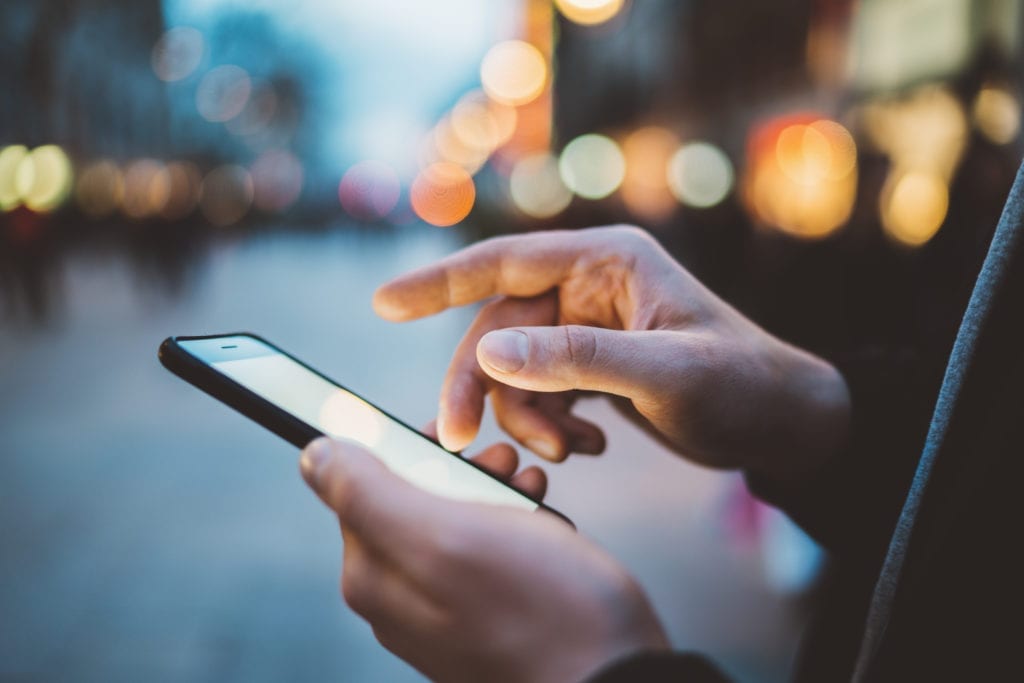 However, even smartphone sales are now falling. A further decline of 2.5 percent is expected to hit smartphone sales in 2019, mainly as a result of lengthening replacement cycles and the ban on Huawei accessing technology from U.S. suppliers.
"If mobile phones don't provide significant new utility, efficiency or experiences, users won't upgrade them, and will consequently increase these devices' lifespans," said Gartner analyst Ranjit Atwal.
3. The automotive industry is in trouble
Automotive sales also have significant impact on the semiconductor industry. And according to Nina Turner, research manager for semiconductors at IDC: "The decline in automobile unit sales in 2018 lowered overall growth in automotive semiconductors."
The downward trend looks certain to extend to 2019, where global vehicle sales is predicted to shrink by more than 4 million cars.
In the first two quarters of the year alone, global auto sales, according to Bloomberg Intelligence, were already down 6.5 percent and 7 percent from a year earlier.
The world's largest market, China, has also seen auto sales fall for 12 consecutive months, due to "slowing economic growth, trade-related turmoil, and a weak consumer demand, exacerbated by newer and stricter emissions rules."
4. Global trade is in the doldrums
With the growing use of semiconductors across many sectors, the current global economic and trade malaise has also hurt the industry.
The International Monetary Fund (IMF) has downgraded its forecasts for global growth for both 2019 and 2020 by 0.1 percent. This year's expected result of 3.2 percent is the weakest growth rate for 10 years, amid uncertainty caused by "rising geopolitical tensions" such as the U.S.–China trade war and Brexit.
"Trade volume growth declined to around 0.5 percent year-on-year in the first quarter of 2019 after dropping below 2 percent in the fourth quarter of 2018," according to the IMF, which cited Asia as the region where the slowdown was more significant.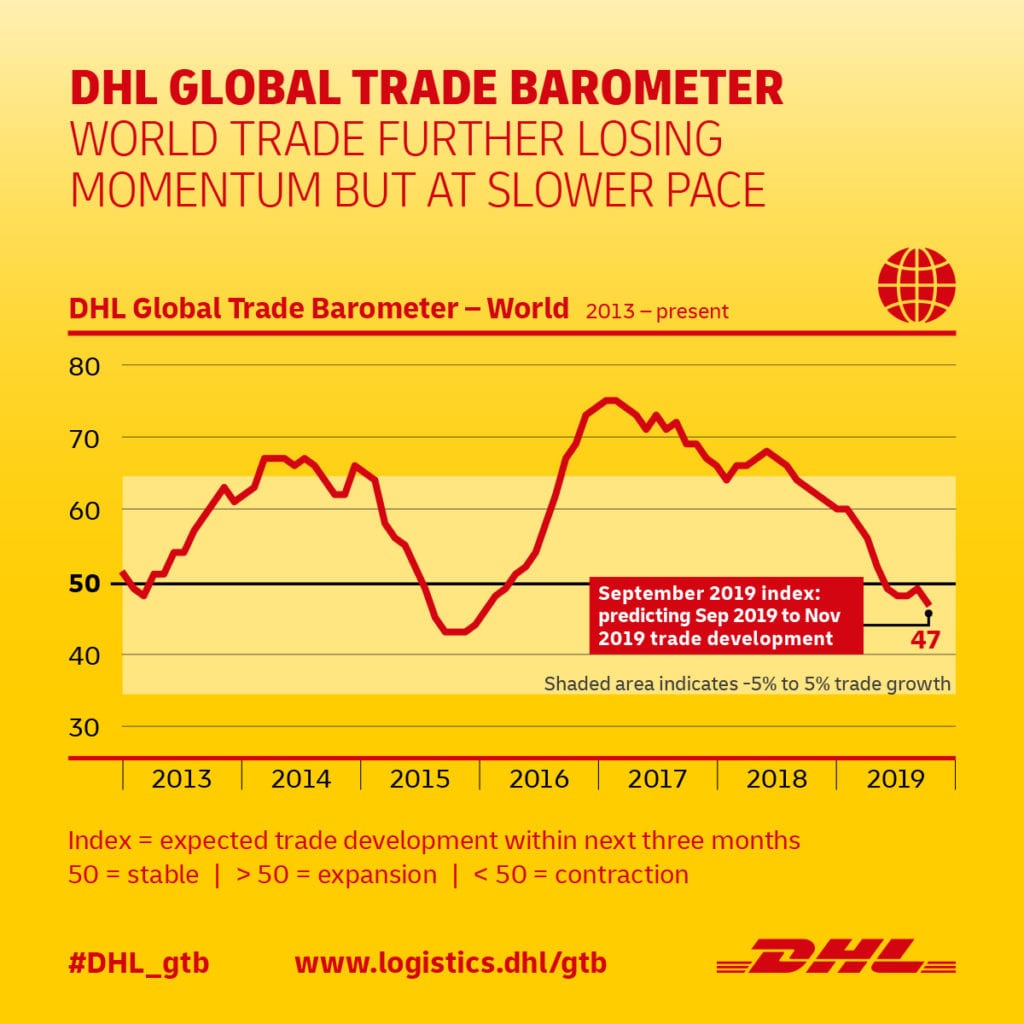 The trade growth outlook shows little sign of improvement, according to the GTB.
The GTB's world index dropped by 20 percent over the first half of 2019. However, the downward trend has slowed down significantly — the September index sits at 47 points after a huge loss of eight points in the previous quarter ending in June.
5. More industries are transforming
The longer-term outlook for semiconductors is more bullish, with revenues expected to recover in 2020 and grow at a steady 2 percent yearly until 2023.
New technologies seem to be helping. The proliferation of 5G networks and devices is generating new demand, which would likely ramp up smartphone sales next year.
A forecast by professional services firm PwC estimates a fivefold increase in the market for AI-related semiconductors by 2022. Meanwhile, autonomous vehicle-enabling technologies will drive three to four times more growth than the overall semiconductor market, according to IDC's Turner.
The Internet of Things (IoT) is another promising growth area, as digital transformation continues to roll out across more industries and business functions. Smart devices, powered by semiconductor chips, are increasingly used for improving operations in key industries and even in the building of smart homes and smart cities of the future.
Amid the economic doom and gloom, the advancement of emerging technologies may very well be the stimulus to power the ailing semiconductor industry forward.