MORE FROM THIS COLLECTION

'Made in China 2025' industrial policy lives on
China may have gone quiet about its 'Made in China 2025' plan, but the policy behind it is still very much alive.
China may have gone quiet about its 'Made in China 2025' plan, but the policy behind it is still very much alive.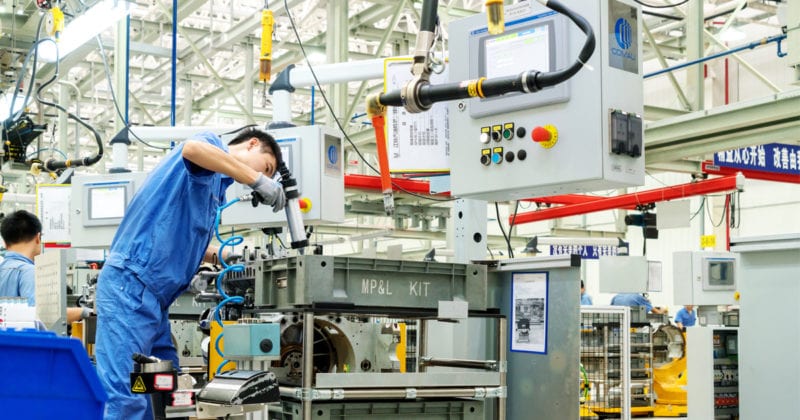 The Chinese government has been noticeably silent about the Made in China 2025 strategic plan, four years after launching it to much fanfare.
Of late, the government and the local media have stopped referring to the policy or mentioning it by name.
But this does not mean that China has abandoned its grand ambitions to dominate high-technology sectors, ranging from robotics to aerospace, by 2025. Despite the punitive U.S. tariffs, the country has shown no signs of veering from its pursuit of modern industrial goals.
A threat to others
When it was initially launched, Made in China 2025 attracted objections from many foreign countries as soon as it became clear what it entailed.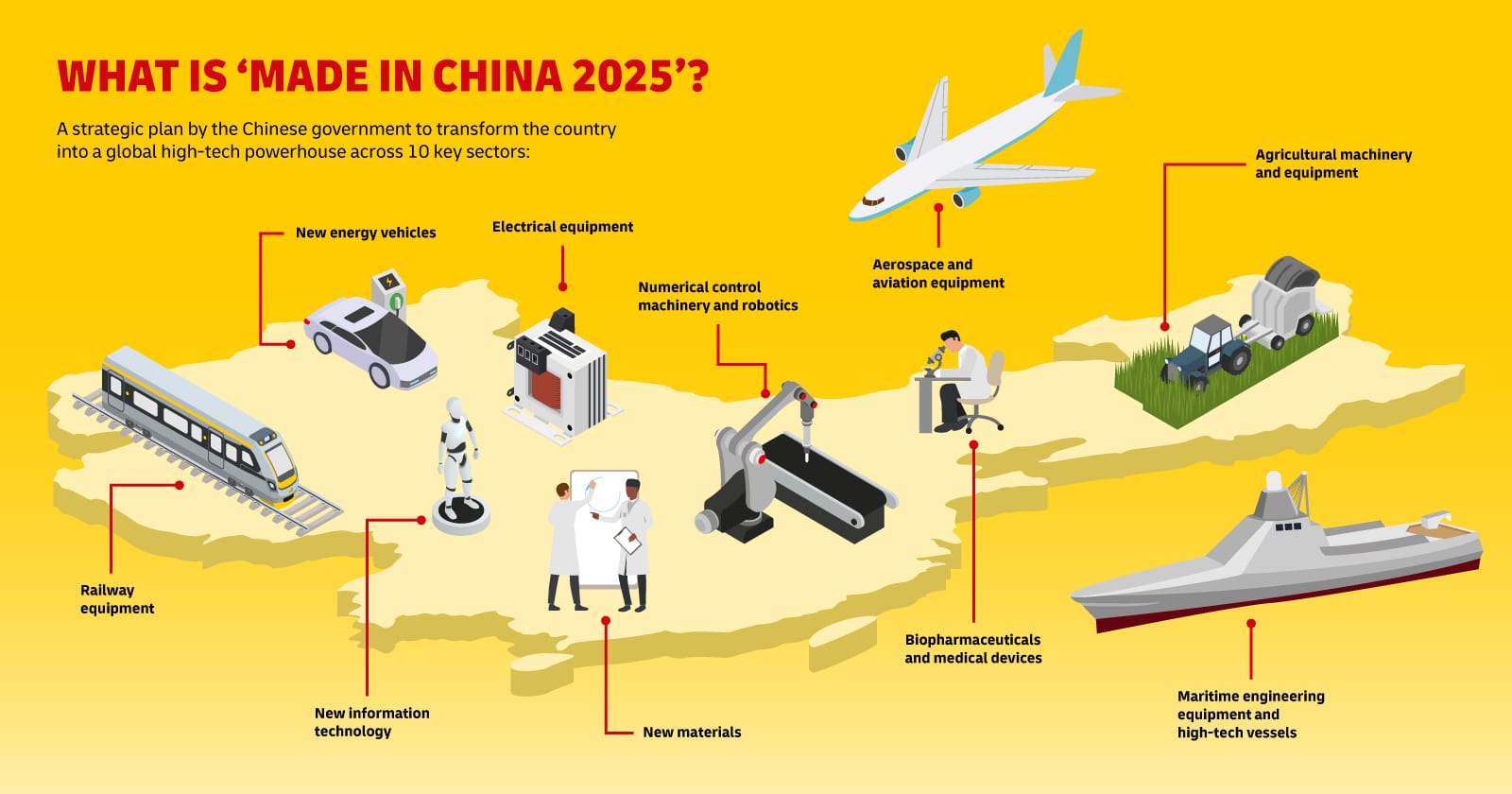 The plan sets out what China needs to do to become a leading manufacturing power. This includes boosting innovation in manufacturing, increasing the use of technology, and strengthening the country's industrial base.
More specifically, it aims for a 70 percent increase in domestic manufacturing of core components and materials in 10 sectors by 2025. This means weaning its manufacturing sectors and businesses from foreign technologies and products, and creating global high-technology companies.
China always had an industrial policy, but major economies such as the U.S. view Made in China 2025 as a significant threat, partly because it involves critical technology sectors. They believe Beijing's involvement creates uneven playing fields for foreign companies and distorts markets.
The program has become a political flashpoint between the U.S. and China. In 2018, a U.S. Government report argued that China's plan involves forced technology transfers and intellectual property theft — complaints that prodded the U.S. Government to slap Chinese products with hefty tariffs.
China drops campaign slogan
As soon as the U.S. fired the opening salvo in what is now a tit-for-tat trade war, the Chinese government stopped publicly referring to Made in China 2025, with the strongest indication coming during the National People's Congress held in March this year.
Premier Li Keqiang, who led the Made in China 2025 campaign, did not mention the plan in his annual speech on the Chinese government's work.
This triggered wide speculation that China might have abandoned the plan, though some observers have cast doubts over the rumors.
"China had industrial policy long before 'Made in China 2025' and will continue to have it long after 'Made in China' is buried," said Scott Kennedy, a China expert at the Center for Strategic and International Studies, a think tank. "What we have now is old wine in new bottles."
Any change, such as dropping the slogan, is cosmetic — the plan's underlying policy remains, commented Alberto Vettoretti, Managing Partner at professional services firm Dezan Shira & Associates in Hong Kong.
"With the U.S.–China trade war unfolding and with the possibility of decoupling in many strategic sectors, China will press ahead with even larger investments to sustain and increase the firepower of its technology champions," said Vettoretti.
Other reports show, for certain, that China is going ahead with its industrial plan. State-backed financier China Integrated Circuit Industry Investment Fund was reported to have invested in technology sectors, including more than nine listed microchip companies since April 2018.
A separate report cited the proliferation of hundreds of 'government guidance funds' the past few years. The central and local governments create these funds to finance technology investment and support China's advanced manufacturing policy.
"In the semiconductor sector alone, at least 20 local governments have set up guidance funds with investment plans worth a combined RMB600 billion (€76.5 billion)," said the report. "Overall, government guidance funds are targeting investments totaling more than RMB10 trillion."
According to a Financial Times analysis, 14 of the first 25 listed companies on Shanghai's new technology-focused stock market disclosed state-owned investors among their largest three shareholders.
"The first 25 listings, which raised RMB37 billion (US$5.2 billion), shed light on the activities of the hundreds of state-run venture capital funds, also known as 'guidance funds'," said the publication.
Will tariffs hurt China's plan?
China's escalating trade war with the U.S. raises questions about the potential for punitive U.S. tariffs to hurt Chinese technology sectors.
In June, the U.S. Department of Commerce blacklisted five technology companies involved in China's super-computing efforts, effectively blocking them from purchasing U.S. software and components.
The blacklisting tightens the rules for American companies doing business with the Chinese firms, as a government license is now required to sell their products.
Source: Bloomberg
Manufacturing in some of these sectors shows signs of slowing. For example, in the first half of 2019, production of industrial robots declined by 10.1 percent on the previous year, data from the National Bureau of Statistics of China showed.
Similarly, the latest DHL Global Trade Barometer indicates a slowdown in China's high technology sector. Trade declined by 13 points to 37 points over the three months to September 2019.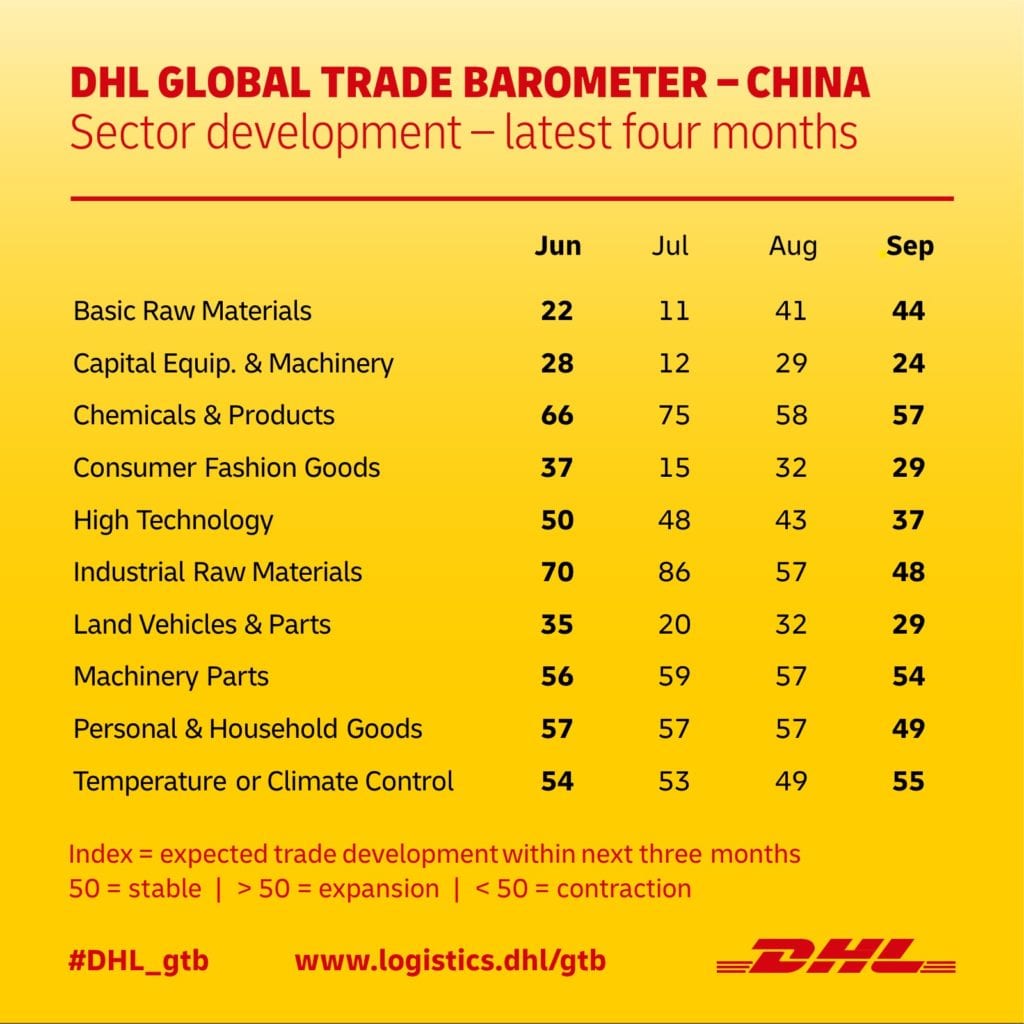 To help counter the trade war's impact, China will likely continue to encourage its companies to establish operations abroad, according to Vettoretti.
"I will not be surprised if some of the technologically more advanced companies, ultimately Chinese-owned, will be based outside China."