MORE FROM THIS COLLECTION

How e-commerce elevated shoe label Christy Ng onto the global stage
Being an early adopter in the online space also prepared the brand for the pandemic.
Being an early adopter in the online space also prepared the brand for the pandemic.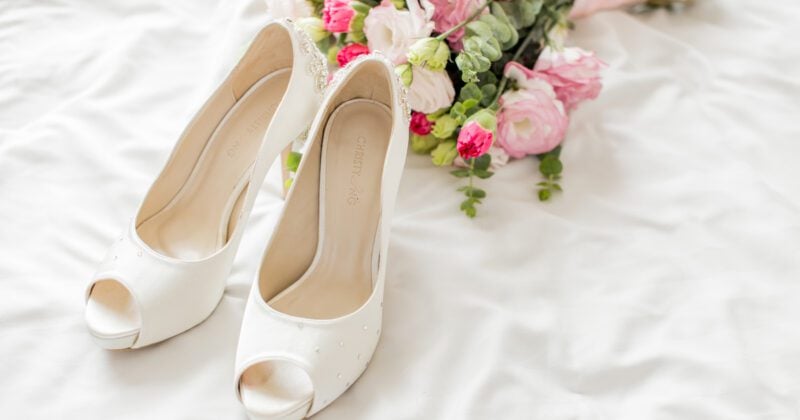 Entrepreneur Christina Ng's left foot has a bunion the size of a Malaysian 50 cent coin.
At the age of 17, she worked hours as a waitress and in retail sales, wearing poorly made polyurethane leather (PU) shoes that caused sores on her feet. The bunion is a reminder of the days when she didn't know if she could afford her next meal.
"The very tough and hard environment, growing up in a very poor family, built strength and resilience in my character. You either sink or swim in these circumstances and the struggle prepared me for the business I'm in today," recalls Christina, who is better known as Christy in the entrepreneur circle.
That drive to succeed – coupled with a sprinkling of luck and an instinct for business - has pushed her to grow her eponymous brand Christy Ng into one of the most successful local shoe and bag brands in Malaysia.
View this post on Instagram
From night market to Google SEO
Christy started selling her shoes at night markets in Petaling Jaya, one of the busiest areas in Selangor Malaysia. Despite the heavy footfall, she found that she could hardly make a profit.
It was then that a friend told her about Facebook and how the new social network was the biggest thing since email. With little to lose, she started an account and a website to start showing people her shoe designs. Her promise: tell us what you want, pay us upfront and we will make it for you.
Despite being new to e-commerce, Christy soon realized the importance of keywords even before search engine optimization became a trend. She discovered that if she had the words such as "custom made" and "shoes", Google's algorithms would quickly index her page and send search queries her way.
"If you have no money, you will think outside the box. So that was exactly what my 22-year-old-self did," says Christy.
It worked. Within days, thousands of people visited her page and site, and she found herself having to fulfill dozens of orders, more than she had sold at the busy night market.
Stepping onto the global stage
But it was her first international sale that made her realize the potential of e-commerce. An American bride, a Jennifer Callahan from North Carolina, wrote in to her asking for Christy to arrange nine pairs of custom-made shoes for her and her bridesmaids.
The price: US$160 for a pair of shoes. Jennifer agreed and Christy Ng had gone international.
The company grew on the back of e-commerce from 2012 to 2016. By then, the brand had gained significant traction in Malaysia. Christy then decided to move into the physical space – opening up eight stores in the biggest malls around the country.
The retail pivot helped propel sales into the stratosphere. For those few years, Christy no longer needed to worry about her next meal.
Doubling down online
Things went swimmingly well until Covid-19 happened. All at once, retail collapsed.
With cases rising to the tens of thousands a day, Malaysia's government locked the country down. Shopping malls, once full of people, became ghost towns overnight.
"The first thing that came to my mind was the rentals: rentals are crazy. We have eight shops and our overheads are in the millions a month for salaries and rental. It's a lot to stomach and you can't open."
With desperation seeping in, she once again summoned up her entrepreneurial instincts and pivoted back to e-commerce, this time with a strong social element.
View this post on Instagram
Harnessing her offline customer contacts, including emails and phone numbers, and targeting them through Facebook and Instagram, she expanded all online sales channels available.
She also carried out influencer marketing by hosting a different celebrity every night via Instagram Live and used the hashtag #KitaJagaKita to garner support.
"We created all sorts of content, even cooking content. We were doing everything we could and it really paid off because everyone was stuck at home, and they couldn't do anything. So they shop online."
Malaysians, Singaporeans, Filipinos and customers from the Middle East lapped up the content and continued to support the brand.
Christy Ng's e-commerce push saw a massive surge in her online sales of shoes and bags, to over 400 per cent. Overall sales also increased by 30 per cent from pre-pandemic days. Christy Ng now sells bags and shoes to over 70 markets globally today.
But as orders soared, the company faced a problem in fulfilling them. Her previous logistics partner ended up making mistakes in the delivery, causing major problems for her customers.
She turned to DHL, which helped her not only fulfill the orders in time but also provide high levels of customer service.
"Being in the fashion business during the pandemic has been a real challenge and made us rethink how to sell our products. Reliable and fast online fulfillment is more important than ever, and DHL eCommerce Solutions provides an amazing infrastructure to scale rapidly and flexibly. That's a huge boost for our global aspirations," says Christy.
Christy also adds that for first-time buyers, reliability in delivering products is very important. The ability for customers to track, trace and claim insurance for damages has, in turn, helped boost her own brand.
"Much like Christy Ng's wish to provide everyone with positivity, we make sure online shopping is a positive and enjoyable experience for customers and retailers alike," says Anil Gautam, Managing Director, DHL eCommerce Solutions Malaysia.
The partnership between Christy Ng and DHL is more than a logistic arrangement. Inspired by the reliability and relentless hard work of DHL's couriers, a collaborative DHL x Christy Ng collection is now live on Christy Ng's online shop www.ChristyNg.com, and all orders are shipped exclusively by DHL.
View this post on Instagram
"The values that DHL stands for are also very close to me. We share the same commitment to strive for a consistent balance between ecology, economy, and society. That's why I'm pleased that we've made sure the collection is as environmentally friendly and high quality as possible, without making it unaffordable," says Christy.
The collection's focus on the yellow colour is a message that Christy values dearly, one that embodies joy and self-expression. "I love that the collection also gives customers the option to personalize their pieces – it's our invitation to have fun, make a statement, and paint the streets in their neighborhood yellow," added Christy.
The future of retail
Christy firmly believes the e-commerce boom during the pandemic is just the beginning of a permanent shift for retail.
She points out that while many people still want to try out clothes, they are doing it in the comfort of their own homes, especially with a liberal return policy in place.
"It's more comfortable to just buy as many clothes in as many sizes and then try it in front of my mirror, in my bedroom. I would take my sweet time and then decide which ones I wanted to return," she says.
The pandemic has, positively speaking, created new buying habits in consumers, who are pivoting towards online shopping. Analyst firm Gartner estimates that by 2022, organizations using multiple go-to-market approaches for digital commerce will outperform non-commerce organizations by 30 percentage points in sales growth.
View this post on Instagram
This is in line with the vision behind Christy's push for an omni-channel approach. She estimates that before the pandemic, 95 per cent of spending in Malaysia was offline. For the Christy Ng label, the pre-pandemic offline to online spending ratio was a 70:30 split. Today, the situation has reversed, with 70 percent of the spend they track coming from online sales, while offline sales has changed to 30 percent.
These shifts have altered the dynamics of the retail landscape. While Christy will continue with selective opening of physical shops, she believes the future is firmly online.
Asked where she sees her label Christy Ng in five years, Christy pauses for a second and says that she wants it to be a brand that gives the best products to as many people in the world as possible.
"We want to be one of the strongest shoe and bag e-commerce player in the world. We want to serve a global audience and to do it via e-commerce."
"Ultimately e-commerce is our game play."