MORE FROM THIS COLLECTION

How a Thai brand forged its path at the crossroads of fashion and architecture
In marrying the two seemingly different disciplines of architecture and fashion, the duo behind Thai fashion brand Vinn Patararin has carved out a niche of its own.
In marrying the two seemingly different disciplines of architecture and fashion, the duo behind Thai fashion brand Vinn Patararin has carved out a niche of its own.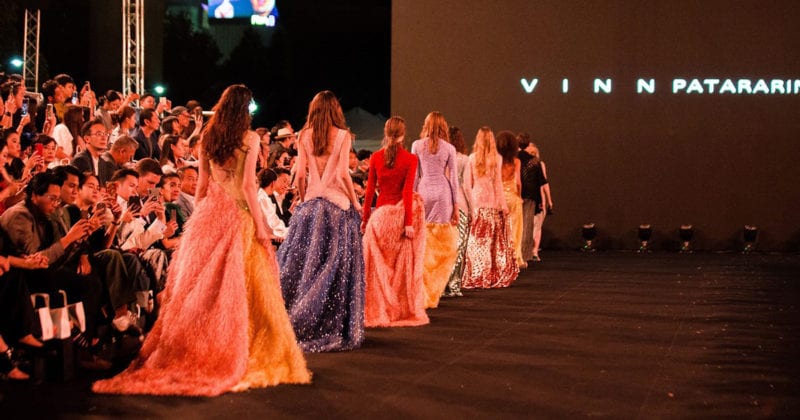 A close-up of this intricate pattern of geometric circles (below) brings to mind the façade of a beautifully tessellated building. But take a few steps back, and the strong, interlocking shapes visibly flow freely and drape as a piece of fabric would, forming the gentle pleats of a dress.
Such eye-catching manipulations of laser-cut motifs define the work of Thailand-based multi-disciplinary design house Vinn Patararin — an up-and-coming player in the fashion world known for its experimental approach to textile and architecture.
While many may think that fashion and architecture have little in common, given the difference between humans and buildings, Vinn Patararin has chosen to take a different perspective.
"Our philosophy is to see elements differently, and to innovate across disciplines to go beyond traditions. That's how we introduced architectural structure to the fabrication process," shared Patararin Pongprasit, one of the two creatives behind the brand.
"We see the human body as a moving architecture in which space between each layer can create dynamic volume, silhouette, shade, and shadow," she added.
Through its designs, which were made using 3D programming and drawing inspiration from nets and fish traps¹, among others, the brand demonstrated how architecture principles, such as the dynamism of volume and space, can be fused with textile and fashion.
It was not long before the global fashion industry began to take notice of Vinn Patararin's gravity-defying approach — a breath of fresh air in a market always on the lookout for something different.
Where architecture meets fashion
Vinn Patararin's story began in the heart of the world's fashion capital: Paris.
Pongprasit first met her partner Vinn Chokkhatiwat while they were both furthering their studies in France, pursuing industrial design and fashion respectively. They found themselves sharing a common interest in the arts — specifically, a passion for redefining fashion by defying conventions to create new possibilities.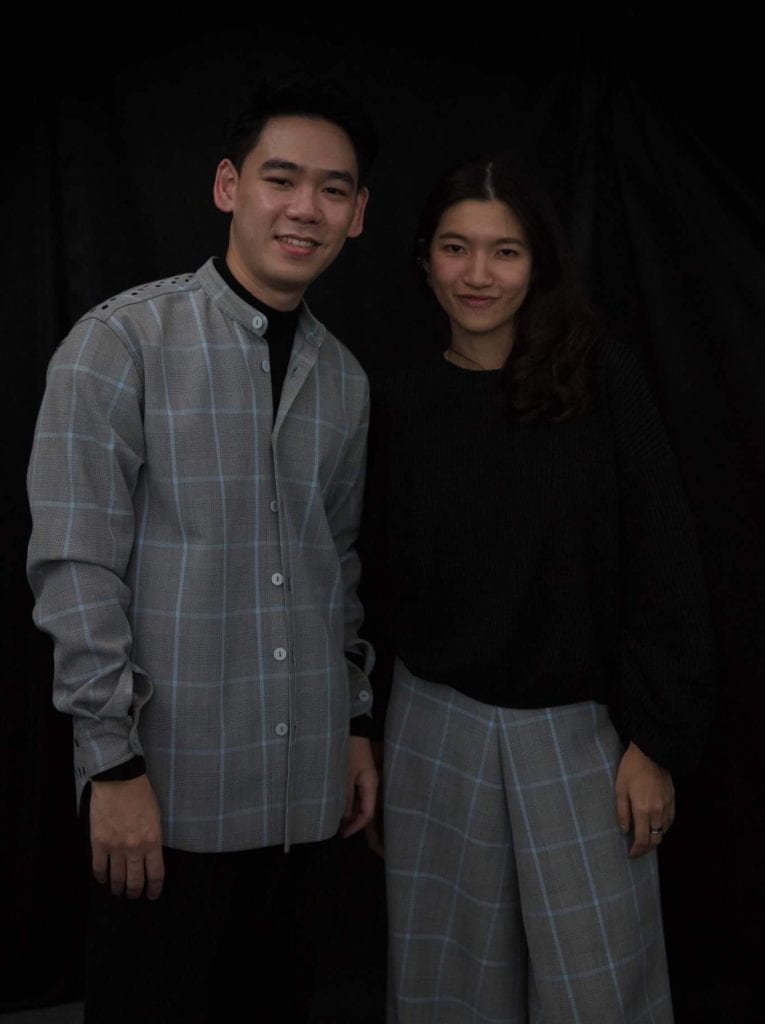 "We went to see exhibitions together and would always exchange ideas," Chokkhatiwat recounted in an interview. "We both felt a connection so we decided to work together on a fashion project."
The pair submitted their work to the Copenhagen Fashion Week 2013, where they were recognized as one of the show's rising stars. They went on to appear at Paris Fashion Week two months later.
Yet, even as Vinn Patararin quickly found success on the international stage, the same could not be said of its domestic market, as they realized after setting up a shop in Thailand a few years ago.
"The Thai market is different. It is pretty reluctant to tease out new concepts," Chokkhatiwat explained. "So we had to tone down the concept, make it easier to digest, and try different ways to approach Thai consumers."
Their persistence paid off, as Thai media and consumers gradually became more receptive to their work. While the brand had mainly served international customers previously, the majority of their customers are now Thai, following the success of their social media marketing campaign in the country.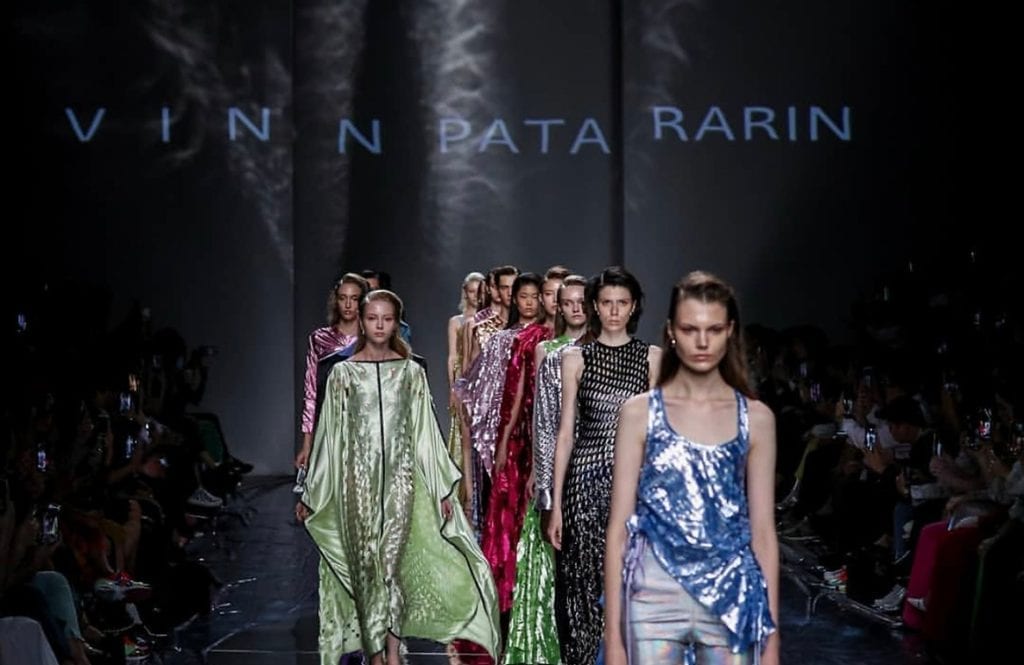 Vinn Patararin continues to face other challenges from time to time, such as in the production process, when its abstract designs are unable to be manufactured in bulk.
"We come up with what we think is a masterpiece, but it fails when it's difficult or impossible to mass produce," Pongprasit said. "That's why we have only one collection a year, as we need to explore and study not just the concept and design of every piece of clothing, but also whether it can be produced."
E-commerce: A great adventure
But perhaps the biggest obstacle Vinn Patararin has to contend with to date is the Covid-19 outbreak.
Like many other fashion retailers, the company has been impacted by the crisis, which has sent global fashion industry revenues plunging by 30 percent, according to a McKinsey report.
This has hastened Vinn Patararin's move into e-commerce, as retail footfall remains lackluster due to social distancing restrictions and economic uncertainty.
"E-commerce has been our great adventure in experimentation," said Chokkhatiwat, noting that the team has redesigned its packaging to support its customers. "We want them to feel the same way as they are shopping with us in our shop."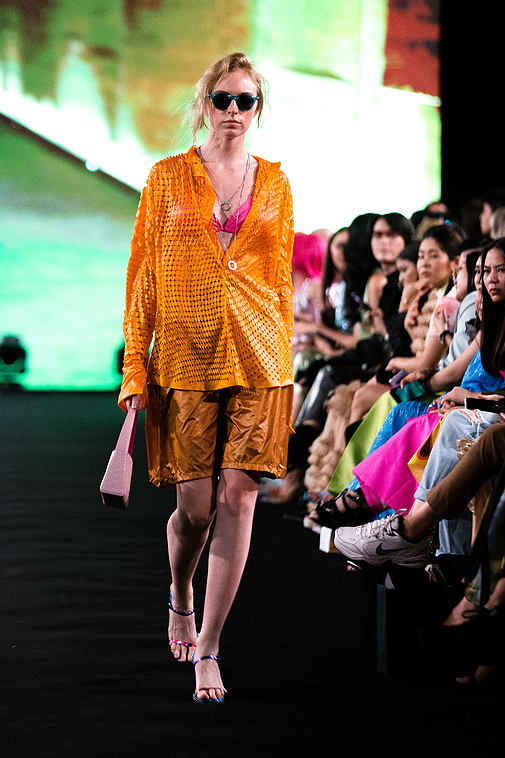 He added that going into e-commerce has always been part of the plan. "Covid-19 is just a catalyst to make it happen sooner."
As demand for online shopping grows, making sure their products are delivered safely and reliably has become more critical than before in meeting customer demands.
Other than the Thai market, the majority of Vinn Patararin's international customers come from Japan, China, United Arab Emirates (UAE) and its neighboring countries. "Wherever our customers are, they expect not just quality products, but also a superior delivery service that completes the ideal shopping experience for them," said Chokkhatiwat.
Partnering with DHL Express Thailand has ensured that the brand's customers around the world can access their high-end products in the optimal condition.
"Firms like Vinn Patararin are truly redefining Thai fashion and sharing their unique perspective on design with the rest of the world. We're proud to be a part of their growth journey — just as we support many Thai homegrown small and medium-sized enterprises seeking to go global," said Herbert Vongpusanachai, Managing Director at DHL Express Thailand & Head of Indochina.
To keep the business going amid the pandemic, Vinn Patararin has also launched a "VP at your front door" service, where they arrange for tailoring and styling services of their designer garments at their customers' doorsteps.
"Covid-19 has been our biggest challenge as we have to change every process of our work. But it has also inspired us more, and challenged us to create new services, packages, promotions, and content media for our clients," Pongprasit said.
"We have come to focus on our clients more, designing some new pieces that support working from home, and talking to our clients directly. It's about expanding possibilities."