How Hong Kong is positioning itself as Asia's ecommerce logistics hub
New investments in logistics infrastructure are strengthening Hong Kong's status as a regional hub and supporting recent growth in intra-Asian trade.
New investments in logistics infrastructure are strengthening Hong Kong's status as a regional hub and supporting recent growth in intra-Asian trade.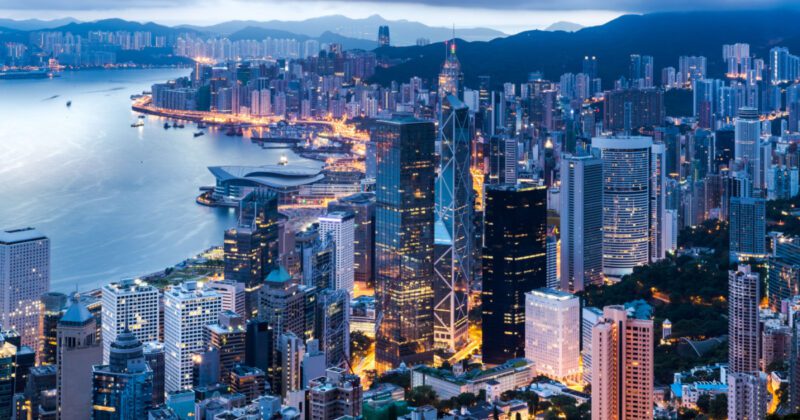 Intra-Asia trade has seen remarkable expansion in recent years. This has been driven by increased demand and consumption in markets like China, India and Vietnam, and the growing consumer preference for online shopping. 
According to Digital Commerce 360, consumers in Asia spent an estimated US$2.525 trillion (€2.3 trillion) in 2020 on retail websites and marketplaces, up from US$2.118 trillion (€2.002 trillion) in 2019. Furthermore, the Asian e-commerce market is expected to reach US$2.813 trillion (€2.508 trillion) by 2027, with an annual growth rate of 11.64 percent.  
This has significantly increased shipping volumes and demand for air cargo flights throughout Asia. Hong Kong International Airport (HKIA) alone welcomed a record 82,935 cargo flights in 2021, nearly 20 percent more than in 2020. It also handled approximately 5.03 million metric tons of air cargo, an increase of 12.5 percent year-on-year. 
This shift in trade dynamics has opened the door to significant opportunities for businesses across Asia. Many small and medium-sized enterprises (SMEs) have recognized the potential for expanding their regional networks and capturing a larger market share. 
However, as Asia transitions into this new retail environment, the central question is whether existing logistics networks are up to the challenge of moving the growing volume of goods involved efficiently and in a timely manner. Logistics hubs like Hong Kong must resolve this to continue to meet accelerating demand.  
How logistics enables e-commerce success
SMEs that want to thrive in the rapidly evolving e-commerce landscape require logistics services that are not only efficient but also adaptable. This means having the right expertise, compliance and regulatory knowledge, infrastructure, and technology to meet service level expectations. A great logistics partner will also be able to scale to meet a retail partner's evolving needs – especially during peak seasons – and adapt to changing market conditions or unforeseen disruptions, without compromising service quality. 
Fast and reliable last-mile delivery services provide the vital, final step in the customer's shopping experience, ensuring orders reach customers on time and in good condition. Customers are more likely to choose businesses that can deliver products quickly and consistently – and avoid those that cannot. Great last-mile experiences often lead to good reviews, repeat business, and customer loyalty. They can also help businesses reduce shipping and transportation costs, optimize routes, and reduce the environmental impact of shipping. 
"In the world of e-commerce, a reliable and resilient logistics network is the road to success for small or medium-sized enterprises," said Ken Lee, CEO, DHL Express Asia Pacific. "It is the bridge that turns a customer's click into a seamless, on-time delivery experience. The right logistics partner is the key to achieving this, helping businesses adapt quickly to unexpected circumstances, scale effectively and grow." 
Investing in Hong Kong's future as a logistics hub
With increased shipping volume and demand from intra-Asia markets already impacting logistics across central Asia, recent investments in logistics infrastructure have strengthened Hong Kong's position as a hub for regional and international trade.  
Boasting well-connected aviation and maritime transport infrastructure, including the world's busiest cargo airport, Hong Kong is strategically located within a four-hour flight of major cities in the Asia Pacific and Pearl River Delta regions. This makes it ideally located to ensure the timely delivery of goods to key markets. Hong Kong also offers businesses an accessible entry point to Greater China's extensive manufacturing industry. 
In fact, 75 percent of cargo originating from the Greater Bay area go through Hong Kong, making it one of the key reasons for the development of the HKIA Logistics Park Scheme in Dongguan, which works in tandem with a new airside intermodal cargo pier at HKIA. The aim is to perform security screening, palletization and acceptance of export cargo at Dongguan. With cargo being shipped directly to the airside of HKIA without undergoing additional screening, the new model, expected to be completed in 2025, will reduce operating costs by 50 percent and handling time by approximately one-third.
Other recent infrastructure investments include cutting-edge facilities and advanced technologies designed to streamline operations, and boost productivity and the flow of goods across Asia. For example, container terminal operator Hong Kong International Terminals increased its productivity by 40 percent by implementing a remote-controlled yard crane and an automated stacking system. 
Logistics firms such as DHL Express have also deployed computerized tomography (CT) X-ray scans technology to boost inspection and sorting efficiency at its Central Asia Hub (CAH), located at HKIA. It has also included a variety of eco-friendly features in the hub's design to reduce its environmental footprint. These include solar panels on the roof, electric forklifts, LED lights and high-efficiency air-cooled chillers.  
Responding to surging demand with greater capacity and efficiency
It is unsurprising that there is a growing need to invest in Hong Kong's logistics infrastructure, due to its well-known status as an international logistics hub. After all, there has been a massive growth in shipment volumes and air cargo demand from intra-Asia markets such as China, India, Japan, Singapore and South Korea. Across Asia, DHL Express has seen a 56 percent increase in B2C throughput for the first three quarters of 2023 versus pre-pandemic levels in 2019.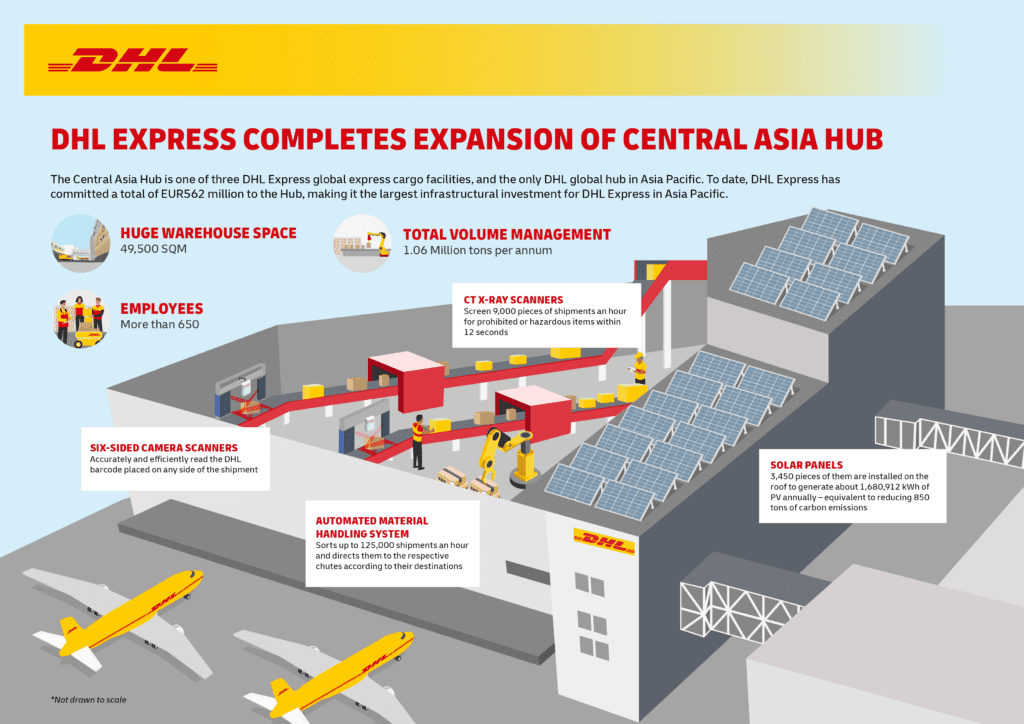 The growing demand across Asia has led the logistics firm to expand the CAH and enhance the region's connectivity. The hub, which is by far the largest infrastructural investment by DHL Express with a total investment of €562 million, has almost 70 percent more handling capacity and 50 percent more warehouse space than before the expansion. At its peak capacity, it can handle six times more in terms of shipment volumes than when it first opened in 2004.  
Together with DHL Express's other Asian hubs and gateways, the expanded CAH is expected to deliver a more efficient and interconnected regional logistics network. 
 "The strategic location of the Hub in Hong Kong opens door to many opportunities for our customers in this region," said Lee. "We are confident that the expanded CAH will foster interconnectivity and underpin Asia's status as a powerhouse of global growth."  
A positive step for fostering economic growth
As the e-commerce landscape continues to evolve, there is no doubt that logistics will play an increasingly important role in helping SMEs to meet customer expectations, scale effectively, and grow. However, with shipping volumes and demand for air-cargo capacity already surging, it is clear that logistics companies and hubs like Hong Kong need to be proactive to enhance their capabilities and connectivity. 
In a rapidly evolving trade environment, initiatives such as the HKIA Logistics Park pilot scheme and DHL Express's expansion of the CAH not only support the prosperity of the SMEs, but help to promote trade and economic growth throughout Asia.