Road freight en route to brighter future beyond Covid-19
In Southeast Asia, the market share of road freight transportation is expected to grow substantially with new initiatives and an imminent economic recovery.
In Southeast Asia, the market share of road freight transportation is expected to grow substantially with new initiatives and an imminent economic recovery.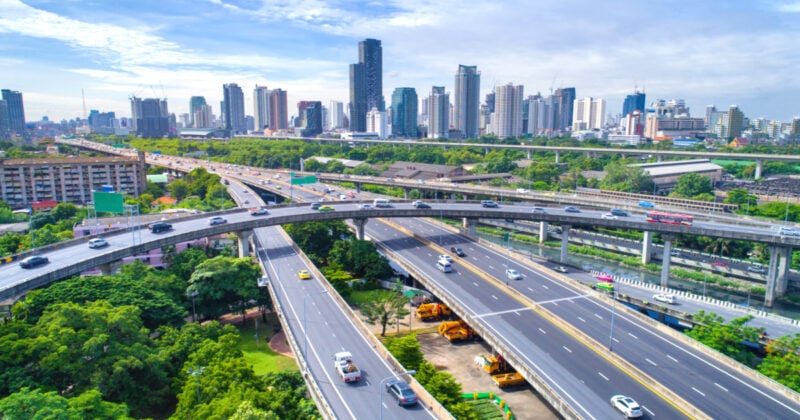 New trade initiatives, surging e-commerce demand, an expected post-Covid economic rebound and the volatility of other freight modes are creating ideal conditions for cross-border trucking and intermodal forwarding solutions across the Association of Southeast Asian Nations (ASEAN) region, according to a new DHL whitepaper.
Member states in the ASEAN Economic Community (AEC) have long urged customs officials to increase integration and connectivity to facilitate companies seeking to expand their operations across the region. These efforts are now opening up new trade routes and opportunities for international road freight solutions.
"Most of Asia is connected by land. Trucking services make sense as a cost-effective and efficient option for customers who are evolving supply chains to meet the needs of the post-Covid-19 logistics landscape," said Thomas Tieber, CEO, Southeast Asia, DHL Global Forwarding.
As the white paper highlights, the global scarcity of shipping capacity and equipment, and the prohibitive cost of air freight, have further enhanced the attractiveness of secure, truck-based solutions offering end-to-end cargo visibility to shippers.
"Governments have also been taking steps to improve border infrastructure, aligning customs rules and documentation. With these bottlenecks removed, road and multimodal solutions relying on the free movement of trucks across borders may become the preferred freight mode when compared against air or ocean freight," said Tieber.
Leveraging technology is also playing a key role in enabling efficiencies in road freight. Underpinning DHL's technological backbone in this area is the myDHLi digital portal, which offers rapid access to instant and competitive quotes, bookings and tracking of shipments. It also enables customers to monitor emissions and shipment visibility, and analyze logistics spend, volumes, customs activity and service quality.
For road freight providers including DHL, combining their trucking expertise with the use of technology, and the knowledge of the latest trade regulations and market trends, will be imperative for success in the region.
Powering seamless cross-border trade
One of the most significant developments for the road freight sector over the past year has been the implementation of the ASEAN Customs Transit System (ACTS) — a computerized customs transit management system that allows licensed operators to move goods across borders using a single document, without having to pay duties and taxes on goods entering or leaving the country.
Launched in Cambodia, Laos, Malaysia, Singapore, Thailand and Vietnam in 2020, the ACTS was designed in line with ASEAN's goals of reducing trade transaction costs by 10 percent in three years from 2017, and doubling intra-ASEAN trade between 2017 and 2025.
"ACTS will also lower costs over time, while enhancing efficiency and reliability for road freight movements in the ASEAN region by harmonizing the cross-border regulatory processes and standards imposed across different member economies," said Bruno Selmoni, Head of Road Freight & Multimodal, Southeast Asia, DHL Global Forwarding.
Business users can lodge e-transit declarations directly with ASEAN Customs authorities via ACTS, and track the movement of cargo from loading at departure to its final destination. As operators no longer need to make a Customs declaration at every border, the ACTS will generate administrative and cost savings, while opening up new and more competitive intra-regional trade lanes.
For companies seeking to reconfigure post-Covid supply chains, the launch of ACTS comes at an opportune time. "Manufacturers looking to diversify production out of China to reduce risk and increase supply chain resilience now have an improved road-based logistics network to tap into when setting up regional supply chains in Southeast Asia," said Selmoni.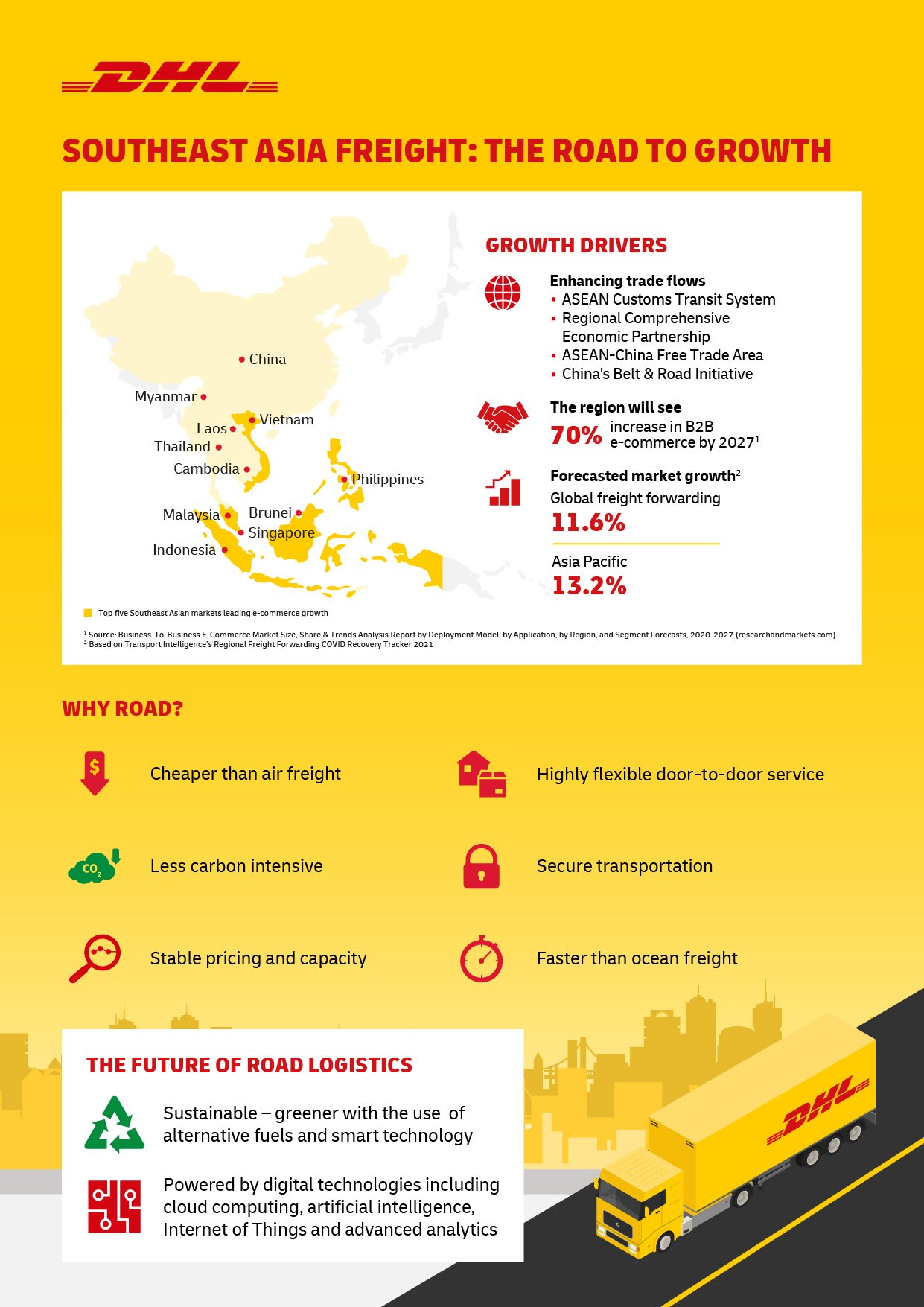 Other initiatives have also been moving the needle on intra-regional trade.
For instance, the Greater Mekong Sub-region (GMS) Cross-Border Transport Facilitation Agreement (CBTA) allows each of the six member countries — Cambodia, China, Laos, Myanmar, Thailand, and Vietnam — to issue up to 500 GMS Road Transport Permits and Temporary Admission Documents (TADs) for goods and passenger vehicles registered, owned and/or operated in that country. Under the agreement ratified in 2015, the documents will allow each vehicle to remain in the country for a 30-day time limit.
Meanwhile, the ASEAN-China Free Trade Area has increased trade between the Southeast Asia and China since coming into force in 2010, and the 15-member Regional Comprehensive Economic Partnership (RCEP) is expected to improve market access and facilitate investments across the bloc that represents about a third of the global GDP.
All these agreements and initiatives are set to bolster economic growth and trade just as ASEAN countries look to bounce back from Covid-19 lockdowns.
Economic recovery a boon for logistics
According to research agency Transport Intelligence (Ti), the spike in trade volumes and rebounding economic activity will translate into corresponding growth and demand for logistics and road transport.
The consultancy expects real Asia Pacific contract logistics demand growth from 2020 to 2025 to increase by 7.6 percent, with demand across the entire region forecast to expand by 8.2 percent this year.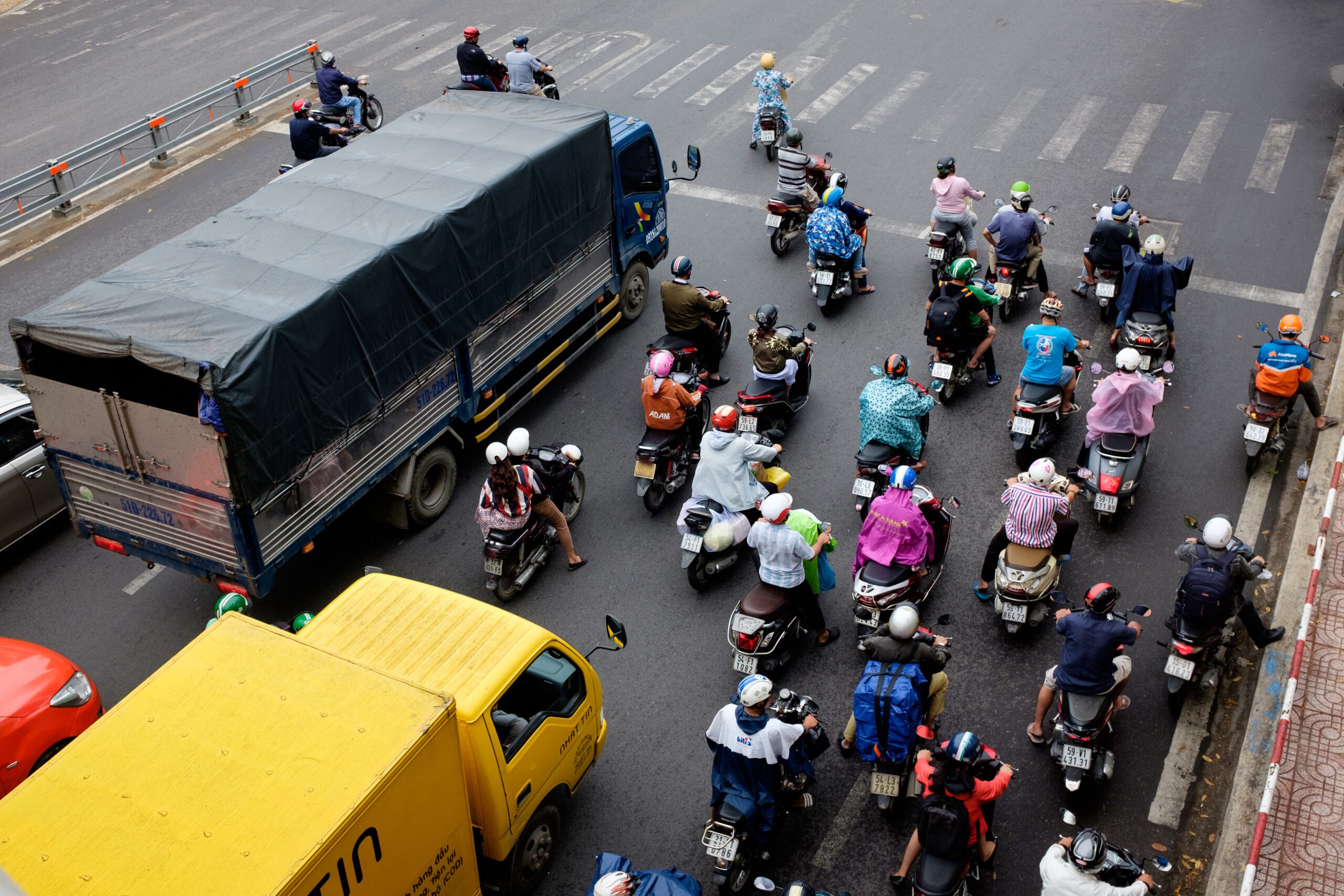 Driven by factors such as the U.S.-China trade war and strong government support, fast-growing emerging markets in the region such as Indonesia and Vietnam have increasingly significant manufacturing sectors that would likely propel demand in the longer term.
A new report by payments company PPRO, meanwhile, predicts Southeast Asia will see e-commerce grow by 5.5 percent in 2021, with Singapore, Malaysia, Indonesia, the Philippines, and Vietnam leading the charge in terms of market growth in Southeast Asia over the coming year.
Specifically for business-to-business sales, online transactions are expected to surge 70 percent to reach US$20.9 trillion (€17.6 trillion) by 2027, which will sustain strong demand for road freight solutions in the years to come.
"With rising e-commerce consumer spending and lower trade restrictions amid a robust post-Covid economic recovery, the future of cross-border trucking in Southeast Asia is promising," said Tieber.
"We will continue to roll out the region's leading road and multimodal solutions developed in partnership with our customers, as we all prepare for the next decade of, hopefully, pandemic-free business and trade."