New high-speed railway puts Laos on track to boost regional trade
The rail network will place Laos as a land-linked hub, connecting China to more regions with viable alternatives from ocean and air options.
The rail network will place Laos as a land-linked hub, connecting China to more regions with viable alternatives from ocean and air options.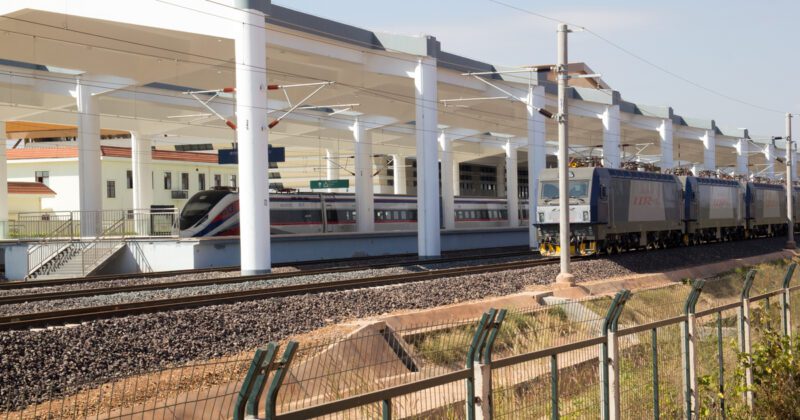 Until recently, Laos lacked a national rail network. But on 2 December 2021 – the country's national day – all that changed. That's when freight and passenger trains started running along the new China–Laos railway line, providing the fastest and most modern transport route yet into the Southeast Asian state.
The high-speed rail link stretches 414km from Laos' capital Vientiane – located near Thailand's border – to Boten, which borders China in the north. From there, another 522km-long section runs to the Chinese city of Kunming in Yunnan Province, giving Laos additional land links to global and regional supply chains.
Supporting China's Belt and Road Initiative
The railway is the largest infrastructure project yet seen in Laos, with a price tag of about US$6 billion (€5.31 billion) – or about a third of the country's GDP.
The Chinese government, however, has placed substantial financial backing to the project as part of its Belt and Road Initiative (BRI). The initiative is planned as the first step in China's ambitious plan to build a transnational railway link extending south through Thailand and the Malay peninsula all the way to Singapore.
Beijing's willingness to underwrite the new line highlights the priority it places on resource-rich Laos as part of its BRI plans.
China has also outlined other investment plans for the country, including a motorway between Vientiane and Boten, and a cross-border Mohan-Boten economic zone, which Laos hopes could emulate some of the success of the southern Chinese technology hub of Shenzhen.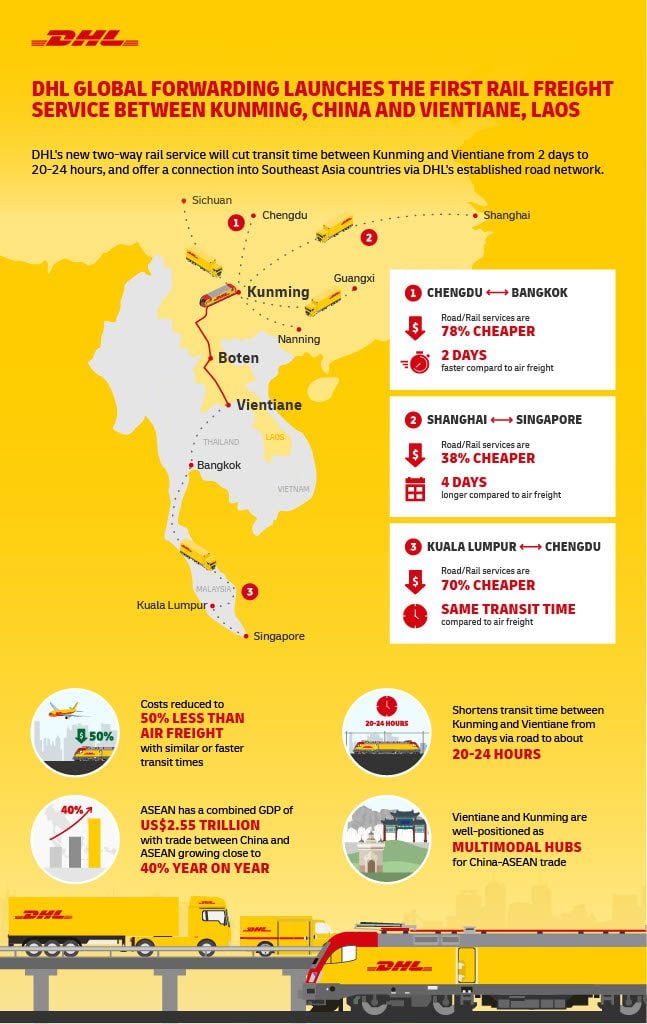 A viable and affordable land-linked transport system
Leveraging on the new China-Laos railway, DHL Global Forwarding is the first international forwarder to provide a two-way rail freight service between Kunming, China and Vientiane, Laos.
The two-way service combines trucking from all over China to the hub in Kunming, running through the China-Laos railroad, then onward with DHL's established road network service  and back.
The multi-modal service brings with it significant cost savings and transit times that are on par with airfreight. For example, a road/rail service along Bangkok to Shanghai comes with the same transit time as an airfreight along the same route, and is 84 percent cheaper.
"Businesses moving goods between China and ASEAN countries now have a strong viable alternative between air and ocean freight, and can tap further into DHL's robust road freight and multimodal network in the Southeast Asia region," said Thomas Tieber, CEO, DHL Global Forwarding Southeast Asia.
Accelerating Laos' push to become a 'land-linked' economy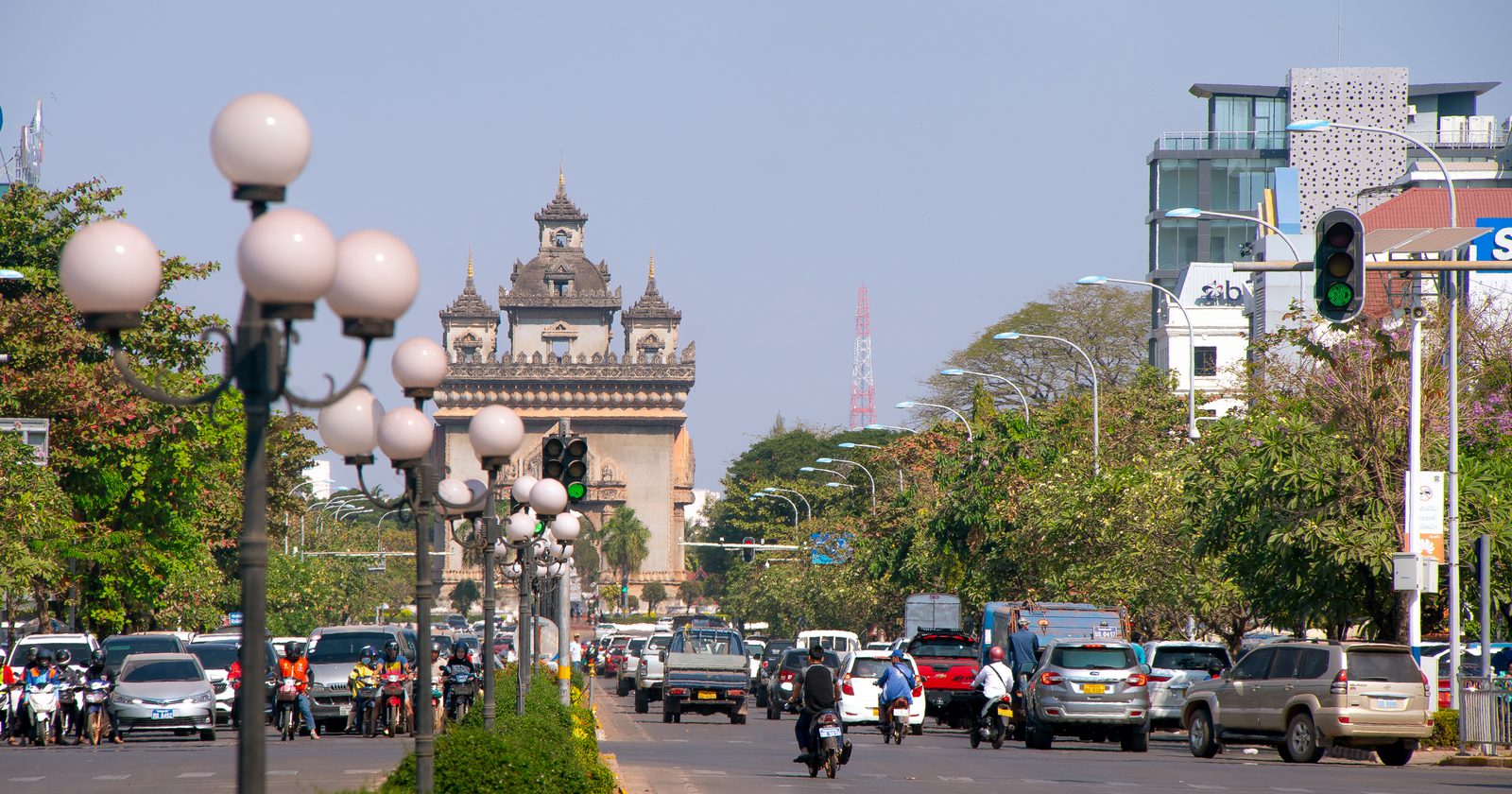 China's regional rail connectivity plans and other BRI-backed development dovetail neatly with Vientiane's long-held strategy of evolving the landlocked country into a 'land-linked' hub for the wider region.
With a population of less than 8 million people, Laos is among the least industrialized states in Southeast Asia. The country's north, where the railway line runs, has until now been relatively removed from centers of commerce.
But as Greg Raymond, a Southeast Asia expert at the Australian National University, recently told the South China Morning Post, the Laotian government is determined to pull the country from the ranks of least-developed countries, and sees large-scale infrastructure as a central part of the solution.
Laos' new railway line leaves it well-positioned to take advantage of its strategic location in the midst of emerging economies, including Thailand and Vietnam, and reinvent itself as a multi-modal goods and services distribution hub for the region. If successful, it stands to reap tremendous benefits from regional trade.
The China-Laos rail network will essentially make the country more attractive to investors, create new jobs, and accelerate its post-pandemic economic recovery. According to the World Bank, the new railway line could potentially help Laos increase its aggregate income by up to 21 percent in the long term.
As a result, Laos will now be seeking ways to further improve infrastructure connectivity and enable cutting-edge multi-modal transport services. "The [Laotian] government has the policy to support business people. The country is also improving its business regulations and infrastructure to support business operations," commented Laotian political journalist Ekaphone Phouthonesy in a recent article in The Straits Times.
Bringing new opportunities to ASEAN markets
The new railway will also create closer trade linkages between all the countries covered by China's BRI, including those within the ASEAN trade bloc.
China is already ASEAN's largest trading partner, growing close to 40 percent year on year. Recently, however, the Chinese government has been directing more BRI infrastructure investments towards the region to build greater trade connectivity within ASEAN member countries.
Despite a sharp drop in total BRI investments due to the disruptions of the COVID-19 pandemic, Southeast Asia became China's largest BRI destination in 2020, accounting for 36 percent of total investment.
This investment is fostering greater cooperation in sectors such as manufacturing, agriculture, infrastructure, high-tech, the digital economy, and the green economy.
2020 also saw China and ASEAN countries sign the Regional Comprehensive Economic Partnership, which is expected to further boost mutual trade and investment, along with economic integration.
"ASEAN has a combined GDP of US$2.55 trillion and is predicted to be the fourth-largest single market in the world by 2030. We see a very bright future for trade and economic activity in the region, which will translate to increased demand for logistics," said Steve Huang, Managing Director, DHL Global Forwarding, Greater China.
Currently, trade flows between China and ASEAN rely mainly on maritime routes, with trade between Laos and China representing less than two percent of total China–ASEAN trade.
According to the World Bank, the opening of the Laos line could increase trade flows between China and Laos from 1.2 million tonnes in 2016 to 3.9 million tonnes by 2030.
This would include a shift of an estimated 1.5 million tonnes of trade from maritime transport to the railway and significantly reduce land transport prices by up to 50 percent between Vientiane and Kunming.
Global trade: the biggest winner
In the short term, the China–Laos railway puts Laos on the fast track to realize its vision of becoming a 'land bridge,' providing the most direct overland transportation routes between its coastal neighbors.
In the longer term, with trade, retail, and tourism all now high on the agenda for foreign investment opportunities, the new infrastructure makes it possible for Laos to reimagine its economic future.
Above all, however, the rail project demonstrates enormous potential in bringing ASEAN countries closer together and transforming the region's logistic capabilities.