MORE FROM THIS COLLECTION

All eyes on Malaysia for the next e-commerce boom
Malaysia's e-commerce market could soon soar to new heights
Malaysia's e-commerce market could soon soar to new heights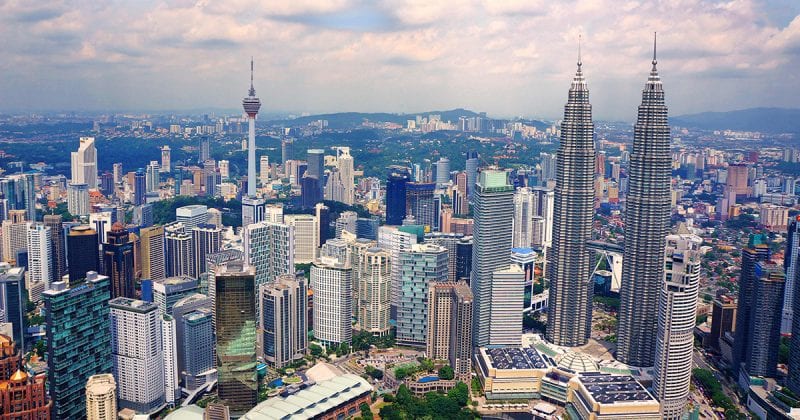 Key takeaways
Malaysia's e-commerce market is likely to grow rapidly thanks to a range of new government stimulus policies

Despite being keen online shoppers, Malaysians still don't trust e-commerce transactions as much as merchants might like

Robust last-mile deliveries – a key ingredient for any e-commerce boom – have so far eluded many retailers, but new services are turning the tide
When it comes to new e-commerce markets we're always on the lookout for the next big thing, which is why we've got Malaysia firmly in our sights. You only need to read the local press to see why: Alibaba Group just unveiled plans to set up a regional distribution hub in Malaysia and the government has just launched the world's first Digital Free Trade Zone. And that's just the tip of the iceberg.
Until recently, the Malaysian market experienced relatively slow growth: in 2015, despite almost 70% internet penetration, only 5% of Malaysian businesses had an online presence. But that was then and this is now. According to a recent report by BMI Research, Malaysia's e-commerce market is expected to grow to US$3.8 billion this year alone.
Why the sudden change of pace? One reason is the Malaysian government's firm commitment to e-commerce growth. Under its National E-commerce Strategic Roadmap, which aims to double Malaysia's e-commerce growth rate and reach a GDP contribution of RM 211 billion by 2020, the government has identified six key focus areas:
accelerate seller adoption of e-commerce;
increase adoption of e-procurement;
lift non-tariff barriers;
realign existing economic incentives;
make strategic investments in select e-commerce players; and
promote the national brand to boost cross-border e-commerce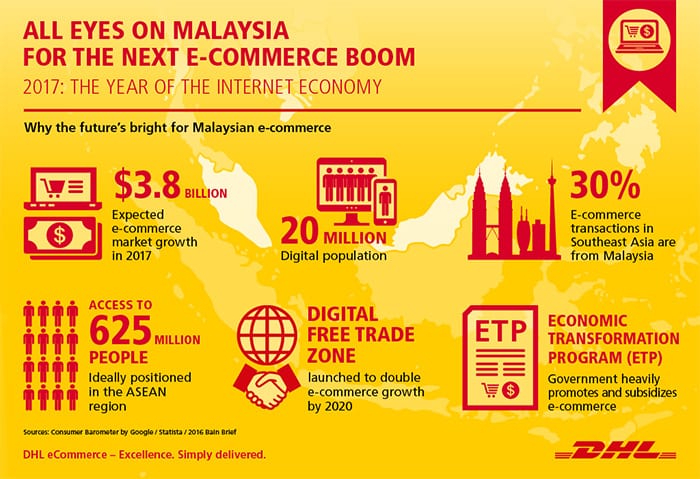 Another government initiative, the Economic Transformation Program, heavily promotes and subsidizes e-commerce, and the recent appointment of Alibaba's Executive Chairman Jack Ma as Malaysia's Digital Economy Advisor, shows just how keen the government is to succeed.
Over 20 million potential customers
What else does Malaysia have going for it? The market is ideally situated in the heart of the ASEAN block of countries, which has some 625 million people. The country also boasts high-speed internet reaching almost three-quarters of the population, plus a well-developed infrastructure, making it highly attractive to foreign firms. Malaysia's digital population is around 20 million strong and its e-commerce market is one of the most developed of all the ASEAN countries, excluding Singapore.
A recent survey by 11street, Malaysia's largest e-mall, revealed interesting insights about their shoppers' habits. Apparently, men shop online more than women, and East Malaysians are 2.6 times more likely to shop online than Peninsular Malaysians. 59% of online shoppers purchase at least once a month, and 80% of them shop on their smartphones.
However, lack of trust is an issue online: only 29% of consumers convert online research into a purchase, and many still prefer to pay cash on delivery. Purchasing via social media sites such as Instagram or Facebook is also popular. A 2016 report by Bain showed 30% of all e-commerce transactions in Southeast Asia are 'social sales' which presents a challenge, particularly for overseas firms trying to develop a personal e-commerce strategy.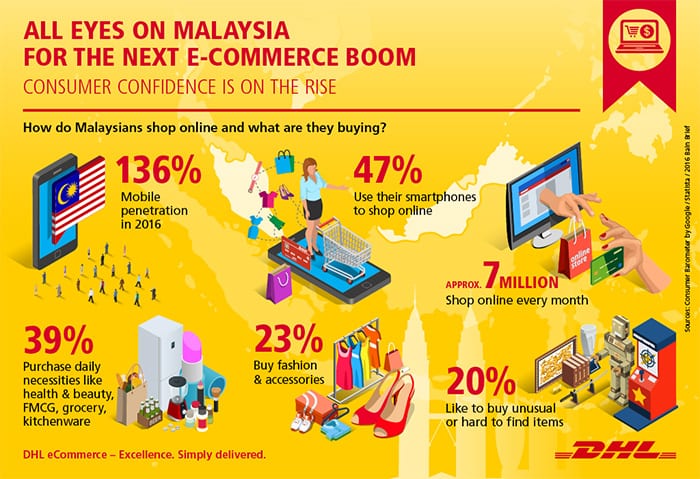 What are people buying? The 11street survey showed fashion and beauty products, electronics, and sports and hobby equipment came up tops. When it comes to deliveries, 90% of those surveyed expect their purchase to be delivered within one week, 46% within three days. This is where the country still faces challenges.
Time to deliver a smile in the last mile
What's lacking in the Malaysian market is reliable last mile delivery services. According to the Malaysia Digital Economy Corporation, Malaysia's e-commerce ecosystem is still in a relatively early stage of development. But customers' delivery expectations are changing rapidly and e-retailers are under pressure to reduce fulfillment costs while also delivering faster.
That's why we've set up our new domestic delivery service in Malaysia. Not only can we offer last mile delivery that's connected to our worldwide DHL network, we can also offer local support and advice to online sellers through our very own staff on the ground.
These are exciting times for e-commerce in Malaysia. In fact, the government has named 2017 'The Year of the Internet Economy.' So, it's time to put Malaysia firmly in your sights, as there's never been a better time to enter this dynamic, growing e-commerce market.