MORE FROM THIS COLLECTION

The Greater Bay Area: How will China's answer to Silicon Valley push on?
Amidst Covid-19, China's ambitious plan to transform its special enterprise zone into a massive business and innovation hub remain.
Amidst Covid-19, China's ambitious plan to transform its special enterprise zone into a massive business and innovation hub remain.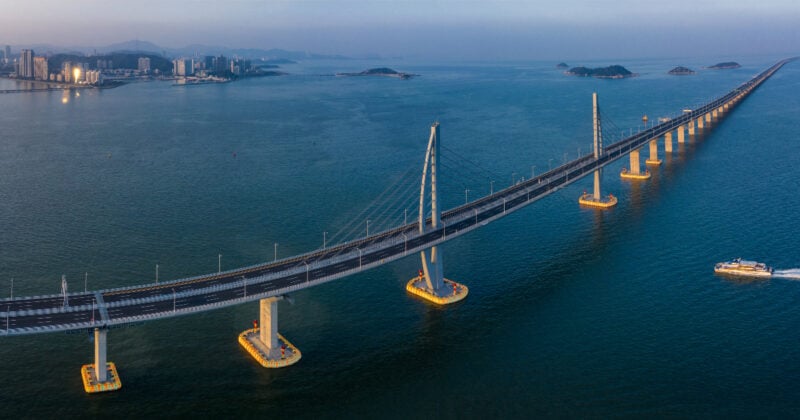 In recent years, China launched the world's longest sea bridge connecting Hong Kong, Macau, and mainland China.
The Hong Kong-Zhuhai-Macau Bridge, as it is known, spans 36 kilometers and is estimated to have cost over 100 billion yuan (€12.95 billion). At least 15 years in the making, it was also one of the world's most challenging projects in infrastructure.
In many ways, the mega bridge represents the breadth and scope of Chinese President Xi Jinping's grand plan to turn Hong Kong, Macau, and nine southern China cities a massive economic and innovation hub.
The dream was that the Greater Bay Area would rival even San Francisco's Silicon Valley, becoming a global technology innovation center, hosting advanced manufacturing and modern services industries.
All about connectivity
The Chinese government's goals for the Greater Bay Area are linked heavily to its aims for improving trade connectivity with the rest of the world.
As it stands, China remains a strongly domestic-oriented economy. In the seventh edition of the annual DHL Global Connectedness Index (GCI), the country ranked 70th. Its international flows are comparatively smaller than its structural characteristics (population, GDP per capita, and geography) suggest they could be.
The new GCI report also ranks economies according to their shares in Hong Kong's flows. Mainland China tops the list with 57 percent, followed by the United States, the United Kingdom, Singapore, and Japan. Asian neighbors Taiwan, Korea, Malaysia, Thailand, and the Philippines make up the latter half.
The GCI employs more than 3.5 million data points to track the globalization of 169 countries and territories over the period from 2001 to 2019. It measures each economy's global connectedness based both on the size of its international flows relative to the size of its domestic activity ('depth') and the extent to which its international flows are distributed globally or more narrowly focused ('breadth').
Since deeper global connectedness is associated with faster economic growth, China has untapped potential to benefit from strengthening its connections with the rest of the world.
Infrastructure has also been a priority for the country. In Foshan, there have been new transportation hubs, and in Jiangmen and Shenzhen, investments in education to build up the necessary workforce for the GBA."
Hong Kong matters
As part of the Greater Bay Area, Hong Kong plays an integral part. The city ranked 25th on the GCI, ranking one notch higher than last year on both its global and regional ranks.
Hong Kong is also listed among the world's top economies with the highest proportions of flows crossing national borders based on its depth score, calculated via the size of its international flows relative to its internal economy.
The city ranks second and is followed by Belgium, the Netherlands, and Estonia. In addition to Hong Kong's high global and regional rankings, it also ranked first on financial freedom and third in terms of ease of doing business, which is part of the structural and policy drivers of its connectedness depth.
Chee Choong Ng, Senior Vice President, and Managing Director, DHL Express Hong Kong and Macau said: "Hong Kong International Airport (HKIA) is already connected to 220 destinations and it is the most international, most cosmopolitan, and most connected city among the GBA members.
"There are mutual benefits in Hong Kong using the GBA as its economic hinterland, with the vast land area and larger talent pool in the GBA region.
"And the other members can leverage on Hong Kong's strengths: as an internationally recognized financial center, a cosmopolitan city, and a major logistics hub. This is really economics 101 – the Law of Comparative Advantage."
Challenges remain
Creating an integrated bay area with a combined population of 70 million people is no easy feat. For one thing, there has to be free movement of people, money, and information.
But the GBA is still some way from emerging as an economic powerhouse.
The "soft conditions" in particular — such as harmonizing the different tax, legal, and other systems — are still lacking. These translate into different traffic laws, dual legal systems, and three separate tax regimes used by the various cities.
Guangdong Governor Ma Xingrui had said at a forum: "The rules, the processes, the soft power. We have a big gap to close. And it's a long journey."
Ng elaborates: "The GBA doesn't have the common currency challenges of the European Union when the EU was first set up in 1993, but we do face the similar challenges of harmonizing two administrative systems and three customs regions.
"Free flow of talent and green lane logistics for capital and information flow is still very much work in progress."
Another major challenge is airspace management. There are five airports in the Area and each within one hour flight time, competing for air corridor space.
However, in July last year, the Civil Aviation Authority of China committed to consolidate these airports into a single airport cluster to enhance the region's overall airspace development.
And many believe that China can tackle these challenges, and they remain upbeat about the GBA's prospects.
The ongoing boom in e-commerce, accelerated by Covid-19, is also a big factor.
In Guangdong, overall export numbers for the province recorded a slight growth last year, despite the dampening effects of Covid-19.
Ng added:" The surge in e-commerce, which grew in one year, in what would typically take four to six years, as a consequence of changes in buying behaviors due to Covid-19.
The surge in e-commerce, and the policies and initiatives under GBA's ambitious plans, together will grow the economic pie for all the members in the GBA."
Further investment
Digitalization, automation, and cloud computing have received great investments from both the public and private sectors, particularly in Dongguan, Shenzhen, and Macau.
In the case of Hong Kong, to retain its position as Asia's leading logistics hub, Hong Kong International Airport is developing into a Three-runway System which will be commissioned in 2024 and the estimated cost is about US$18 billion (€14.8 billion).
"To take advantage of all these developments, our own DHL Central Asia Hub in Hong Kong is now undergoing expansion at an investment of €377 million, to bring it to 47 thousand square meters.
"It will be ready in 2022 to take advantage of additional capacity coming from additional landing slots with the completion of the Three-runway System at HKIA in 2024. We are all set for an exciting growth story!"