MORE FROM THIS COLLECTION

UbuntuConnect: A dedicated 100-ton weekly air freight conduit of PPE from China
Both Africa and the Middle East are facing the twin threats of potential mass Covid-19 outbreaks, but the timely launch of UbuntuConnect will help shuttle much-needed personal protective gear from China.
Both Africa and the Middle East are facing the twin threats of potential mass Covid-19 outbreaks, but the timely launch of UbuntuConnect will help shuttle much-needed personal protective gear from China.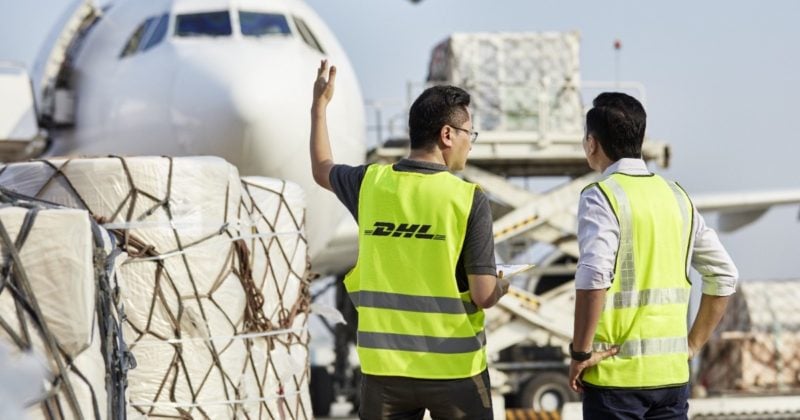 While the coronavirus disease (Covid-19) outbreak rages on, many global political institutions have struggled to find consensus.
This led to several United Nations agencies launching a joint appeal in late April to fund a global supply chain to fight the pandemic, with World Food Program chief David Beasley saying: "Time is a luxury we don't have. That's why we've joined UN agencies and partners in an urgent call, to help enable the set-up of critical logistic hubs, air bridges and transport networks."
One of their greatest fears is that developing countries, with the least ability to contain Covid-19, could become repositories for the disease and drive new waves globally, and without these facilities, "the global response could stutter to a halt."
Matshidiso Moeti, the director for the World Health Organization's Africa region (which comprises 46 Subharan nations and Algeria), said: "We are concerned that the virus continues to spread geographically, within countries.
"The numbers continue to increase every day."
The world's poorest continent has, at time of writing, more than 17,000 confirmed cases of Covid-19 and about 900 deaths so far — lower compared to other regions — but there are serious concerns that numbers could shoot up quickly, overwhelming already taxed health services.
In a statement naming Syria, Iraq, Yemen, Gaza, Lebanon and Jordan as key hotspots, Fabrizio Carboni, the International Committee of the Red Cross' director for the Middle East, said: "The Middle East is facing the twin threats of potential mass virus outbreaks in conflict zones and looming socio-economic upheaval. Both crises could have severe humanitarian consequences."
With the urgent need to bolster both region's bulwarks of personal protective gear against a possible Covid-19 explosion, the announcement by DHL Global Forwarding in mid-April that the company is launching a dedicated 100-ton weekly air freight service to ship goods from China to Africa via the Middle East could not be better timed.
Many countries in Africa are in dire need of personal protective equipment (PPE). And the main concern for the continent is that Africa has an acute shortage of doctors and healthcare workers. It suffers from more than 22 percent of the global numbers for diseases, but has access to only 3 percent of healthcare workers, and less than 1 percent of the world's financial resources.
An inventory by the Business for South Africa's Public Health Workgroup in mid-April found that the country only had three to four weeks of PPE left. Urgent orders were immediately placed with manufacturers in China to bring relief to thousands of doctors, nurses and frontline staff.
With virus restrictions in China lifted, the country has directed its manufacturing might toward making the PPE that health care workers need to battle the pandemic. This includes items such as masks, respirators, gowns and gloves.
Amadou Diallo, CEO, DHL Global Forwarding Middle East and Africa said: "Securing this additional 100-ton capacity will ensure that supply chains for our customers remain stable, especially for medical and critical supplies during this critical period. With multiple passenger flight cancellations draining worldwide air freight capacity, our people on the ground in China, Dubai and across Africa are working 24/7 to ensure that goods and critical resources continue to reach people and communities in the region."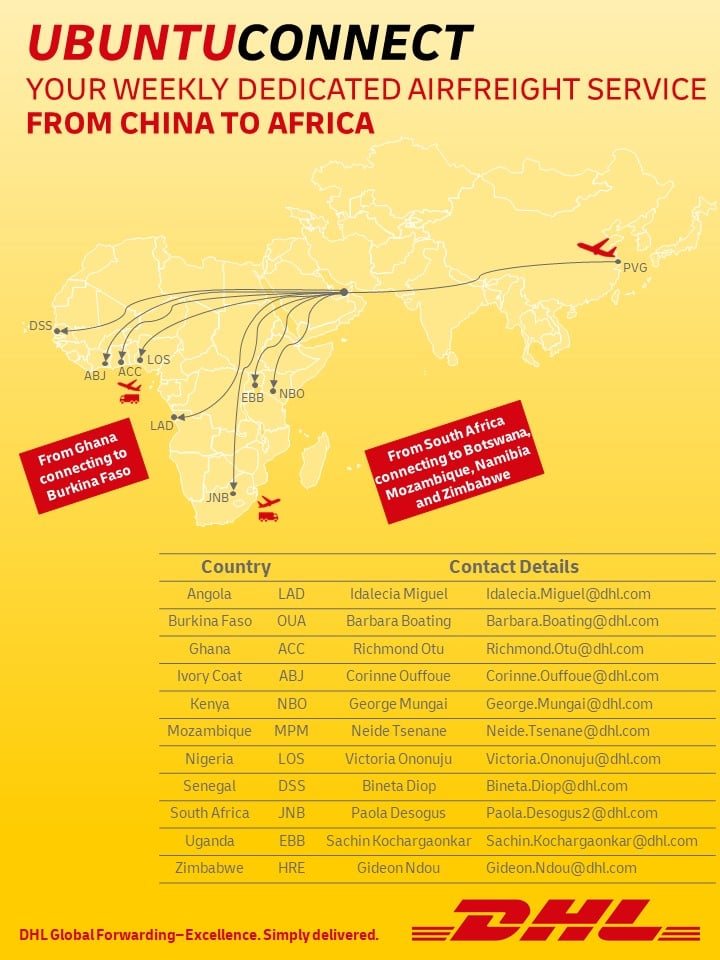 This dedicated service — from China to Africa, via Dubai — has been named UbuntuConnect. Named after the Nguni Bantu word, ubuntu (humanity), it references the China-Africa lane, where the bulk of the cargo is expected to comprise PPE such as masks, gloves, hand sanitizers and goggles to aid the Covid-19 fight, with potentially room for other commercial cargo should there be available capacity.
"During these difficult times, we are acutely aware of the vital role that freight forwarders play in getting essential goods and medical supplies across geographic borders. UbuntuConnect will prioritize the shipment of health and medical-related items for aid and relief efforts to Africa, whilst part of the cargo will be slated for countries in the Middle East," said Steve Huang, CEO, DHL Global Forwarding Greater China.
Capitalizing on Dubai's strategic geographical location as the gateway to countries in the region, the leading international provider of air, sea and road freight services will consolidate cargo from across China into Guangzhou and airfreight them via Dubai to their various destinations across Africa and Middle East, all within two or three days. The Middle East service has been aptly named the "Dubai Gateway".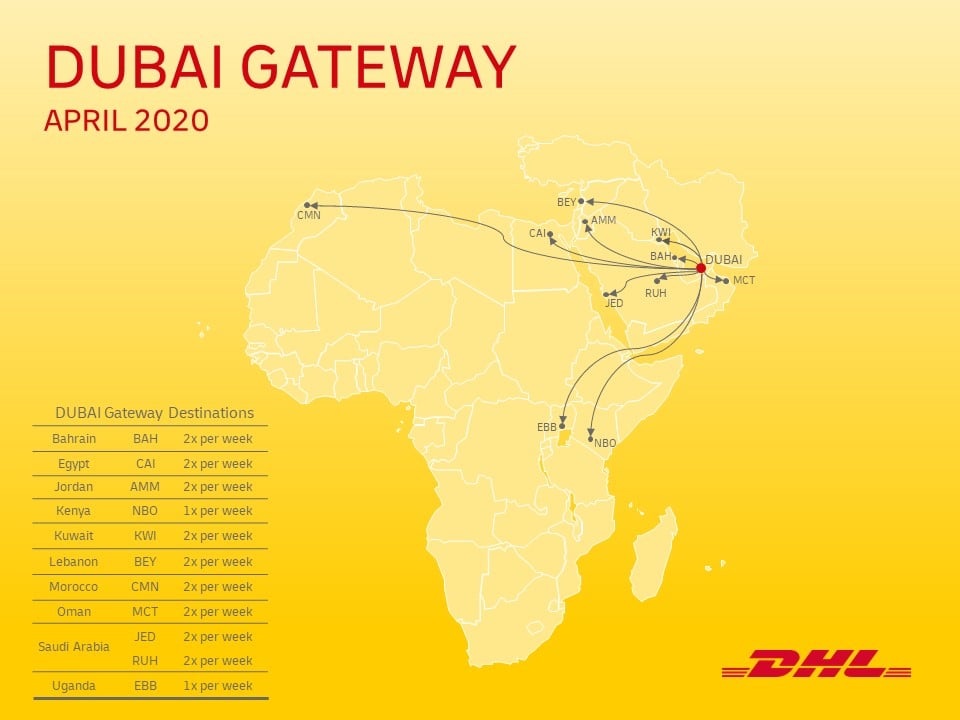 Africa is Dubai's third largest trading partner in volume terms and Africa's non-oil trade with Dubai has been growing steadily over the last decade, accounting for 10.5 percent of the emirate's total non-oil foreign trade in 2018.
The secured uplift from China began operation for four weeks on April 21, and has since been extended, with the uplift being moved to Shanghai instead of Guangzhou. DHL Global Forwarding is actively seeking to secure routes to all of Africa and boost capacity to the Middle East and Africa in the longer term, and has recently added Dakar, the capital city of Senegal, to the list of serviced countries.