MORE FROM THIS COLLECTION

Air freight cost-competitiveness over ocean sees boost amid robust demand
Despite the lack of bellyhold capacity, demand for air freight remains strong as ocean freight struggles with persistent reliability and capacity issues.
Despite the lack of bellyhold capacity, demand for air freight remains strong as ocean freight struggles with persistent reliability and capacity issues.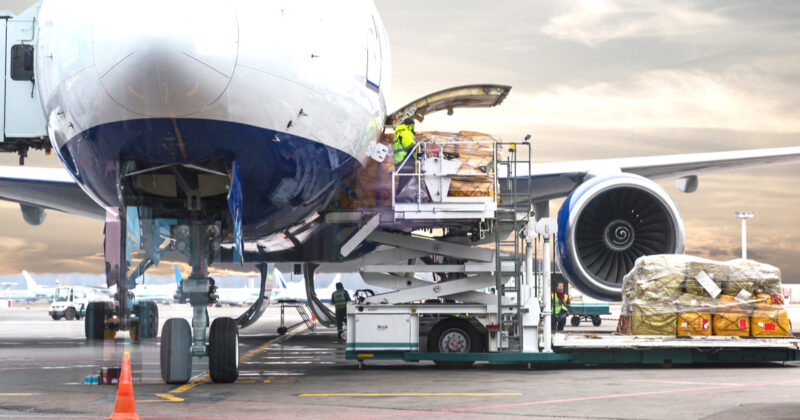 Capacity shortages and soaring ocean freight rates are driving demand for air cargo, causing headaches for those looking for greater certainty in their supply chain.
According to the latest DHL Air Freight State of the Industry, e-commerce is contributing to robust air demand, while a variety of factors including port congestion, astronomical ocean rates, and inventory re-stocking, continues to divert previously ocean-reliant cargo to air.
Strikingly, the International Air Transport Association (IATA) reported that global demand in May, the most recent month for which data is available, was up 9.4 percent compared to May 2019 measured in cargo ton-kilometrers, while capacity was 9.7 percent lower.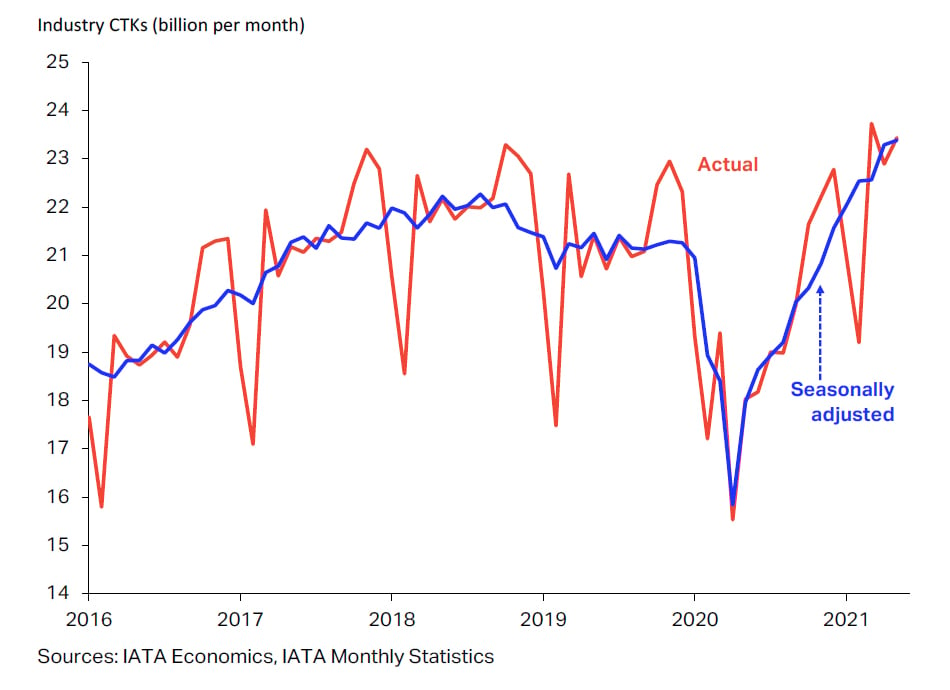 Even so, and despite historically high air freight rates, the cost-competitiveness of air cargo relative to container shipping continues to improve. The average price of air cargo was 12 times more expensive than sea shipping before the crisis, but only six times more expensive in May 2021, according to IATA.
Kelvin Leung, CEO, DHL Global Forwarding Asia Pacific, said Purchasing Managers Indices (PMI) were now consistently pointing toward an extended period of high demand.
"Across most major economies, business confidence, manufacturing output and new export order numbers are all very positive," he said. "The fact that air cargo is increasingly competitive, and significantly more predictable than container shipping right now tells me that demand will remain strong at least through to the fourth quarter, which is when we would usually expect a spike in any case as the holiday season draws close."
Provisional July PMI readings from the Eurozone have been particularly dramatic. Businesses in the bloc reported their fastest rate of expansion in 21 years in July as the economy continued to reopen after Covid-19 lockdowns, according to the latest survey by research firm IHS Markit.
The headline IHS Markit Eurozone Composite PMI — an indicator of economic health across both the manufacturing and service sectors — rose from a 15-year high of 59.5 in June to 60.6 in July, its highest since July 2000, according to the preliminary 'flash' reading by the analyst.
This is impressive, but it is having an impact on the supply chain. Eurozone supplier delivery times — a key barometer of supply chain delays — continued to lengthen at one of the sharpest rates ever recorded by the survey, playing a key role in driving input costs higher while also creating conditions that favor air cargo shipment solutions.
"Supply chain delays remain a major concern for manufacturing, however, constraining production and pushing firms' costs higher," Chris Williamson, Chief Business Economist at IHS Markit, wrote in a recent research note. "These higher costs have led to a near record increase in average selling prices for goods and services, which is likely to feed through to higher consumer prices in the coming months."
Sustained demand
Not only has freight capacity been unable to match this higher demand, it is still struggling to recover its pre-Covid capacity.
Based on figures from the DHL report, global freight capacity in June 2021 was 27 percent lower than in June 2019. Despite an increase as vaccinations enabled increased travel, belly capacity remained 40 percent below pre-Covid levels with current global capacity still insufficient to support the current demand surge.
"Rates were +80 percent higher in May '21 than 2019 baseline and +7 percent more than a higher 2020 baseline," said Thomas Mack, Global Head, Air Freight, DHL Global Forwarding. "This increase in May is likely because manufacturers were still replenishing stocks faster using air freight. We expect it to remain high as we see huge demand growth against limited capacity."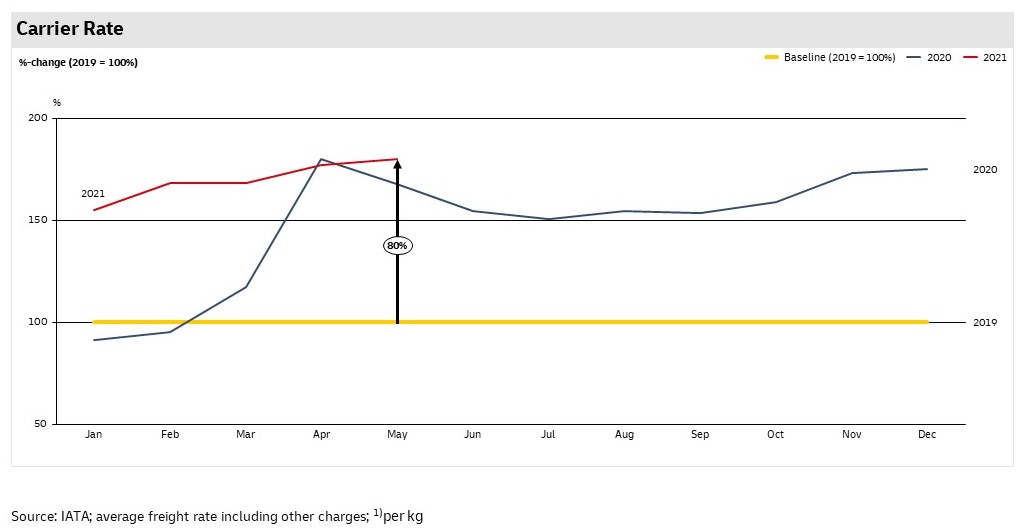 In an IATA press release, Willie Walsh, IATA's Director General, said that as economies unlock, he eventually expects a shift in consumption from goods to services as economies come out of lockdowns.
"This could slow growth for cargo in general, but improved competitiveness compared to sea shipping should continue to make air cargo a bright spot for airlines while passenger demand struggles with continued border closures and travel restrictions," he added.
However, not all markets are uniformly benefiting from the unique market conditions that Covid-19 lockdowns and recovery have created, according to data provider WorldACD. Its May figures reveal that the origin regions Africa, Europe and Middle East & South Asia are performing below 2019 volume levels, whilst Asia Pacific, Central & South America and North America are above 2019 levels.
Taking rate/yield performance in May 2021 versus May 2019, WorldACD said gains range from +24 percent from North America to +108 percent from Asia Pacific. "The latter market may receive a lot of attention, but that does not mean it is representative for the industry," WorldACD wrote in a report in June. "Though all regions have double digit increases compared with 2019, Asia Pacific clearly is in a league of its own."
In the coming months, Mack expects airlines to continue to manage yields aggressively. "Demand from most key markets remains brisk with extra capacity only being made available at a premium by airlines," he said.
"We expect the demand side of the air cargo equation to remain robust, with rates unlikely to soften significantly until carriers are able to add more bellyhold capacity."