Demand for air freight grows as rates remain elevated
Shippers and businesses need to plan ahead to better manage their costs in the months to come.
Shippers and businesses need to plan ahead to better manage their costs in the months to come.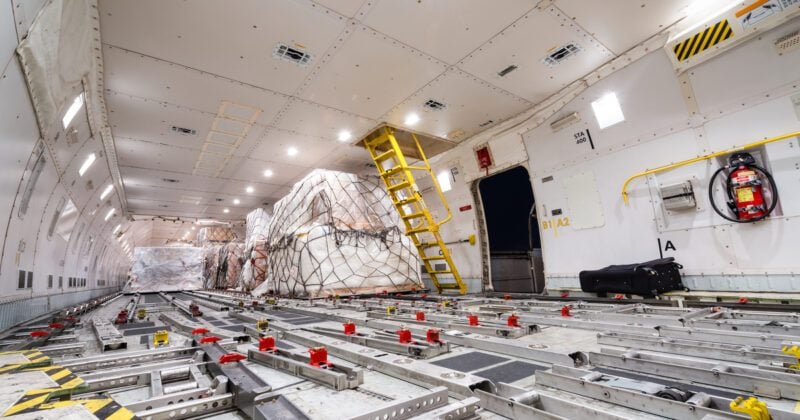 There is little to suggest that demand for air cargo services will dim any time soon. Indeed, all indicators point toward a hectic few months ahead.
As rates remain elevated, possibly into the next year, businesses and shippers have to plan to manage their costs for air transport. "It is important to commit to capacity, and manage their manufacturing schedules earlier, and more accurately, so that they don't miss the boat," said Kelvin Leung, Asia Pacific CEO of DHL Global Forwarding.
Planning is crucial as markets are likely to tighten from October, in anticipation of China's National Day Golden Week. "This usually prompts a rush for inventory as factories reduce production," added Leung.
Meanwhile, the International Air Transport Association's (IATA) latest air cargo market analysis diplomatically concludes that supply chain conditions "continue to be supportive of air cargo" when compared to other modes of transport.
IATA's understated reading of the situation references the current high cost and limited availability of container slots and boxes for shippers seeking to move cargo from Asia to North America and Europe.
To add on, the queue of container vessels waiting to unload containers at U.S. west coast gateway terminals at the ports of Los Angeles and Long Beach passed 70 ships in the third week of September.
Of course, this state of affairs is pushing many shippers to shift suitable products to air freight options.
Carriers anticipating strong air freight demand in the months to come
A leading Asian carrier is certainly expecting a surge in air cargo demand. "Market indicators suggest a strong peak season driven by the need for inventory replenishment, against a backdrop of ongoing air capacity constraints and disruptions to supply chains due to seaport congestion," said Ronald Lam, Cathay Pacific Chief Customer and Commercial Officer, in a press announcement.
Lam also noted that while August was traditionally a quieter month for cargo due to the summer holiday period in the Northern Hemisphere, it was not the case this year for Cathay Pacific. Demand has continued to be buoyant both from the carrier's home market, Hong Kong, and across its network.
For many airlines, the current market remains hugely tricky, despite a boost to cargo revenues, as passenger capacity remains far lower than pre-Covid-19. Though Cathay Pacific saw an increase of 278.4 percent year-on-year in passengers, this was still a mighty 95.3 percent lower than pre-pandemic August 2019. Last month, passenger capacity and revenue were down 86.9 percent and 92.4 percent, respectively, versus August 2019.
Cathay Pacific had ramped up its freighter and passenger-freighter operations to peak season levels to bolster income. Despite increased freight revenues, the carrier is still targeting a "cash burn of less than HK$1 billion (€110 million) per month for the rest of 2021".
Increased rates as global freight capacity remains limited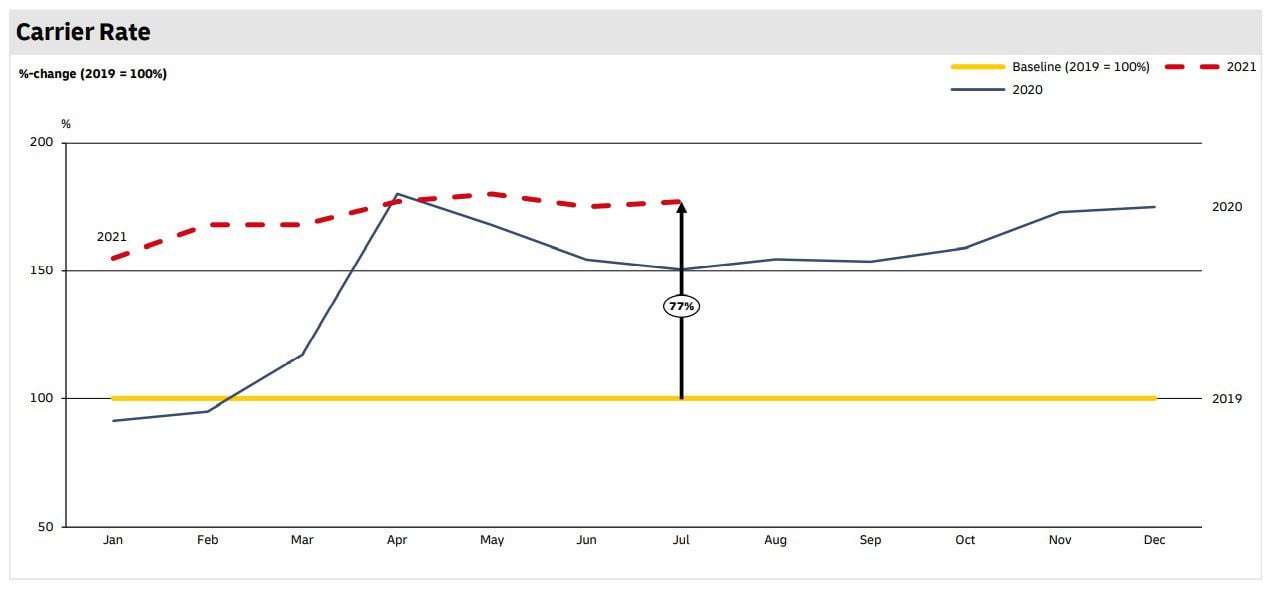 The lack of bellyhold space available on carriers is a major limiting factor on global freight capacity and an ongoing driver of air cargo pricing. The latest DHL Air Freight State of the Industry reports that rates in July were 77 percent higher than 2019 and 18 percent higher than 2020 levels.
Rates will remain high as businesses continue to see huge demand growth against limited capacity, and demand is set to increase as the upcoming peak season approaches.
However, congestion continues to be an issue at key airports in North America and Europe while Covid-19 outbreaks have limited capacity in Asia through the summer.
"There have been several canceled flights to/from China due to Covid-19 cases this summer, and also operational limits at several airports including Shanghai Pudong," said Thomas Mack, Global Head of Air Freight, DHL Global Forwarding.
"Upgraded sanitizing processes and strict operation restrictions have also limited operational capacity and increased rates, while also adding to warehouse congestion," Mack added.
On top of that, multiple Asian countries such as Vietnam face Covid-19 Delta variant surges, affecting services and restricting capacity.
Expect rates to remain elevated in the near future
Niall van de Wouw, managing director of data analytics firm CLIVE Data Services, said air cargo capacity was already tight due to fewer international passenger flights. This occurred even before the latest disruptions at Pudong and Vietnam, with full flights elevating rates significantly on prime intercontinental trade lanes.
According to CLIVE's August 2021 analysis, available global cargo capacity in August was 16 percent lower than levels enjoyed in August 2019, while volumes were up one percent.
Furthermore, disrupted ground operations in Shanghai contributed to a 10 percent drop in volumes on the China to Europe trade lane in the last two weeks of August, while westbound capacity was reduced by 18 percent.
As a result, spot rates increased by nearly 20 percent in the last week of August compared to the last week of July.
With rates staying at its current level, Leung noted that the real challenge for the air cargo industry continues to be the supply of capacity rather than demand, despite the return of more bellyhold capacity to the market during the summer.
"Essentially, capacity is still insufficient to fully support current demand. Covid-19 outbreaks illustrate that, as in the shipping market, it only takes a slight shock to the system at somewhere such as Pudong to have large market ramifications," said Leung.