Tailoring a centralized solution for Bangladesh's ready-made garment industry
Consolidation and an extensive shipping network are the keys to Bangladesh's biggest export sector.
Consolidation and an extensive shipping network are the keys to Bangladesh's biggest export sector.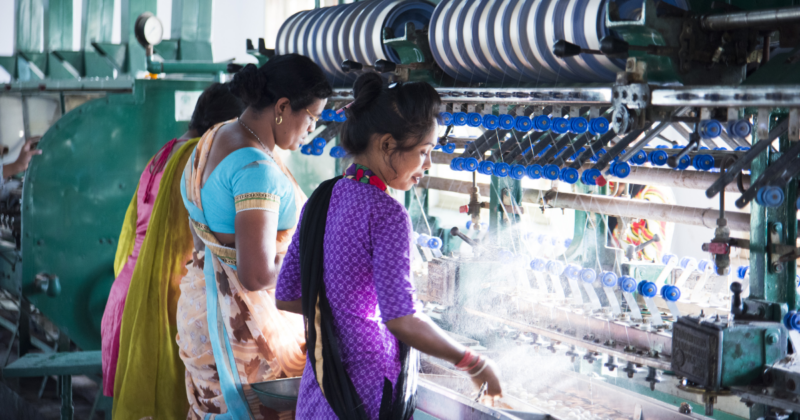 Not many countries can boast of a sector that accounts for more than half of its exports. In Bangladesh's case, its ready-made garment (RMG) industry contributes significantly to the country's export earnings, hitting a record high of US$52 million in 2022. The RMG sector accounts for over 80 percent of all exports through its leading markets, which include the U.S., Germany, U.K., Spain, and France.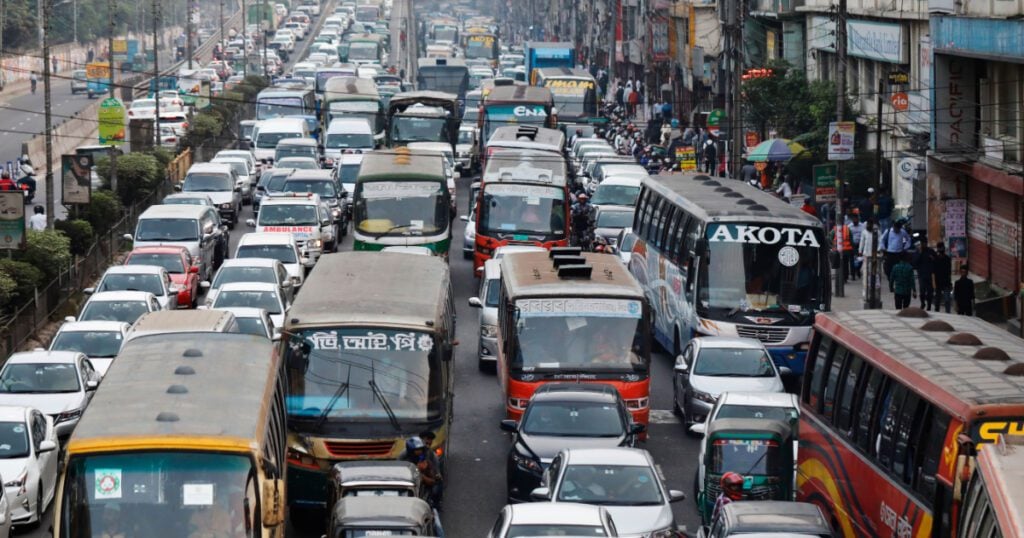 However, the Bangladesh RMG industry is riffed with various logistics challenges. Due to Bangladesh's limited infrastructure, the country's ports, highways, and railways lack modern facilities, and are often congested, resulting in delays and inefficiencies. Unreliable electricity and gas sources have also led to longer lead times and increased costs. 
The biggest challenge, however, is the logistics to coordinate shipments from different factories and suppliers across the country. RMG exporters, particularly for smaller businesses, face the challenge of high transportation costs from factories to ports, and their final destinations. 
This begs the question: how does Bangladesh maintain the status quo, given its heavy reliance on RMG for its economic growth? 
Streamlining the RMG supply chain
To address the fragmented nature of the RMG industry, Container Freight Stations (CFS) have been introduced as a solution to the industry's budding problems. CFS facilities help to pick up goods from multiple suppliers, consolidating them into single containers before shipping them to their destinations. This helps reduce congestion and delays at the port while improving inventory management and visibility.
During the CFS process, the garments go through sorting, labeling, and repackaging before they are loaded into a container. To ensure that the importer receives the shipment in prime condition, shipments are closely monitored throughout transit, and customs clearance for the consolidated cargo is expedited under the CFS, reducing the need for multiple customs checks at the port, to ensure that shipments meet their lead times. Upon arrival at the destination country, the cargo is then de-consolidated and transported to warehouses and retail stores to be sold.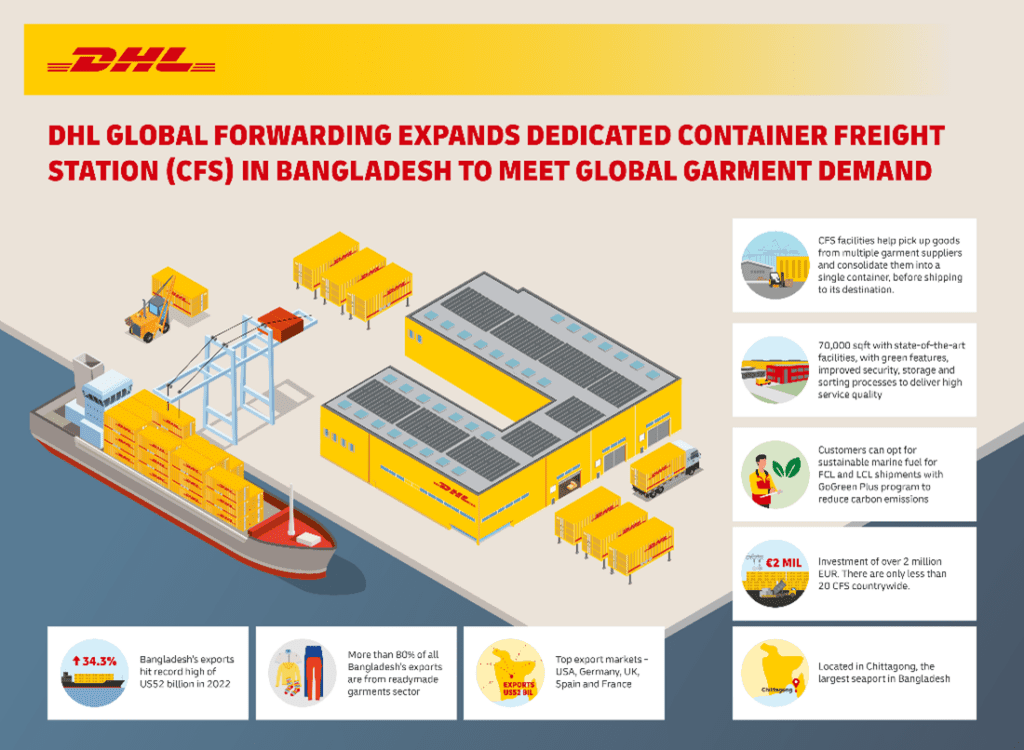 But there is a dire need for more facilities, with less than 20 such facilities in Bangladesh. To circumvent the logistics challenges in the RMG industry, DHL Global Forwarding has expanded its dedicated Container Freight Station (CFS) space in Bangladesh. 
The new CFS is housed in Chittagong port, the largest seaport in Bangladesh, which handles over 92 percent of Bangladesh's import-export trade. It provides a central hub for the consolidation and distribution of goods in the RMG industry. Most shipments are loaded onto a container aboard a ship and transported to its destination country via ocean freight. Urgent or time-sensitive shipments are transported through DHL Global Forwarding's gateway warehouse in Tongi, near the Hazrat Shajalal International (DAC) Airport cargo village, to be shipped via air freight. 
"The CFS improves shipping conditions for shipments between Bangladesh and major textile export markets by providing a more streamlined and efficient process for managing shipments," said Feroz Jahangir, COO & Head of Value Added Services, DHL Global Forwarding Bangladesh. "By consolidating shipments at the CFS, manufacturers can take advantage of added visibility and value-added services to help streamline the process and reduce costs." 
Paving the way for a safe and sustainable RMG industry
Safety and security are also serious concerns in the RMG industry. Cases of theft and damages to goods were common, and employees handling RMG shipments faced several safety risks, including exposure to hazardous materials and unsafe working conditions. Structural issues with factories and poor working conditions for employees have led to tragic accidents and even loss of life, in the case of the Rana Plaza building collapse in 2013.
As part of its safety priority for its CFS, DHL Global Forwarding provides training to employees and maintains strict compliance with safety and environmental regulations. It also deploys advanced security systems and cameras to minimize safety and security risks. The facility also employs state-of-the-art technology and automated processes to reduce the need for manual handling, minimizing the risk of injury to employees.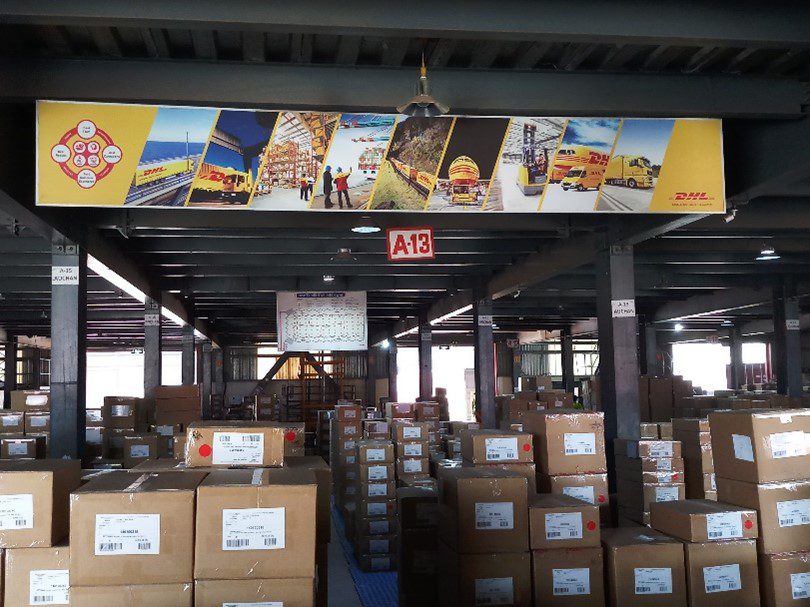 "We conducted extensive testing to validate its safety and efficacy, with multiple rounds of review and approval, as well as ongoing compliance monitoring," noted Jahangir.
On the sustainability front, the new CFS is a green facility, certified by regulatory bodies periodically to ensure compliance with environmental standards. The facilities' green amenities include battery-driven forklifts that produce nil emissions, transparent roof sheets that allow for daily operations and reduce the need for artificial lighting, and parking facilities that promote carpooling and reduce vehicular emissions.
The facility also employs measures to minimize noise and air pollution, such as using exhaust fans and regulating moisture and temperature.
The future of Bangladesh's RMG export industry
Without a doubt, Bangladesh is growing quickly as a major producer of textile and apparel products in the global market. The Covid-19 pandemic highlighted the importance of diversifying supply chains and reducing reliance on a single source for products.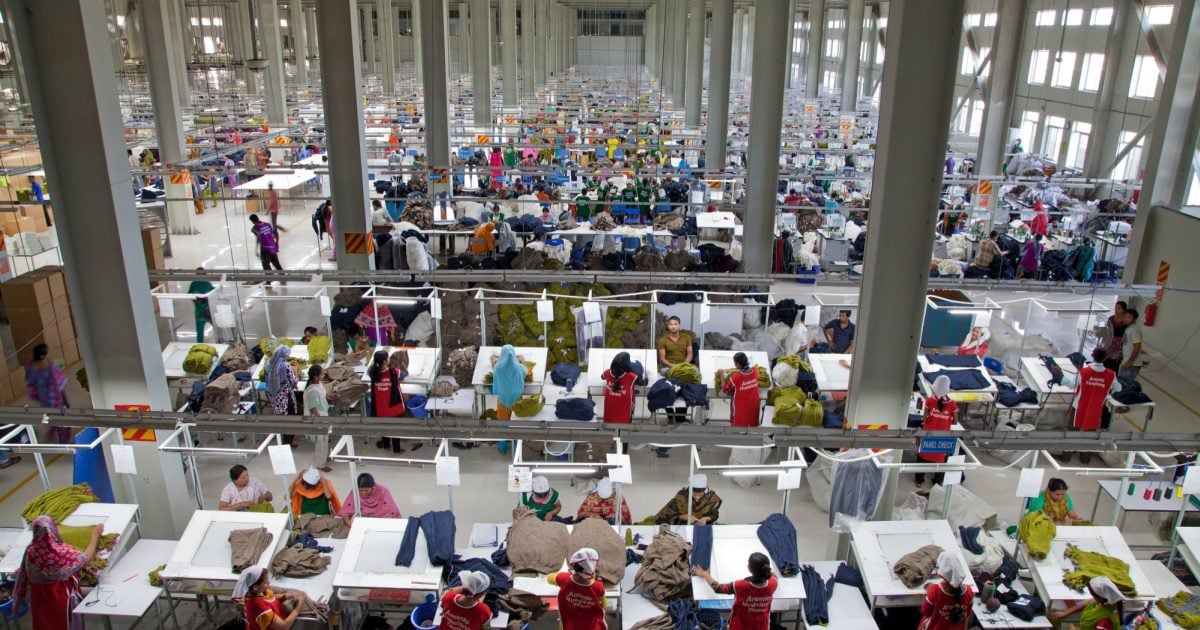 This, coupled with the U.S.-China trade war, led to increased tariffs on Chinese products, making them more expensive for U.S. consumers. As such, many companies looked to alternative sourcing options, such as Bangladesh, to reduce their risk and increase flexibility, which created opportunities for Bangladesh to fill the gap in the market as a more affordable alternative.
But now, as the world enters the endemic stage, China's reopening may impact the demand and renew the competition for Bangladesh's RMG products. However, Bangladesh's affordable labor costs and favorable trade agreements with several countries pose advantages that could help it weather the competition.
With improved security and greater end-to-end visibility over the supply chain for RMG stocks, the logistics process becomes more efficient and reliable, helping to improve productivity and efficiency while reducing logistics costs.
"By reducing the time and cost associated with customs clearance procedures and transportation, the CFS will make it easier to export to these countries, thus helping Bangladesh to expand its export market for RMG and strengthen its trade relationships with key export markets," said Jahangir.