Next day delivery of durian could help supercharge Malaysian durian exports
With durian demand remaining high despite the Covid-19 pandemic, exporters find next-day delivery services like DHL's new Durian Express useful.
With durian demand remaining high despite the Covid-19 pandemic, exporters find next-day delivery services like DHL's new Durian Express useful.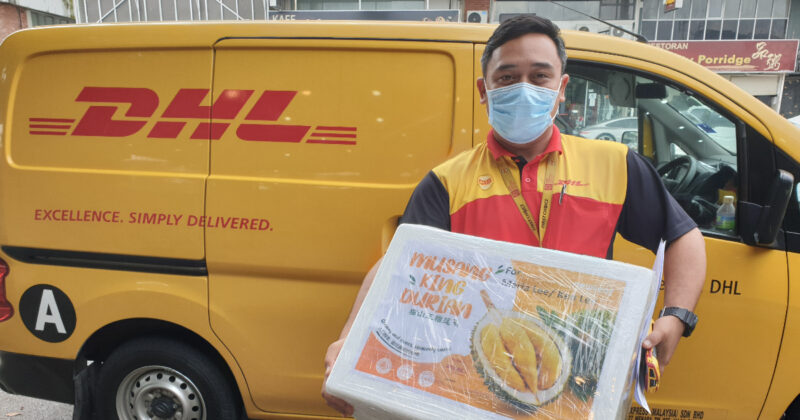 "To put it simply, durian prices will always remain high, because demand is always going to be far, far greater than supply."
Kaeden Ho is certainly optimistic about the future of the Malaysian durian industry. The executive director of Newleaf Plantation Berhad, a new agricultural company specializing in Malaysian durians, sums up why durian demand and prices have continued to surge.
"Ultimately, durian is a seasonal fruit, and only available in two seasons each year. Based on recent data, combining all durian producing countries within Southeast Asia, the supply is hardly enough to meet Chinese demand.  We are not even talking about the other durian import markets, such as Australia, the Middle East, the United States, Canada, South Korea and Japan. As long as demand is present, we will find the logistics solutions to ship durians there!"
To that end, in September, Newleaf partnered with international delivery service provider DHL Express Malaysia to export their fruit to Hong Kong via the company's Durian Express initiative. Essentially, the service helps durian business owners meet overseas demand spikes by guaranteeing next-day delivery in less than 24 hours.
DHL Express Malaysia's managing director Julian Neo said: "The service demonstrates our longstanding commitment to the Malaysian small and medium enterprise community, as we continue to help them look beyond our shores and realize their growth potential."
He explained: "Our overnight service, which is also available to and fro Singapore, allows business owners to make shipments to their own overseas warehouses, commercial entities like greengrocers and supermarkets, or residential and office addresses.
"Break bulk is also available for large-volume orders that can be divided into smaller consignments and individually dispatched to separate locations."
Newleaf currently operates a 50-acre durian plantation in Raub, and a 32-acre plantation in Seremban, and aims to expand their plantation size by stages, targeting to develop 1,000 acres of farmland to grow durians within the next five years.
Ho explained that one of the perks of the service's overnight flights is how it allows his company to have their durians delivered early in the morning in Hong Kong, the most crucial part of the delivery. Also, when it comes to cold chain logistics necessary to keep the fruit sufficiently cold for transportation to other parts of China outside of Durian Express, he shared, "We need to keep frozen durians in -18 degrees ambient temperature throughout the transport. Frozen durian pulp is very sensitive to temperature as it will defrost within 30 minutes under normal room temperatures."
There's big money to be made in meeting this Chinese demand. According to a news report on Chinese media CCTV, Auramon Supthaweethum, director-general of Thailand's Department of Trade Negotiations, said that Thailand had exported $567 million worth of durians to China in the first four months of 2020, corresponding to a 78 percent year-on-year increase in value.
China accounted for 72.1 percent of durian export value to the world during the period, which totaled $787.72 million, up 30 percent from the same period of last year.
One of Thailand's competitive advantages in the durian export wars has been its free-trade agreements with many countries. The country has sixteen zero-tariff FTA's in place with the nine ASEAN countries (excluding Timor Leste), Australia, China, Chile, Hong Kong, India, Japan, New Zealand and Peru.
Malaysia's Chinese durian market strategy
Another advantage Thailand's durian exporters had over their Malaysian counterparts was partly due to China's restrictions on Malaysia imports on durian in fresh fruit form. Prior to this, Malaysia was only allowed to export durian pulp and frozen paste to China. It didn't help that Malaysia also had limited supply for export of the popular variant, the Musang King.
Since then, China has also approved the import of durians from Malaysia- albeit frozen- in July 2019. Malaysia's whole fruits sent to China are frozen, and good for 18 months. For frozen durian paste, most is sold to importers in Beijing, Shanghai, Guangzhou, Shenzhen, Nanning, Xiamen, Qingdao, Zhejiang Suzhou, and China's second and third-tier cities.
The Royal Thai Consulate-General in Nanning recently said Malaysia had stepped up its game in early October. Malaysia "bombarded" the Guanxi region with over 1,000 tonnes of Musang King durian for a "Durian Malaysia 2020" event.
According to a Jakarta Post report, with the Covid-19 pandemic reshaping retail habits worldwide, its sellers are trying "new normal" marketing channels, both online and offline, to tempt Chinese consumers with free samples and durian priced as low as one yuan (US$0.15). As a result, Malaysian durians are quickly gaining popularity in China, with October's promotions netting sales of over 340,000 durians worth over 70 million yuan.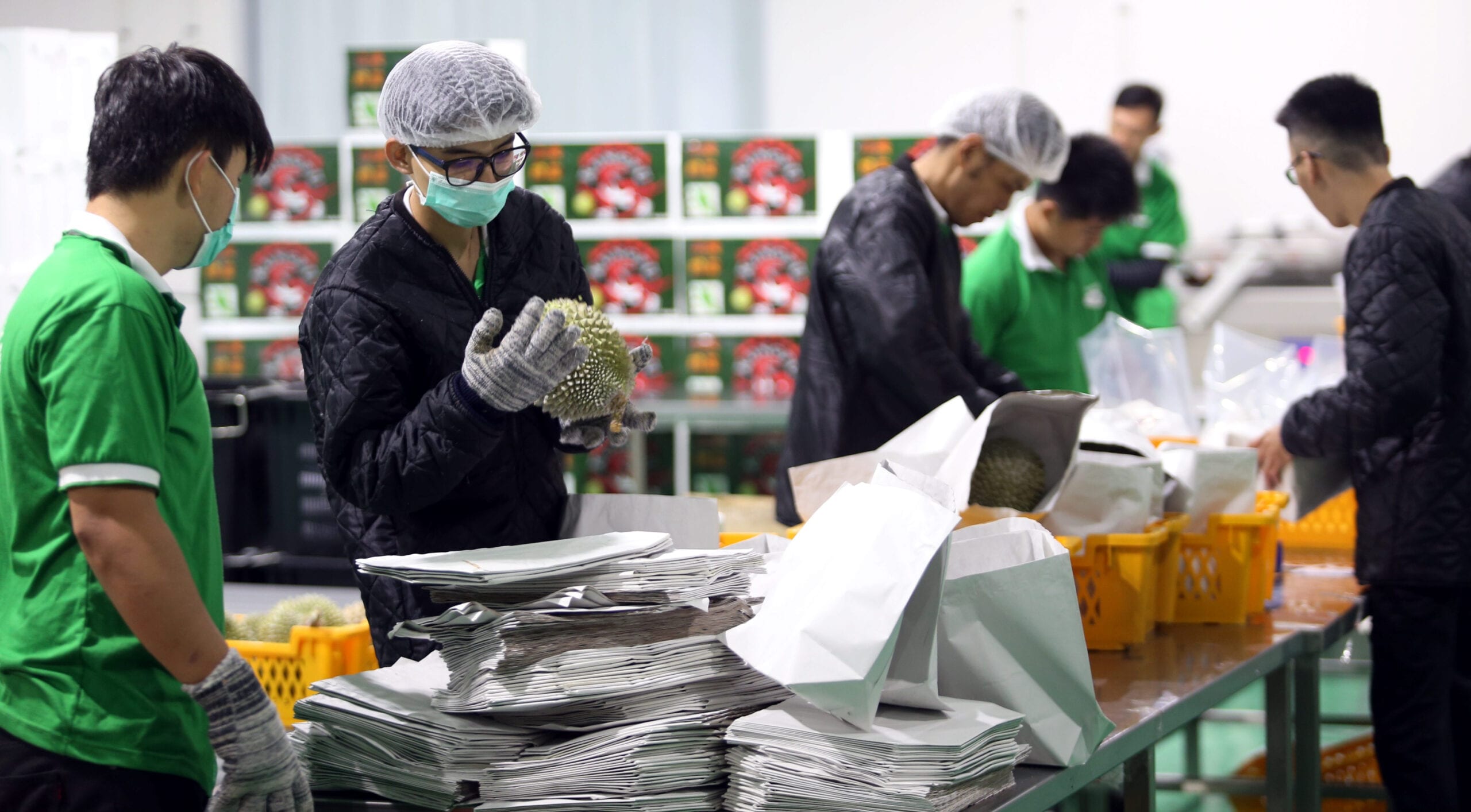 The "Durian Malaysia 2020" event also gave Malaysian durian by-product exporters the chance to test Chinese appetites for processed products, including durian fries, durian beverages, coffee, tofu drinks, liquor, mooncakes and ice cream.
The marketing efforts by the Malaysian Minister of Agriculture and Food Industry (MAFI) have helped the retail price of Musang King rise three-fold in the last five years in China, despite the restrictions allowing only frozen fruit. In fact, according to Ho, Malaysian exporters have found the restrictions to suit their variant of the fruit!
Ho explained: "The Malaysian durian harvest methodology differs quite significantly from the Thais. Our durians are allowed to naturally fall from the trees only when fully ripened, which means a shortened shelf-life of only one to two days. Given that, it's more cost-efficient for us to export to the Chinese market by freezing the fruits."
Malaysian Minister of MAFI'S marketing and export division secretary, Khalid Ibrahim, has projected that national durian production in the country is expected to increase to 443,000 metric tons by 2030, based on the 2019 crop statistics, which recorded 72,536 hectares of durian cultivation, and produced 384,170 metric tons of the fruit last year.
Malaysia has goals to increase its market share of frozen durian exported to China from 50 percent to 75 percent in the near future, but with Vietnam and the Philippines now negotiating to gain access to China's durian market, much will depend on whether companies like Newleaf can continue to strategize and innovate to meet the ever-growing durian demand in the region!