MORE FROM THIS COLLECTION

Can a muted peak season for ocean freight be a boon for air cargo recovery?
After a subdued 2023, analysts now expect air cargo volumes to improve later in the year, especially if shipping's peak season is muted.
After a subdued 2023, analysts now expect air cargo volumes to improve later in the year, especially if shipping's peak season is muted.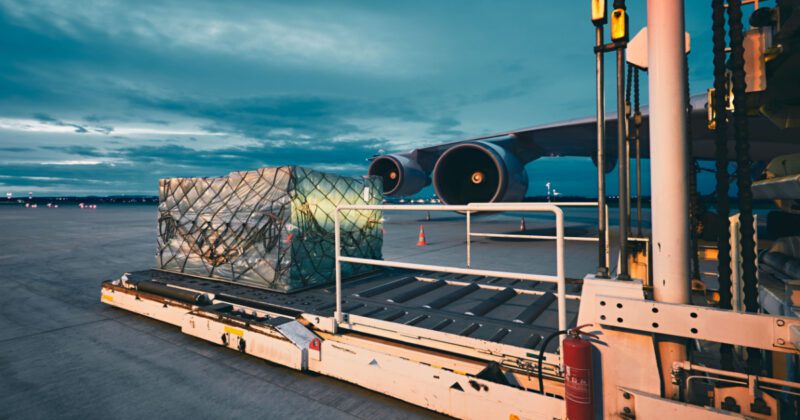 The excess supply that built up across transport modes as operators invested heavily in capacity to meet pandemic-driven demand continues to weigh heavily on freight markets. However, there is ample cause for guarded optimism in the second half of 2023, especially for those in the business of air cargo.
To varying degrees, the global ocean shipping, warehousing and logistics sectors, and U.S. domestic trucking and railroad, are all displaying signs of excess capacity as demand has slowed. Paul Bingham, Director of Supply Chain Transportation Consulting, S&P Global Market Intelligence, calls this a post-pandemic "whipsaw effect" which he believes is now apparent across global supply chains.
Bingham highlighted that when periods of peak demand occur, the industry adds capacity, workforce, equipment and facilities. But these additions, he noted, comes on with a lag, and there is the matter of softening demand in the past few months.
With uncertainty about a possible peak season, the question is how the balance between demand and capacity will play out. "We observed that volume growth is currently "flat", and with an element of uncertainty in the market, all players in the market need to take an agile and flexible approach towards adjusting their capacity," said Niki Frank, CEO, DHL Global Forwarding Asia Pacific.
Taking stock of the current capacity boom
Air cargo is no different. Freight rate analytics platform Xeneta reports that global air cargo capacity for June 2023 rose eight percent year-on-year.  Despite this surge in availability, the drop in global chargeable weight stayed at -1 percent, repeating the market performance seen in May 2023.
Likewise, preliminary June 2023 traffic figures from the Association of Asia Pacific Airlines (AAPA) also revealed that global trade activity was muted. It reported that air cargo demand, as measured in freight ton kilometers, declined by 8.1 percent year-on-year in June. By comparison, offered capacity edged 0.7 percent higher as more bellyhold capacity was added to meet the demand for passenger services.
"In the first half of the year, the number of international passengers carried by Asian airlines quadrupled to a combined total of 120 million, boosted by the upsurge in leisure and business travel demand, as the region's economies emerge strongly from the pandemic," commented Subhas Menon, AAPA Director General.
"During the same period, the region's carriers posted a 10 percent decline in air cargo demand. A myriad of factors, including a post-pandemic shift in spending from goods to services and higher merchandise prices, weighed on global air cargo markets." Together with the easing in container shipping rates relative to air freight rates, the AAPA notes that this further discouraged demand for air shipments.
Elsewhere, the battle for cargo is driving down rates on key lanes, prompting reports that a rates war could be underway. Xeneta's recent update highlighted that sentiment on the seller side of the market appears to remain pessimistic. Freighter airlines are currently undertaking major reviews of their route and capacity strategies as demand for all-cargo aircraft returned to pre-pandemic levels due to the recovery and availability of belly capacity.
Asia export levels further impact ongoing demand
Exports out of Asia indicate the extent to which global trade has been impacted by the post-pandemic switch of consumer spending from products to services, plus the becalmed economic growth induced by inflation.
In June 2023, China's export growth dropped to -12.4 percent year-on-year in June 2023, from -7.5 percent in May 2023. Meanwhile, its year-on-year import growth also fell to -6.8 percent in June 2023, from -4.5 percent in May 2023, according to financial analyst firm Nomura.
Elsewhere, exports from Taiwan fell 23 percent year-on-year in June, Vietnamese exports were down 11 percent, and exports from South Korea fell six percent, according to official figures compiled by data provider CEIC.
On the upside, based on a 3-month rolling sum basis, Nomura reports that India's electronics exports remain strong. The benefits from shifting supply chains to India is slowly showing, while pharmaceutical export growth is also in positive territory and stable.
There is also the possibility of market recovery from 2024, even as some key economies teeter on recession. Nomura's leading index of Asia ex-Japan's aggregate exports rebounded to 82.6 in August, following a slight dip in June-July.
The analyst firm's view is that Asia ex-Japan's export growth is bottoming out, which will lead to a gradual recovery in Asia's exports. This will be driven by a chip cycle upturn, a policy stimulus-supported increase in China imports and stronger intra-Asia trade.
The light at the end of the tunnel
As shippers re-look at their deployment strategy in the face of a booming capacity, it is still anyone's guess on how the demand plays out in the next few months.
In fact, Xeneta highlighted the possibility of a non-existent peak season in the ocean freight market. This could boost air cargo's recovery later in the year if shippers need urgent shipments or consumer spending suddenly picks up.
Expectations however should be managed as Asia's export recovery is likely to be slow and bumpy due to a weakening demand from the West, alongside a delayed U.S. recession and the rising risk of a deepening economic downturn in Europe.
The air cargo situation is still very much fluid, as it could benefit at any point from supply chain disruption at sea, while an end-of-year cargo bump cannot be ruled out.