MORE FROM THIS COLLECTION

How an aspiring humanitarian professional found her voice for the disadvantaged
A tough childhood has set Léonie Dindji on the path to helping disadvantaged communities in her native Côte d'Ivoire.
A tough childhood has set Léonie Dindji on the path to helping disadvantaged communities in her native Côte d'Ivoire.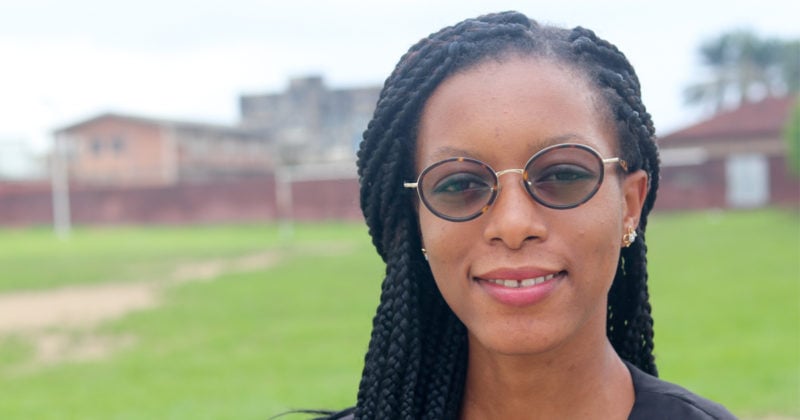 In the northernmost suburb of Abobo-Gare in Abidjan, Côte d'Ivoire, 7-year-old Léonie Dindji huddled together with her brothers and sisters at home, eagerly awaiting their presents at their yearly Christmas party.
Everyone would always receive a present — her mother made sure of it year in, year out.
For them, home was the SOS Children's Village — an independent, non-governmental international development organization helping children in need — in the country's commercial capital.
And their "mother", as she was affectionately known, was a qualified childcare provider caring for and supporting the development of the children, most who were without parental care or who come from at-risk families.
Yet, Dindji and the youth in the village never once felt neglected. They were showered with the love and warmth of a conventional family.
"The best moments of my life are those spent in the village. Even if sometimes we miss our parents, our SOS mothers do their best to fill this void," said Dindji, who spent her formative years as part of the tight-knit SOSCV family.
Now, still only 26, she is determined to give back to the community as a fervent advocate for youth and women empowerment.
Growing up
Being able to grow up in a conducive environment was a blessing for Dindji who, by the age of seven, had lost both parents to illness.
Her SOS mother has been her pillar of strength and her role model since young. "She gives me the strength to keep fighting because I continue to always benefit from her prayers and advice," Dindji shared. Despite having a healthy support system, Dindji has had to endure harsh circumstances that have shaped her strong will and desire today.
For instance, in 2010, Côte d'Ivoire was engulfed in a protracted political crisis that lasted for months. The violent standoff came as a rude shock to Dindji, who wound up failing her baccalaureate studies that same year.
"Crises like this impact the quality of education and can diminish the self-confidence of students," explained Dindji, who eventually managed to complete the program the following year with SOS' support.
Nine years may have passed since, but Dindji emphasized that the psychological impact on students should never be understated. "The psychological burden is an important obstacle for youth to overcome to excel in education and the job market alike," said Dindji.
"The environment provided by SOS is the first step in helping them to move forward and be stronger," said Dindji. What follows would be to acquire essential skills such as linguistic, technical, computer, educational or vocational skills.
"As I always say, we are still young. If we can, the ideal solution is to continue our studies."
Shaping the youth of tomorrow
Currently pursuing her doctoral degree in English with a focus on American literature, Dindji is walking the talk, and more.
She is also the owner of an agro-pastoral farm and the Founding President of Kids' House, a non-profit non-governmental organization (NGO) that works for the education and development of disadvantaged children.
Starting her NGO was an idea inspired by her time with SOS. Back in 2016, Dindji was selected to represent the children of the SOS villages of Côte d'Ivoire and West Africa in the SOS World Youth Coalition, a defining moment that has kept her motivated in her leadership journey.
The activities and initiatives by her NGO, such as the ongoing construction of a village library that will function as an educational socio-cultural center, have benefited close to 10,000 children and parents in the country's rural areas.
While juggling these efforts, Dindji has somehow also made headway in her career after completing a four-month internship with DHL Express under the Deutsche Post DHL Group's GoTeach program.
Having supported the sales department in e-commerce during her stint, Dindji said, "It was an experience that can open new doors to other opportunities."
However, corporate-led programs such as GoTeach are still few and far between in the country. Dindji is hopeful that more companies in the private sector take on the mantle and step up efforts to enhance the state of youth employability.
"The problem of employability is a general issue, something you find all around the world. And in Côte d'Ivoire in particular, I think this is hard because young people often lack support," she explained.
"To allow youth to immerse themselves in the corporate environment is hugely beneficial, and is useful in developing vital skills in communication, customer relations, innovation and entrepreneurship."
Lending a voice
Dindji's unwavering commitment and sense of responsibility to give back to the community extend beyond education and employability.
Her plans culminate in a common goal: to render help by using her skills to the benefit of the disadvantaged.
Through her studies and her non-profit work, Dindji has also taken it upon herself to communicate the impact of women in society. On her agro-pastoral farm, she plans to employ the maximum number of women and offer them the opportunity to achieve independence by earning their keep.
"I intend to be a member of the National Assembly as well, to pass laws for disadvantaged people and children," said the aspiring humanitarian professional.
Going by how much Dindji has already achieved, the future certainly looks bright for these communities in Côte d'Ivoire and the wider West Africa region.
No child should miss out on quality education or training. SOS Children's Villages supports young people on their way to employment and independence through a special focus on youth empowerment. The organization also works with families, communities and partners to ensure that youth have access to education and training that respects their talents, capabilities and needs.
Source: SOS Children's Villages