Alleviating Africa's food crisis through modern agriculture
The growth of agriculture technology start-ups is offering opportunities to leapfrog the current agricultural constraints on the continent.
The growth of agriculture technology start-ups is offering opportunities to leapfrog the current agricultural constraints on the continent.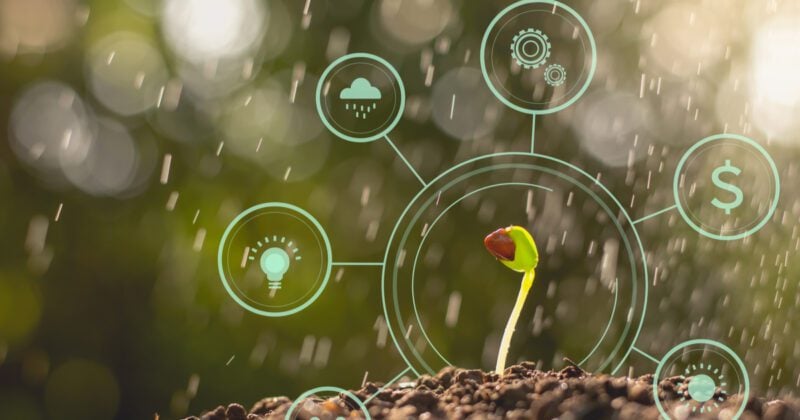 Covid-19, preceded by climate change, has led to severe and widespread increases in global food insecurity, with recent estimates by UNCTAD suggesting that 73 million people suffer from chronic and acute hunger.
African regions, predominantly the Sahel and southern Africa, are particularly vulnerable, with poverty and food insecurity expected to rise in the wake of a regional slump in food production. While this paints a rather gloomy picture, there's a bright glimmer on the agricultural horizon.
The rise of AgTech
The explosive growth of agriculture technology (AgTech) start-ups is offering opportunities to leapfrog the current agricultural constraints on the continent. Powering a new farming era, global AgTech solutions have seen a 110 percent growth rate over the past two years with little sign of abating.
Disruptive technologies in agriculture consist of digital and technical innovations that enable farmers and agribusiness entrepreneurs to circumvent current methods to increase their productivity, efficiency, and competitiveness.  Due to the increasing demand for contextualised agricultural solutions, sub-Saharan Africa has seen a proliferation of these technologies over the last decade.
African countries are actively exploring the modernisation of traditional agriculture practices in a collective effort to enhance food safety and security. However, shifting from subsistence-oriented production systems to more sustainable, market-oriented systems require drastic improvements in farm-level productivity, mechanisation, and input. It also calls for investments, technology, innovation – and knowledge of local conditions – to guide post-harvest management.
Boosting intra-regional trade
The African Continental Free Trade Area (AfCFTA), in tandem with AgTech, offers the potential to lift millions of people out of poverty and end chronic food insecurity in Africa. By facilitating intra-regional trade in agri-food products, including surplus to food-scarce areas, AfCFTA could stabilise food prices and improve food security. However, its success hinges on the ratification and implementation by countries and their agriculture sectors, which was severely lacking previously.
As AfCFTA further reinforces the gains achieved in regional integration and opens new market opportunities for farmers, 60 percent of African countries will see growth in the value of their output of agricultural and manufactured goods. Technology in agriculture will improve capacity that will enable farmers to raise yields, manage inputs more efficiently, adopt new crops and production systems, and improve the quality of their products. It will also conserve natural resources and adapt to climate challenges. Collectively, this will bring about agricultural transformation and growth in Africa and contribute to food security.
To put the lack of intra-regional trade in perspective, figures released by UNCTAD, the UN's trade organisation, show that total trade between African countries during 2015-17 was a mere 2 percent. In comparison, intra-regional trade between European countries stood at 67 percent, Asia at 61 percent, and the Americas at 47 percent. Intra-African agricultural trade as a percentage of total African agricultural trade consistently dipped below 20 percent, the lowest for any region.
AfCFTA, the largest free trade area in the world representing 1.2 billion consumers – aims to change all of this. Trading under the regime, which started in January 2021, is already bringing new dynamics to Africa's participation in the global value chain. The agreement mandates countries to remove most tariffs and non-tariff barriers to improve the flow of goods and services across borders, kickstarting economic growth in the process.
A 2020 IMF analysis indicated that agriculture would contribute 16 percent of the anticipated welfare changes arising from the agreement. Smaller countries, many with underdeveloped infrastructure, stand to benefit the most.
Logistics – a vital cog in the agricultural ecosystem
 Agricultural logistics must ensure the safe transportation of perishable products to manufacturers and retailers, making innovative and flexible logistics an essential ingredient for the sector's food security efforts. At DHL Global Forwarding, we're alert to the fact that indigenous small and medium businesses, while benefitting from a broadened retail landscape, will be seeking logistics solutions that create quick turnaround on deliveries and reduced lag time on order fulfilment. We're building partnerships across the continent's SME business landscape, leveraging small communities.
In Senegal, a digital networking platform like Bayseddo connects investors and farmers to optimise agricultural productivity and entrepreneurship, while Saloodo!, DHL's digital freight marketplace, brings greater transparency and efficiency to the road freight network in Africa. Digital logistics innovations like these enable farmers and traders to benefit from a broader market reach regionally and internationally at cost-effective prices, thereby democratising access to flexible and effective logistics solutions.
These three instruments – AfCFTA, AgTech, and logistics – will help build the critical ecosystem required for Africa's intra-regional and global export advancement. It will give farmers, investors, and entrepreneurs access to vast untapped potential to improve the continent's food production efficiency and consumption – from precision farming to a competent food supply chain. Actualising this feat requires all hands-on deck to optimise these critical success factors.
This story was written by Pramod Bagalwadi, Chief Executive Officer - Sub Saharan Africa, DHL Global Forwarding.