Winning in MEA's perishables market: Fresh ingredients for food retail success
A recent DHL white paper on the "Key Trends Impacting the Middle East and Africa Perishables Industry" reveals that people in this region eat and drink their way through US$650 billion (€536.2 billion) worth of food and beverages (F&B) every year. What does it take to win in this arena?
A recent DHL white paper on the "Key Trends Impacting the Middle East and Africa Perishables Industry" reveals that people in this region eat and drink their way through US$650 billion (€536.2 billion) worth of food and beverages (F&B) every year. What does it take to win in this arena?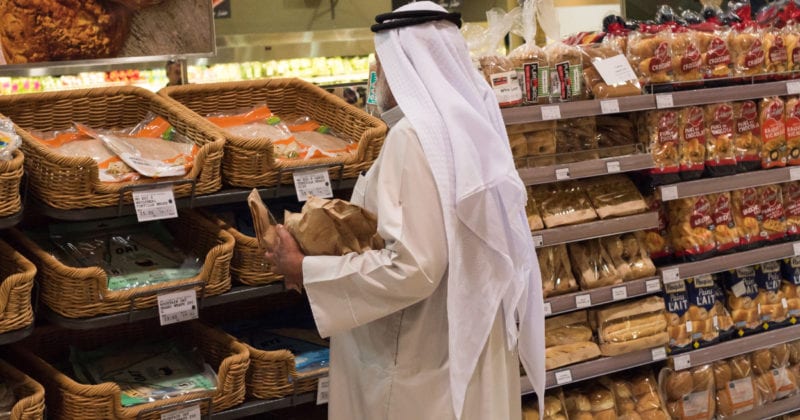 As the battle for success in the global food marketplace continues, retailers are diverting their attention from saturated Western markets to relatively untapped emerging economies in the Middle East and Africa (MEA).
The two regions' estimated US$650 billion (€537.9 billion) food and beverage market is hungry for growth thanks to some key macroeconomic factors, such as rapid development in the Middle East as well as a strongly complementary relationship between the two as food producer and consumer.
Identifying new African markets
According to this white paper by DHL Global Forwarding, urbanization typically offers the food sector a dense, concentrated market, and opportunities to develop infrastructures such as modern retail and service outlets, as well as food processing facilities.
Satheesh Chundayil, Head of Air Freight, Customs & Value Added Services for DHL Global Forwarding (Danzas) Dubai shared: "MEA's fastest urbanizing region is sub-Saharan Africa (SSA) – that is, all African countries except Algeria, Egypt, Libya, Morocco, and Tunisia.
"Our white paper anticipates that 46 percent of the overall SSA population will live in cities by 2030."
This is echoed by other recent research, which found that SSA's urban areas are home to 472 million people, a figure that will double over the next 25 years. Already, SSA's 143 cities generate a combined US$0.5 trillion, accounting for 50 percent of the region's gross domestic product (GDP).
Citing further research from the DHL report, Chundayil added: "For example, Nigeria's food industry is seeing particularly buoyant growth, thanks to rapid urbanization and an economic recovery process.
"But as disposable incomes remain relatively low, the food industry is focused on improving the production of staple foods and their affordability.
"Packaged rice, for example, could gain an advantage as consumers move away from buying the loose rice that is traditionally sold in rural areas.
Satvik Jaitly, a consultant at Frost & Sullivan, which was commissioned by DHL to write the white paper, added: "As cities grow, stakeholders of the agriculture and food value chain tend to focus on the "urban core", often failing to acknowledge the expansion into surrounding farmland that happens to be some of the world's most valuable food sources.
"Thus, it is prudent to focus not just on the quality of the food upgrading itself but also about the quantity of food being made available to the large population. "
While government-supported public distribution systems will play a significant role in this transformation, organized producer and distributor channels are crucial in meeting the needs of scale and complexity.
Logistics will also play a key role, as the product value will be directly proportional to the logistics and delivery channels' efficiency, the report added.
Understanding evolving consumer habits
It is a different story across SSA more broadly. DHL found that while food and beverage accounts for a significantly higher proportion of people's spending than developed countries, many areas are battling hunger and malnutrition.
This means consumers must spend a large proportion of their disposable income ensuring basic food and nutrition security.
The strength and maturity of retail infrastructure, cold chain facilities, and supply chain distribution networks also differ sharply across SSA.
In many areas, perishables are mainly supplied to small food retail businesses such as standalone stores and government-run public distribution systems that are working on eradicating food poverty.
Meanwhile, supply chain ecosystems are often fragmented and vulnerable to disruptions.
However, in SSA's larger business hubs such as South Africa, leading local brands drive the market.
These hubs have also seen some degree of e-commerce penetration, with digital retailers and platform businesses testing their competitive strengths as they take advantage of well-established distribution systems and supply chains.
Logistics companies will continue to play an essential role in assisting these innovators as they develop their e-commerce platforms.
Analyzing opportunities in the Middle East and North Africa
Chundayil shared: "The white paper also looks at how rapid urbanization affects the MEA.
"Strong urban population growth in the Gulf region, for instance, is being boosted mainly by migrant workers – many from Asia – flocking to major cities. Looking ahead, the ending of conflicts in Syria and Iraq may also lead to large numbers of returnees."
All this indicates growing opportunities for food retailers across the region and especially within the Gulf Cooperation Council (GCC) countries of Bahrain, Kuwait, Oman, Qatar, Saudi Arabia, and the United Arab Emirates (UAE).
Here, sales of perishable products benefit from consumers' access to packaged food and beverage items on the back of ongoing trade expansion.
The UAE and Saudi Arabia are currently the GCC's leading importers of food and beverage products, with a combined import share of more than 82 percent.
Thanks to its well-developed tourism industry, the MEA region has also traditionally offered food retailers substantial opportunities in hotels, restaurants, and catering, as well as retail.
However, the Covid-19 pandemic has hit the hospitality sector particularly hard – a trend that the white paper warns may continue well into 2021.
Rising demand for new food categories
Across both MEA and SSA regions, levels of economic development vary widely, with profound effects on food consumption patterns.
DHL found that in countries such as Iran and Morocco, growing consumer preferences for packaged staple products and the steady spread of modern retailing drive food retail. But in more mature markets, such as Turkey and the GCC countries, high disposable incomes and a growing number of young, urbanized professionals interested in food trends create distinct patterns.
Health and wellness, for instance, is a category on the rise in the region, with consumers seeking to improve their diets to counteract escalating obesity and cardiovascular disease. This leads to increased consumer interest in products such as high-fiber bread, for example, and brands containing reduced fats, sugar, and salt.
DHL reported that the health and wellness sector in these markets is on course to see a compound average growth rate (CAGR) of more than 8 percent, well above the expected CAGR of 5.3 percent.
Simultaneously, there is rising consumer interest in processed foods, such as shelf-stable milk, and meat products such as sausages and patties. The growing accessibility of cold chain logistics, supported by technology and smart solutions have greatly aided market development in these categories.
Jaitly added: "The Middle East region sees a predominantly hedonistic consumption pattern driven by the processed food dominated consumption in the GCC.
"On the other hand, Sub-Saharan Africa has just recently started urbanizing its food consumption away from the traditional farm dominated platter."
Game-changing innovations
DHL's white paper also shed light on the impact of advanced technologies on MEA's food sector.  For example, in some SSA countries, local food producers are taking advantage of breakthroughs in agricultural technology (AgTech), including data analytics to improve grain yield, cut costs, and increase crop resilience.
AgTech is also emerging as an area of substantial investment in the Gulf region, where countries are battling pressing issues such as water scarcity, climate change, and decreasing amounts of available arable land. Here, more enterprises and government agencies are seeking to harness indoor farming technologies, for example, constructing high-tech, climate-controlled greenhouses to produce pesticide-free fruit and vegetables.
At the same time, rising consumer interest in food safety, sustainable production, and supply chain transparency contribute to the growth of the 'farm-to-fork' trend. Here, retailers use high-tech sensors, blockchain protocol, and smart contracts to track the movement of fresh foods throughout the supply chain in a swift and efficient process, bringing new opportunities for all stakeholders.
However, Chundayil warned that crop selection, storage, and above, rapid and safe transportation of the harvest are critical factors, in a business that is already full of circumstantial variance and risks.
In the case of grain, the importance of ensuring bulk transportation does not expose the harvest to harsh storage conditions cannot be understated.
He concluded citing an insight from the white paper: "For fruits, vegetables and meats, cold chain, ambient chain storage and transportation will hold vital importance."
"For long-distance transport and movement, use of data-backed route analytics, energy efficiency and last-mile connectivity are some of the areas which will see growth in the coming years."