MORE FROM THIS COLLECTION

Global supply chains rethink reliance on China, but what are the alternatives?
The Covid-19 pandemic is shaking up global supply chains, but one country will remain a force.
The Covid-19 pandemic is shaking up global supply chains, but one country will remain a force.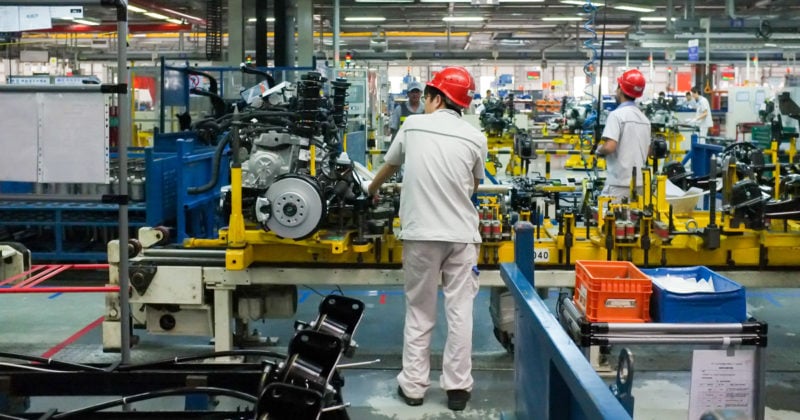 In March, the United States government made an about-turn and exempted some China-made medical products from tariffs to battle the rapidly growing coronavirus disease (Covid-19) outbreak. That same month, many countries moved to restrict exports of personal protective equipment (PPE) such as face masks.
This global race for face masks and other medical supplies highlighted how a slowdown in China's production can disrupt global supply chains.
China produces 20 million sanitary face masks a day, or about 50 percent of the world's supply. Even before this scramble, companies had already been caught off-guard when China's factories halted production before the Lunar New Year to stem the spread of the pandemic.
Being the world's largest manufacturer, China's slowdown in production has disrupted supply chains worldwide — a study by global data analytics firm Dun & Bradstreet suggests that as many as 5 million businesses could be affected globally.
Manufacturing relocation expected, but not without challenges
For many companies, the disruption in China's manufacturing system is a wake-up call to build more resilient supply chains. Analysts expect it to speed up efforts to diversify from China, a trend that started at the height of the U.S.-China trade war.
"The whole concept of single-source distribution and manufacturing is definitely in place in some organizations across different industries. But over the last five years or so, they have distributed their inventory and their manufacturing sites, some of them in a rather immediate way during February because of the pandemic," said John Pearson, CEO, DHL Express.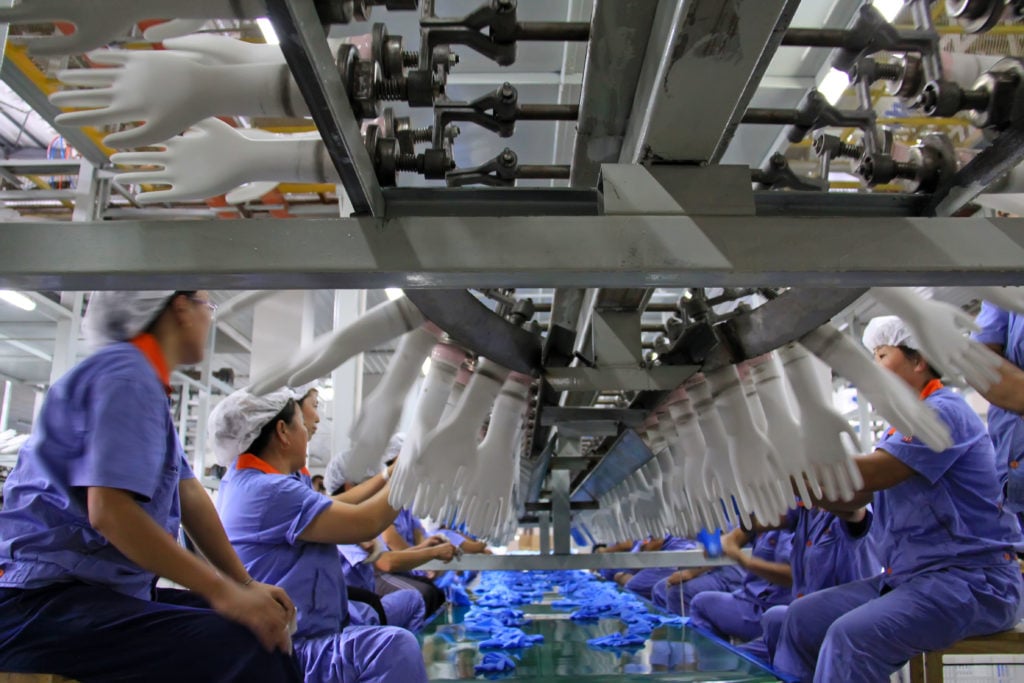 "The trend will likely continue and to some extent accelerate as Covid-19 exposes the vulnerabilities of the current global supply chains," said Cyn-Young Park, Director for Regional Cooperation and Integration at Asian Development Bank's Economic Research and Regional Cooperation Department.
Park attributes these vulnerabilities to the consolidation of manufacturing and distribution, just-in-time and lean practices, and heavy reliance on outsourcing.
Lora Cecere, CEO of research firm Supply Chain Insights, expects supply chains to become localized until a coronavirus vaccine becomes available. "The world has moved past the lowest cost of labor," she said.
Japan offers one such example of how localizing supply chains might work. In April, the Japanese government set aside more than ¥240 billion (€2 billion) to help businesses bring back the production of products or components that are highly dependent on one country.
Consumer goods maker Iris Ohyama, the first recipient of the subsidy, will produce face masks at a new factory in Japan's Miyagi Prefecture without using any overseas suppliers.
While reducing dependence on China can strengthen supply chains, it takes time to develop production capabilities and infrastructure, as well as to find a skilled workforce. Then there is the question of scale: China's manufacturing capacities are just too massive to ignore. In 2018, it accounted for 28 percent of global manufacturing output.
Most businesses have developed complex interdependencies, resulting in a deep tiering of supply chains, according to Harvard Business School Professor Willy Shih. Manufacturers depend on first-tier suppliers which, in turn, rely on a second tier and so on.
"Visibility into third, fourth, and more distant tiers is challenging, making wholesale replacement of anyone in the chain, let alone the entire chain, extremely difficult," said Shih.
Alternatives to China
Park agrees that relocating factories or replacing all Chinese suppliers would not be feasible in the short term.
"Nevertheless, many firms will consider shifting manufacturing out of China or diversifying suppliers in the longer term given China's steadily rising labor and other costs, as well as the higher uncertainty in a single source or the concentration of production centers," said Park.
But what are the alternatives to China for businesses hoping to diversify their operations into other parts of Asia?
"Low-cost economies in Southeast Asia will benefit from more future shifts given their proximity [to China] and existing ties to the global supply chain infrastructure," said Park.
"Vietnam is a preferred choice, thanks to its strategic location along regional shipping routes, lower labor costs and a young, growing workforce," explained Shoeib Reza Choudhury, Country Manager and General Director of DHL Express Vietnam.
With the Comprehensive and Progressive Agreement for Trans-Pacific Partnership (CPTPP) in place and new free trade agreements (FTA) such as the one with the European Union (EU) coming into effect, the attractive tariff reliefs may encourage more companies to set up their manufacturing operations in the country, shared Choudhury.
Added Park: "Vietnam is positioned strongly to receive more foreign direct investment and attract relocation as it has weathered the Covid-19 pandemic relatively well compared to other economies."
Apple is one of the companies that has explored moving production from China to Vietnam for its wireless AirPods headphones. According to Jeff Luo, Director at Taipei-based Isaiah Research, Apple and its final assembly partners decided to move the AirPods assembly capacity to Vietnam early in the U.S.-China trade war. "In the third quarter of 2019, we checked [that the assembly partners'] capacity in Vietnam was almost ready for verification by Apple."
Luo sees the cost of moving as a significant disadvantage of Apple's decision to shift production out of China. "Even the biggest assembly company in the world with such economy of scale is still only reporting around 10 percent gross margin," he said.
"The mindset of every assembly company is to reach as much economy of scale as possible, so that any extra investment for already mass-produced products is very burdensome," added Luo.
Malaysia is also an attractive alternative and has benefited from the U.S.-China trade war. Early this year, the government's investment promotion agency set up a special channel to facilitate investments from China, with the target of attracting RM10 billion (€2.1 billion) from investors in the East Asian nation over the next two years.
"South Asia can also [benefit from] this trend over the medium to long term if its markets improve their infrastructure connectivity and doing business indicators further," said Park.
India has already been attracting manufacturers. Samsung, for example, has expanded its smartphone production in India as it stopped producing mobile phones in China last year.
Even as businesses diversify production or supply sources, one thing remains clear. That China will continue to be an important market — as a manufacturing hub and for its huge consumer base — after the pandemic.