Are China's smaller cities hidden e-commerce gems?
China's government is focusing on smaller cities like Hangzhou as test-beds for free trade and e-commerce friendly zones
China's government is focusing on smaller cities like Hangzhou as test-beds for free trade and e-commerce friendly zones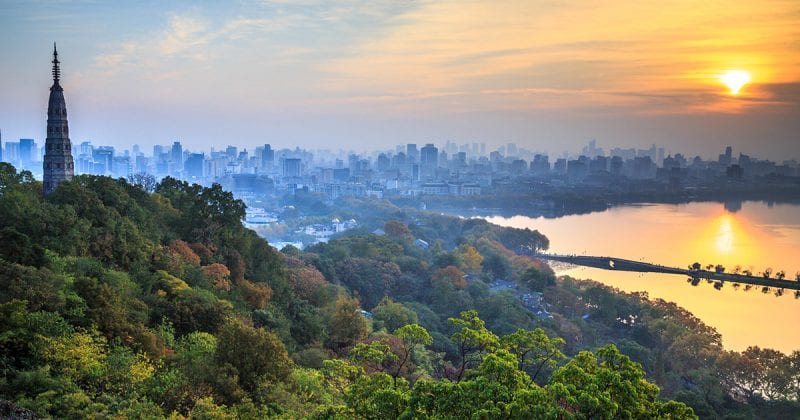 Key takeaways
China's lower-tier cities have begun to outspend their Tier 1 counterparts when it comes to online shopping

In many lower-tier cities, most people still haven't started to shop online, meaning huge potential for growth in the future

China's government and businesses like DHL have been investing to overcome barriers to trade in lower-tier cities, including policy reform and infrastructure
What was the biggest e-commerce shopping day in 2016: Cyber Monday? Black Friday? Wrong on both counts. It was Singles Day, on November 11. US$13.4 billion in sales were recorded by Alibaba in the event's first 15 hours, more than four times the US$4 billion in e-commerce retail sales for Cyber Monday in the US, making Singles Day the world's biggest online shopping day of the year.
What does this tell us? The Chinese are becoming seriously addicted to e-commerce.
This won't come as a surprise to many. What is surprising is that the biggest opportunities for online shopping don't lie in the glistening, jewel-like first-tier cities of Beijing or Shanghai. The unpolished gems in the Chinese e-commerce eco-system are the Tier 2, 3, 4, and 5 cities, where the majority of China's 1.3 billion people live. The biggest potential lies in Guangdong, Fujian, Zhejiang, and the Middle-East clusters, with more than 130 million households and 400 million people.
According to a McKinsey survey of China's internet users, lower-tier cities are starting to seriously outspend higher-tier cities online. And the gap is getting wider.
The existing online shopper base in Tier 3 and 4 cities alone is 257 million: that's more than the total population of almost all countries in the world.
All cities are not created equal
What distinguishes higher-tier cities from their lower-tier counterparts? There is no official definition but factors like population, disposable income, GDP and status as a provincial capital play a role. Lower-tier cities are also where the Chinese government is focusing recent stimulus activities.
Take, for example, pilots of free trade zones. The one in Hangzhou is a model for deploying favorable e-commerce policies and regulations. The newest is in Tianjin and there are others in the Fujian and Guangdong provinces. These free trade zones make it easier to start businesses, and grant foreign firms more access to the service sector. The newly launched "International Navigation Vessels' Paperless Customs Clearance" reform, which transfers all paperwork to the Internet at the Port of Xiamen, is another measure aimed at accelerating growth.
Serious potential
Somewhat surprisingly, it's the smaller cities in China that is where the serious e-commerce addicts live. The e-commerce potential in these cities is huge, and still untapped: while 160 million lower-tier residents currently use online services, many haven't even started to shop online yet. And 160 million is nearly as many people as the total number of online shoppers in higher-tier cities today!  According to Forbes, the existing online shopper base in Tier 3 and 4 cities alone is 257 million: that's more than the total population of almost all countries in the world (except India, China as a whole, and the United States). We're talking serious market potential here!
Social media is an important factor for lower-tier cities. Here, e-commerce is deeply entwined with apps like WeChat. Many of its over 700 million users regularly use the app for mobile shopping. Some 31% of WeChat users surveyed by McKinsey said they had shopped from WeChat in the past year, double the number that did so in 2015. What are they buying? 60% buy clothes and apparel, and 41% of users buy their personal care, toiletries and healthcare items via WeChat.
Another bonus for e-commerce is the lack of physical retail infrastructure and product availability, because of the vast geographical scope of lower-tier cities. E-commerce can fill this void and team up with retailers to reach cities where it's too expensive for them to set up brick-and-mortar stores.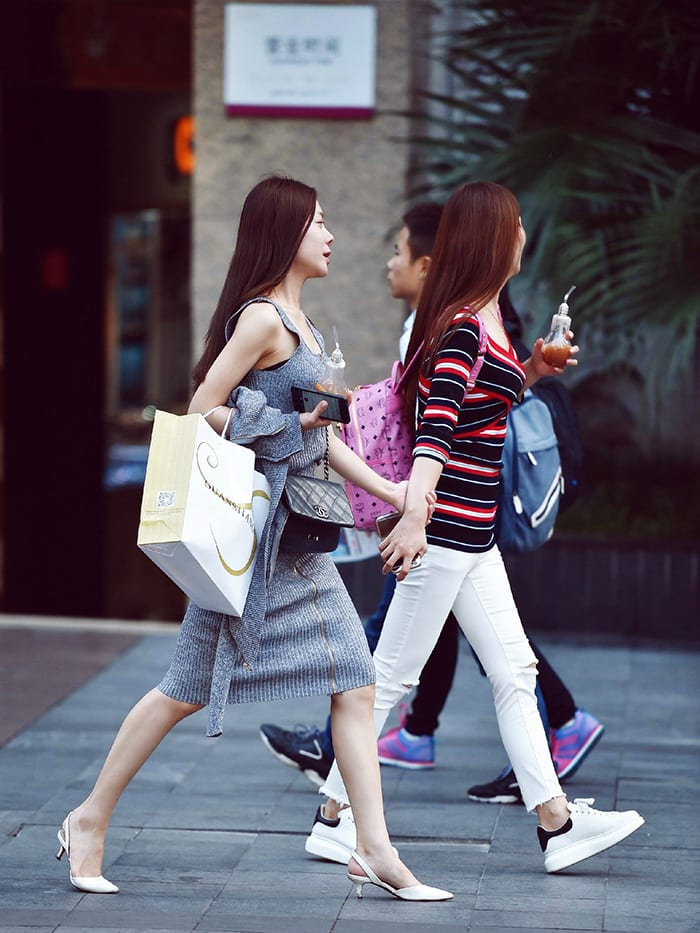 DHL eCommerce has been helping many of China's local merchants to sell overseas, many of whom hail from lower-tier cities. According to a cross-border e-commerce report  from Amazon, Guangdong has the largest base of cross-border sellers, closely followed by Fujian where outbound cross-border e-commerce dominates, accounting for around 80% of all transactions.
Internet penetration is also surprisingly high in the lower-tier cities. A UBS survey showed that 4 out of 5 people have internet access and a massive 89% of 18 to 24-year olds said they use smartphones to go online.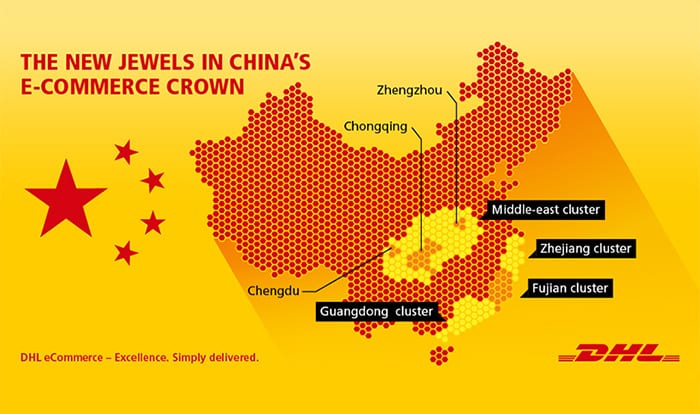 Hard to reach areas
There are however obstacles to targeting China's hidden e-commerce gems, especially when it comes to last-mile delivery. Postal codes are often inaccurate, and in these rapidly growing urban areas, new addresses are popping up all the time. Rural areas are hard to reach and basic infrastructure is often simply not there.
We'll be expanding our services to these and other Tier 2, 3, 4 and 5 cities throughout the remainder of this year and into 2018.
So what kind of numbers are we going to see for Singles Day this year? We can't be precise, but we can expect another record year – driven not only by Tier 1 cities, but the ever growing and hugely exciting Tier 2, 3, 4 and 5 cities.