Australia's new air freight network to boost agriculture and fishery exports
Australia's new air freight network will help exporters re-establish global supply chains for its agricultural products, as well as import much needed PPE and essential goods.
Australia's new air freight network will help exporters re-establish global supply chains for its agricultural products, as well as import much needed PPE and essential goods.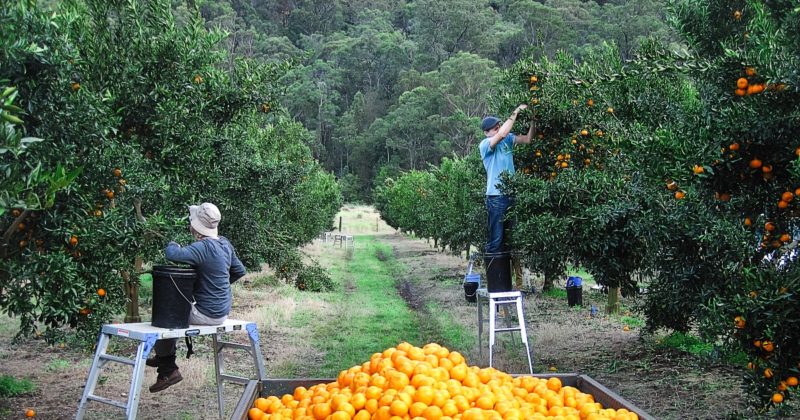 Supply chain disruptions are the biggest threat now to farmers and fishermen in the country, where Australia exports 65 per cent of agricultural products, with a majority going to China, Japan, the United States, South Korea and several Asia Pacific countries.
A new network of air freight service providers and freight forwarders has been established by Australia to accelerate the delivery of agricultural and fisheries exports into key overseas markets. The network will allow the Government's AU $110 million (€61.3 million) International Freight Assistance Mechanism (IFAM) to ramp-up assistance to exporters, and in turn assist importers of essential goods, such as healthcare supplies, Personal Protective Equipment (PPE) for frontline healthcare workers fighting the Covid-19 pandemic, automobile spare parts, and construction and manufacturing materials.
IFAM aims to help exporters re-establish global supply chains. In the first three weeks of its operation, over 560 Australian businesses have registered their interest in utilizing the IFAM and agreements for more than 55 freight flights have already been secured.
Through the IFAM, the Government will meet a portion of the airfreight costs – reducing costs for exporters and ensuring they can get their produce on flights and to international customers quickly.
Australia's Deputy Prime Minister and Minister for Infrastructure, Transport and Regional Development Michael McCormack said: "The Covid-19 crisis has led to major air freight shortages and disrupted supply chains around the world.
"Appointment of these airlines and freight forwarders will help kick-start regular cost- effective services to key export markets and enhance the capacity for full freight flights of agricultural products from regional locations.
"We've already seen lobster from Western Australia, lamb from Victoria and salmon from Tasmania shipped to international ports and markets.
"The quicker we can get our products off the farm and onto airplanes, the more Australian jobs we can save and the quicker our agricultural exporters can bounce back."
The IFAM will be overseen by logistics professional Mr Michael Byrne, as the International Freight Coordinator General. Mr Byrne will work with Austrade to help establish arrangements with exporters, airlines, freight forwarders and industry bodies plus oversee the mechanism's operations including advising the Government of destinations, freight selection and prioritisation.
Wholesale down, but hopes lie with high-value retail
DHL Global Forwarding Australia was one of the few freight forwarder companies selected for the program because of its market-leading position and global footprint.
Bernie Cooney, the company's Perishables and Livestock Manager in Australia, said being in the new network is crucial in helping to keep businesses moving again, after the trade restrictions globally and nationally due to Covid-19 pandemic.
"Currently, high-value retail products, such as pre-packed and pre-marinated meats and perishable goods are crucial to Australia's efforts to boost its agricultural exports.
"The on-going social distancing measures in most countries mean that such products are in high demand by consumers who order via supermarket chains' e-commerce platforms."
Before the Covid-19 pandemic, wholesale networks dominate Australia's supply, with some 70 per cent of the company's food exports typically going  to foodservice businesses.
"With restaurants and other wholesale consumption down due to the measures, high-value retail products will form almost 100 per cent of all exports, but when these distancing measures are gradually relaxed, we should expect to see a recovery of the wholesale market."
"In perishables logistics, time is of the essence as fresh meats and produce need to arrive with their freshness and quality intact, and that is now possible as we can secure capacity through the air freight network for our customers.
"We are working towards restoring supply chains for all our customers. We are hopeful that with these measures, we can help boost perishable exports within three months, with a lot depending on when Asian markets start to open up again, once containment measures prove successful."
Exports had plunged to near zero in mid-March after export markets began closing commercial passenger flight routes to stop the spread of the virus, which had implications on air freight capacities for export of Australian goods.
Federal Trade Minister Simon Birmingham said: "Around 90 per cent of our air freight, usually goes out in the bellies of passenger aircraft. With very few international passenger flights leaving Australia at present, our exporters are facing major hurdles," Minister Birmingham said.
"Through the better coordination of freight out of Australia, we can restore key freight routes and establish more frequent flights to our key markets so our agricultural and fisheries exporters can deliver their products to customers on time.
"We've moved quickly to establish this network and are now getting on with the job of supporting our exporters to get their products flowing again.
"With a network of some of the world's largest airlines and most reputable freight forwarders in place, we're injecting more reliability into the system that will also help our smaller exporters to aggregate their freight into volumes so they don't miss out on export opportunities."
One of the key strengths for DHL Global Forwarding in Australia is its self-owned state-of-the-art facilities that allow for temperature-control packaging, crucial for the transport of produce and vegetables in the network.
With this new delivery network, and funding from IFAM, it is expected to boost shipments to Japan, China, Hong Kong, Singapore and the United Arab Emirates, traditionally countries that have favored Australian agricultural and fishery products.
PPE and essential goods to get a boost
In addition to the export of high-value perishables, the Australian Government's International Freight Assistance Mechanism (IFAM) is also assisting with imports of key essentials like PPE and goods to keep businesses moving.
There are shortage forecasts for non-food items such as stationary, clothing and electrical goods. Australian manufacturers that employ a "just in time" production model have also suffered from parts shortages, due to shipment delays from small-scale manufacturing partners in China.
As part of this new network, DHL Global Forwarding will help Australia meet demand for PPE, technology and other critical industrial equipment and goods.
George Lawson, Country Manager of DHL Global Forwarding Australia said, "In Australia and in many parts of the world, trade, which is the backbone of many economies, has been heavily impacted by travel restrictions arising from the Covid-19 pandemic.
"With our large global footprint, a robust network of logistics facilities and technological solutions, DHL Global Forwarding Australia is proud to be selected for the program. We will help businesses continue shipping to their customers overseas or receiving imported supplies to keep their businesses, as well as the economy, going."