The New Zealand-EU FTA could give a big boost for trade in the post Covid-19 era
The New Zealand- Europe FTA represents an opportunity to gain better access to the bloc's almost 500 million consumers through lower tariffs, and new multi-modal shipping options could also lead to even more savings for importers.
The New Zealand- Europe FTA represents an opportunity to gain better access to the bloc's almost 500 million consumers through lower tariffs, and new multi-modal shipping options could also lead to even more savings for importers.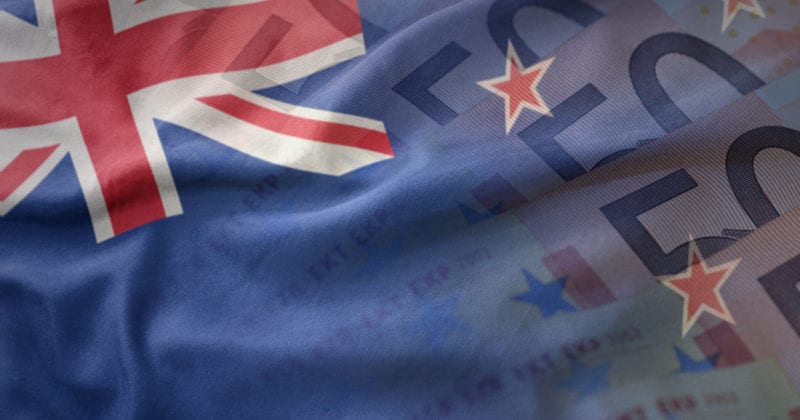 For companies hard hit by the Covid-19 pandemic, news of a major new trade deal could signal a ray of light in a particularly dark tunnel. That's likely to be the case with the free trade agreement (FTA) currently being hammered out between the European Union (EU) and New Zealand.
The two first announced their intention to negotiate an FTA back in 2015, with official talks beginning in 2018. Now, a deal is being tipped for completion in early 2021.
Mutual needs have driven negotiations with New Zealand needing the EU as its largest services trade and investment partner. In turn, the EU needs New Zealand as a commercial base in Asia Pacific and a reliable source of agricultural produce. But what would the arrangement mean for their respective economies as well as exporters and importers on both sides?
Supporting two-way economic growth
Even excluding the United Kingdom, two-way trade between the EU and New Zealand is currently worth more than US$16 billion. Once an FTA is established, that figure could get a 36 percent boost, according to an EU impact assessment.
The EU bloc is already New Zealand's third-largest trading partner after China and Australia, delivering 13.5 percent of New Zealand's trade in goods and services. For the country's exporters, the FTA represents a significant opportunity to gain better access to the bloc's almost 500 million consumers, through lower tariffs on fruit, wine, dairy products, beef, sheep meat and wool.
The EU will gain from closer links to a trading nation that's deeply embedded in the economies of the fast-growing Asia Pacific region.
Europe is a major supplier of industrial and mechanical goods such as aircraft, cars, tractors, trucks and vans, all essential for New Zealand's commodity industry. New Zealand also needs the EU's emerging technologies to back its research and development efforts in areas like sustainable and renewable energy, as it works to develop a high value-added economy.
New Zealand hopes to attract more European businesses to set up shop in the country. At the same time, an FTA will lower costs for its consumers, giving them access to cheaper food, wine and discounted designer goods from Europe. New Zealand imported $4.5 billion in services and $11 billion in goods from the EU (including the UK) in 2018.
Boosting post-pandemic business recovery
These growth opportunities take on added significance in the wake of Covid-19. In early 2020, when manufacturers around the world began shutting plants and sending workers home to contain the virus, the steady flow of vital parts and products along many global supply chains slowed or stopped.
The shockwaves caused by that unexpected disruption to trade flows have now prompted many companies to start rethinking how they source, distribute and store goods, and safeguard processes against further issues.
In that regard, the FTA can help support a sustainable recovery, keeping markets open and offering companies in both the EU and New Zealand new opportunities to diversify their value chains and distribution models.
Challenges to address
However, negotiations so far have not been entirely smooth sailing. Agricultural market access has proved a particular sticking point. New Zealand is looking to ensure it can trade its food products into the EU in a way that will allow its agricultural enterprises to reap substantial benefits. European farmers fear that liberalizing agriculture means New Zealand meat and dairy products will flood the EU market.  Accordingly, the bloc has so far adopted a more cautious approach to the issue, leading to accusations of protectionism from New Zealand.
A related issue is the EU's insistence on ensuring protection for specific 'geographical indications' – distinctive regional food and beverage products – from imitations in New Zealand. Such protective measures would be a blow for New Zealand wine and cheesemakers, among other producers, as they would no longer be able to use terms such as 'prosecco' and 'feta' to name their products.
Transport costs in the wake of the pandemic could also be an obstacle for importers and exporters, even once the deal is signed. With dramatic declines in the passenger flights that typically account for more than 60 percent of freight capacity worldwide, companies have had to battle steep hikes in air freight rates.
One solution to save costs could be multimodal shipping options. In June this year, DHL Global Forwarding announced an innovative multimodal option that brings significant cost-savings to New Zealand businesses importing goods from Europe. This service combines the speed of air freight for the first leg of the journey where goods from Europe are consolidated into Singapore or Hong Kong, which then travel via affordable and sustainable ocean freight to their destinations.
Charles Kaufmann, CEO, North Asia South Pacific, DHL Global Forwarding and President/Representative Director, DHL Global Forwarding Japan K.K. said, "As countries gradually recover in the aftermath of Covid-19, we are seeing an increase in demand for products other than essential and medical goods. Local businesses in New Zealand need an alternative to pure air freight transport, which has not recovered to pre-Covid rates due to the capacity crunch worldwide. With our strong global network and local expertise, we were able to swiftly create viable solutions, including this air-sea service from Europe, to help companies rebuild their business as they adapt to the new normal."
"Strategically located in the midpoint between the origin and destination, we chose Singapore and Hong Kong as the locations for the consolidation hubs due to their large capacity, high frequency of flights, and ability to ship "freight all kinds" (FAK)," Kaufmann added.
This Europe-Pacific air-sea combo service saves importers approximately 60% in cost compared to air freight and the same savings in transit time compared to using ocean freight. It will also benefit neighboring Australian importers.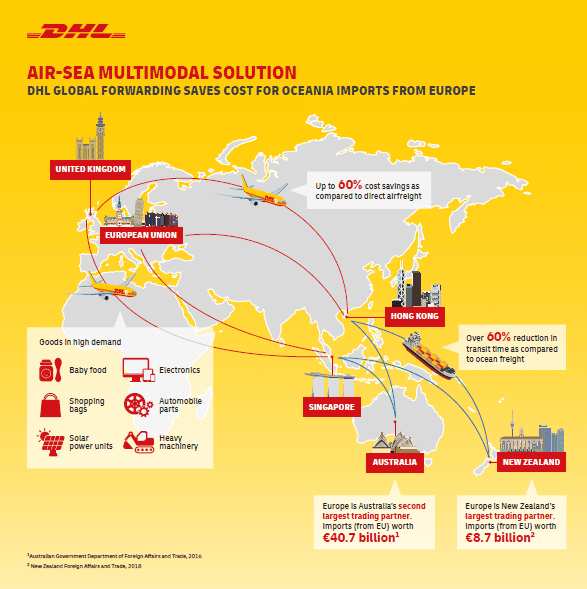 As Australia's second largest trading partner, Europe has seen its exports to the country increase steadily from €28.1 billion (AU$47 billion) in 2006 to €40.7 billion (AU$68 billion) in 2016, with passenger motor vehicles, medicines and pharmaceutical products amongst its key exports.  As for New Zealand, the country ranks Europe as its top source of imports, accounting for €8.7 billion (NZ$15.5 billion) in 2018.
DHL Global Forwarding has seen mounting demand for the service from exporters in Germany, Italy, the United Kingdom and the Netherlands shipping a diverse range of commodities from baby food, electronics and shopping bags to automobile parts, solar power units as well as heavy machinery.
Brighter trading prospects
Looking back to the NZ-EU FTA, both New Zealand and EU officials have talked about their hopes that a deal can be inked early in 2021.
"Businesses on both sides could [then] call on a full range of trade options to meet the economic challenges of the decades ahead," said Kirk Hope, Chief Executive of BusinessNZ. "To pull off an FTA with the EU would be an outstanding achievement."
There is similar optimism from the EU's side. As Commissioner for Trade Phil Hogan put it, "Europe is open for business, New Zealand is open for business, and we want to do business."