MORE FROM THIS COLLECTION

A breath of fresh air in Lesotho
With its forests dwindling and air quality declining, something had to be done to reduce carbon emissions and the use of firewood by the people in Lesotho.
With its forests dwindling and air quality declining, something had to be done to reduce carbon emissions and the use of firewood by the people in Lesotho.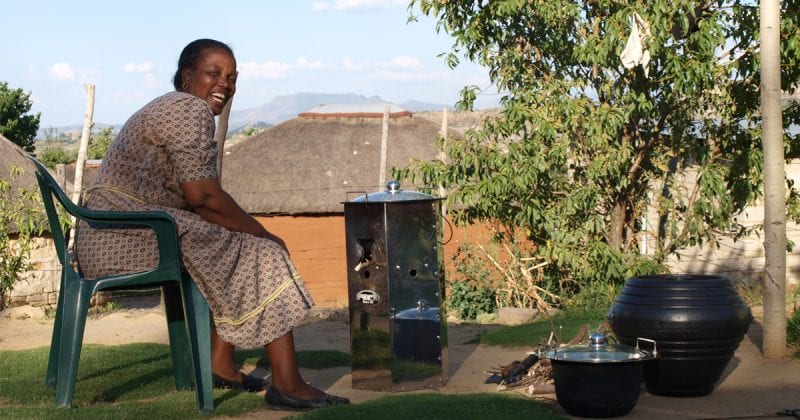 On the African continent lies a small, independent nation-state called Lesotho, known for its beautiful, natural environment with undulating terrains of plateaus, hills and mountains.
Over the past few decades, its picturesque landscape, however, was often marred by huge plumes of billowing smoke from the innumerable fire pits that pepper the country — many of them situated near homes.
Traditionally, people living in the villages cook over an open fire with a large amount of firewood, leading to widespread pollution.
The smoke generated by these fires not only contaminates the environment and the air inside homes, but also poses a major health risk to those who inhale it, especially women and children.
According to the World Health Organization, 3.8 million people around the world die prematurely every year from illnesses attributed to household air pollution caused by the inefficient use of solid fuels and kerosene for cooking.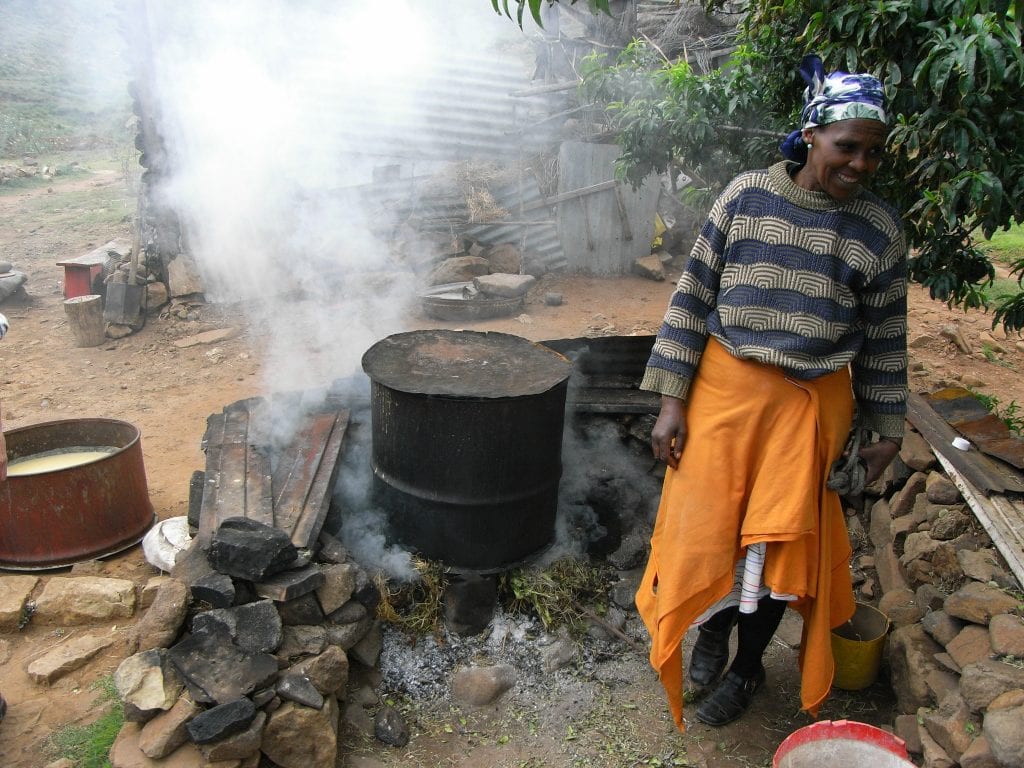 Specifically, in Lesotho, lower respiratory infections result in a yearly mortality rate of 120 deaths per 100,000 people, with one of the main causes being household air pollution from solid fuels used for cooking and heat.
But the good news is that the situation in Lesotho has been changing.
A climate protection project called "Save80 Stoves for Lesotho", which started in 2010, equips families and their homes with efficient cooking stoves.
Less wood, less smoke
The project, funded by Deutsche Post DHL Group (DPDHL), has supplied some 10,000 Save80 stoves, originally developed and manufactured by a German company, to homes throughout Lesotho. True to its name, the stove requires almost 80 percent less wood for cooking than traditional stoves do.
Each stove saves approximately two tons of carbon dioxide a year, allowing an annual offset of more than 20,000 tons of carbon dioxide in total.
"Traditionally, people in Lesotho cook by setting a pot over stones and firewood, which is pretty inefficient. It not only consumes vast amounts of wood, but also creates a lot of smoke," said Joachim Kunz, the project lead from DPDHL. "The Save80 stoves turned this situation around."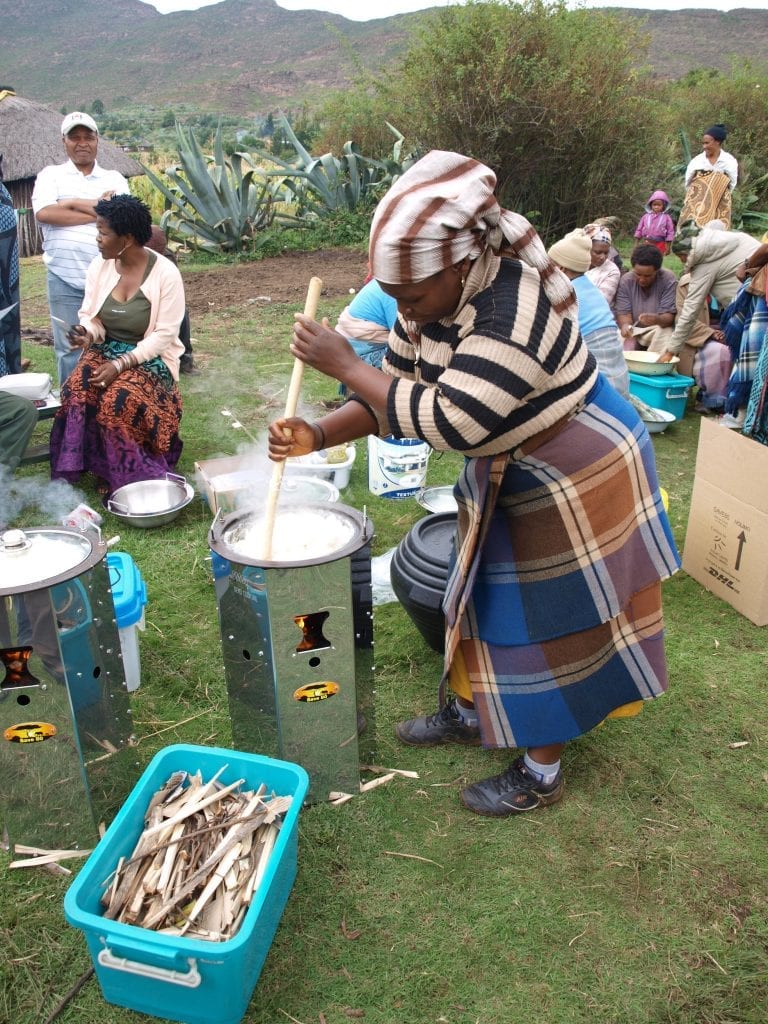 Added Kunz: "If you have ever stood before a campfire, the air gets very smoky causing you to cough a lot. The situation is even worse if you're preparing a meal indoors."
Unlike solar cooking stoves that are often dependent on a bright, sunny climate, and could take a much longer time for food to cook, the Save80 stove is also wind-proof.
Made of stainless steel, it has a special chamber to light and house the fire, and requires only a small amount of wood fed through the sides.
"It is a highly-efficient and cleaner way of cooking, compared to putting stones on the ground and lighting a fire," said Kunz.
The stoves aim to reduce carbon dioxide emission from the fires, air pollution from the smoke, and deforestation that comes with chopping down trees for firewood.
DPDHL collaborates closely with atmosfair, a non-profit climate protection organization, and with local partner Solar Lights, to access remote villages in Lesotho that are in dire need of the stoves.
Reversing impact on climate
Over the last 25 years, Lesotho has lost about two-thirds of its forests to meet the growing demand for firewood. At this rate, the country could be completely deforested in less than 10 years.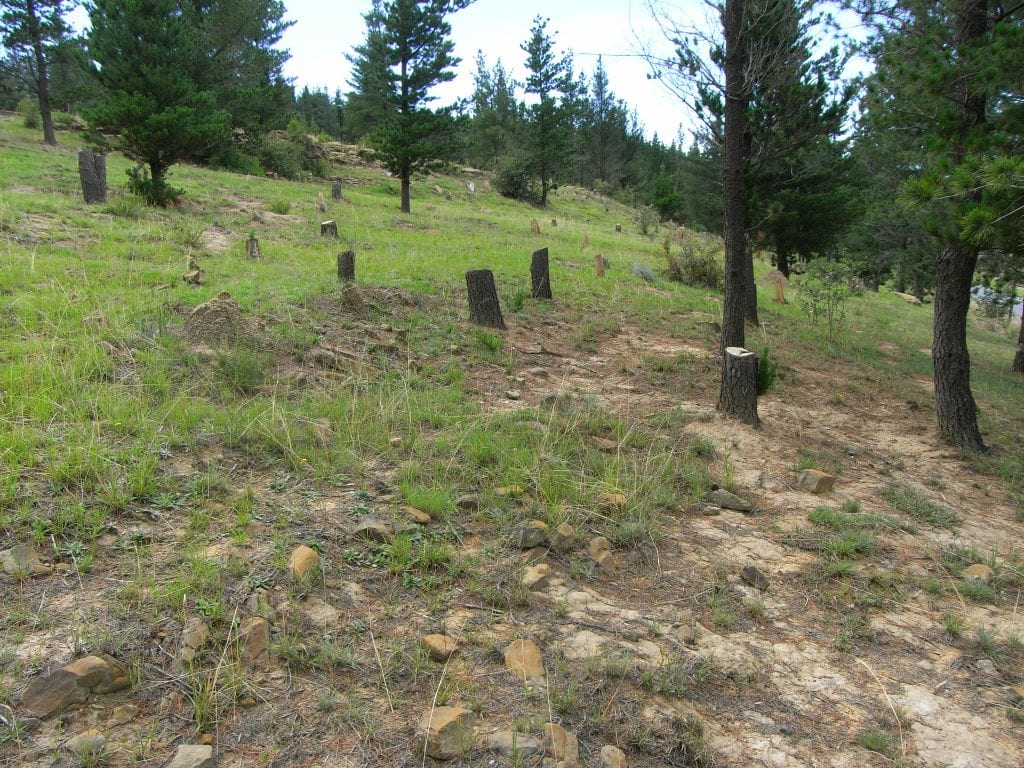 "Save80 Stoves for Lesotho" hopes to reverse this issue. The stove comes with a set of special pots and a thermal "wonderbox" that traps heat for continued cooking. Families will also save substantial money and effort in obtaining fuel.
"Part of our GoGreen environmental protection program involves the offsetting of our carbon dioxide emissions. Through the Lesotho project, we are able to offset emissions that we generate by sending parcels from point A to point B," said Kunz.
The project ties in neatly with the key goals of Lesotho's Vision 2020, which are focused on incorporating sound environmental policies and land use planning into strategies for sustainable growth.
Similarly, for DPDHL, the Save80 project is also part of a broader plan put in place to reduce its carbon footprint.
The 10-year project meets the highest environmental and social standards, fulfilling the criteria of both the United Nations' Clean Development Mechanism, and Gold Standard, the global benchmark for non-governmental emission reduction projects..
It has also received the National Energy Globe Award, one of the most prestigious environmental awards worldwide.
Kunz hopes that the "Save80 Stoves for Lesotho" project, slated for completion in 2022, can be replicated in other countries that need it.
"With the success of the Save80 stoves in Lesotho, we can definitely achieve the same elsewhere," he said. "This year, we will begin to strategize how we can continue the project."