MORE FROM THIS COLLECTION

Why businesses can't ignore Mongolia
Trade routes to Mongolia have become literally smoother thanks to heavy road infrastructure investments in the past two years
Trade routes to Mongolia have become literally smoother thanks to heavy road infrastructure investments in the past two years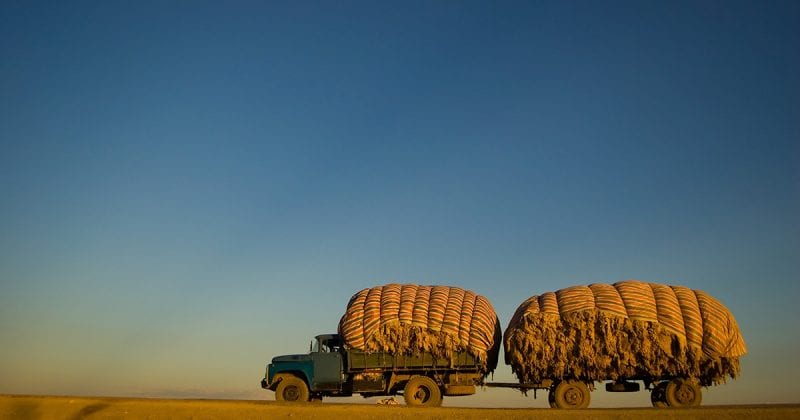 Key takeaways
Widespread infrastructure upgrades have made Mongolia more accessible and attractive to doing business than ever before

Mongolia's mining industry has created strong domestic demand for both imported equipment and consumer goods

Fast, efficient and scalable road freight options make it much easier for importers to connect with Mongolia's primary producers
If Genghis Khan lived today, he would probably be trading coal with his neighbors instead of arrows. In recent years, the exports of petroleum, copper and other natural resources like coal have spurred Mongolia's breakneck economic growth, revitalizing its notoriously patchy roads, forging new trade agreements, and generally making the country's markets more accessible to the world.
With the Mongolian "Wolf Economy" now well and truly open for business, where will enterprising importers and exporters find the biggest opportunities?
Mining, for starters. Despite suffering from a global glut in coal and iron ore, Mongolia's mining industry still plays a major role in its economic fortunes, accounting for over 20% of the country's GDP. Mining companies drive much of Mongolia's domestic demand for goods and services ranging from industrial drilling equipment to cars and imported foodstuffs. And with transport infrastructure more reliable than ever before, the costs of tapping into that demand have fallen hugely from their once-prohibitive levels.
"Just two years ago, trucking operators from Europe would often refuse to drive into Mongolia," says Zahoor Malla, Representative for DHL Global Forwarding in Mongolia. "To get in, they would have to face roads so hilly and bumpy they could damage their vehicles, put up with hours of waiting at border crossings and even manual weightings of their vehicles. Now, the roads have been upgraded and cross-border processes computerised, the country's accessibility has gone from patchwork to state-of-the-art in an incredibly short space of time."
"The roads have been upgraded and cross-border processes computerized...the country's accessibility has gone from patchwork to state-of-the-art in an incredibly short space of time."
Almost all these improvements stem from aggressive government investment in Mongolia's trade infrastructure. This bid to turn "landlocked" Mongolia into a "land-linked" trade hub has, according to Malla, opened up major new opportunities for businesses servicing the mining industry and the logistics providers, like DHL, who support them.
"If you want to sell a drill, an excavator, or a set of mining truck tires to a firm operating in Mongolia, you must first bring the product into the country," Malla notes. "When a product proves too big or heavy, we will still work with the seller to fly it in or take a customized route via road, rail or sea. But the improved road infrastructure allows us to now bring in a far greater range of items by road, at far lower cost to exporters in Europe and the US, than they ever thought possible."
More than just mining
The benefits of enhanced road connectivity apply equally to Mongolian exporters – and not just those shipping raw minerals or petrol. The country reaps nearly 6% of its GDP, or around US$250m per annum, from exports of cashmere alone. Livestock exports to Russia and other parts of Asia could, according to government officials, beef up exports by an estimated US$1 billion. Fast, efficient road freight makes it much easier for Mongolian enterprises – many of which are family-owned small businesses – to access and grow overseas market share.
"Importers in Europe and Asia should not underestimate the opportunities offered by Mongolian producers," says Malla. "They can take advantage of both new freight options and increasingly favourable trade conditions, like virtually zero tariffs on Mongolian goods entering the EU and free-trade agreements with South Korea, Japan, and a host of other Asian countries."
So how can importers and exporters tap into the goldmine of Mongolia's opportunities? Start with smaller freight volumes, Malla advises, then scale up once any initial speed-bumps are flattened out. The Less-than-Truck Load service offered by DHL has already seen enthusiastic response from a range of mining services firms and local producers looking for trucking options that stay cost-effective, even at smaller volumes.
And don't assume that Mongolia's customs, while much easier to navigate than before, are the same as those of other countries. "Because of the lack of high-tech expertise in Mongolia, we fly a lot of mining samples overseas for feasibility testing before drilling commences properly," Malla observes. "Our customers enjoy hassle-free clearance wherever their samples go, but other miners who go with local forwarders often end up filing the wrong documents, losing samples en route, and having their plans delayed by weeks or months." When doing business in Mongolia, victory often comes down to matters of cross-border logistics. If the Khan lived today, he'd undoubtedly agree.