MORE FROM THIS COLLECTION

The Belt and Road Initiative breathes life into one of China's oldest cities
Better known for its rich culture and history, the Chinese city of Xi'an is honing its reputation as a leading city in the Belt and Road Initiative.
Better known for its rich culture and history, the Chinese city of Xi'an is honing its reputation as a leading city in the Belt and Road Initiative.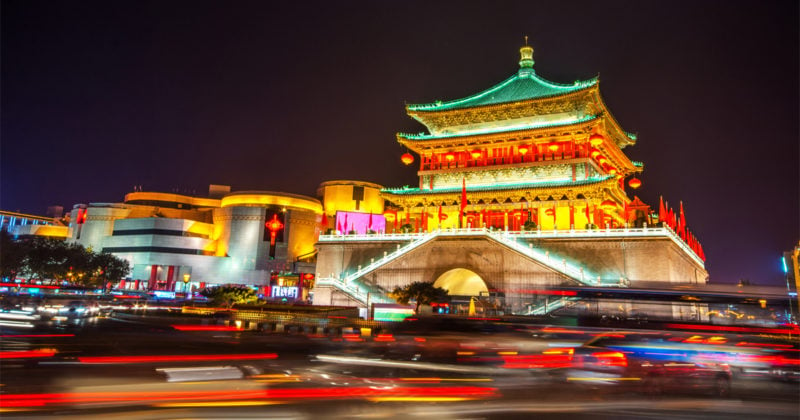 "Now they are popping up like mushrooms," commented a young Chinese tour guide on the modern buildings sprouting across Xi'an, China in recent years.
The rapid modernization characterizes the economic resurgence taking place in the capital of Northwest China's Shaanxi province, more commonly known for its Terracotta Warriors.
Since Chinese President Xi Jinping unveiled his grand plans for the Belt and Road Initiative (BRI) in 2013, the city has overseen a slew of infrastructure developments to transform itself into an international hub with "a convergence of air routes, roads and railways", according to the city's mayor Li Mingyuan.
The results so far have been encouraging. In 2018, Xi'an's exports reached US$31.6 billion (€29 billion), representing year-on-year growth of 29.7 percent.
"Xi'an is at the heart of the New Silk Road economic belt, taking on the same important role as it once did during the ancient route of Marco Polo's era," said Steve Huang, CEO, DHL Global Forwarding Greater China.
With government support and foreign investment firmly behind its growth, the city is determined to relive its former glory from the early tenth century.
The ancient city
In its earlier days, Xi'an was the starting point for the ancient Silk Road, a vital trade route connecting China to the Mediterranean.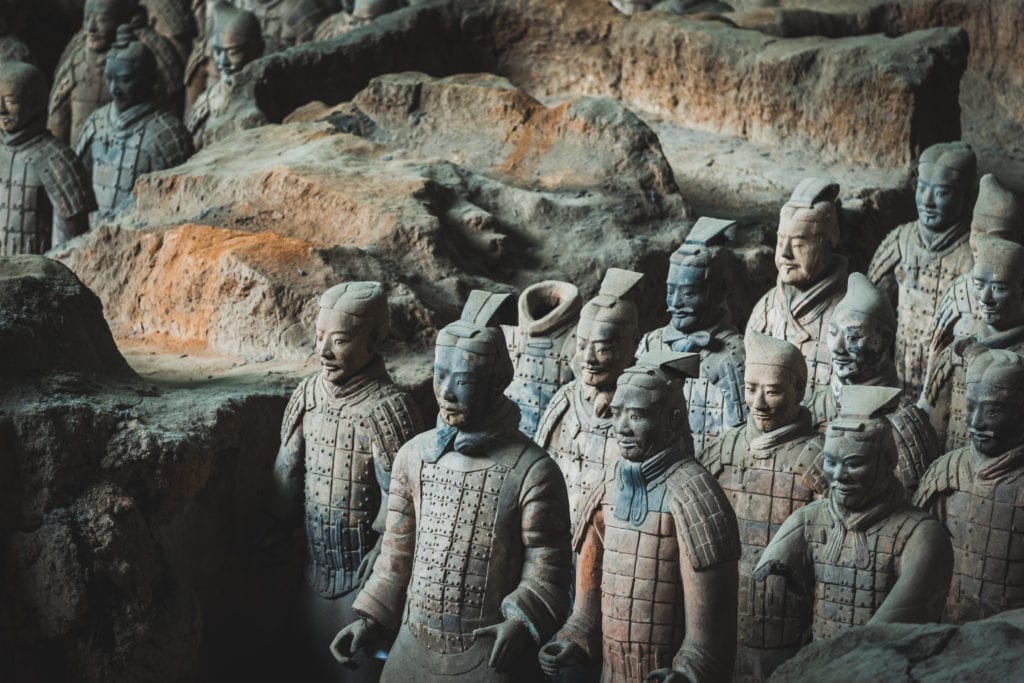 The present-day BRI — also aptly named the New Silk Road — serves the same purpose of enhancing connectivity and trade across Eurasia, with Xi'an once again taking center stage as the leading city of the economic belt.
In February 2018, the northwestern city was designated by China's National Development and Reform Commission as the ninth national central city — a title awarded by the central government to spur the urbanization of key Chinese cities.
Before receiving the accolade, the local government had already drawn up plans to develop major industrial parks and zones focused on strategic sectors including information technology, electronics, bio-pharmaceuticals and automobile manufacturing.
Investments have since poured in to the ancient capital with a population of 12.9 million.
Part of the reason why the city has emerged as an investment hotspot boils down to the city's innovation drive to establish it as a hub for Artificial Intelligence (AI), 5G infrastructure and cloud computing to enhance its manufacturing capabilities.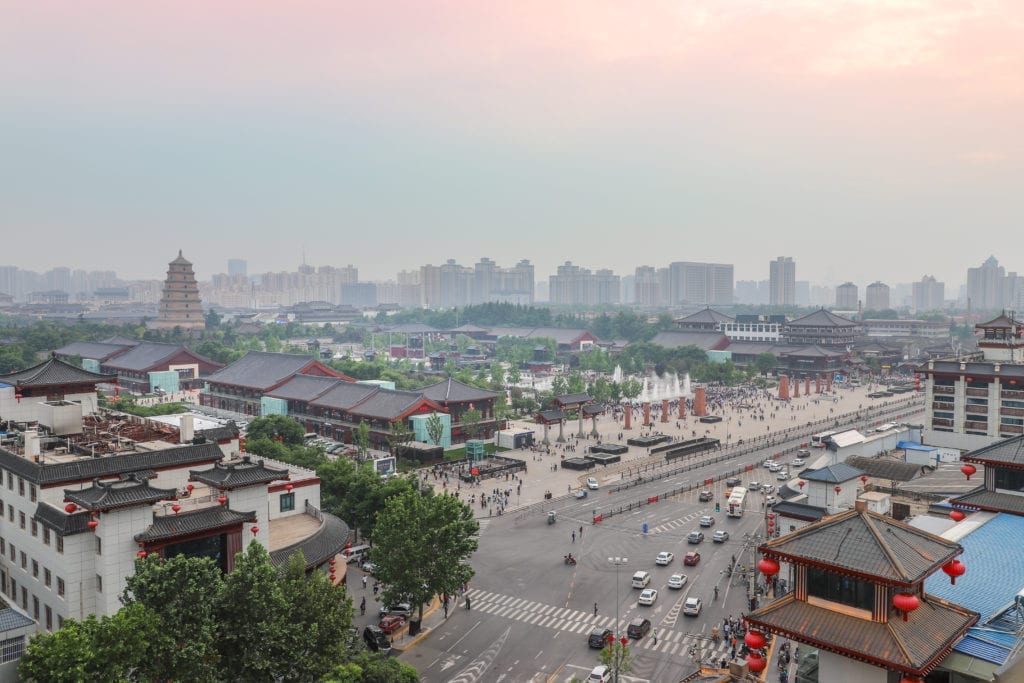 As of today, Xi'an is home to over 100 enterprises specializing in AI, bringing in revenues of 10 billion yuan (€1.3 billion) a year.
The city's digital ambitions also earned the vote of confidence from a group of global and local companies, which collectively agreed to invest 214 billion yuan in its digital development at the Xi'an Investment Environment Promotion Conference in May this year.
A hub for Eurasia connectivity
To fulfill its potential as an international logistics hub in the BRI, Xi'an cannot afford to rest on its laurels.
Back in 2015, the government's vision to develop its logistics capability was already clear. For the export-oriented regional economy to succeed, the government invested in resources to establish the Airport New City in the Xixian New Area and the Xi'an International Trade and Logistics Park — home to the largest inland port in China.
Seamlessly connected by multiple highways and a rail container terminal, the park works with coastal ports in other Chinese cities, such as Shanghai and Tianjin, to form a comprehensive network of sea- and land-based logistics.
Rail has also re-emerged as a viable option for trans-Eurasian freight. Together with air and road freight, they form the basis for a new multimodal shipping platform to support trade between China and the West.
Demand for rail transport looks to be on the rise according to latest growth figures by the Xi'an government — rail freight services between China and Europe, a crucial part of the BRI, saw a sixfold increase from the previous year to 1,235 trips from Xi'an in 2018.
DHL's growing rail presence in Europe
DHL Global Forwarding recently established three additional Rail Competence Centers in Le Havre, France, Felixstowe, UK, and Genoa, Italy, in response to rising demand for rail freight services between these markets and China. The Centers are staffed by dedicated teams to advise customers and to coordinate import and export freight volumes from end to end.
Today, China is the European Union's (EU) second-largest trading partner, with figures showing that China exports to the region grew 8 percent, while imports to China rose 6.6 percent between January to August 2019 compared to the same period last year.
The promising growth means improving connectivity between China to Europe has to remain a top priority.
In a bid to capitalize on and boost trade growth, DHL Global Forwarding China recently launched an express rail freight service from Xi'an in China to Hamburg and Neuss in Germany, cutting transit time down by over 40 percent from the original 17 days to an approximate 10 to 12 days.
The 9,400-kilometer rail route marks the latest addition to DHL's Asia-Europe-Asia multimodal logistics network that offers extensive rail services from North, South, and East China to Europe and the Middle East.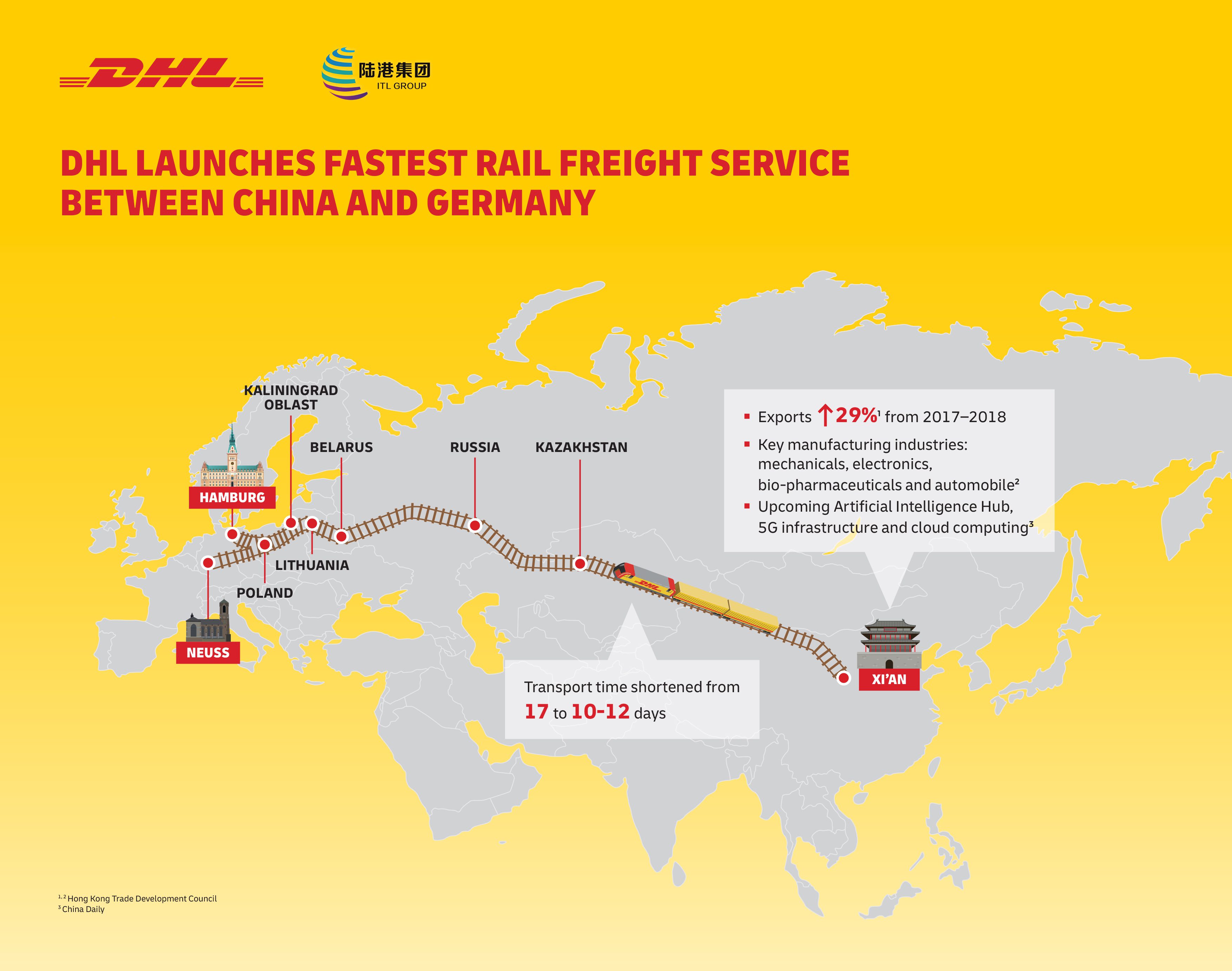 The rail service travels through the Mamonovo-Braniewo railway border between Russia and Poland, before crossing into Germany to the port city of Hamburg, and to Neuss, an important logistics hub on the Rhine River across Düsseldorf.
"With Europe-China trade averaging €1 billion a day and slated to grow, expeditious and reliable freight connections are more important than ever before," said Qu Jinwei, General Manager, Xi'an International Inland Port Investment & Development Group Co. Ltd.
"We are excited to leverage our local expertise in Xi'an and DHL's extensive multimodal transportation network across the continents to link manufacturers in Xi'an and the wider Shaanxi province to the world."
While the positive outlook amid the trade tensions bodes well for Chinese trade, it all hinges on the city of Xi'an playing a pivotal role now more than ever.