Navigating the urban jungle: Hong Kong's couriers are walking the last mile
In one of the most developed cities on the planet, delivering a package requires a surprising blend of high-tech and mundane solutions.
In one of the most developed cities on the planet, delivering a package requires a surprising blend of high-tech and mundane solutions.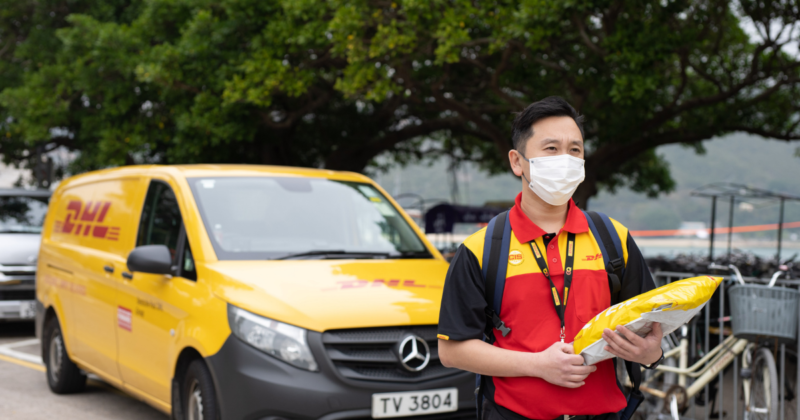 Hong Kong is one of the most densely populated and technologically advanced cities on the planet. It is also one of the most well-connected, considered as one of the busiest airports and container ports globally, and powered by internet speeds that are among the world's fastest.
Getting through the city's traffic to deliver a package, however, is still a herculean task. Hong Kong has long faced the problem of heavy congestion, exacerbated by limited space to expand roads and an increasing number of vehicles. Its solution has been to build a public transportation network that includes ancient trams, outdoor escalators, buses, pedestrian-only spaces, and subway trains.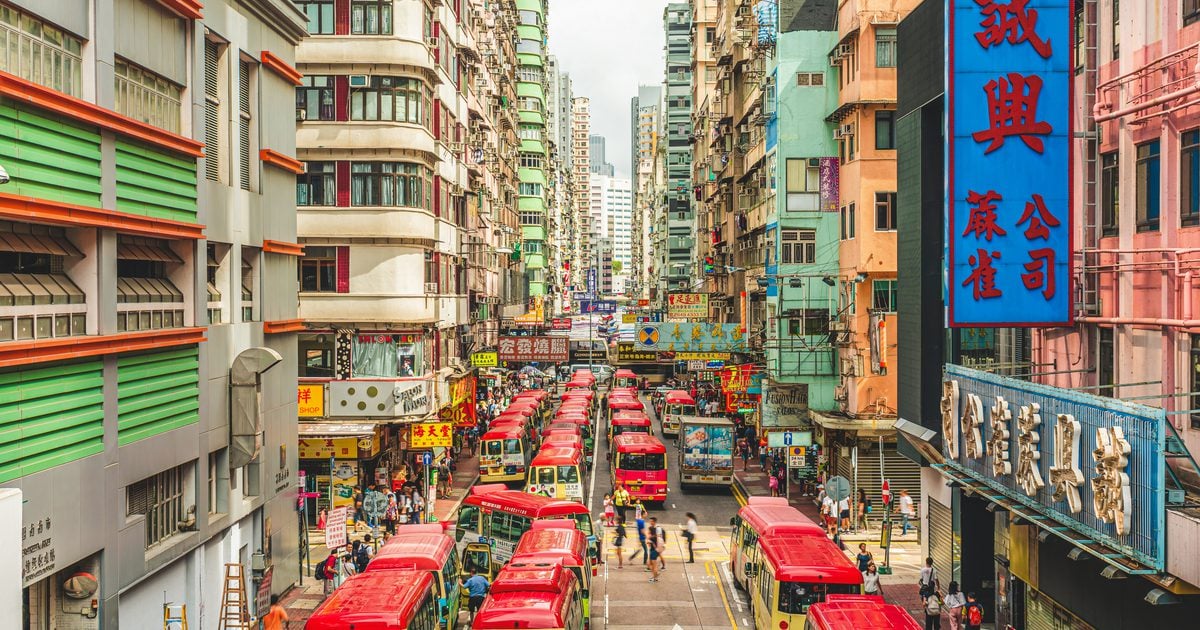 This interlinked network has led DHL Express Hong Kong to a logical conclusion, that the most effective and sustainable way to reach its customers is on foot. Armed with specially-designed courier bags, pushcarts, and handheld scanners, DHL's "walker" couriers navigate the urban jungle, relying on a combination of technology and time-worn wisdom passed on by more experienced colleagues.
Finding a solution to Hong Kong's unique address system
As with elsewhere, work has never been busier. Prior to the global pandemic, e-commerce was already booming, and the increasing reliance on online shopping sites has only accelerated its growth.
Since 2020, logistics companies have had to deal with a record-breaking number of package deliveries. Over 131 billion parcels were shipped in 2020, a  27 percent increase from 103 billion in 2019. With a rising number of small parcels requiring door-to-door deliveries in residential areas, there is also increased reliance on delivery companies to get their parcels to customers on time.
In search of more solutions for the last mile, DHL Express has adopted various initiatives such as self-collection services to minimize the number of door-to-door deliveries needed. On the technology front, the company has adopted sustainable methods such as electric vehicles, and drones to access remote areas.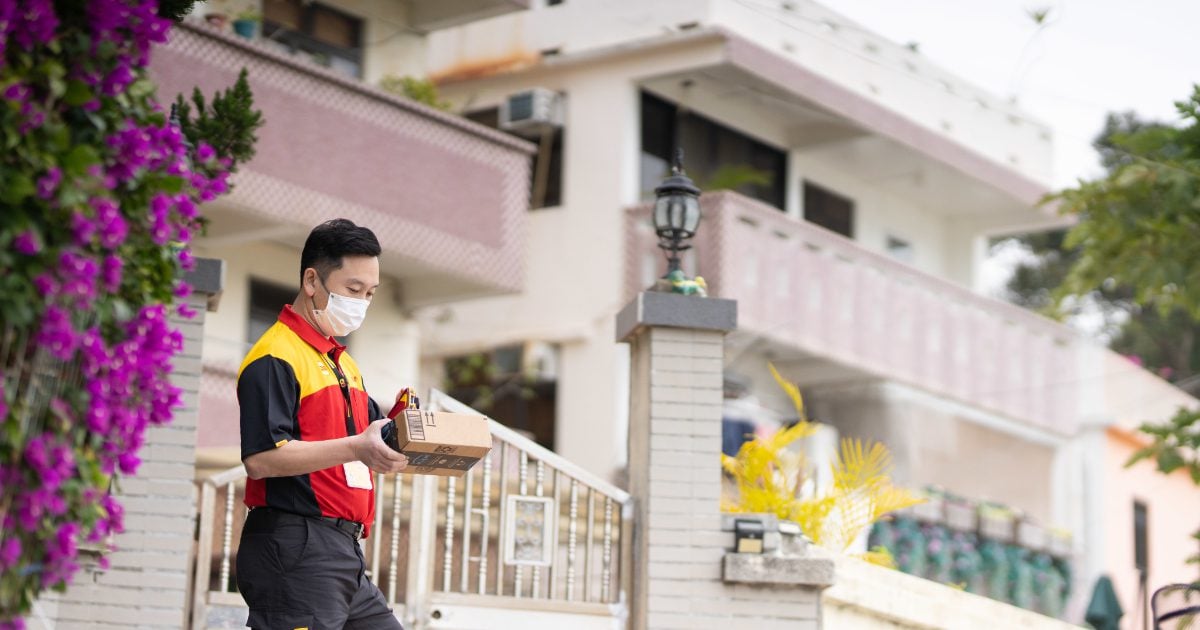 But it is to the 'walkers' that much of the load is given. Typically, walker couriers in other countries are used to make deliveries to more secluded places. Hong Kong's walkers, on the other hand, are trained to find their way around the city, winding in and out of narrow alleys and densely-populated crowds.
Navigating the urban areas on foot, however, comes with its challenges. Moving through the complicated routes around Hong Kong can be overwhelming, especially since the city uses a non-standard postal-code system.
"Deliveries are particularly challenging for our walkers because here in Hong Kong, we don't have postal codes to pinpoint exact locations," said Boris Chui, Vice President, Operations, DHL Express Hong Kong. "Initially, we relied on our more experienced sorters who knew all of the 380 routes and their respective boundaries by heart to manually sort the parcels according to different districts."
However, by 2016, the rise of e-commerce had prompted an increase in Business-to-Consumer (B2C) shipments, and the workload soon became difficult for the sorters to manage.
To take the pressure off the sorters, DHL Express Hong Kong put together a project team to design a sorting optimization software called the Inbound Route Search system.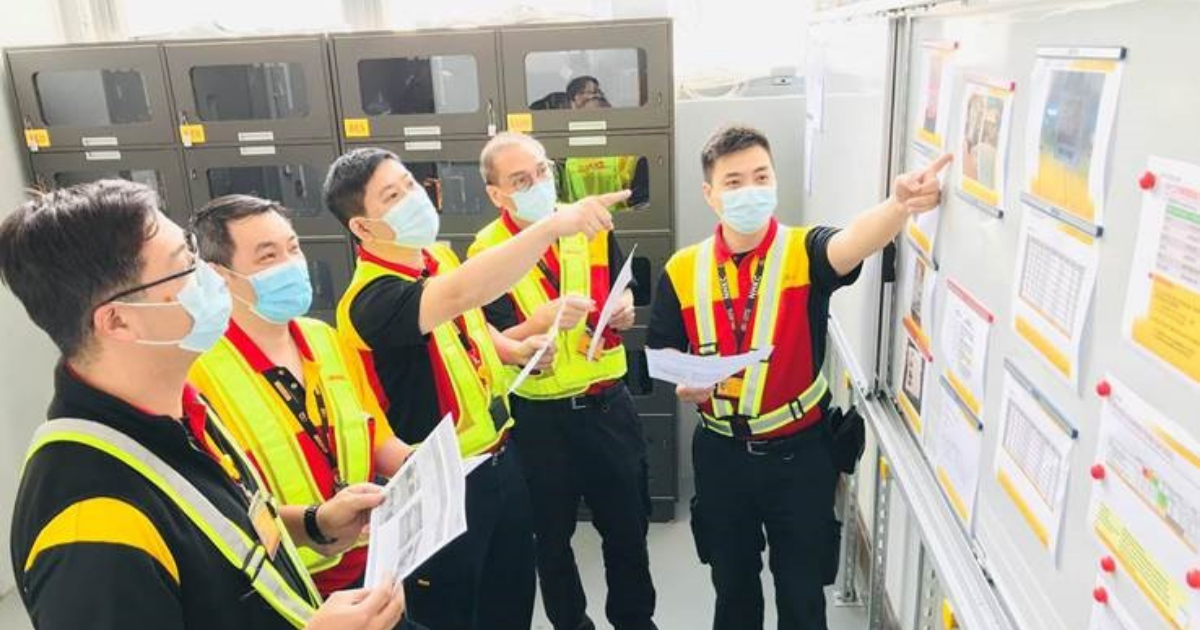 As there were no precedents in other territories, the team of nine representatives from IT and Operations had to acquire a full repository of Hong Kong addresses to build a database of routes, before applying a sophisticated mapping algorithm to derive the corresponding route codes.
The team spent eight months researching the project, conducting several live trials at various service centers to test out their new product - an efficient handheld scanner that provides a one-click solution that would allow sorters to identify and map out routes.
"The Inbound Route Search system has improved our operational efficiency. In December 2021, we further enhanced our mapping algorithm and raised the derived rate of successful deliveries to 65 to 90 percent," said Chui. "Our more experienced sorters now analyze and update new buildings and addresses regularly, so the number of incorrect and unresolved addresses will be reduced and our database will become increasingly accurate with time."
A day in the life of a walker
As far as possible, each walker courier's route is planned ahead of time. The couriers start their day by gathering at DHL's service center, where they are assigned their sorted routes.
Before they depart from the service center to make their daily deliveries, the walkers conduct small team meetings with their managers, team leaders, and other couriers to discuss the locations they will be delivering to.
"For Hong Kong's walkers, safety is a concern, as they need to be wary of pedestrians and heavy traffic when crossing crowded roads," explained Chui. "To avoid busier routes and minimize exceptions in deliveries, the walkers rely on their more experienced colleagues to share their knowledge of certain areas which are more difficult to navigate." The walkers then craft their routes based on the team's collective understanding of each district.
Following their discussions, the walkers are transported on a DHL van and dropped off at designated meeting points in the city. Each walker then sets out on their respective routes, transporting 40 to 50 shipments, weighing up to a hundred kilograms worth of parcels.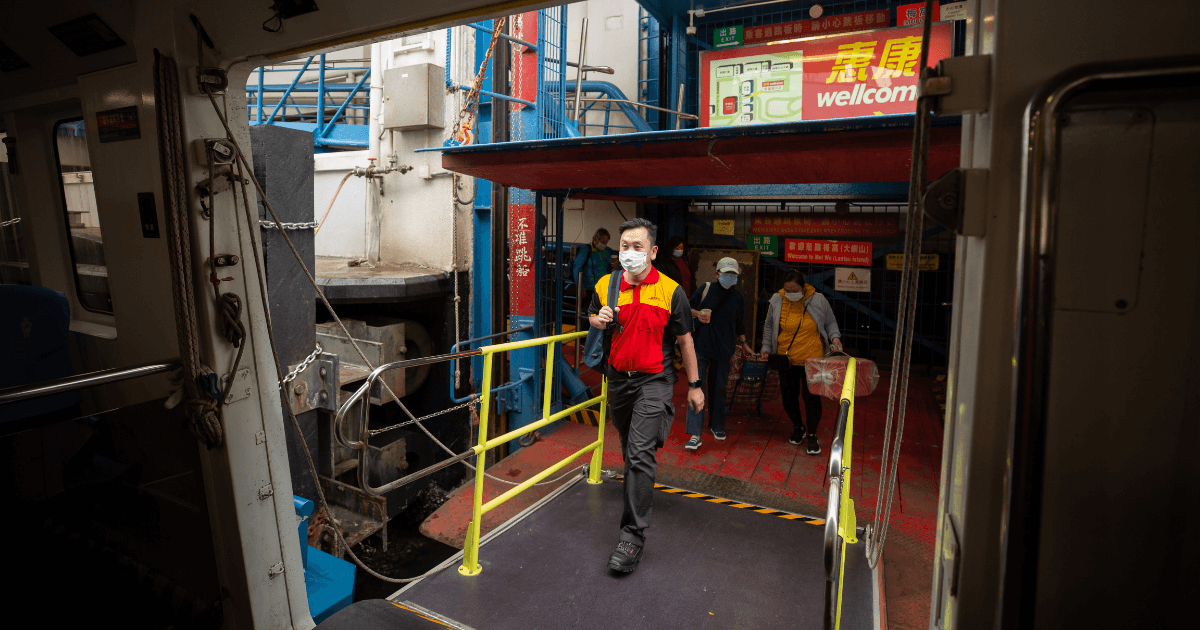 Apart from the busy city roads, Hong Kong's terrain also consists of many outlying islands. To make these deliveries, the walkers are dropped off at the ferry pier in a DHL van, where they then take ferry rides to the various neighboring islands such as Lamma Island, Peng Chau and Cheung Chau.
Despite the extensive plans made to perfect the routes for each walker, exceptions are inevitable. More often than not, there are emergency roadblocks or changes in the weather that deter walkers on their journey.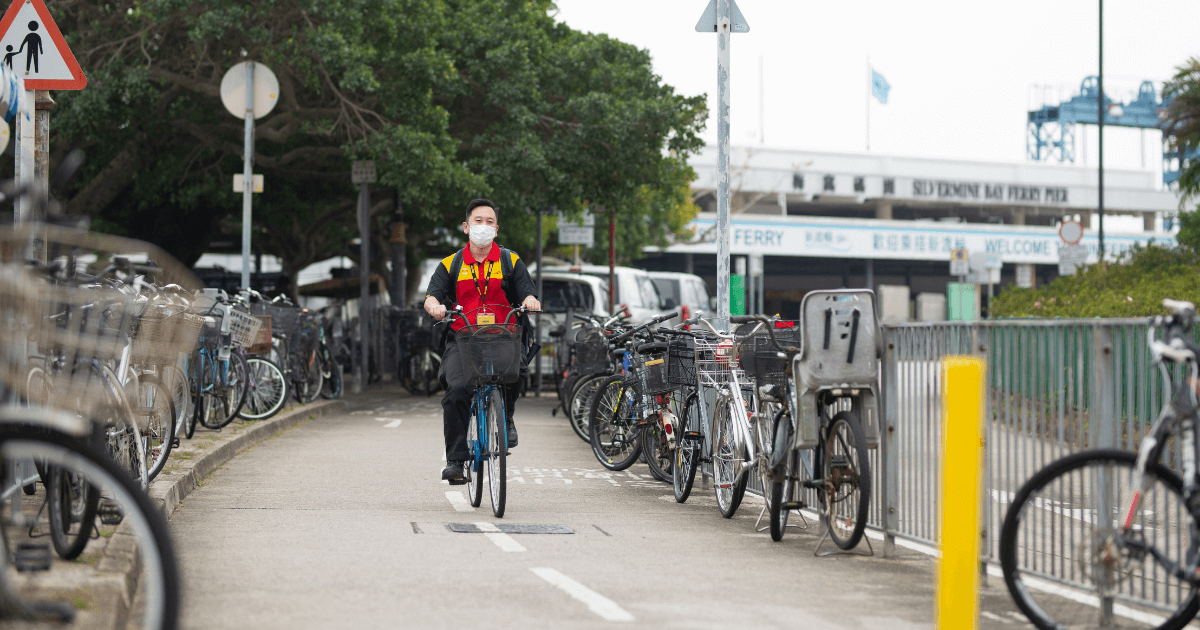 "It is important for our walkers to stay alert so that they can adapt the plans or routes accordingly when there are any exceptions," said Chui. "Our lead couriers also play a very important role in guiding them, and keeping them updated, should there be any detected changes in the weather or road conditions."
Stepping up on the extra mile
Meanwhile, Covid-19 pandemic restrictions have also brought forth new challenges for courier delivery and pick up to and from residential areas.
"We've had to cope with a surge in the number of small parcel deliveries during the pandemic, and because of safety procedures such as temperature checks and registrations, so more time is needed for delivery," noted Chui.
The walkers have had to remain vigilant and keep themselves updated on the changing regulations and sudden closures of residential buildings due to emergency Covid-19 testing.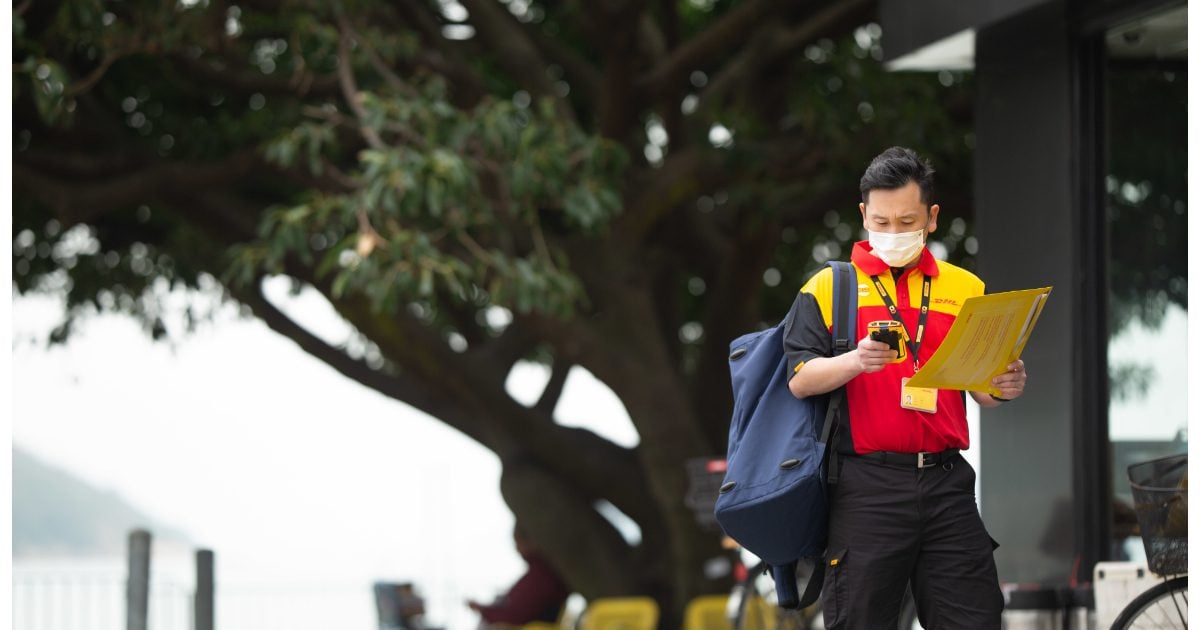 "Delivering a parcel from point A to B sounds like a simple task, but it's quite a complex job, especially during the pandemic. It is imperative that our walkers are able to think quickly on their feet," added Chui.
Walkers have been in high demand as record online sales during the peak season have led to a huge amount of deliveries over the past few months.
Chui, however, remains confident that DHL Express Hong Kong will be able to cope with the surging demand.
"With the Inbound Route Search system, barriers in training for sorters have been reduced to a minimum, allowing us to train new hires more quickly to cope with the influx of parcels during peak seasons," said Chui. "As we continue to expand our network of couriers, we hope to improve the efficiency of our operations so that we can better serve the needs of our customers in Hong Kong."