"Even in the midst of Covid-19, the battle against climate change must carry on"
True decarbonization of the transport sector makes a paradigm shift from offsetting to insetting necessary, says Tim Scharwath, CEO DHL Global Forwarding,
True decarbonization of the transport sector makes a paradigm shift from offsetting to insetting necessary, says Tim Scharwath, CEO DHL Global Forwarding,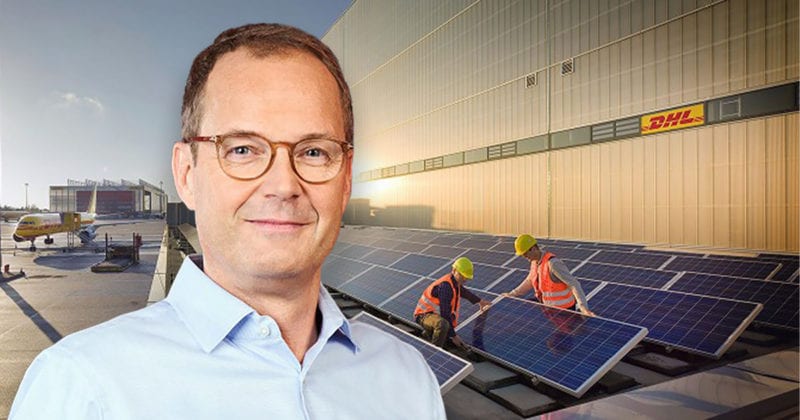 "Connecting people, improving lives" is our Group's purpose.
I truly believe that we are living this purpose, and that we have clearly demonstrated this during the ongoing pandemic.
The importance of logistics has never been more evident than in these unprecedented times, a point that will become even more apparent when it comes to vaccine distribution.
However, having a clear purpose also means having a clear responsibility. Only by being aware of our responsibility is it possible to make a change for the better.
For me, personality is a core leadership attribute. Although the global pandemic is one of the main challenges, we are facing this year, it's unfortunately not the only one. Climate change is another key challenge.
Just as we can only fight the coronavirus pandemic together, we can only stop climate change together.
Even though the pandemic has plunged us into unprecedented times, we have to make sure that climate protection and sustainability efforts remain at the forefront.
This is why we at DHL Global Forwarding, Freight, have recently announced plans to decarbonize all "less-than-container" (LCL) load shipments in ocean freight globally.
Global freight transportation is currently responsible for 8 per cent of global carbon emissions, rising to 11 per cent if you include emissions from logistics sites, and this is on the rise.
In line with our Group's mission to achieve zero emissions logistics by 2050, we acknowledge our responsibility, and we are committed to lead the transition to clean and sustainable sea freight transport and global freight transportation ultimately.
In ocean freight, in particular for the CO2 compensation for all LCL shipments, our goals will be achieved by using maritime biofuels.
At no extra costs to our customers, the heavy oil that would ordinarily be used is replaced with sustainable marine biofuel onboard preselected container vessels.
Our new green LCL-service follows a like-for-like approach, which makes it independent from geography, size and operations.
Based on the fact that all container vessels exhaust into the same atmosphere, we believe that it does not matter where or in which container ship biofuel is used instead of fossil fuel.
Rather, the goal is to change the marine fuel mix, helping to stimulate the use of biofuels.
We believe that only through measures directly related to logistics, such as a switch to alternative fuels or a technological shift, true decarbonization can be achieved.
That these measures directly relate to logistics is the main difference to the offsetting approach usually seen and why we speak of true carbon neutralization or carbon insetting.
This is not to take away from other measures, indeed there are many important and powerful offsetting projects, which are essential for example reforestation. However, we also have to reduce and neutralize the emissions at the point of emission.
In 2018, only 0.2 per cent of the USD$268 million voluntary carbon offset market went into transport-related projects. As such, we strongly believe a paradigm shift is needed.
To promote and achieve this, we have joined forces with Smart Freight Center, a non-profit organization dedicated to sustainable freight.
In our joint white paper, "Carbon Insets for the Logistics sector" we not only introduce the concept of carbon insetting in detail, but also call for the development and acknowledgment of international accounting methods and guidelines.
These are prerequisites for the successful implementation of insetting in logistics. As clearly shown with our green LCL-service mentioned above, there is a huge potential to apply carbon insets to the logistics sector.
To really drive effective change in the sector, collaboration across the industry is needed.
By jointly developing methods and guidelines for carbon insetting and reporting, we could create a framework which makes it possible to allocate funds to decarbonization projects in the logistics industry.
This would give the industry the opportunity to unlock a vital resource and a significant lever would be created to support the technological shift towards greener logistics.
In the long-term, greater decarbonization of transport is key to driving positive change. Future-proofed logistics companies should think now about developing a stringent insetting strategy.
Let's tackle this together.