MORE FROM THIS COLLECTION

What's stopping Australian SMEs from entering Asia?
Free trade agreements and strong local partners can help even the smallest SMEs get their Asian growth strategy airborne
Free trade agreements and strong local partners can help even the smallest SMEs get their Asian growth strategy airborne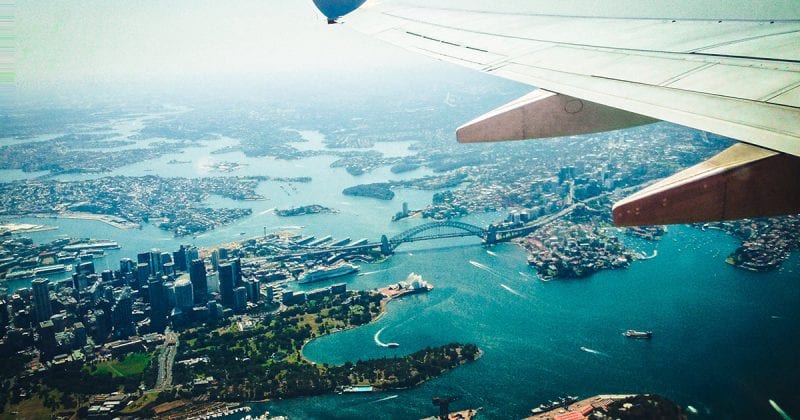 Key takeaways
Asia continues to provide new export opportunities for Australian SMEs, including a range of free trade agreements (FTAs) into high-growth markets

Forget luck: due diligence, research, and trustworthy local partners determine whether Australian SMEs succeed in Asia

New Zealand offers a comfortable starting point for SMEs who are hesitant to jump into Asian markets
Despite ongoing economic turbulence, Australian SMEs have remained resilient, in no small part thanks to exports into Asia. With up to 6% growth from the previous year for Australian exports to some Asian countries, SMEs have a range of international opportunities at their fingertips.
But while Asia beckons Australian SMEs, fear of the unknown prevents many business owners from dipping their toes into international exports. With vastly different business cultures and customs regulations and processes, how can Australian SMEs enter Asia with the confidence they need to succeed?
A free (trade) pass to Asia
 Many Australian businesses have already placed their confidence in emerging Asian markets. According to the 2016 DHL Export Barometer, 60% of Australian exporters expect orders from China to increase in 2017 despite its economic slowdown. Other markets inspiring Aussie export confidence include South East Asia (55% expecting order growth), Japan (52%), South Asia (51%), Indonesia (48%), South Korea (47%) and Hong Kong (46%).
Exporters who stay away from China for fear of losing their shirt often lose their pants in the United States.
That positivity also extends to a topic that can be relatively unpopular: free trade agreements. However major FTAs command significant and growing support from Australian enterprises: 67% of exporters say the China-Australia FTA (ChAFTA) has had a positive impact on their businesses, 9% more than last year.
"Australia's perception of trade with China is strengthening – both in terms of predicted future sales and also the benefits of ChAFTA," says Tim Harcourt, J.W. Nevile Fellow in Economics at the University of New South Wales and former chief economist at the Australian Trade Commission.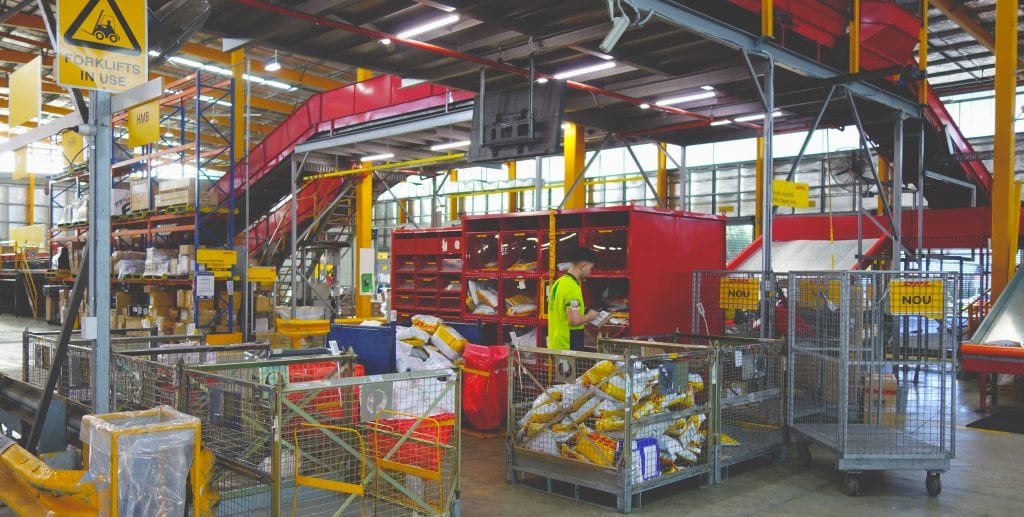 It's not just China that offers SMEs big opportunities. New Asian FTAs with Japan and South Korea are driving exporters to establish local presences selling to these countries' expanding middle classes. And with the number of FTAs already signed in developed and emerging Asian markets, current exporting conditions have never been more accommodating.
Do your homework
Many SMEs remain unsure of how to operate in different cultures and understand trade barriers and customs processes. The solution is simple, according to Harcourt: time and research. A clear-headed assessment of current finances and capabilities, drafting an export strategy, and rigorous research or product testing in potential markets all play a major role in successfully entering Asia.
"While there are a number of success stories, Australian exporters need to do their homework to ensure they impress internationally," says Gary Edstein, Senior Vice President, DHL Express Oceania. "Every country is uniquely influenced by local cultures, trends and external factors such as existing trade relationships with other countries. Understanding the countries and the major business players from the start can help SMEs stay away from easily-avoidable failures."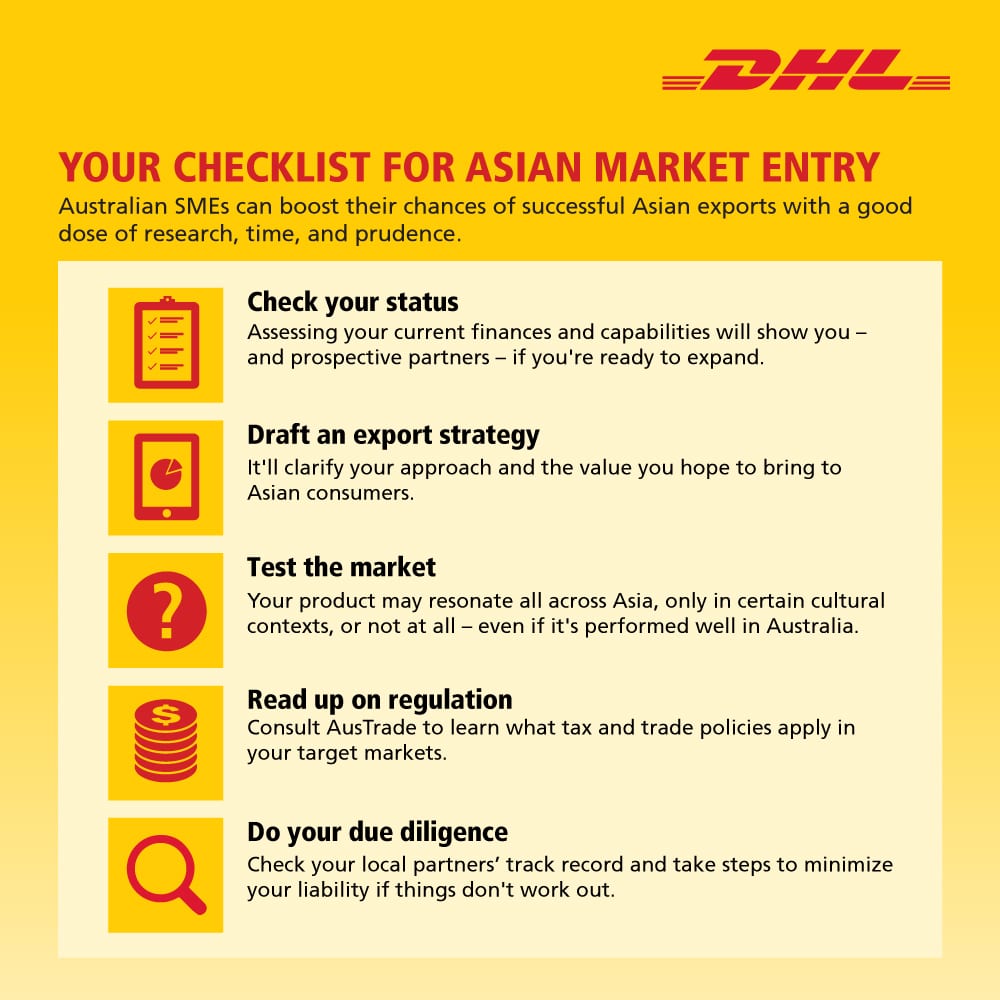 Harcourt recommends SMEs complete a thorough investigation of the tax investment and business regulations in a prospective country. Information on regulations can be obtained directly from the country's relevant government trade body or by getting in touch with AusTrade, Australia's trade commission. Every SME should also carry out due diligence to establish prospective trade partners' assets, liabilities and commercial potential before signing any contracts, says Harcourt. The rules are the same as in any overseas market, Asian or otherwise: know your legal liability and don't sign anything if it puts you at risk.
"Exporters who stay away from China for fear of losing their shirt often lose their pants in the United States. While Asia can present new, daunting and foreign practices, SMEs should still be careful in English-speaking markets," says Harcourt. "Don't take risks that you would never take in a non-English speaking market."
First-time exporter? Try New Zealand
For Australian exporters who prefer to err on the side of caution, New Zealand can be a comfortable place to start exporting to before breaking into Asian markets. Although Australian exporters have taken interest in Asia in recent years, New Zealand remains the country's top export destination, with over half (56%) of exporters surveyed in the DHL 2016 Export Barometer exporting to New Zealand.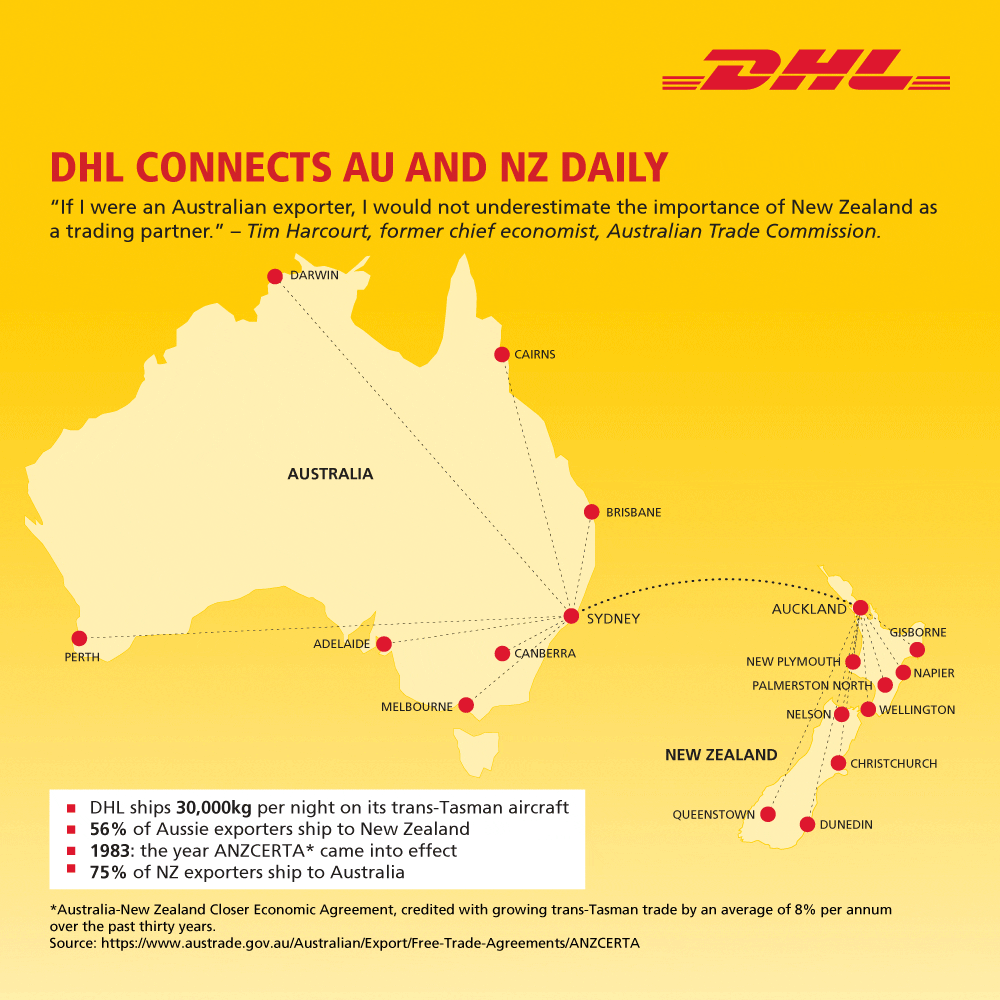 "Australians tend to underrate New Zealand," Harcourt says, "but it's actually a very important economy to Australia and in terms of economic performance, New Zealand has done very well. If I were an Australian exporter, I would not underestimate the importance of New Zealand as a trading partner."
Australia and New Zealand's unique trade relationship stems from the Australia-New Zealand Closer Economic Relations Trade Agreement (ANCERTA), recognized by the World Trade Organization as one of the most comprehensive and mutually beneficial trade agreements in the world. And while Asia is on the minds of Australian SMEs, Edstein observes that many still look to start their export journey in New Zealand.
"Australian SMEs have long used New Zealand as a springboard to international markets, and at DHL Express we're seeing no sign of this trend slowing," says Edstein. "Over the last five years, the Trans-Tasman trade lane between Australia and New Zealand has experienced double digit growth in shipment volume."
"We now transport more than 30,000 kilograms of shipments every night with our dedicated Trans-Tasman aircraft. We've invested heavily in this route because of the sheer demand from Australian businesses both small and large, and it shows: our network capability allows us to deliver goods to major cities in New Zealand as early as 9am the next day."
"Further afield, more and more Australian SMEs are recognizing the potential opportunities across Asia to grow their business. With an increasing number of FTAs with our Asian neighbors to support our established relationship with New Zealand, Australian SMEs are in a very promising position for future growth."
"Don't be daunted by the competition or the size of the market: if you do your research and due diligence, it's surprisingly easy to establish strong sales amongst Asian customers who hold 'Made in Australia' in high regard," concludes Edstein.