Tackling sanctions: How DHL Express navigates legal, regulatory frameworks
Ensuring compliance in logistics has become increasingly complex due to the growing number of sanctions, but technology is helping to drive efficiencies in managing the risks.
Ensuring compliance in logistics has become increasingly complex due to the growing number of sanctions, but technology is helping to drive efficiencies in managing the risks.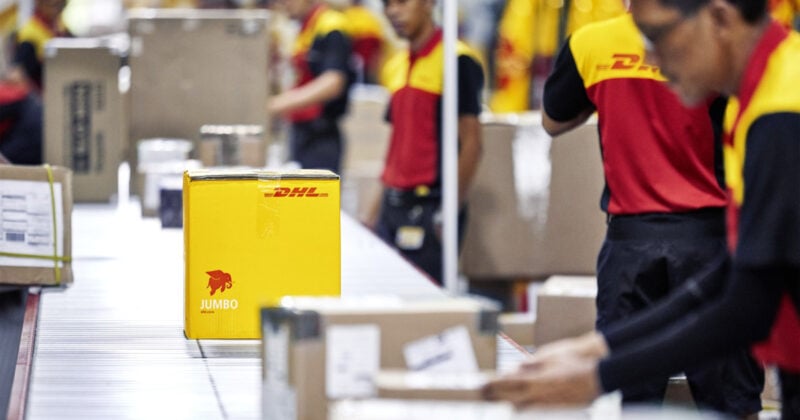 The multitude of economic sanctions on specific countries or corporations introduces yet another layer of complexity for international logistics providers, who are committing additional resources to manage the growing risks and facilitate efficient export compliance.
In this era of rising e-commerce demand, speed and time are especially essential for express logistics. Equally important is the need to be acutely aware of export compliance matters that could violate laws and regulations in origin and destination countries.
Sanctions, in recent years, have emerged as a foreign policy instrument wielded by governments to change other states' behavior when diplomacy or military intervention are deemed insufficient or unsuitable.
Not only have sanctions been growing in quantity, they have also become more diverse — often enforced on countries, economic sectors, corporations, and even individuals.
For DHL Express, which moves over 480 million shipments a year through its globally connected logistics network, keeping goods flowing while ensuring compliance is no easy feat.
"Shipping across borders is a complex process involving regulations and requirements that are applied by different countries and agencies. This is made more complex where some countries have laws which apply extra-territorially," said Sean Wall, Executive Vice President, Network Operations & Aviation, DHL Express Asia Pacific.
"Adopting a no-holds-barred approach to export compliance helps us run a tight ship and reduces our risks of running afoul of far-reaching international sanctions," he added.
The practice of export compliance is a major behind-the-scenes operation that requires up-to-date specialist knowledge of the legal and regulatory frameworks in line with the United Nations, European Union (EU), the U.S., global and local regulations on sanctions or denied parties.
Understanding sanctions and its risks
"When new sanctions emerge, our global trade law team reviews the new legislations and distills it into what that means for us operationally," said Raymond Yee, Vice President, Customs & Regulatory Affairs, DHL Express Asia Pacific.
But addressing critical compliance issues is not always straightforward. "For instance, some U.S. and EU sanctions have potential extra-territorial applications. Shipments don't have to start or end in the U.S. for the sanctions to apply," said Yee, highlighting the technical nature of most sanctions.
While the rules dictate that no party in the supply chain should provide service to a restricted individual, only highly trained compliance officers would be able to accurately identify and stop illicit shipments in its tracks. This has become a priority for many logistics providers as more sanctions are enforced globally.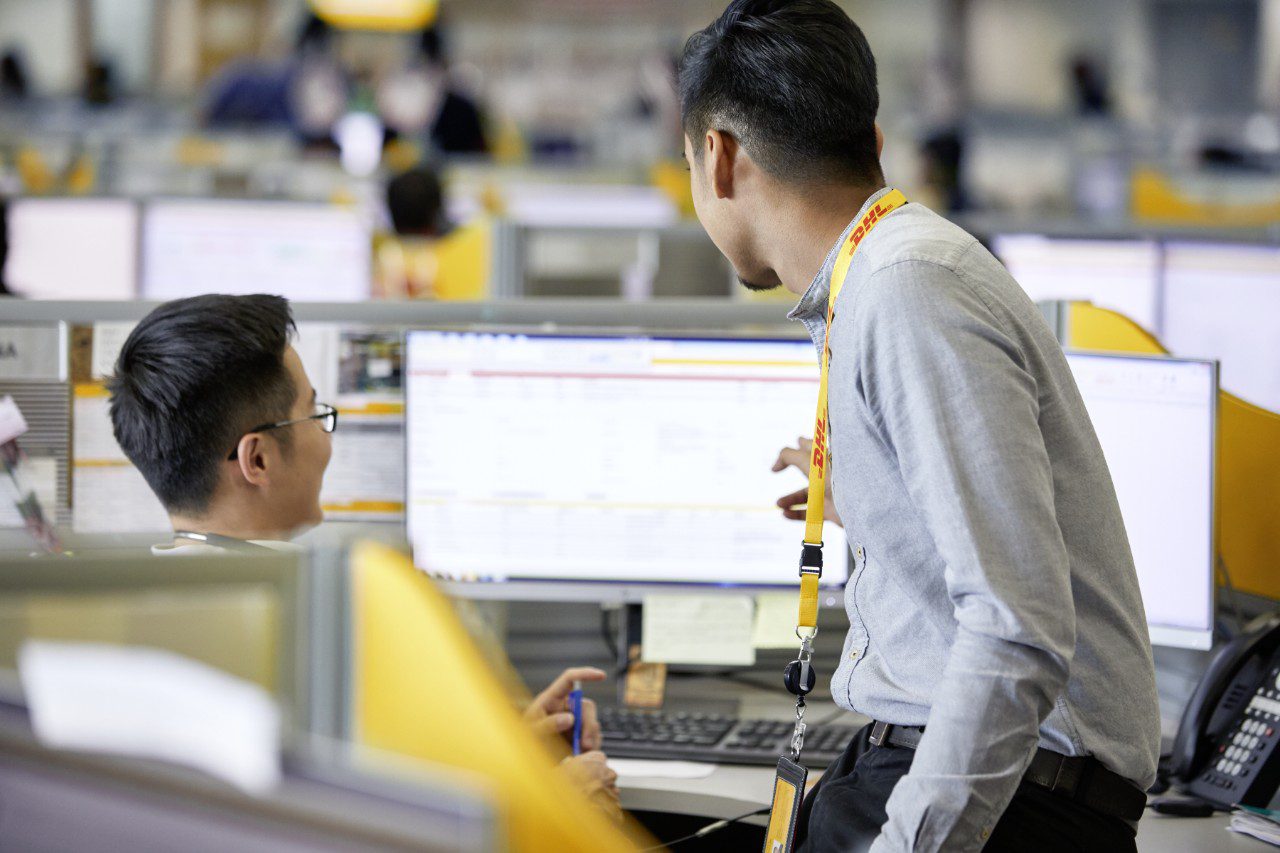 In the U.S., the Office of Foreign Assets Control (OFAC), which oversees American sanctions programs, imposed sanctions on nearly twice as many entities and individuals a year during Trump's term as compared to past administrations.
When sanctioned parties retaliate with countermeasures, it could trigger a flurry of secondary measures — often more "creative" ones that do not simply freeze trade as conventional sanctions do.
This was evident in Trump's restrictions on Chinese technology and telecommunications firms, which prevented them from manufacturing chips, sourcing parts or even operating effectively in many Western countries.
The rising number of sanctions will require heightened scrutiny from logistics providers operating across borders to make sure every shipment is compliant.
In logistics, where shipments move from origin to destination, export compliance teams have to, at the minimum, be familiar with the laws and regulations governing the two countries and be aware if they are a part of competing sanction regimes.
Technology as an enabler
Keeping track of new restrictions and the markets involved would be highly complex and inefficient if done manually. With technology, however, the compliance process is considerably streamlined, reducing the time taken in processing shipments.
At DHL Express' Asia Pacific Export Compliance Center (APECC), for instance, shipments are immediately screened through an automated system when they enter the network.
Leveraging the center's Artificial Intelligence (AI)-based system, the Malaysia-based APECC — one of three centers globally — ensures shipments comply with international shipping regulations, and all rules and sanctions from both origin and destination of the shipment.
"When the name or details of the consignee or shipper matches against a denied party, the system escalates the shipment to an analyst who will perform further validation using the identity, company information, location and other data," said Rachel Bae, Director, AP Export Compliance, DHL Express.
The team of 96 export compliance officers, led by Bae, focuses on dealing with these high-risk, non-compliant shipments that the system targets and isolates for further processing.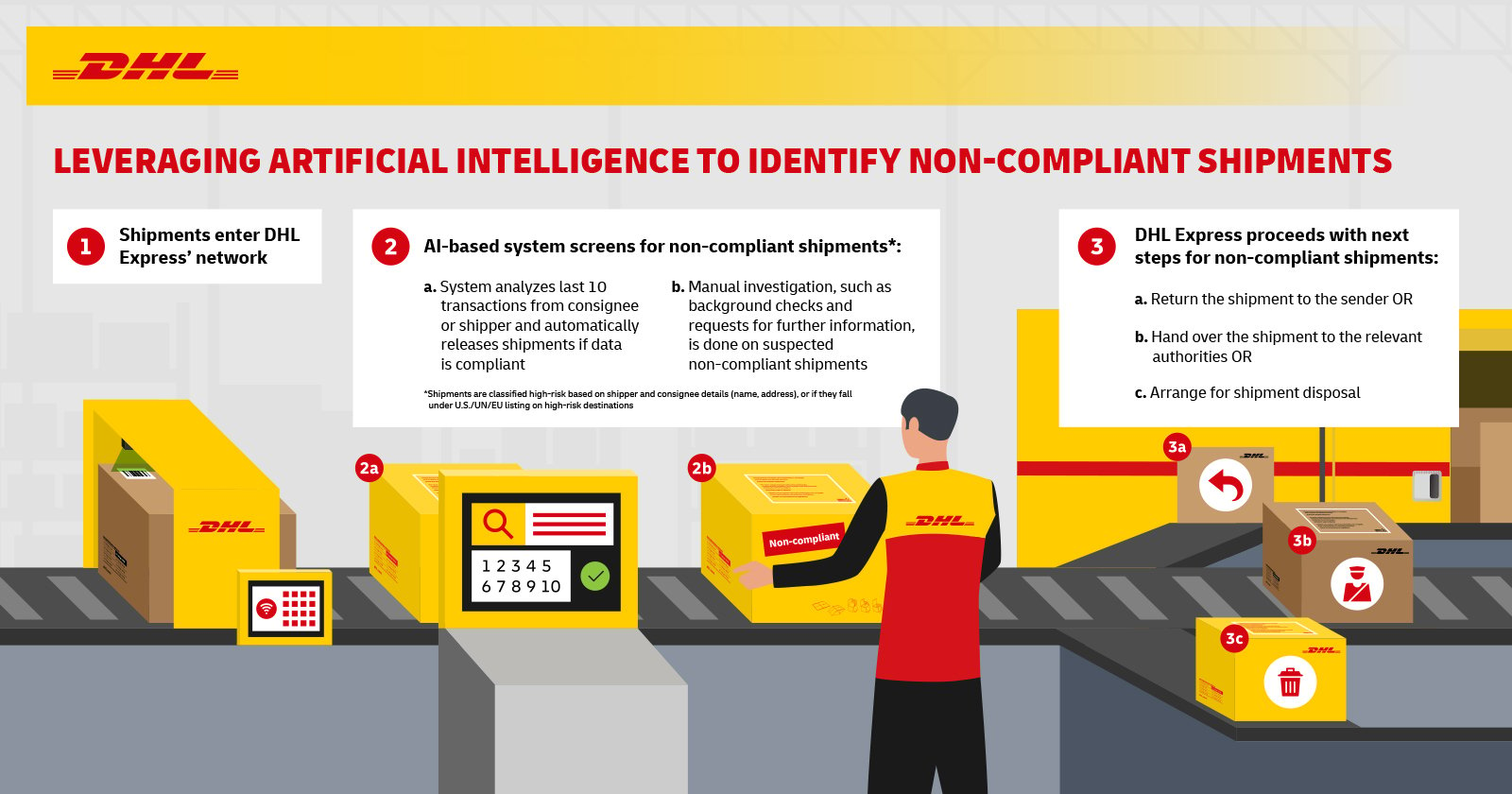 "The system's AI, with at least a 90 percent accuracy, automatically identifies and releases shipments without further review when it confirms the past 10 shipments from the same consignee or shipper have been cleared as compliant," said Bae.
Further review will be undertaken to hold and screen shipments if the conditions do not meet the requirements necessary for the shipment to be uplifted from origin.
"We pay special attention to the shipper and consignee details, such as the name and address, to check if they fall under the UN or EU listing rating on high-risk destinations. If the shipment is non-compliant, we'll determine if we should return the shipment, hand over to the relevant authorities, or arrange for disposal of the shipment," said Bae.
Since the successful implementation of the AI, there are still areas to be improved. "If the AI is capable of predicting patterns over time, it will further enhance the team's productivity, allowing them to focus on running crucial compliance checks on a smaller, more targeted pool of potentially non-compliant shipments," said Yee.
While technology helps significantly, the onus is still on the team to discern the legality of every shipment because it is not always possible to capture the nuances in an automated environment, according to Yee.
Dealing with uncertainty
Another major challenge for export compliance is the unpredictability of new sanctions, in terms of when they might surface and the precise details governing each sanction.
"With every sanction, we have to assess the risk borne by DHL and how it affects us on an operational level. We also need to determine the countermeasures to minimize disruptions and maintain communications with our authorities and customers on these sanctions," said Bae.
Addressing these issues takes time. Having to tread carefully on sensitivities that could have potential implications for customers operating in multiple markets compounds this challenge.
As sanctions by the international community become commonplace, logistics players including DHL are recognizing the need to allocate more resources to tackle compliance.
While the use of AI in DHL's systems has sped up the compliance process by 25 percent, DHL Express is already thinking ahead, with a planned expansion of the APECC workforce by 40 percent to 122 in the works.
"The APECC plays a pivotal role in ensuring that good corporate governance and stringent compliance to export regulations are fully integrated into our daily business and operations," said Ken Lee, CEO of DHL Express Asia Pacific.
"With more than a million shipments passing through our global network daily, we must stay on top of regulatory changes across the 40 markets in the region so that we deliver the best service to our customers."