MORE FROM THIS COLLECTION

Logistical planning crucial for first wave of Covid-19 vaccines to reach Asia
With a myriad of challenges posing for Covid-19 vaccine logistics in Asia, DHL's recent delivery of the first batch of vaccines to Singapore is a good roadmap for what could come next.
With a myriad of challenges posing for Covid-19 vaccine logistics in Asia, DHL's recent delivery of the first batch of vaccines to Singapore is a good roadmap for what could come next.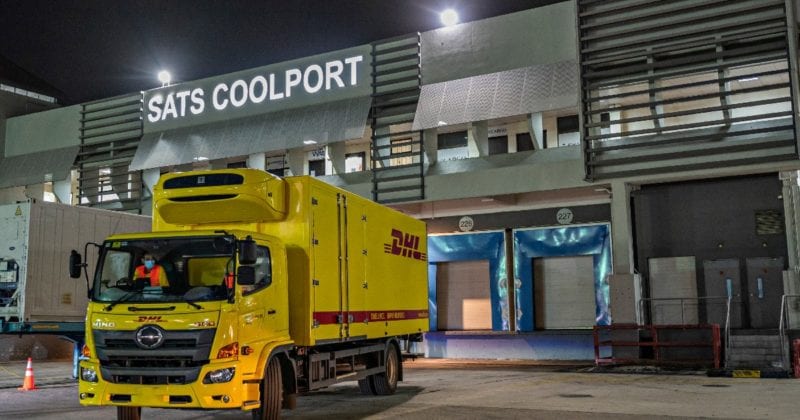 After months of anticipation, much-needed Covid-19 vaccines are now ready for mass production, giving hope to life returning to some semblance of normalcy.
However, countries will require a phased vaccine rollout strategy and continued pandemic control using public health measures and other tools.
Countries need to address their unique demographic, infrastructure, epidemiologic and financing challenges in their Covid-19 response plans, and release the vaccine in a manner that will reduce mortality, strengthen their health system response, and regain economic health.
They also need to work with other countries to ensure equitable and speedy access to the vaccine for all.
On a logistical front, DHL, the leading logistics provider has delivered the first batch of vaccines from manufacturing sites to Singapore on December 21, among the first in Asia.
For the first delivery into Singapore, DHL Global Forwarding arranged for the collection of the vaccines from the manufacturing site in Puurs, Belgium where the cargo was sent by road, accompanied by security escorts to the Brussels International Airport.
The cargo arrived the next day at Singapore's Changi International Airport where DHL handled the customs clearance and final delivery to a designated location in Singapore.
The company will also handle the return of these special shipper boxes which will be delivered back to Europe.
Throughout the journey, the vaccine shipments were tracked by DHL. Kelvin Leung, CEO, DHL Global Forwarding Asia Pacific said: "Globally, we have been preparing for many months to ensure DHL's solutions were heavily tested with the most stringent vaccine requirements in mind. We ran trials to ensure the viability of the deliveries.
"Every effort was made to ensure the vaccines are delivered within the fastest possible time, ensuring the quality, safety and security of these critical shipments.
"Connecting People, Improving Lives is part of our core purpose. The pandemic has shown that we live this by doing what we do best – providing first rate logistics anywhere in the world.
"When the pandemic first started, we were shipping large quantities of personal protective equipment (PPE) to communities that urgently needed it. We have now come full circle, shipping the first vaccines around the world so they can be used to save lives."
Temperature trackers equipped with sophisticated GPS are also packed within each thermal shipper box to provide full visibility throughout the shipment's entire journey.
"Aircraft have limitations on the amount of dry ice that can be carried on board. This is a combination of the design of different types of aircraft, manufacturer guidelines as well as regulatory approvals," revealed Adrian Shou, Head of Airfreight, DHL Global Forwarding Singapore.
"To move the vaccine shipments packed with the required dry ice involved highly detailed planning: from customs and regulatory approvals, to ensuring capabilities to maintain the vaccines' temperature integrity throughout the process."
On a global scale, logistics providers are challenged to rapidly establish the medical supply chain to deliver vaccines of unprecedented amount of more than 10 billion doses of vaccine worldwide.
To provide global coverage over the next two years, DHL anticipates in its recently released vaccine whitepaper report that up to 200,000 pallet shippers and 15 million cooling boxes, as well as 15,000 flights will be required across the various supply chain setups.