MORE FROM THIS COLLECTION

How South Korea juggles cold chain logistics, amid high Covid-19 test kit demand
South Korea has emerged as one of the biggest producer countries for Covid-19 test kits – here's how the country meets the high global demand.
South Korea has emerged as one of the biggest producer countries for Covid-19 test kits – here's how the country meets the high global demand.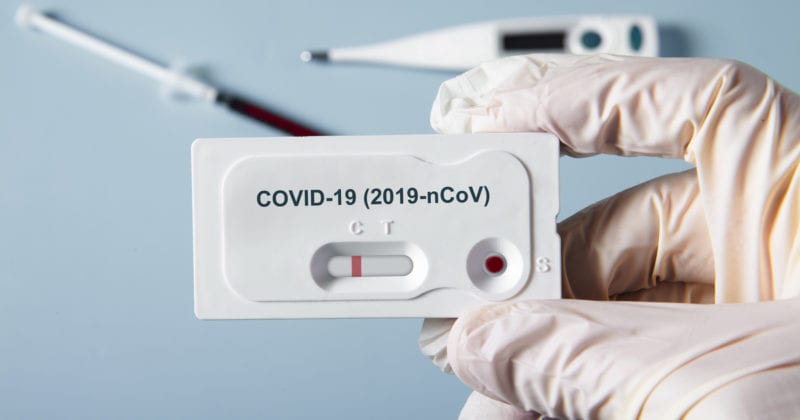 The current Covid-19 pandemic is applying pressure on global manufacturer production capacities and global supply chains, but for the test-kit industry, demand has never been higher, with countries around the world racing to test as many of their at-risk populations as possible.
In terms of demand, the Edmond J. Safra for Ethics at Harvard University released a white paper estimating that the United States alone would need to deliver 5 million tests a day, with results returned in 12-24 hours, to be able to reopen businesses. With the number of tests expected to increase to 20 million a day, U.S President Donald Trump himself suggested to South Korean President Moon Jae-in during a telephone conversation in March that South Korea export Covid-19 medical supplies and equipment as quickly as possible.
How South Korea became a Covid-19 test kit manufacturer
In response, the Korea Centers for Disease Control and Prevention approved Seegene, one of the nation's leading makers of biomedical equipment, as well as four other companies to make test kits that are now broadly used in South Korea. These companies also manufacture test kits for export after receiving approval from the U.S Centers for Disease Control and Prevention.
In an article by Korea Biomedical Review,  Chun Jong-yoon, the CEO for Seegene said South Korea's urgent use approval system helped the company get approval in just one week and supply the product. This allowed Seegene to rapidly develop the reagent and the kit by adding their know-how to the disclosed coronavirus sequence data.
The Korea Biomedical Review also referenced recognition from the World Health Organization on the validity of the method used by the South Korean Covid-19 test kits to amplify viral DNA in a patient's sample to determine the presence or absence of a virus. That method, it said, involved RT-PCR, a real-time polymerase chain reaction.
Demand sky-rockets
As such, since April, South Korea has become one of the major exporters for Covid-19 test kits, with its success in avoiding large numbers of infections attributed to massive testing campaigns with the support of local diagnostic device manufacturers.
According to a recent report by KBS, the export of medical products from the country has skyrocketed over 600 percent, with containers filled purely with Covid-19 test kits and personal protection equipment (PPE).
South Korea has seen demand from more than 110 countries for its test kits with analysts in Seoul estimating global demand to come in at about 700,000 a day.  With one of its largest producers of test kits churning out 1 million units a week, the country is currently one of the world's biggest manufacturers of COVID-19 test kits, and these have been approved by the FDA and shipped worldwide.
According to DHL Global Forwarding South Korea, the company air-freighted more than 1.3 million Covid-19 test kits to Brazil, Ecuador, India, Lithuania, Poland and Russia in April this year. It tapped on its global network of life, science and healthcare (LSH) facilities, suite of temperature-controlled solutions and customs clearance expertise to ensure the kits reached their destinations as quickly as possible.
SP Song, Managing Director, DHL Global Forwarding Korea, said, "In addition to test kits, we have also been sending PPE such as facial masks and protective suits. South Korea is a key supplier of PPE to India, and many countries continue to have a high demand for such products. We are trying to do our part to support the global community and the frontline workers in combating this epidemic."
The science behind cold-chain test kits shipments
Some of the medical shipments require specially designed freezing containers, and packaging to keep the items between -25 and -15 degree Celsius, which help items such as test kits reach their destinations without losing effectiveness. There are two types of containers, to either maintain frozen temperatures via phase change material (PCM) coolants or dry ice coolants.
A layer of dry ice is added into a polystyrene box, and held in place by a packing grid, and a temperature monitor added, allowing both shipper and consignee to check on temperature control throughout the journey.
According to the WHO, these temperature guidelines for test kits were developed to reduce specimen rejection rate as temperatures outside of this range can result in catastrophic "false-negative" results. A false-negative has dangerous implications for spreading the virus further as individuals will not self-quarantine if they do not believe they are ill, resulting in the continued spread of the virus.
These containers don't come cheap, with prices starting at USD$500, depending on size and functionality. In June, the containers were both rapidly running out of stock in South Korea due to the high demand for test kits worldwide.
In addition Han Byung Koo, the Country Manager of DHL Express Korea, explained, "Previously these cold chain-specialized containers were mainly imported into the country by sea. Now, supplies are coming by air, mainly from Germany or Singapore, to meet increased demand. We also found local suppliers to help meet the need for more of such containers."
Of course, the specter of a second wave of Covid-19 in countries that have stabilized situations, like South Korea, remains a concern for continued exports. Still, Han said, "Exports from South Korea will likely continue given the unstable nature of the pandemic. There are also new supplies from the country so we do expect enough supply, and we also understand new manufacturers are coming online from other countries.
Failure of the cold chain can have catastrophic consequences. Download this cold chain whitepaper, to find out what improvements companies involved in the import and export of related products should adopt.