A greener future for ocean freight
It is time to answer the call to reduce greenhouse gas emissions and pave the way for cleaner, more sustainable sea-freight solutions.
It is time to answer the call to reduce greenhouse gas emissions and pave the way for cleaner, more sustainable sea-freight solutions.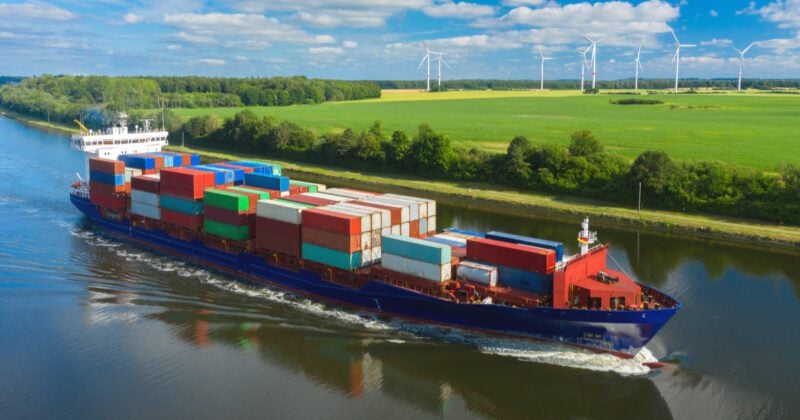 The shipping industry forms the backbone of global trade. Almost 90% of all goods in the world today are transported by sea, with ports in the Asia-Pacific region accounting for more than 50% of international trade volumes. DHL Global Forwarding's Global Trade Barometer examines 240m import and export data points from seven countries that represent more than 75% of global trade. Four of these (China, India, Japan and South Korea) are in Asia.
The Fourth Greenhouse Gas study conducted by the International Maritime Organization (IMO)  found that global ocean freight emitted 1,076 million tons of carbon dioxide in 2018. Unaddressed, industry emissions could increase between 50% and 250%, as demand for freight shipping may expand threefold by 2050. There is an urgent need to reduce greenhouse gas (GHG) emissions and pave the way for cleaner, more sustainable sea-freight solutions.
Green fuels to power the vessels at sea
Modern cargo shipping uses digitization to eliminate paperwork and maximize efficiency. Yet most ships still run on heavy fuel oil. When burned, it emits high levels of carbon dioxide alongside other pollutants known to negatively impact environmental and human health. If vessels continue to run on such fuels, the shipping industry will be responsible for as much as 17% of global carbon-dioxide emissions by 2050.
DHL Global Forwarding works with carrier partners to use alternative sustainable marine fuels in vessels and provide customers with the option to decarbonize less-than-container-load (LCL) and full-container load (FCL) shipments across international shipping lanes. Offering the use of sustainable marine fuels for all FCL shipments enables customers to decarbonize their entire ocean freight lanes. This follows the success of a similar service for LCL shipments.
Switching to marine biofuel is not without its challenges. "Drop-in" fuels must be used to avoid the need to modify engines, while non-drop-in fuels require engines that have been modified or specially built. Biofuels are also not inherently sustainable; deforestation and resource-intensive farming methods used to produce biofuel carry their own environmental imprint. Plant-based biofuels need to be produced in a way that does not change land use. For example, biofuel production must not compete with other land-use needs, such as food production.
Carbon "insetting" opens a new and promising pathway
To mitigate the shipping industry's carbon footprint, companies have traditionally looked to offset their carbon emissions by investing in carbon-negative projects such as afforestation or renewable energy. However, only 0.2% of the US$268 million (€232 million) voluntary carbon-offset market went into transport-related projects in 2018. Carbon-offsetting can have a positive impact on the environment, but it does not reduce GHGs emitted by the shipping sector itself.
What's more, offsetting outside the sector reduces the incentive to innovate and advance carbon-neutral freight and other green logistics solutions. By contrast, carbon "insetting" funds projects that reduce carbon emissions in the sector where they are emitted, such as sustainable fuel, fleet renewal, engine retrofitting and efficiency projects. This sector-specific approach drives investment back into the industry to develop greener technologies.
Insetting within the sea-freight sector requires a paradigm shift from both the industry and consumers. Shipping can take the first concrete step to develop guidelines for carbon inset accounting and reporting based on an industry-recognized standard, such as the framework developed by the Global Logistics Emissions Council. The next critical step is acknowledging and integrating these guidelines into existing and future reporting and accounting standards.
Working together
The road to transitioning the ocean-freight industry is complex and requires significant resources and commitment to achieve a net-zero target. To this end, Deutsche Post DHL Group is investing around €7 billion in climate-neutral logistics solutions by 2030. Digital platforms can help to provide visibility and transparent management of freight rates, transport modes, carbon emissions and other relevant shipment data. IMO envisions a 50% reduction in GHG emissions from international shipping between 2008 and 2050. Decarbonizing the shipping industry is a responsibility that every stakeholder should shoulder. To truly drive meaningful change, we need to see greater collaboration across the entire industry—operators, fuel providers, regulators, investors, businesses and customers alike. Decarbonizing the world's oceans is a global problem that needs dedication from all parties. More can be done, and with all hands on deck, we can accomplish this together.
This article was originally published here and was republished with permission.