MORE FROM THIS COLLECTION

Electric motorcycles powered up for deliveries in Thailand
With the government leading the charge for electric vehicle adoption, DHL Express Thailand got a head-start with its recent addition of 50 electric motorcycles to its delivery fleet.
With the government leading the charge for electric vehicle adoption, DHL Express Thailand got a head-start with its recent addition of 50 electric motorcycles to its delivery fleet.
On his daily delivery route in Bangkok's Rama 3 area, Manit Kumsri whizzes past block after block in near silence.
The courier's brand-new electric motorcycle emblazoned in DHL's striking red and yellow livery is hard to miss, if not for the noiseless nature of the two-wheeler's lithium-ion battery.
Part of a wider electric vehicle (EV) rollout by DHL Express Thailand which could soon include electric vans, Kumsri's electric motorcycle is just one of DHL's 50 new two-wheelers plying the streets of Bangkok.
Developed by electromobility solutions provider Strom, the electric motorcycles — capable of reducing carbon dioxide emissions equivalent to planting 10,000 trees each year — will be used for delivering small parcels and documents from July 1.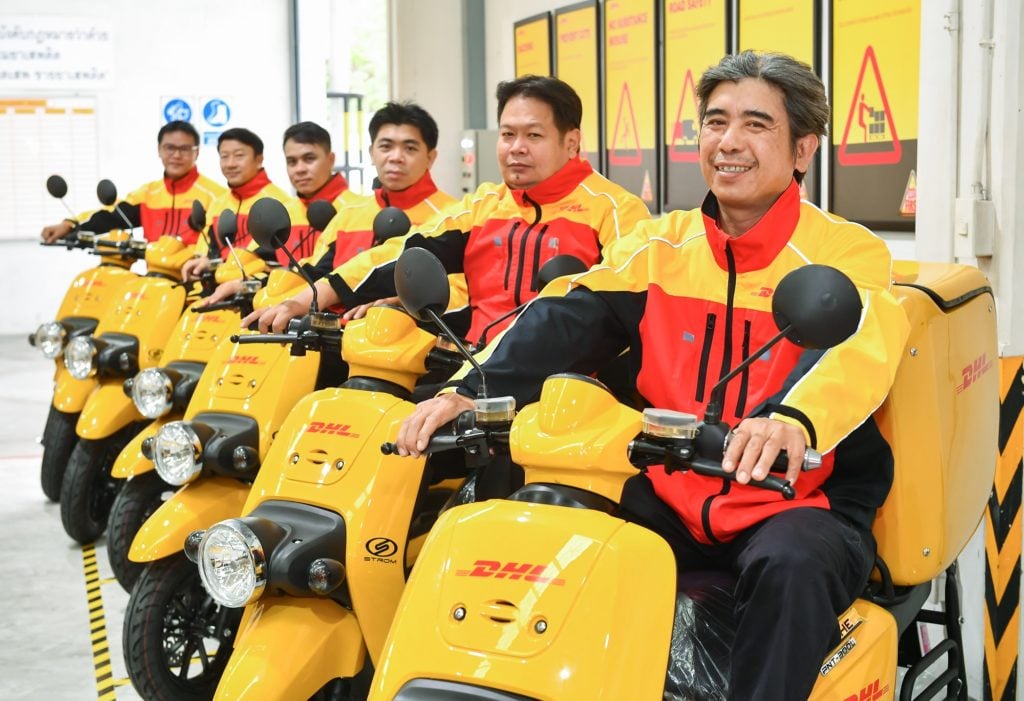 "We are proud to be a leader in green logistics, and to be the very first international express delivery service provider in Thailand to use electric motorcycles for pick-up and delivery within the country," said Herbert Vongpusanachai, Managing Director at DHL Express Thailand & Head of Indochina.
"The launch of these new electric motorcycles reflects DHL's commitment in cutting our logistics-related emissions to zero by 2050. Enabling greener deliveries will also help in reducing air and noise pollution levels in a region still nascent in its electrification journey," he added.
Quieter, smoother deliveries
As part of the selection process for the right electromobility solution, DHL Express Thailand factored in speed, range, payload efficiency and price as key considerations.
Taking five hours for a full charge, the newly deployed electric motorcycles can travel up to 115 kilometers on a single charge, before returning to the charging stations installed at DHL Express' five service centers across Bangkok, Thailand.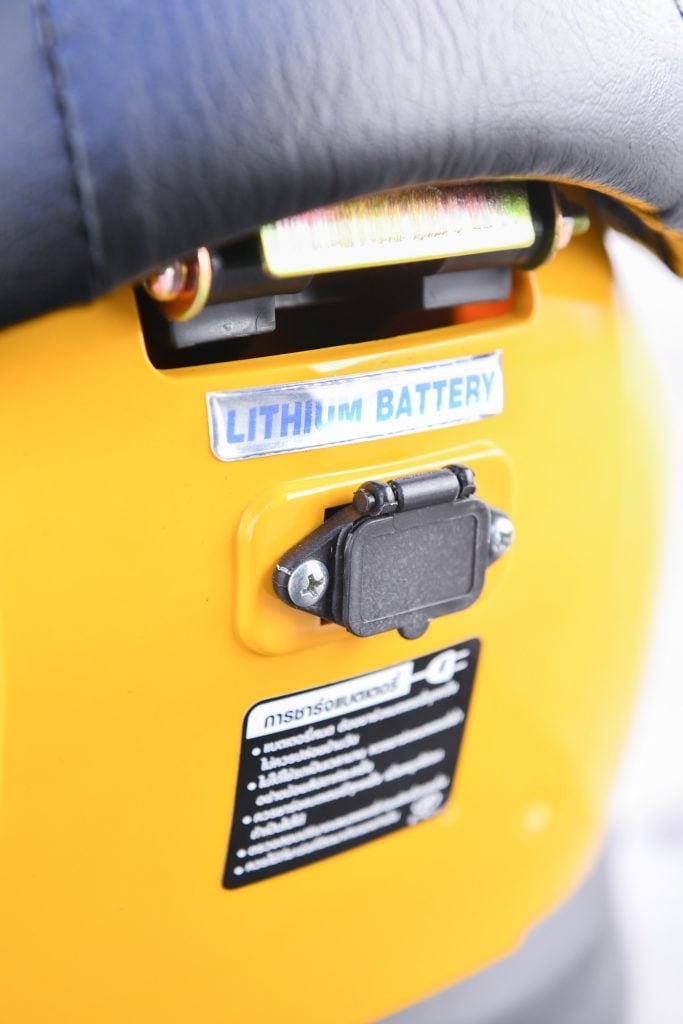 "This is only the first step in our plan to fully replace existing gasoline-powered motorcycles with electric motorcycles. These two-wheelers help us to better manage our carbon footprint while reducing our fleet maintenance costs in a sustainable manner," said Siwawate Hongnakorn, Vice President of Operations, DHL Express Thailand.
According to Strom, the entire life cost of an EV works out to be less than an equivalent gasoline-powered vehicle. The durability of the battery, which can last for at least four years, also makes it an ideal fit to cope with the frequency and speed of express deliveries.
For Kumsri who used to ride a regular motorcycle for deliveries, the change is a welcome one.
"The acceleration of the e-motorcycle is great and it only requires a single charge, which saves me the hassle of stopping for gasoline. It also allows me to have a smoother, quieter journey when I do my daily rounds," said the DHL Express courier of 24 years. "It's my first experience with an electric motorcycle and I'm really excited to be part of the pioneering batch of riders."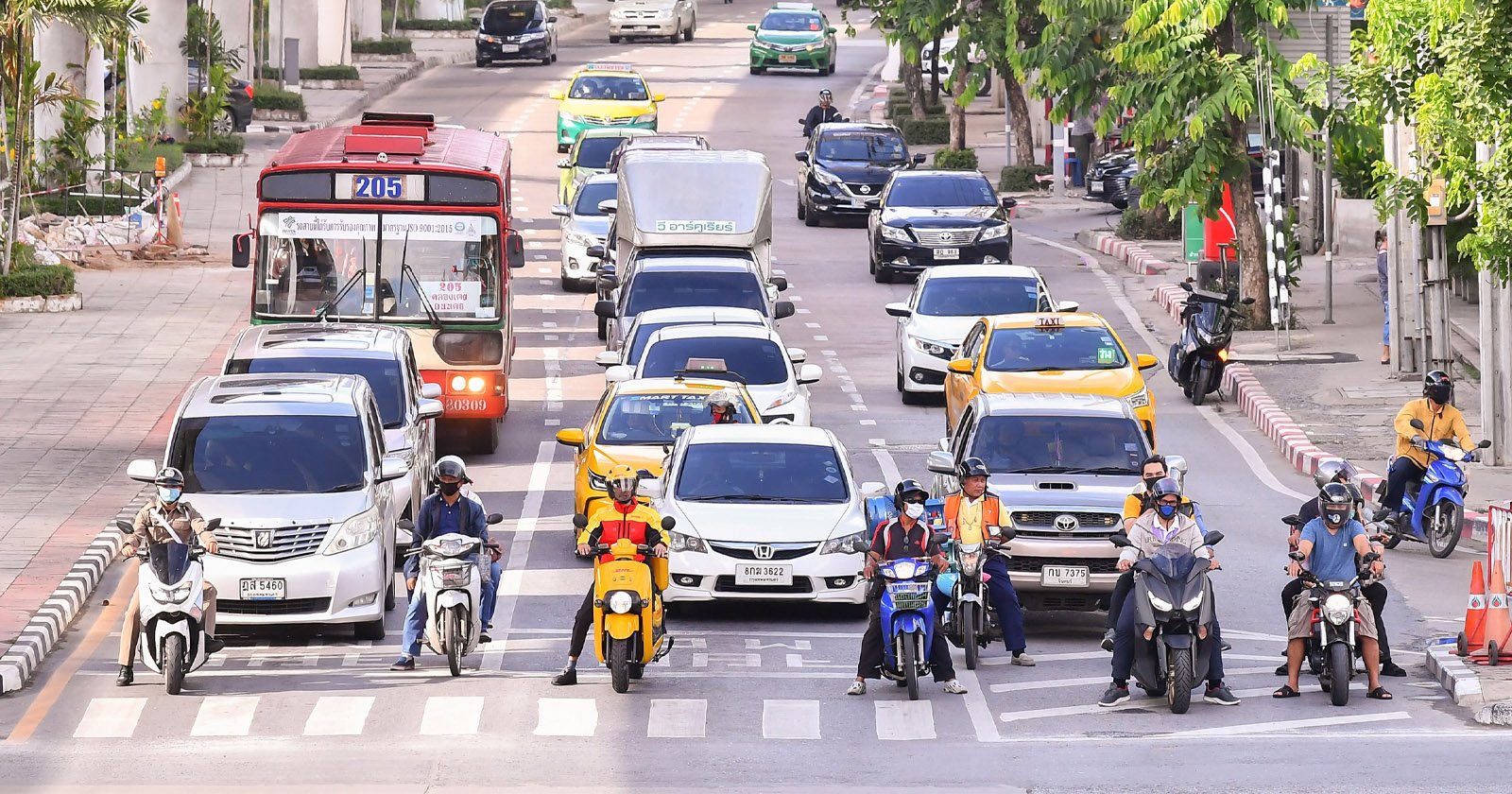 The switch to an electrified delivery fleet is not only in line with the long-term vision of Deutsche Post DHL Group, but also the goal of the Thai government who has been spearheading efforts in the country's adoption of electric vehicles.
Leading the charge
The potential of electric vehicles has not gone unnoticed among both businesses and consumers beyond the logistics sector. Last year, the Electric Vehicle Association of Thailand (EVAT) noted a massive 380 percent jump in the number of electric vehicles registered to 2,854 compared to the year before.
But unlike other countries such as China and Vietnam, the take-up rate for electric vehicles, including motorcycles, has been slower in Thailand and in the wider Association of Southeast Asian Nations (ASEAN) region.
With the Thai government recently leading a push to develop itself as a regional hub for electric vehicles within the next five years, the tide is slowly turning.
"The goal is to become an ASEAN hub... Obstacles will be reduced. Markets will be built in relation to vehicle demand and charging stations. There will be promotional privileges for both vehicles and batteries," said Thailand's Deputy Prime Minister Somkid Jatusripitak in March this year.
While local commercial EVs are yet to be launched in the Thai market, the government has already laid out ambitious plans to have 690 charging stations and 1.2 million electric vehicles nationwide by 2036 — a sign that electromobility will dominate in the years to come.
For that to come to fruition, the convergence of incentives, regulations and infrastructure is necessary to steer the country toward the quieter, cleaner roads for riders like Kumsri.