Don't let electric cars shock your supply chain
Not all supply chains can handle the sensitive parts used in electric vehicles like Tesla's Model 3
Not all supply chains can handle the sensitive parts used in electric vehicles like Tesla's Model 3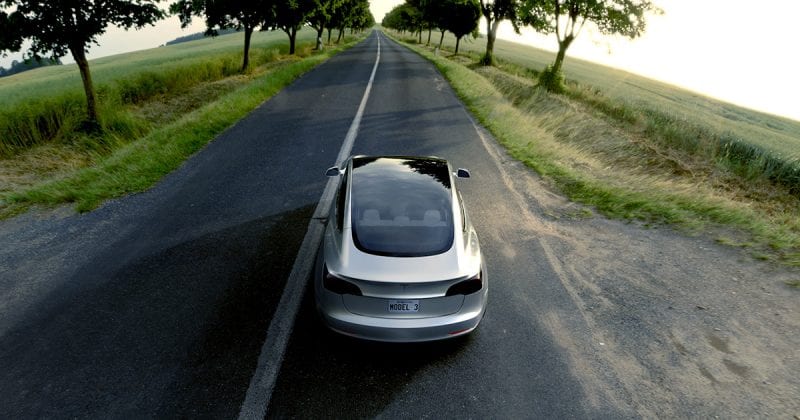 Key takeaways
Electric vehicles, while popularized by companies like Tesla and Chery, still face logistical hurdles before they can go mainstream

Storage, transport and handling of powerful batteries under different conditions and transport modes can prove challenging, and new logistics solutions promise to change that

A growing number of automotive companies have begun shifting their business models to stay relevant once electric cars become the norm
Electric vehicles (EV) are gradually becoming a mainstay in many automakers' portfolios as more consumers warm up to the idea of owning a new battery-powered car like the Tesla Model 3 or Nissan Leaf. To keep up with the demand, car manufacturers have to act quickly to transform its logistics setup to support the future growth of electric vehicles.
The source of greatest disruption to automakers' overall logistics structure lies at the heart of every EV – its lithium battery. Production sites and car workshops face new safety regulations for battery storage, which in turn require the entire supply chain to contemplate a range of different transport modes to stay compliant and safe.
"The batteries used by electric cars are notoriously big, heavy, and volatile," says Ilhami Arslanoglu, Vice President, Automotive, DHL Customer Solutions and Innovation Asia Pacific. "For a small combustion-engine car, your engine and transmission usually weigh around 150-200kg at most. Electric car batteries weigh nearly double of that, around 300kg for even a small-sized vehicle. And despite the weight, it has to be handled with extreme care at every step of the supply and distribution chain."
Although these new (electric vehicle) parts may be trickier to transport than those of traditional cars, we've found that it's not prohibitively difficult to do so.
Electric vehicle batteries are "Class 9" hazardous materials by almost all countries, meaning they require specific modes of transportation with high degrees of compliance. Car workshops now need solutions for mixed storage of "Class 9" (batteries) and "Class 3" (oil) hazardous goods in their existing premises. Some batteries have temperature restrictions during transport and storage. And the status of the battery during its lifecycle – new, used, defect, status unknown, damaged – creates a whole new chain of requirements for logistics and packaging to account for. With different regulations for air, sea, and road freight – including especially stringent standards for air shipments – automakers could be forgiven for doubting whether cost-effective shipping of these batteries is even possible.
"Despite the fanfare around brands like Tesla revolutionizing the automotive industry, electric vehicles still make up only 0.1% of all cars on the road," observes Arslanoglu. "Until automakers incorporate these heightened safety and handling requirements into their default logistics processes, they'll struggle to turn EV technology into viable products for consumers."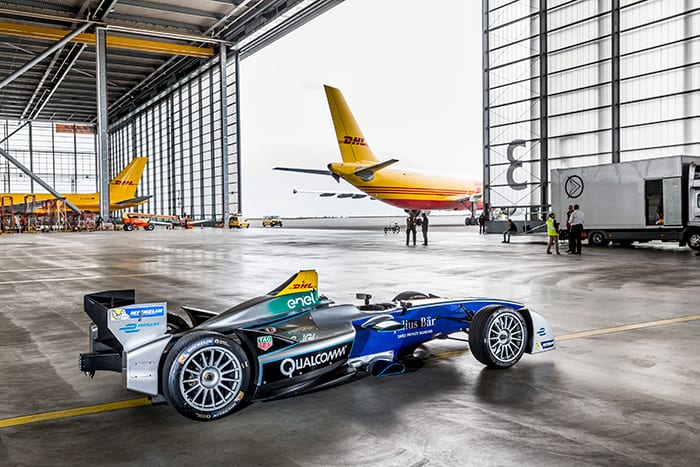 "There's no doubt that EV technology has already begun to disrupt the automotive industry," says Edwin Chow, Automotive Sector Head, DHL Global Forwarding Asia Pacific. "One of our customers which specializes in engine transmission – they are pivoting to EV components because they recognize that once electric cars take off, transmission systems become a thing of the past. Although these new parts may be trickier to transport than those of traditional cars, we've found that it's not prohibitively difficult to do so."
In 2014, DHL began transporting the literal forerunners of the EV industry: electric race-cars. The annual FIA Formula E championships see these high-speed electric vehicles make their way in pieces from the United Kingdom to tracks all over the world, requiring extremely sensitive handling of their "rechargeable energy storage systems" (the racing world's term for EV batteries). For the 2016 race in Hong Kong, DHL worked extensively with customs officials to transport these batteries via air freight – a game-changer for the industry.
"We've shown that it is possible, with the right specialist skills and customs groundwork, to transport these batteries by air and potentially meet automaker demand in a much nimbler way," says Chow. "And these batteries often need maintenance, repair, and exchange, which in turn requires a way to quickly and safely transport replacements on a regular basis. Being able to transport them by air makes this process far faster than ever before."
"Another approach that we are testing is to operate service stations on behalf of automakers, forming a closed loop in terms of handling consistency. That should hopefully eliminate some of the headaches carmakers would face if handling and storing batteries themselves."
"Whether you are a car maker, an OEM for parts, or an aftermarket supplier, you should be investing in the logistics groundwork for handle EV components right now," adds Chow. "Customs and regulatory burdens may still be sizable, but access to the right infrastructure – like temperature-cooled shipping containers and managed customs-clearance solutions – can minimise the actual burden for your business. Start readying your business and supply chains towards EV production, or you may be left in the dust."