MORE FROM THIS COLLECTION

Covid-19 accelerates multimodal logistics and digitalization for manufacturers
The Covid-19 pandemic has led laboratory supply companies like Agilent to explore multimodal logistics solutions, and created a new impetus for digital tracking.
The Covid-19 pandemic has led laboratory supply companies like Agilent to explore multimodal logistics solutions, and created a new impetus for digital tracking.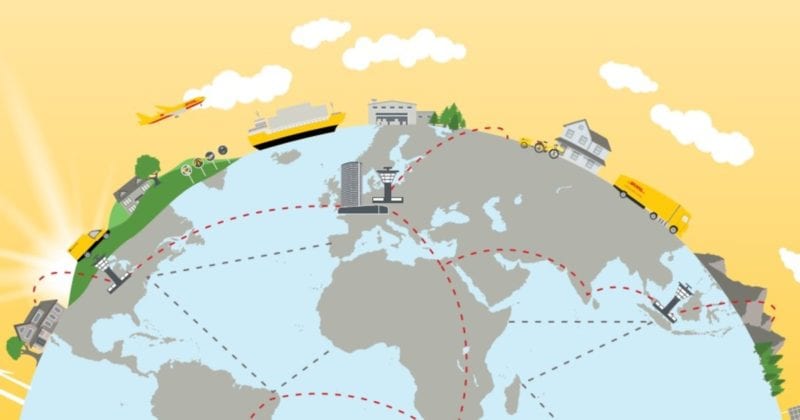 Covid-19 is sparking partnerships between lab supply companies and logistic companies to quickly move much-needed goods from manufacturing sites to customers.
In the case of Agilent , a global leader in instruments, services, and consumables in the life sciences, diagnostics, and applied chemical markets, their challenges include optimizing their global supply chain to support rapid order fulfillment, especially when it comes to integrating their supply chain logistics with e-commerce systems.
The company has a diversified manufacturing strategy with more than 20 locations globally, which continued operations at normal capacity during the pandemic. Agilent minimized the risk of potential disruption by identifying diversified second- and third-tier direct material suppliers and securing additional logistics uplift.
As a major logistics partner of Agilent, DHL Global Forwarding manages the transportation of goods and a number of warehouses for the company.
Prior to Covid-19, Agilent relied heavily on air and ocean freight to ship products, including analytical instruments and supplies, to laboratories, academic research centers, and governments around the world.
With the pandemic leading to higher airfreight costs, DHL Global Forwarding provided multimodal transportation options for Agilent, such as trucking from Singapore to Thailand to manage costs, and also ensuring more stable schedules that would still meet their customers' lead time.
Other options via rail and ocean freight were also explored, with the latter looked at in conversion studies for Agilent's key markets.
Piak-Hwee Tan, Senior Vice President, Marketing and Sales, Asia Pacific, DHL Global Forwarding explained: "Traditionally, a retailer will draw up a contract for each of several businesses to operate one mode of transport — rail, road, air, or sea.
"A 'relay' then begins as the product is passed on from operator to operator until it reaches the customer. This process may prove troublesome as the seller is responsible for all the logistics, not to mention the paperwork.
"Multimodal logistics helps simplify matters. All the seller needs to do is to engage a logistics provider like DHL that is capable of dealing with individual transport operators or handling the entire logistics process.
"In other words, the cargo moves from origin to destination via several modes of transport, be it air, sea, rail or road, under a single contract or bill of lading.
"Our partnership with Aglient reduces hassle for them as we have our own transport network in place, which results in cost-efficiencies. For their customers, this means faster deliveries and cheaper prices."
These changes in transportation options need to be accompanied with detailed and sophisticated tracking of shipments for Agilent's high-value products.
However, according to Mohamed Leye, Agilent's Logistics and Transportation Global Category manager, the main digitalization challenges for Agilent's global supply chain are related to having compatible systems with its logistics partners for efficient data exchange.
This includes the atomization (or partitioning into smaller portions) of their shipping portfolio, tracking of parcels and shipments to ensure an end-to-end visibility, temperature control, as well as ensuring fragile cargo integrity and customs clearance management.
In addition, the timing of shipments and lead time are also fundamental for Agilent.
"As our logistics partner for more than two decades, we link DHL to our enterprise resource planning (ERP) systems based on pre-defined milestones via an electronic data interchange (EDI)", Leye revealed.
The Global Transport Team, led by Leye, drives the partnership and coordinates actions between the regions. Even ahead of the Covid-19 pandemic, DHL Global Forwarding and Agilent had improved an existing EDI connection in Germany last year, and now share information via a SharePoint portal.
Digitalization and cybersecurity
Fabrice Thomas, vice president of Agilent Global Supply Chain added: "Digitalization is a priority, and several Agilent-driven digitalization initiatives are currently in place.
"These are related to tracking, packing list, or box labelling with DHL actively involved in these implementations. Many of these initiatives have led to lower cost and faster processing for Agilent.
"We are also using DHL web tracking functionalities and exploring the potential use of dedicated chips."
"Of course, enhanced digitalization also means enhanced cybersecurity protocols, Leye added.
"Cybersecurity is a high priority in Agilent's overall digitalization process.
"Our interface with DHL entities follow the rules and protocols set by both parties, allowing only secured file transfer protocol (SFTP) connections for our EDI data exchange, for example. These rules and protocols are constantly reviewed and updated as well."
Managing Covid-19 logistically
In addition, Agilent receives monthly delivery reports from DHL via a global digital dashboard that helps the company generate, collate, and access data from multiple points for potential improvement. "These have also helped the company better understand market dynamics during the Covid-19 pandemic, Thomas added.
"The pandemic has affected the sales and distribution of Agilent products and services, but the company has adjusted with DHL to meet these changes."
According to Thomas, Covid-19 changed Agilent's shipping portfolio, with some products declining and others experiencing a boost. "Agilent switched between different production sites to benefit from the best shipping market conditions. DHL has performed exceptionally well despite the challenging circumstances.
"For example, as the airfreight market rate increased dramatically, Agilent and DHL worked together to control freight costs as much as possible. We utilized additional freighter options, and also put in place additional charter options. DHL's express division was also roped in to airfreight our products using their own network of aircraft when we faced a few challenges."