Asia's new trade agreements: What you need to know
Trade initiatives like China's "Belt and Road" could boost trade in member countries by billions of dollars – but many businesses don't yet understand them
Trade initiatives like China's "Belt and Road" could boost trade in member countries by billions of dollars – but many businesses don't yet understand them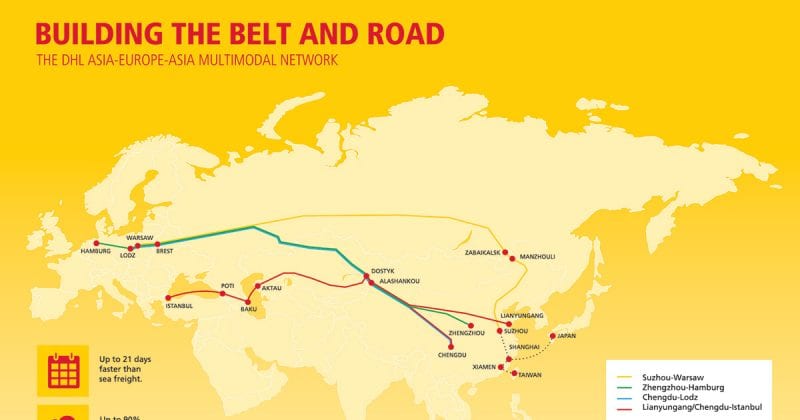 Key takeaways
A range of new initiatives have begun to shift the dynamics of trade in Asia

The ASEAN Economic Community and "Belt and Road" all promise to make it easier for businesses to sell to or manufacture in overseas markets

Businesses that understand how to use these agreements can gain a significant advantage over the majority that don't
A range of new trade and infrastructural initiatives are coming into effect in Asia, but many businesses still don't know of their existence. When putting together the Demystifying Asia Pacific Trade Trends report, DHL found that up to 55 percent of businesses in Asia are not aware of major regional initiatives like China's "One Belt, One Road" – and of those who are, only a fraction have plans to leverage them.
Trade agreements offer Asian enterprises significant opportunities to grow and expand, but they can also prove extremely complex to decipher. Here are some important trade initiatives coming into effect in Asia Pacific and what they mean for businesses:
1. ASEAN Economic Community (AEC)
The AEC is the most well-known of all major trade agreements in Asia, with 74% of businesses aware of its existence. However, less than 40% have plans to take advantage of the reduced tariffs and simpler visa processes that now apply between almost all ASEAN countries. This may be because of the complexity associated with applying for preferential tariffs, which tends to put off the smaller enterprises which may benefit most from the agreement.
"The AEC makes it much easier to manufacture in low-cost markets, then ship to consumer demand throughout ASEAN and other regions of the world," says Ken Lee, CEO, DHL Express Asia Pacific. "Don't let compliance put your business off – your logistics provider should help you negotiate any issues around customs and tariffs."
Up to 55% of businesses in Asia aren't aware of major regional initiatives like China's "Belt and Road" – and of those who are, only a fraction have plans to make use of them.
The AEC is being implemented in two stages, the first of which saw the creation of a Free Trade Area and some tariff standardization in 2015. Its second stage – expected to complete by 2025 - will focus on improving the land transport networks that connect ASEAN countries.
What it means for business? Integration is key between ASEAN markets; greater flexibility in manufacturing and product distribution.
2. Belt and Road
This China-led initiative is one of the largest infrastructure agreements in Asia – yet it's also the least-understood by businesses. "Belt and Road" seeks to strengthen trade between Asia and Europe via two main routes: the Silk Road Economic Belt and the Maritime Silk Road. The Silk Road Economic Belt comprises a series of interconnected road and rail lines cutting through Central Asia; while the Maritime Silk Road sees ocean freight go between China and Europe via India and Africa. Trade between China and Europe is already at all-time highs, and China is betting that the Belt and Road will generate around $2.5 trillion in trade amongst member states within a decade.
Although "Belt and Road" will eventually connect 65 countries to one another, only 6% of enterprises currently have plans to leverage the agreement. "The sheer scale of the initiative can be daunting to even larger businesses," says Kelvin Leung, CEO, DHL Global Forwarding Asia Pacific.  "For businesses, the main concern should be getting goods between China and Europe faster and more efficiently than before. DHL is already using the initiative to drive a range of new rail and road connections that streamline imports and exports between both continents."
What it means for business? An increase in multimodal solutions; Faster, cheaper entry into a range of new markets – not just in China and Europe, but also in fast-growing Central Asian and African states along the Belt and Road.
To keep ahead in today's changing business environment and to learn more about the trade trends within the region, get the Demystifying Asia Pacific Trade Trends report here. Some of these topics are tangibly showcased at the DHL Innovation Center.