A mammoth move: How DHL helped to rescue "the world's loneliest elephant"
Here's a behind-the-scenes look at the logistics that moved Kaavan, an Asian elephant kept captive for decades in a Pakistan Zoo, to a Cambodian wildlife sanctuary to live out its days in comfort and good company.
Here's a behind-the-scenes look at the logistics that moved Kaavan, an Asian elephant kept captive for decades in a Pakistan Zoo, to a Cambodian wildlife sanctuary to live out its days in comfort and good company.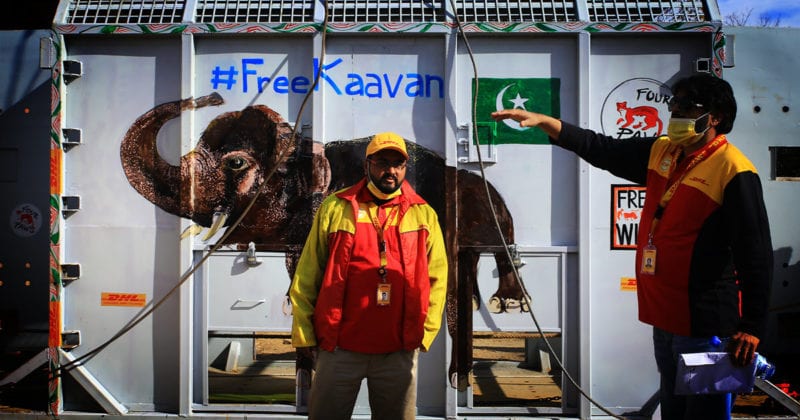 For 35 years, Kaavan lived in a bare zoo enclosure, chained by the ankles and forced to perform for visitors. Ever since the death of his sole companion, a female elephant named Saheli, 36-year-old Kaavan has endured close to a decade of solitude. "The world's loneliest elephant", as dubbed by activists and animal lovers, developed signs of mental illness and grew severely overweight on a poor diet filled primarily with sugar cane.
In early December 2020, after persistent campaigning by his supporters and months of rehabilitation for the elephant, Kaavan took his first steps in his new forever home: the Kulen Promtep Wildlife Sanctuary in Cambodia.
All it took was a "long-haul" flight from Islamabad, Pakistan to Cambodia. FOUR PAWS, a global animal welfare organization, a team of veterinary specialists and DHL Global Forwarding, the international freight specialist arm of Deutsche Post DHL Group undertook the relocation project, which required months of extensive planning. DHL took care of the logistics, including securing the necessary customs authorization to move Kaavan from Marghazar Zoo in Islamabad, Pakistan to the Cambodia sanctuary.
Nursed back to better health, Kaavan received special training to enter his crate securely. For safety reasons, the elephant would not be sedated but instead kept safe and calm by a veterinary team throughout his journey. Kaavan even formed a special bond with veterinarian and rescue mission leader Dr. Amir Khalil, FOUR PAWS International Director of Project Development, who gained the animal's trust by patiently waiting by his enclosure and singing to him.
"All relationships, whether between humans or humans and animals, must be based on trust," said Dr. Khalil, expressing hope that the elephant's story would serve as "a symbol for humanity, and doing what is right for the animals."
Forwarding freedom: the logistics of Kaavan's move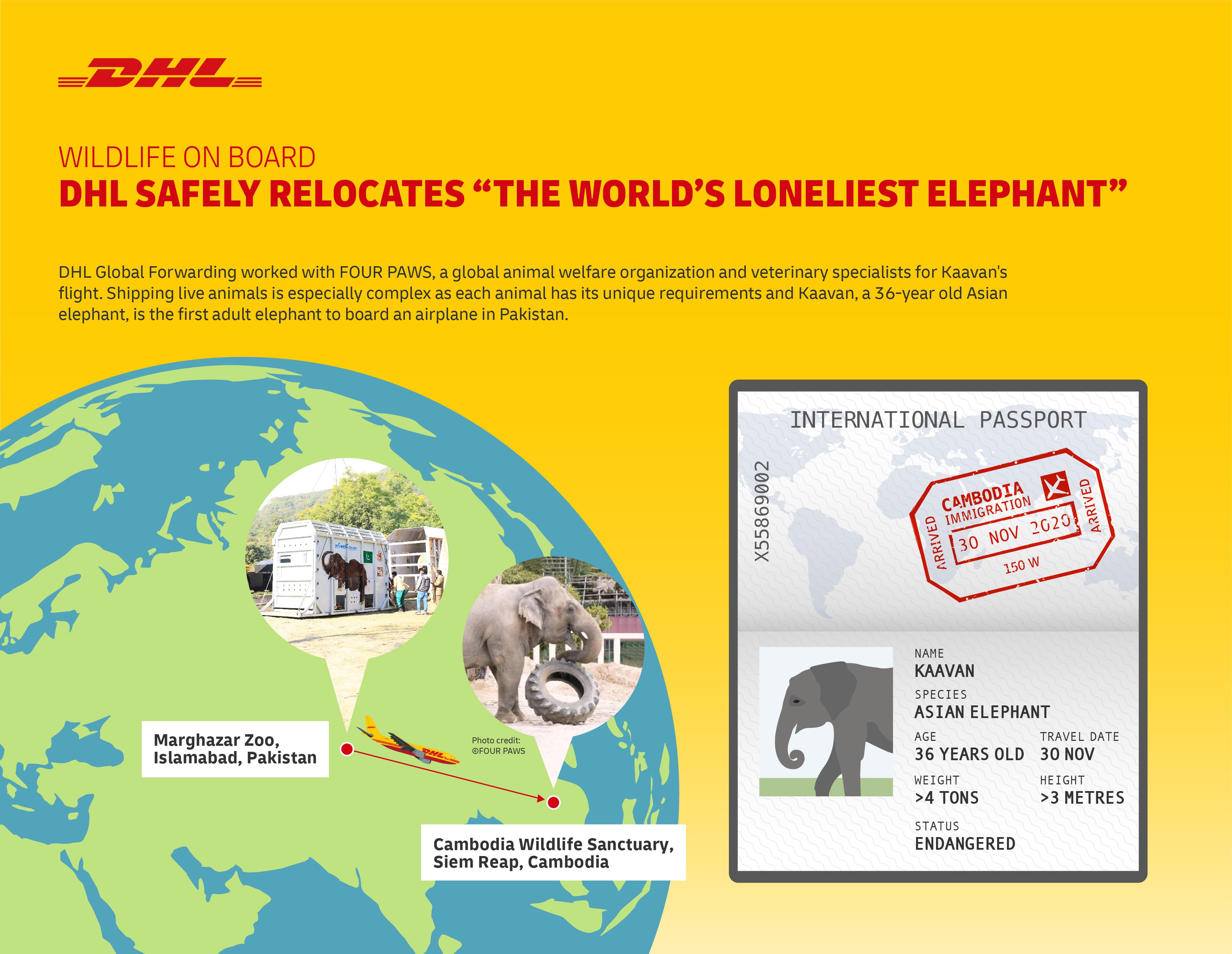 Coming in at over four tons and more than three meters in height, Kaavan's move required a customized crate that was specially built in compliance with International Air Transport Association (IATA) regulations. After traveling overland to the Islamabad International Airport, Kaavan boarded a cargo plane on 30 November.
Like many other travelers, the elephant tested negative for Covid-19 pre-flight. At his destination, a three-acre plot of land had been set aside for a 30-day quarantine, before Kaavan would be allowed to roam the vast sanctuary lands with others of his endangered species.
"Shipping live animals is especially complex as each animal has its unique requirements and Kaavan, who belongs to the largest land mammal species on the Asian continent, is the first adult elephant to board an airplane in Pakistan," said Kelvin Leung, CEO, DHL Global Forwarding Asia Pacific.
"We had to make special arrangements for him and are delighted to have been able to leverage our logistics know-how and global network of temperature-controlled facilities, in addition to FOUR PAWS' animal expertise, to safely bring Kaavan to his new home in Cambodia."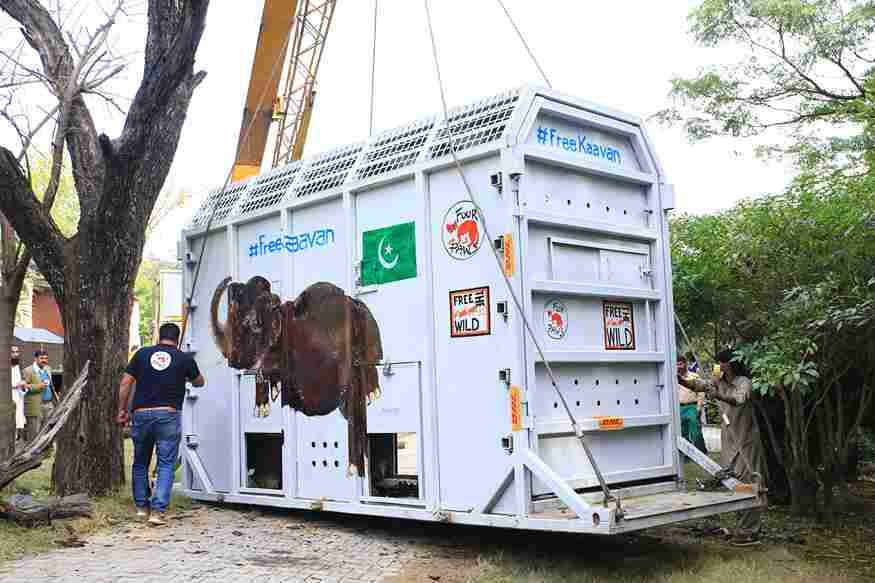 FOUR PAWS' head of communications Hannah Baker also revealed to reporters that Kaavan's journey was the biggest elephant transfer the charity has ever undertaken. Not to mention, it was the charity's first elephant move by plane. A plane transfer of an animal this large, for a move as logistically complicated as this, had been unheard of.
A global superstar shares the spotlight
Kaavan's rescue was largely thanks to the efforts of world-famous popstar Cher, co-founder of wildlife protection charity Free the Wild. The sub-par conditions of Marghazar Zoo, where two dozen animals have died in recent years, had caught global attention since 2015. Social media users have been signing petitions and tagging celebrities to rescue the animal with hashtags like #FreeKaavan and #SaveKaavan. It was not long till Cher caught on.
Partnering with fellow supporters of the cause, the singer engaged legal support to campaign for the elephant's freedom. Finally, the Islamabad High Court issued an order to free Kaavan in May 2020. Marghazar Zoo was also ordered to close down permanently, with the remaining wildlife — two Himalayan brown bears, a deer, and several monkeys — to be relocated as well. Cher called it one of the "greatest moments" of her life and tweeted that Kaavan's journey will air in a 2021 Smithsonian Channel documentary.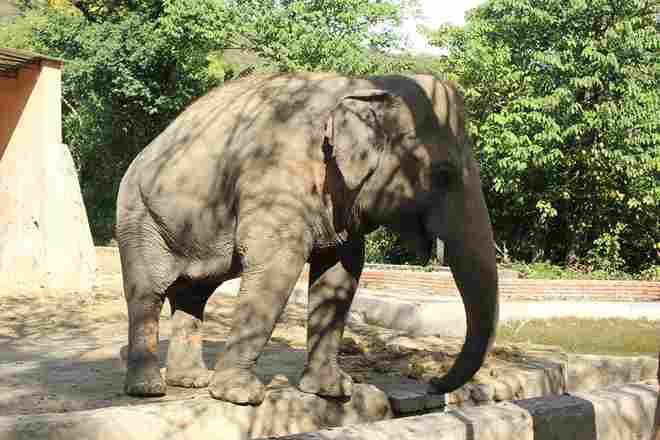 "The highly-anticipated voyage is the result of months of planning and coordination with DHL and various animal specialists, such as the team from EKIPA, with the support of local Pakistan officials, American businessman Eric S. Margolis and Cher's non-governmental organization Free The Wild," said Dr. Khalil.
"Kaavan has been relocated to provide him with a species-appropriate environment and for the care that they require, and every possible effort has been made to ensure that the trip, which is his passageway to a better life, was safe and comfortable for him."