5 customs tips for taking your business overseas
Expanding across Asia doesn't have to increase your compliance burden
Expanding across Asia doesn't have to increase your compliance burden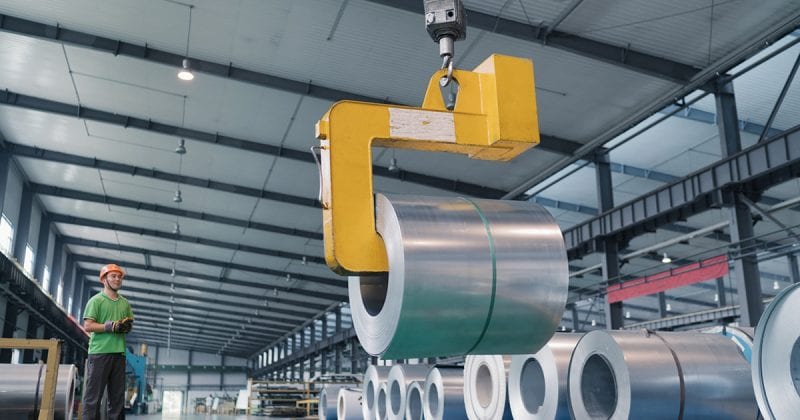 Key takeaways
Customs and regulations are an essential but often overlooked aspect of exporting to new markets

SMEs can brief themselves on customs requirements through government resources and advisory services

Local distributors and door-to-door express providers are best placed to handle customs issues on any SME's behalf
If you're planning to expand your local business into global markets, the last thing you want is for customs and regulations to slow down and delay your supply chain. To prevent these avoidable situations, bear in mind these top tips for handling customs from Raymond Yee, DHL Express' Vice-President of Customs and Regulatory Affairs for South East Asia and South Asia:
Tip 1: Look before you leap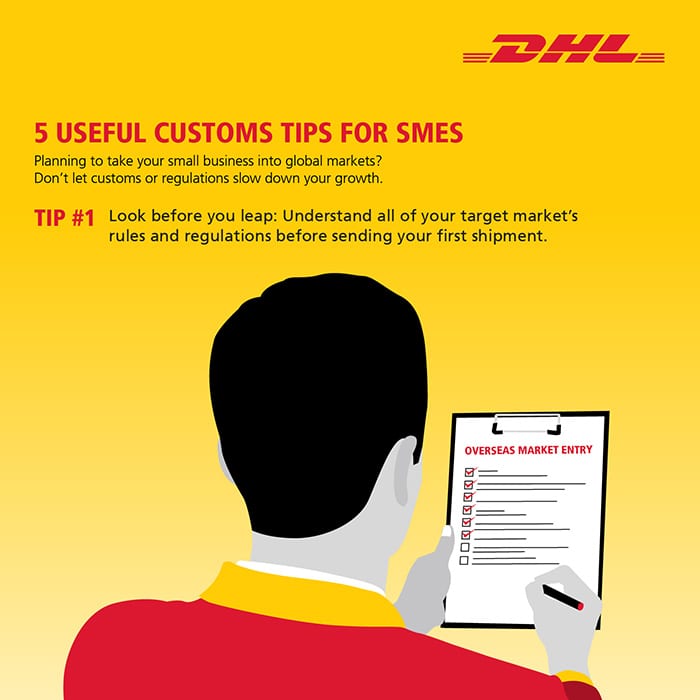 When it comes to bringing products into overseas markets, failing to plan is planning to fail. Tariffs, import rules, and licensing requirements can affect the local price and availability of your products.
"Make sure you understand all the local market's rules and regulations before you even consider sending your first shipment," Yee advises. "Otherwise, you might end up with unexpected licensing costs, delays to your customers, or even having your shipments turned back at the border – not something any Small and Medium Enterprise (SME) wants to endure."
By taking advantage of freely-available government policy advice, SMEs can stay fully compliant and maintain a level footing with far larger competitors.
Tip 2: Get local help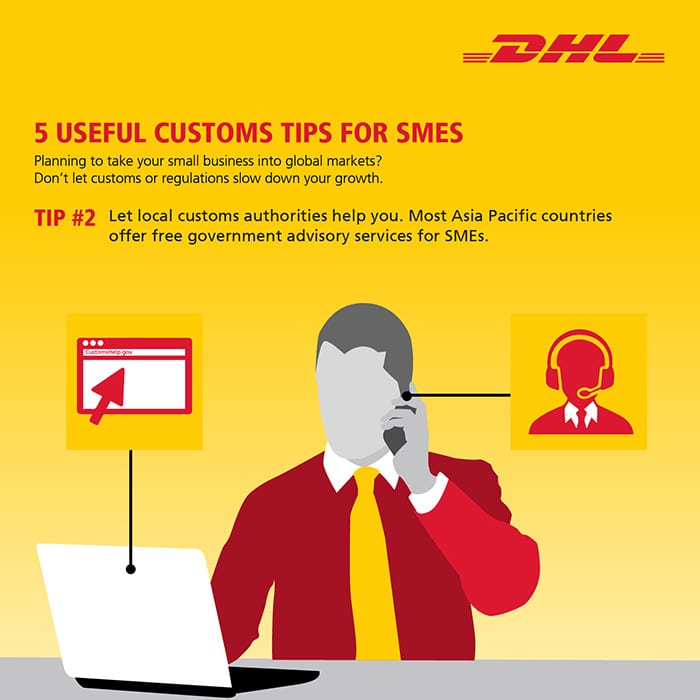 SMEs face increasingly complex regulations throughout the Asia Pacific region. Even once a product has entered a country, it may be subject to regulations from a range of sources. These vary from country to country, so local knowledge is key. Sensitive products like food and technology often require licenses from other agencies (like agriculture and telecommunications) in addition to standard customs clearance. However, most Asia Pacific countries offer free government advisory services that SMEs can tap on to prepare for market entry. Singapore, for example, provides a step-by-step guide to customs procedures for importers, while Thailand's customs center includes both online resources and hotlines for clearance. Other possible help could come from local chambers of commerce or customs brokers.
"SMEs have limited resources and time to get their heads around the nuances of customs clearance in every country they import into," Yee says. "But by taking advantage of freely-available policy advice, they can stay fully compliant and maintain a level footing with far larger competitors, where they are available. Where they are not available, one needs to be creative to approach local chambers or brokers"
Tip 3: Use end-to-end logistics services for B2C exports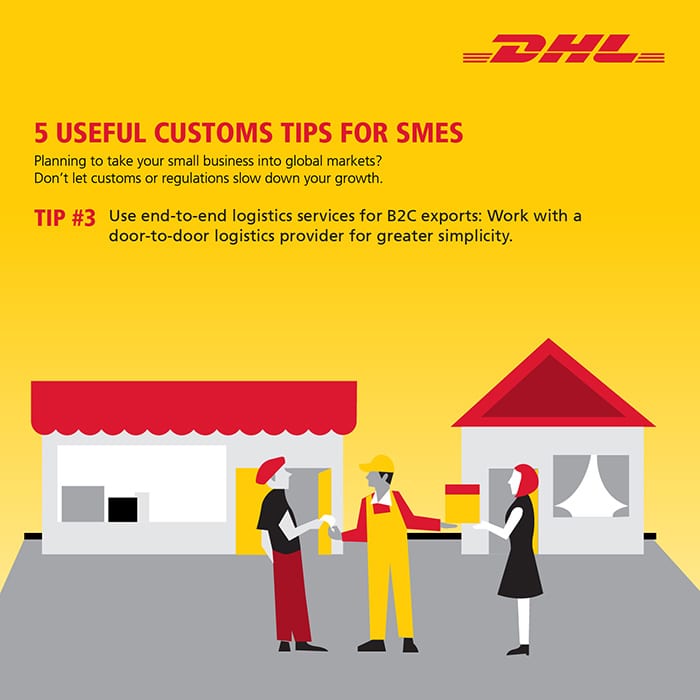 When exporting direct to consumers in other countries, SMEs will usually adopt a model that's known as "Duty and Tax Paid on Import". This means that the SME is responsible for all customs compliance in the country they're exporting to, rather than the consumer. However, this usually means that the SME has to deal with a range of different agents to handle duties, taxes, and other customs clearance procedures. Working with a single door-to-door agent simplifies matters if a dispute or challenge occurs at any stage of the process.
"The simpler your supply chain is, the faster you and your logistics partner can respond to any customs query that comes your way," Yee observes. "It also gives you greater visibility into what's going on at any point in time. At DHL, for example, our door-to-door service is supported by our MyDHL web portal which lets SMEs not only identify duty rates and import regulations in any Asian market, but also track and trace their parcels in real time. That gives our SME customers more clarity in how they negotiate customs procedures and manage consumers' expectations. This also gives their customers a better experience, without having to navigate regulatory complexities as an importer."
Tip 4: Consider a B2B sales model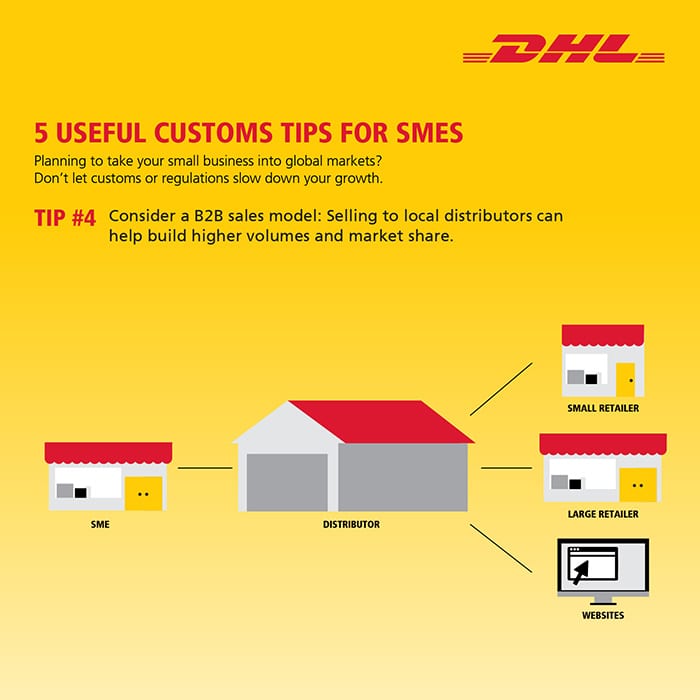 Many of the customs hassles associated with B2C models can be avoided by exporting to a local distributor. Distributors can typically provide more industry-specific advice than authorities may be able to, as well as allowing SMEs to take advantage of existing processes that can speed up and streamline entry in to new markets.
"Distributors already have the know-how and supply chains to handle local regulations, as well as the knowledge of your pricing and product needed to deal with queries on your behalf," Yee says. "While this may mean lower profit margins, it also enables SMEs to confidently ship in higher volumes and build market share."
Tip 5: Don't be afraid to go big
With a working knowledge of the customs and regulation practice specific to their products, SMEs can expand faster than ever before into new territory. "The world is your oyster – accessing global markets is the way to grow for any SME," Yee says.
"Develop a baseline understanding of what customs will require of you, work with your logistics provider to fill the gaps, and focus on getting the process right before you start making promises to consumers. The same fundamental lessons can be applied to any Asia Pacific country, making regional expansion surprisingly fast and simple for SMEs."