3 pathways to sustainable packaging for ecommerce
Tackling the global shortage of cardboard and other packaging materials that unfolded in the wake of the recent spike in ecommerce.
Tackling the global shortage of cardboard and other packaging materials that unfolded in the wake of the recent spike in ecommerce.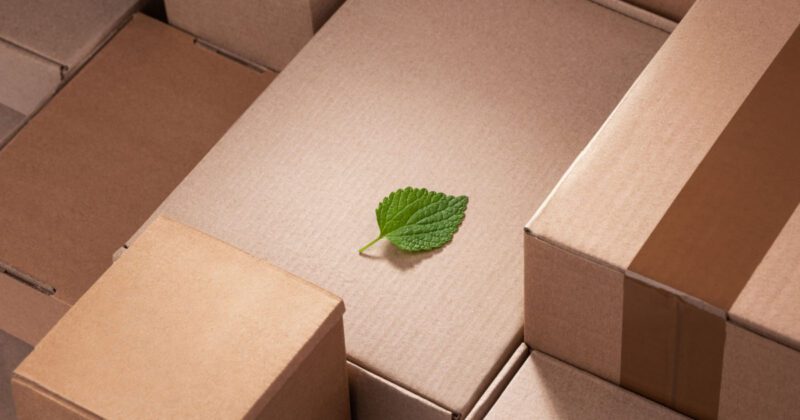 Sixty people died when Valencia's Turia River burst its banks in 1957 – a devastating flood that covered nearly three-quarters of the city. The bold yet highly popular decision to remove the source of the problem – to divert the river around the city – came quickly afterward. The hard part was choosing what to do next. The city's initial plan was to build a vast highway network on top of the riverbed, but residents opposed this and demanded a sustainable solution. This led to the now-famous, five-mile green swath of public space running through the heart of this historic city: the Jardin de Turia, which opened in 1986.
But what does this have to do with sustainable packaging? The story of the Turia River is a lesson in how to solve a crisis and the importance of putting people at the center of sustainable solutions. Diverting the river may have solved the immediate problem, but listening to the people is what created a courageous, long-term solution. It's no different in business. By listening to customers, we develop new and sustainable solutions to not only overcome today's challenges but also create more green solutions in the world of ecommerce.
Is today's standard packaging solution sustainable?

Keeping up with demand
Nowadays, just about everything seems more difficult to get than before COVID-19. The material used to pack those goods is no exception. The boom in ecommerce is one of the reasons for this. A UN study found that 13 top consumer-focused e-commerce businesses were worth $3.9 trillion (€3.6 trillion) in 2021, up from $2.9 trillion in 2019.
The sharp increase in ecommerce demand combined with the equally unprecedented labor shortage (fewer people to deal with that demand) have put a strain on the industry in more ways than one. Looking at cardboard specifically, the huge increase in demand saw UK suppliers paid up to £200 ($250) more per ton for paper packaging in February 2022 than they did twelve months earlier.
And, unlike most material shortages, the shortage of cardboard has a wide-reaching chain of consequences, impacting the ability of suppliers to reach their lead time targets on time and in full. If the lack of packaging materials persists, ecommerce businesses may have to delay shipping orders.
This problem – which has long been lurking under the surface in many parts of the world – is currently being felt on a global scale. And shortages are just one piece of the puzzle. Businesses are increasingly under pressure, both socially and legally to restrict their use of wasteful and/or single-use packaging. But as we face the flood of disruption caused by unsustainable practices, we must demand and deliver bold, practical, and people-orientated solutions like the citizens of Valencia did after the floodwaters ravaged their city.
Sustainable packaging solutions: three pathways to the future
One thing is for sure: sustainable packaging solutions are in high demand and on the way. What's unclear is which solutions will play the most dominant role in logistics in the future. We're watching three pathways to more sustainable packaging that we think will be key components of the transition to more environmentally friendly packaging:
1. Brand new solutions and alternatives to single-use cardboard and plastic packaging containers
2. Advances in artificial intelligence (AI) and other digital technology to reduce waste and maximize the use of existing resources
3. Changing our mindsets and putting sustainability at the core of our business practices
Below we take a closer look at three examples of sustainable packaging solutions to show you what they look like and why they have the potential to become widely adopted across our industry.
1. Reinventing the box – an all-new sustainable packaging concept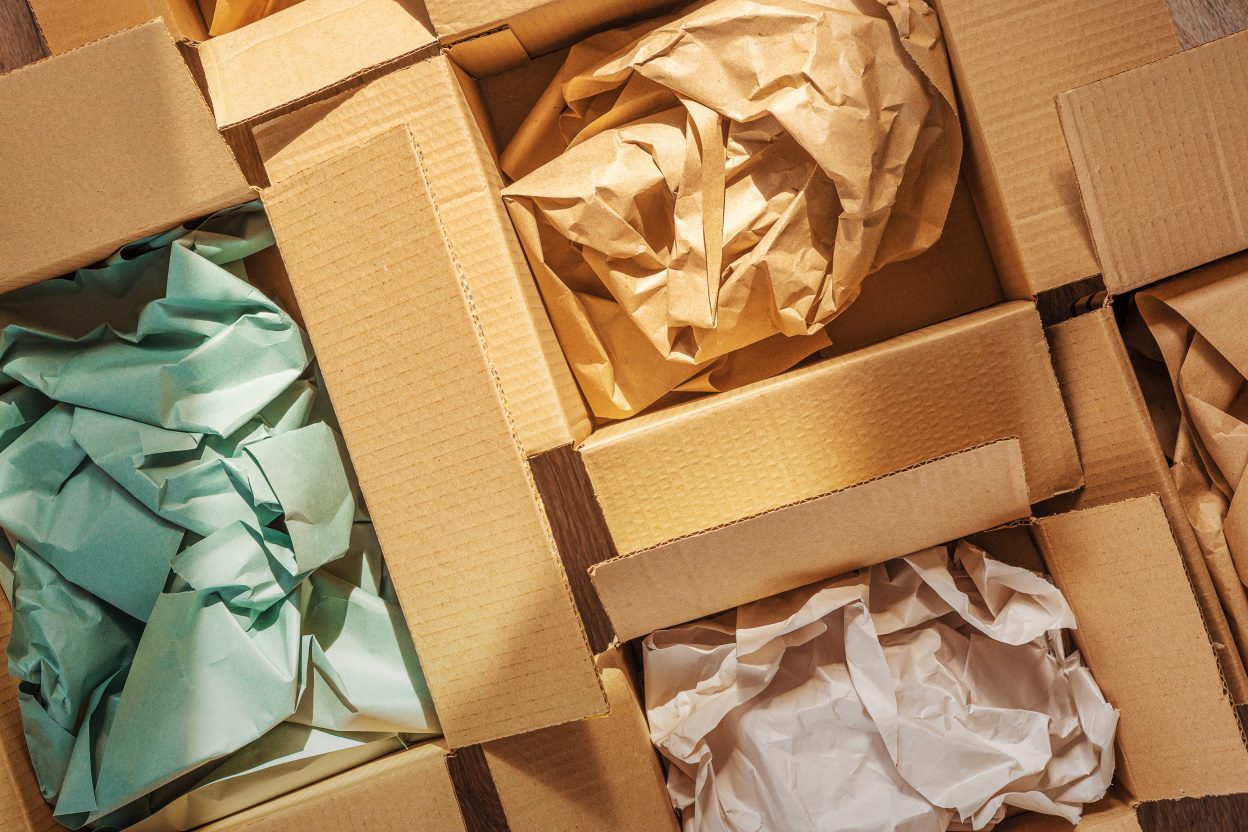 Many companies are already making it possible for online businesses to ship their products using reusable packaging. Some big players in this field are ReZip, Returnity, RePack, Paua and more recently Boox.
Reusable boxes bring packaging into the circular economy. With the option to return the packaging material at your own convenience, deliveries no longer have to be as wasteful as they once did. The concept behind the (circular) packaging economy is to design out wasteful elements and keep products and material in use for as long as possible.
Of course, setting up a return network for sustainable packaging has to be appealing to businesses, convenient for customers and be sustainable in itself. This presents a new set of challenges for businesses and supply chain managers. But the success of early players like ReZip, who have overcome the initial set-up hurdles – like return rates, return infrastructure while also removing the need for technical integration – has set the tone for what the broader landscape of circular packaging could look like in the near future.
2. AI-powered – using technology to save resources
The scarcity of cardboard has earned the material a new nickname among supply chain managers: "beige gold". But much of the cardboard used to package ecommerce orders is actually wasted. For example, our research showed that 24% of package volume is empty space. It also accounts for up to 50% of otherwise unnecessary shipment space. In other words, we need more room in our trucks and containers to deliver goods because of the space taken up by the cardboard packaging alone. That makes shipping more costly.
That's one of the reasons we developed OptiCarton. This AI-powered solution is helping to transform how we use cardboard and, in the process, reduce how much cardboard we need. OptiCarton uses algorithms to determine the package dimensions and protective material required for each shipment. It can even suggest splitting an order into several consignments if this will reduce costs and carbon footprint.
This has an immediate impact on minimizing waste, increasing shipment efficiency, and ensuring goods do not get damaged on their – often very long – journey from A to B.
Proactive solutions are always preferable to retroactive ones – and initial estimates of the OptiCarton pilot have already backed this up. In addition to reducing cardboard usage and increasing environmental efficiency, customers are set to save up to 35% on shipping costs.
How much cardboard is wasted?

3. Changing habits – taking the initiative to reframe mindsets

Many exciting developments are underway in the industry, but not every sustainable packaging solution has to be high-tech and costly to be effective. And small ecommerce businesses often don't have the resources or the demand to justify investing in large-scale solutions.
One of the most impactful – and cost-effective – things businesses can do is adapt existing practices to promote sustainability and draw attention to the overuse of single-use packaging. For example, offering customers the option to group orders into a single delivery has become increasingly popular among small businesses in recent years.
Business owners are responding to consumer demand – particularly among Millennials and Gen Z – for more sustainable solutions. Many online shoppers don't mind the slightly increased delivery time if it means reducing environmental impact.
Some businesses also offer customer the choice to have their order shipped in a pre-used cardboard box that is still in a fully functional condition. Not only does this give customers the chance to make environmentally-conscious shopping choices, but it also reduces the amount of waste caused by shipments on an individual basis by at least 50%.
Other immediate changes can still help shift our perspective on the value of cardboard. For example, small-scale packaging adaptations are driving large-scale change. Country-level initiatives to revamp packaging design in favor of sustainable alternatives are becoming more and more commonplace. Here's where the snowball effect comes in to play – as minor adaptations to packaging become an increasingly accepted in logistics, the quicker these changes spread and develop even further.
Like with any change in business practices, there will be growing pains as people learn to adapt to new processes. But as more ecommerce businesses respond to rising consumer demand for sustainable practices, they will overcome the initial hurdles, adapt and implement new solutions, and ultimately discover added value for both their customers and their company.
Let's make a smart, sustainable (packaging) space
In a 2020 report, McKinsey referred to sustainable, non-cardboard packaging solutions as "harder but doable." Of course, it won't be easy to outgrow our overreliance on cardboard. But there are plenty of people out there with innovative ideas to create sustainable packaging alternatives. These people know that diverting the river alone won't solve the crisis – and that we need new solutions to replace old ones. If enough people and companies adopt new sustainable packaging solutions, this essential piece of logistics and supply chains will be a much more valuable and reusable resource than ever.
To many, it might sound as challenging as replacing a whole river with a public park, but if we dare to take steps towards lasting change now, people will benefit from the greener (packaging) space we create for generations to come.
This story was first published on DHL Delivered and was republished with permission.