Navigating Southeast Asia's rise as the ultimate Plus One destination
Southeast Asian countries are capitalizing on local expertise and multilateral trade treaties to leverage new opportunities as a Plus One region.
Southeast Asian countries are capitalizing on local expertise and multilateral trade treaties to leverage new opportunities as a Plus One region.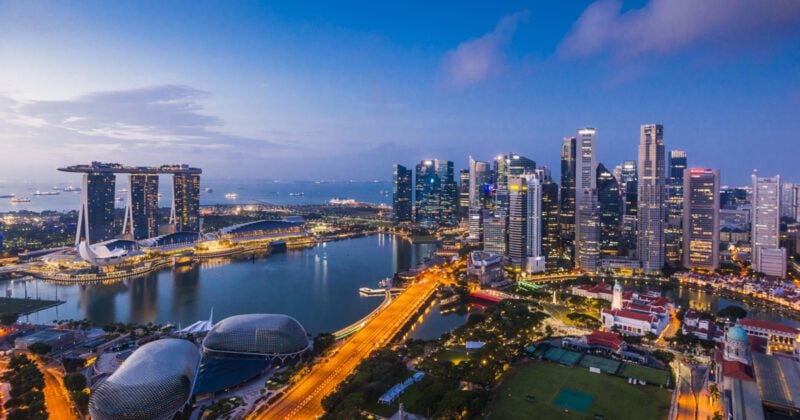 In the aftermath of disruptions caused by the Covid-19 pandemic, and escalating geopolitical tensions, Asia's logistics and supply chains are evolving. Companies are omnisourcing to reduce supply chain reliance on any single nation, shifting their priorities from cost and efficiency to trust and resilience. 
The biggest challenge lies in managing a supply chain transition while balancing costs and the ability to scale with volume fluctuations. Businesses want to diversify their supply chains without losing the economic benefits of manufacturing in Asia. 
Southeast Asia, in particular, emerges as a preferred omnisourcing destination, due to its economic partnerships with both the U.S. and China. Seasoned in manufacturing, ASEAN economies offer valuable skills, capacity, and expertise at competitive rates. The region is also politically stable and part of multiple multilateral trade treaties, like the Regional Comprehensive Economic Partnership (RCEP), which aims to remove tariffs on 90 percent of goods traded between ASEAN member countries over the next 20 years. 
Companies reshoring to Southeast Asia can thus enjoy the benefits of integrated supply chains, while gaining easier access to higher-cost markets like Japan and South Korea, as well as the large consumer bases in fast-growing economies like Malaysia and Indonesia. 
As Vietnam continues to thrive in the manufacturing of apparel and footwear, semiconductor manufacturing industries, Thailand is making strides toward its goal of becoming Asia's next electric vehicles (EV) hub. But apart from the usual benefactors of the Plus One strategy, the rest of the ASEAN countries are also rising to meet the demand in the growing sectors of technology and retail. 
"We have focused our latest investment in these four Southeast Asian countries for growth – Indonesia, Malaysia, the Philippines and Singapore," said Javier Bilbao, CEO, DHL Supply Chain Asia Pacific. "We will be investing significant resources to expand our network, because we know our customers there have increasing logistics demands that need to be met to support their growth." 
Amidst Southeast Asia's diverse business landscape, the focus is on turning uncertainty into opportunities. Exploring four key Southeast Asian economies, we delve into their contributions to the region's role as a Plus One destination. 
Singapore – A hub for electronics and chemicals manufacturing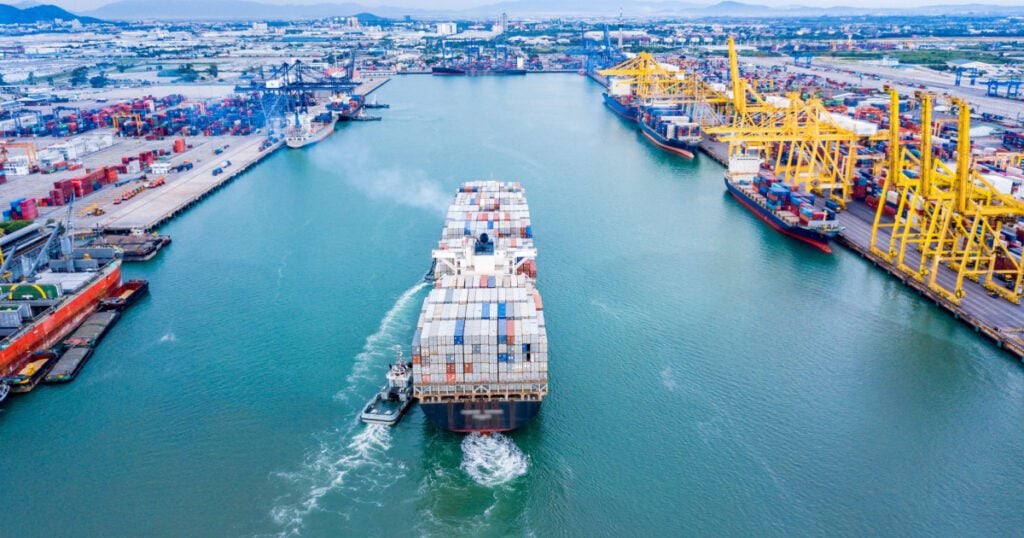 Despite its small local market, Singapore has capitalized on its central location and advanced infrastructure to boost its international trade and logistics network, by functioning as a trans-shipment hub offering value-added logistics services. The country's high operational efficiency, and strong innovation ecosystem have also earned it its status as the second-easiest country in Asia in terms of conducting business. 
The nation's ability to attract businesses and facilitate their trade activities has catalyzed industrial expansion, leading to significant growth in its major manufacturing sectors. According to S&P Global, the country's electronics manufacturing output is dominated by semiconductors-related production, and accounts for 40 percent of manufacturing output. On the other hand, the energy and chemicals industry was the second- largest contributor to manufacturing output in Singapore, accounting for one-fifth of the country's total manufacturing output in 2020. 
Both these sectors experienced significant growth in demand. Singapore's electronics output rose by 5.1 percent, while energy and chemicals output increased by 2.3 percent year-on-year in July 2023.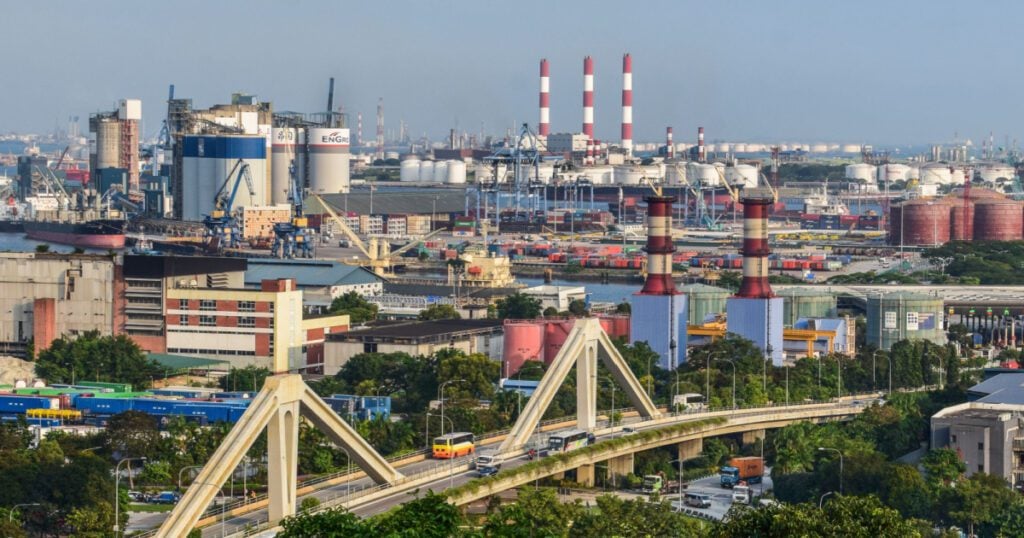 Jurong Island is the country's designated hub for activities for the energy and chemicals sector. Its highly-integrated infrastructure closely connects both customers and suppliers, forming an integrated ecosystem, featuring utilities and logistics service providers. This creates strong production synergies that allow companies to save costs. 
Since its opening in October 2000, the industrial hub has attracted over S$50 billion worth of investments, from over 100 companies, including major energy and chemical companies such as Exxonmobil and Shell. 
Another industry experiencing exponential growth is that of EV production. Singapore's EV adoption rate has grown rapidly in the past two years, largely due to the Singapore government's comprehensive EV Roadmap. Under the Singapore Green Plan 2030, the government aims to improve infrastructure to support the country's growing number of EV users. This includes the addition of 40,000 in public carparks, and 20,000 charging points in private premises by 2030. 
The growth of these industries has in turn, led to a growing demand for logistics services for dangerous chemicals. To support these growing manufacturing sectors, DHL Supply Chain has acquired a new state-of-the-art facility in Tuas.  
The logistics company has also acquired an existing 60,000 square meters of space from a local business to equip its network with the infrastructure to support six classes of dangerous goods: flammable gas; toxic chemicals; flammable liquids; corrosive materials; oxidizers and other miscellaneous dangerous goods, including EV batteries. The investment will increase its warehouse capacity in the country by 50 percent, surpassing 230,000 square meters of space.  
Malaysia - The back-end technology manufacturer
Similar to its Singaporean neighbor, Malaysia is heavily invested in electronics manufacturing, taking on the role of back-end producer, focusing on the manufacturing and assembly of semiconductors for consumer parts and consumer electronic products.
As Malaysia's base of technology or electronics manufacturing activities, Penang hosts a strong network of over 3,000 diversified and competent local suppliers covering automation, electronics, packaging, plastics, precision engineering and metal work, and software development, among others.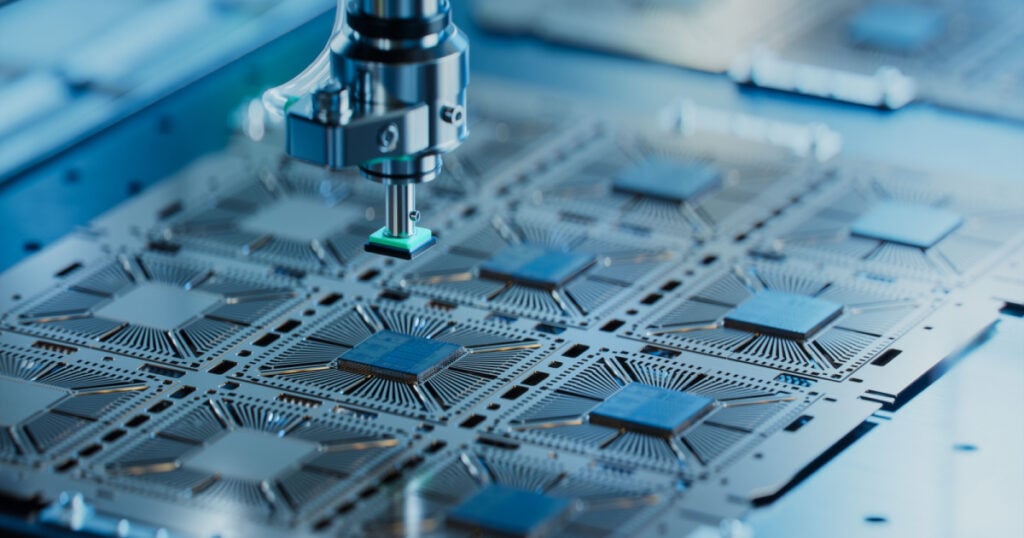 Penang has attracted Malaysia's third-highest manufacturing FDI inflow, contributing 50 percent of the country's key investments in electronics and electrical, machinery and equipment, and scientific and measuring equipment industries. The island-state boasts a supportive investment ecosystem via the InvestPenang program, and the Penang Development Corporation, and has continuously attracted the investments of technology and healthcare companies. For instance, U.S. semiconductor manufacturer LAM research pledged up to MYR1 billion (€198 million) in investments in February 2020 despite the Covid-19 pandemic. 
To support Malaysia's increasing demand and diversified sourcing options, DHL Supply Chain Malaysia has recently added 113,000 square meters of warehouse space through four new facilities, with two in Penang, and one each in central and Southern Malaysia. 
"We have a very strong footprint in Penang, with automated robotics that make the lives of our people easier while supporting our customers with their agenda around automation," said Andries Retief, CEO, DHL Supply Chain, Southeast Asia. "Our upcoming fifth facility in Penang, PLH5, is equipped with state-of-the-art automated pallet storage and retrieval system and goods-to-person robotics technology to handle small parts picking, to support Malaysia's semiconductor and tech-manufacturing industry."
The logistics company is also looking to boost transportation capabilities, investing in fleets and establishing its first connected control tower in Kuala Lumpur, which will equip its centralized transport services with end-to-end visibility. 
Indonesia – A rapidly growing e-commerce market
While Southeast Asia's advanced economies focus on the foundations of the supply chain, its developing economies are also growing at great speed, leveraging technological advancements to boost their B2C sectors. 
As the world's fourth most populous country, Indonesia's economy is growing rapidly, highly driven by its growing e-commerce sector. Standard Chartered Bank projects that the country's economy is expected to grow rapidly in the next decade, from US$4.2 trillion (€3.97 trillion) in 2020 to US$10.1 trillion (€9.54 trillion) by 2030 to become the world's fourth largest economy in terms of purchasing power.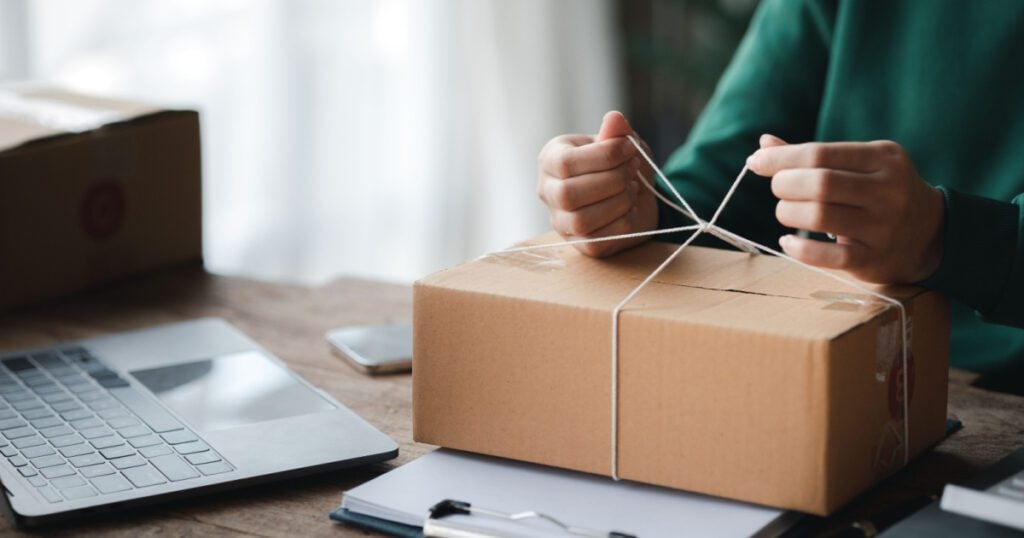 In 2022, Indonesia was reported to have one of the highest internet penetration rates in Asia at nearly 75.47 percent. Propelled by the surge in digital adoption during the pandemic, digital payment methods and mobile commerce became more prominent. 
Major cities in Indonesia like Jakarta, Surabaya, and Bandung have since become significant hubs for e-commerce activities. As several major e-commerce platforms including Tokopedia, Bukalapak, Shopee, and Lazada have mature operations in Indonesia, these platforms capitalized on the timely transition to e-commerce by offering diverse product categories, boosting the sector's growth significantly. 
"Indonesia, as Southeast Asia's leading economy and one of the largest e-commerce markets in the region, provides significant business opportunities across all sectors," noted Retief. "As such, the logistics and supply chain sectors can expect to increase their efficiencies here and attract more demand from companies wanting to diversify their supply chains. We are ready to support the growing demand with our seventh multi-user facility, the upcoming Maheswara Green Logistics Center." 
Philippines – Localization of fast-moving consumer goods supply chains
Supply chain disruptions and limited access to grocery stores during the pandemic's initial phases led to disrupted routine purchases in the Philippines. This triggered two key trends in the Fast-Moving Consumer Goods (FMCG) market.
Firstly, there was a notable surge in online shopping and e-commerce platforms, prompting FMCG businesses to expand their reach through online channels.
Secondly, Filipino consumers were compelled to switch brands due to product unavailability, creating opportunities for FMCG players to increase their market share in a market once known for brand loyalty.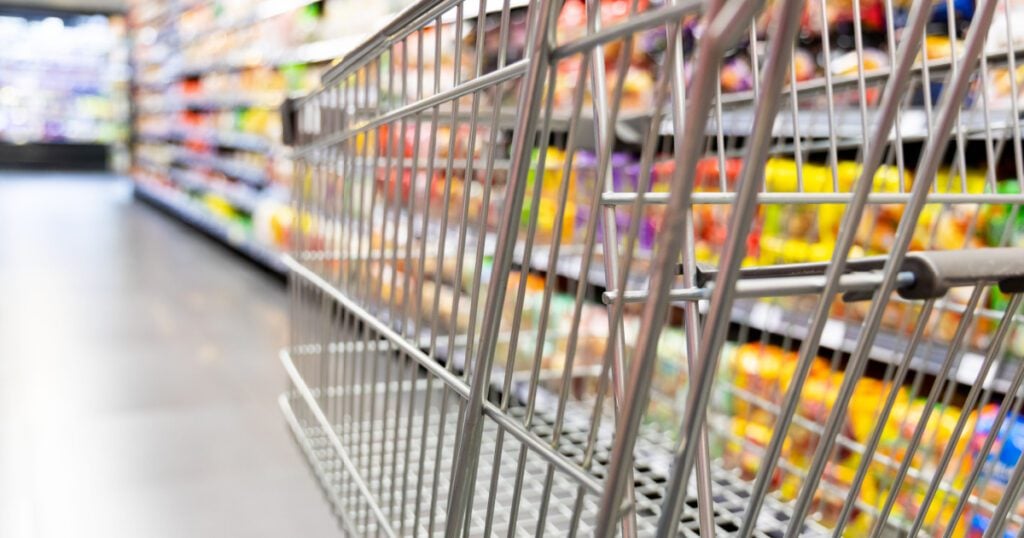 Having learnt their lesson from the pandemic, FMCG producers in the Philippines are looking to localize production, partnering up with local farmers and small-scale producers in the Philippines to locally source stable supply of raw materials for the FMCG sector. 
Domestic manufacturers offer certain advantages compared to their overseas counterparts. They are often smaller and thus adapt more easily to changing demand, and they may also have more product specialization as they focus on fewer markets. However, strict local sourcing is not always possible, as some inputs are not yet fully available or in sufficient supply to meet domestic demand. Nestlé, for example, buys 60 percent of all coffee beans produced in the Philippines, but this only meets 30 percent of its needs in the country. 
Still, with its large population of over 100 million people, the Philippines is an attractive destination for FMCG production, as its low labor costs and substantial domestic market for FMCG products, offers companies opportunities for both manufacturing and sales. For instance, FMCG giant Unilever invested €80 million in a new factory in the Philippines, to increase global production levels for its Beauty and Wellbeing and Personal Care businesses by 15 percent. 
As the Philippines' retail market expands, adaptable warehouse capabilities and a strong local network are crucial to support the market's many growth opportunities. To enhance the reach of its transport network, DHL Supply Chain has partnered with JG Summit to launch DHL Summit Solutions Inc (DSSI). Combining JG Summit's market knowledge with DHL's specialized logistics expertise, the joint venture provides greater visibility and control over shipments through the MySupplyChain Transport Management System (TMS) and a fully digital B2B Central Transport Control Tower system. DSSI also offers transactional efficiencies with automated route and load-planning to improve transport capabilities. 
Furthermore, to boost warehouse productivity, DHL Supply Chain is using SmartOps-enabled wearable devices to connect DHL's employees to its data and IT systems via a suite of digital applications, providing real-time information. The seamless integration improves decision-making by streamlining processes in the warehouse, optimizing operational efficiency.
DHL Supply Chain plans to invest EUR350 million in Southeast Asia over the next five years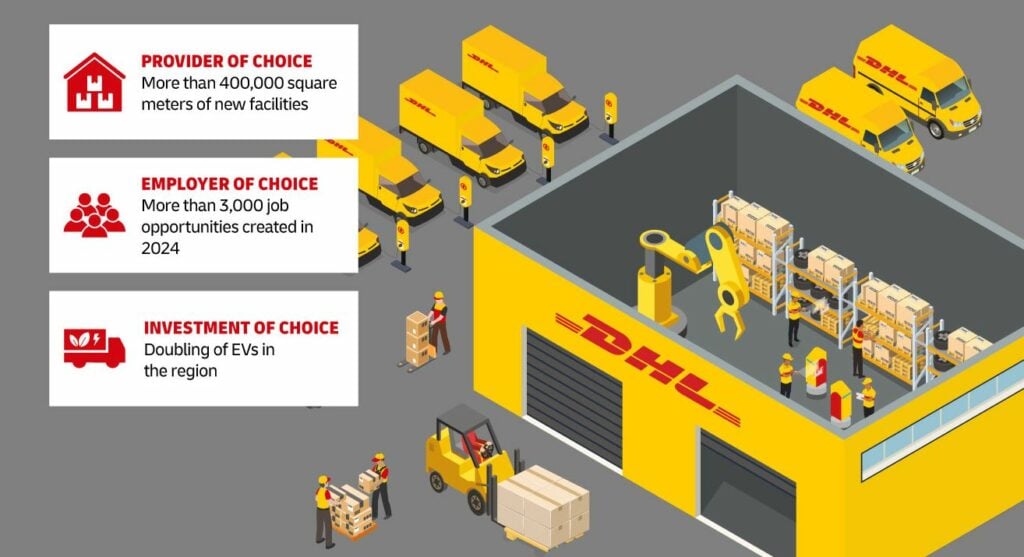 To serve the Southeast Asian markets experiencing rapid growth, DHL Supply Chain is set to invest EUR 350 million to expand its warehousing capacity, workforce and sustainability initiatives in Southeast Asia. As part of DHL Supply Chain's global strategic investments totaling EUR1.35 billion globally over the past year, the investment aims to enhance supply chain infrastructure, workforce development, as well as automation, digitalization and sustainability, supporting the omnisourcing strategies of customers across Latin America, India and Southeast Asia. 
In line with this goal, DHL Supply Chain will increase its current 1.6 million square meters of warehouse space in Southeast Asia by 25 percent, or 400,000 square meters, across facilities in West Java, Indonesia; Penang, Malaysia; the Philippines and Singapore. It also plans to create more than 3,000 job opportunities across the four markets in 2024. 
"We are not just increasing our capacity, but we are building logistics centers that can cater to future demand for our customers through robotics and sustainability initiatives," said Bilbao. 
For more information on DHL Supply Chain's initiatives in Southeast Asia, visit DHL Supply Chain's Grow SEA homepage.